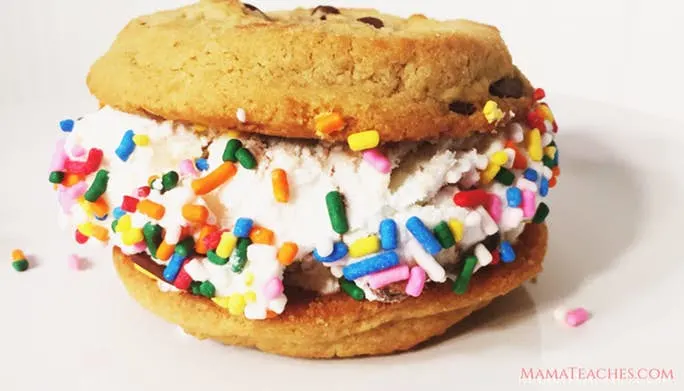 This article contains affiliate links to things that you might like.
I love ice cream. Like, love it.
It's always been my downfall…well, that and cookies.
So, when the youngest and I were browsing the ice cream aisles of the store the other night, we decided to put our love for cookies and ice cream together into one delicious cookie ice cream sandwich recipe.
It's so simple that even if you don't bake, you can make it too.
And the best part?
It takes less than 5 minutes to whip one up.
Having a party?
You could make an entire batch in less than 15 minutes.
We'll actually be doing that for our end of the school year party in couple of weeks!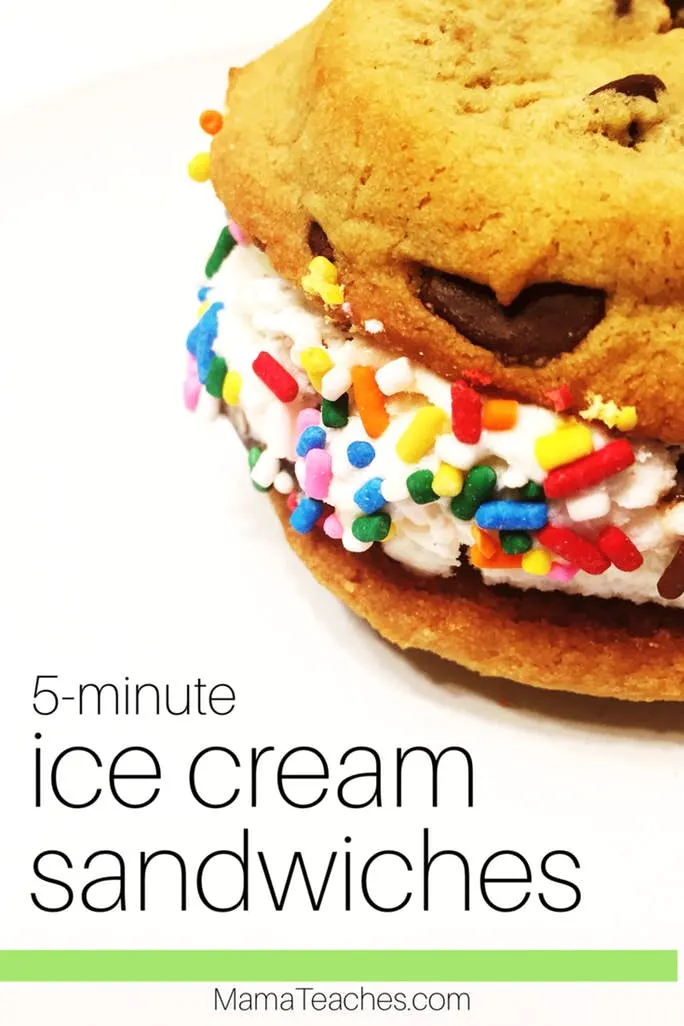 Just want to celebrate National Ice Cream Month (aka the.best.month.long.holiday.ever) in July?
These are your go-to treats!
Need a fun activity to fill a rainy summer afternoon?
Have an ice cream sandwich bar and let everyone make their own, customized ice cream cookie sandwiches!
So, grab your ice cream scoop and get ready to make the most delicious, easiest ice cream cookie sandwiches ever!
​
5-Minute Cookie Ice Cream Sandwiches Recipe
Ice Cream Sandwich Ingredients
Your favorite flavor of ice cream
Sprinkles/Jimmies
Two cookies per sandwich – store bought or homemade
​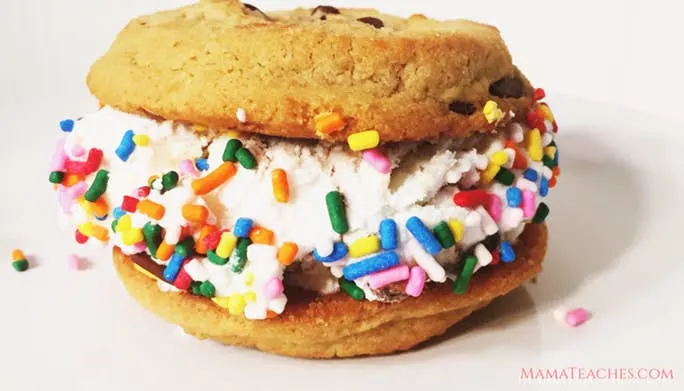 How to Make Ice Cream Sandwiches
Pour some sprinkles/jimmies onto a paper plate.
On a separate plate, place two cookies with the flat sides facing up.
Scoop two to three spoonfuls or once ice cream scoop of your favorite ice cream onto the flat side of one of the cookies.
Place the second cookie on top of the ice cream – flat side against the ice cream.
Press down lightly.
Roll the side of the cookie ice cream sandwich in the sprinkles on the plate.
Enjoy!
​
Be sure to share your ice cream sandwich creation with us on social media!
Tag us @MamaTeaches on Facebook or Instagram!
Even better, leave a picture or comment below and let us know how they turned out!