They are clickable, stackable, and colorful.
How do you maximize the fun when you build with LEGO brick toys?
Read on!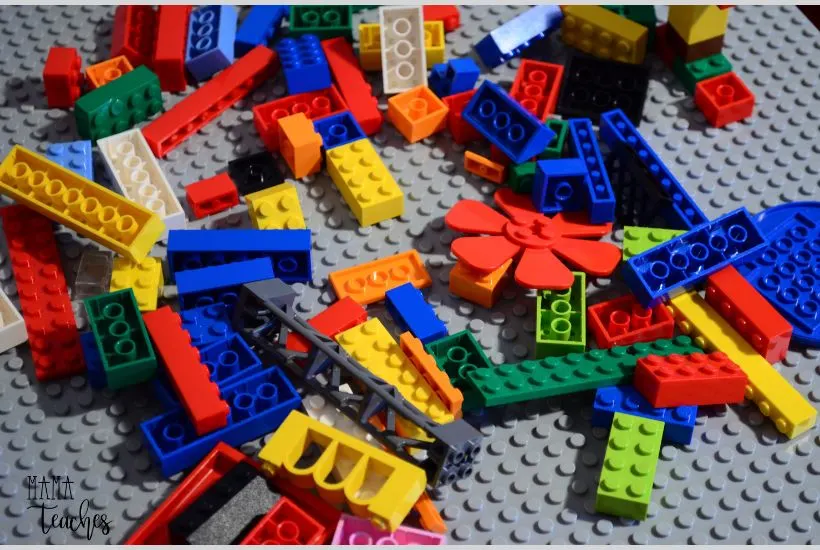 This article contains affiliate links to things that you might like.
Everything You Need to Know About LEGO Brick Toys
For generations, kids and adults alike have loved LEGO bricks.
(LEGO bricks have been named the toy of the century–twice!)
Would you or your child like to get into LEGO bricks?
Here's all you need to know to enjoy this fantastic, versatile toy to the fullest.
What Are LEGO Brick Toys?
The original name of LEGO bricks was "Automatic Binding Bricks." The name is not as catchy as LEGO, but it accurately describes the toy.
The original LEGO brick was a plastic rectangular prism with 3 pairs of protruding dots on its top.
These dots snapped into the bottom of an identical brick, binding the two bricks together.
Add more bricks, and you had a tower, a building, a staircase, a dinosaur…or anything else your imagination could invent.
As the years have gone by, additional LEGO brick shapes have been manufactured (including wheels, lights, and doors).
LEGO also has a line of more advanced binding pieces called Technic and a line of humanoid minifigures.
LEGO has partnered with content producers to make model sets of characters, vehicles, and locations from books, TV, movies, and real life.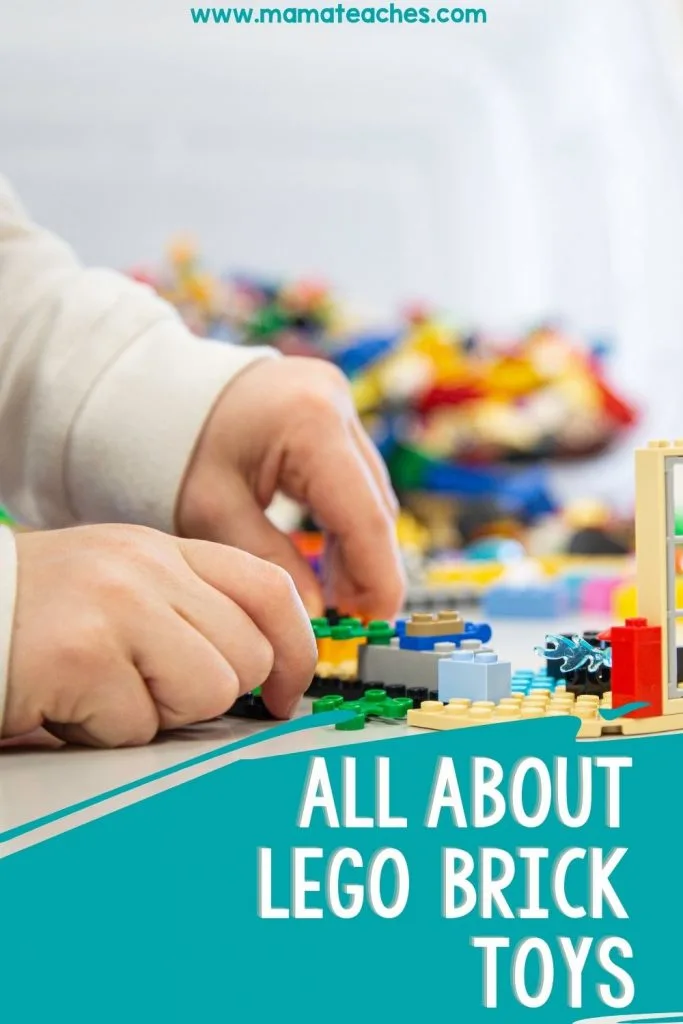 The History of LEGO Blocks
LEGO started as a toy company in 1932.
Ole Kirk Kristiansen, a master carpenter, names his wooden toy company LEGO from the combination of two Danish words: "Leg Godt," meaning "play well."
As a happy accident, "Lego" means "I put together" in Latin.
Seeing the potential of plastic toys, Kristiansen orders a plastic injecting machine from Great Britain in 1946, and by 1949 the company was making its first LEGO blocks.
LEGO bricks expanded to Germany in 1956, and the company refined the design in 1958 to look like the LEGO brick we know and love today.
LEGO continually innovated.
In 1969, Duplo was introduced (LEGO toys for younger children).
1977, the company launched the Technic line.
1978 saw the beginning of themed sets (castle, space, and town) and Minifigures.
In 1996, LEGO partnered with MIT to create programmable robots made from LEGO bricks (LEGO Mindstorms).
Today, LEGO has themed sets from Harry Potter to Star Wars.
It has an architectural line and an artistic line as well.
It has LEGO sets aimed at girls (LEGO Friends) that have more realistic Minifigures.
Whatever you want to create, you can make it out of LEGO toys. LEGO blocks are truly the "Toy of the Century."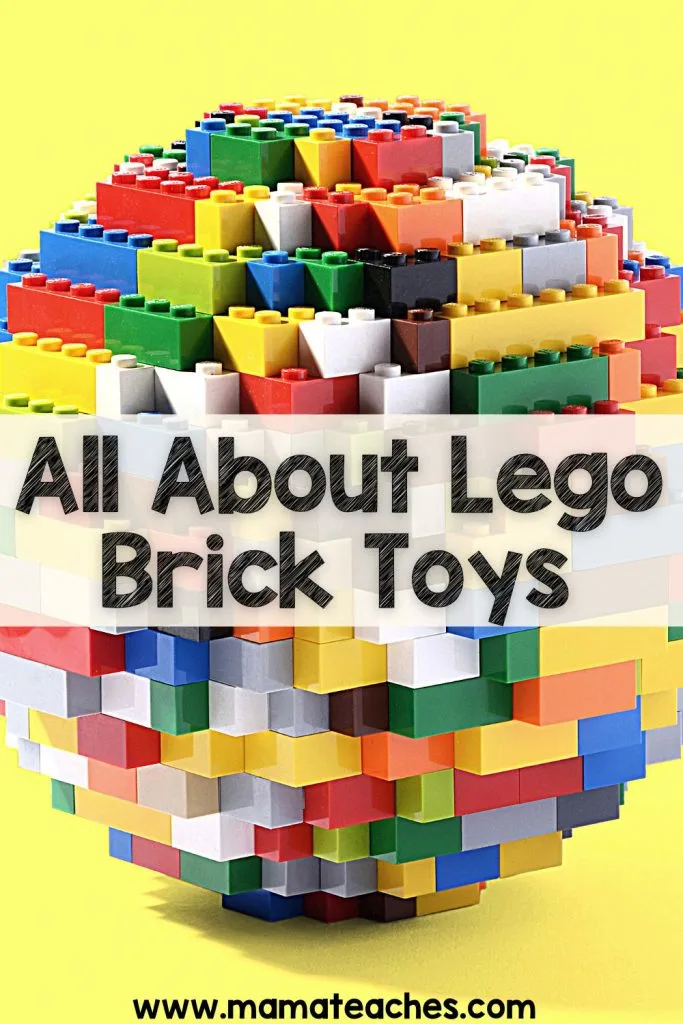 LEGO Building Ideas for Kids
Looking back to the history of the company, LEGO bricks started as a creative construction toy, and that is still true.
For that reason, basic building sets are the way to begin.
Although each basic set comes with ideas of different creations you can make, the real fun comes from inventing your own designs.
LEGO Bricks for Little Kids
For toddlers and young preschoolers, LEGO offers larger, snappable blocks called LEGO Quatro.
The lid on this set can function as a base for attaching the LEGO bricks.
My kids played with this set for years.
It was 100% worth the money.
My favorite part?
It came with a container to hold the LEGO Quatro bricks.
Cleanup was easy–and my kids could clean it up themselves.
As your children move into late preschool, you will want to transition to LEGO Duplo blocks.
This basic set says you can use it as early as 18 months, but in my experience, you are better off waiting until your kids are 3.
In addition to basic sets, you can begin to add themed sets in Duplo.
One of my favorites is the dinosaur train because it has the fantastic Duplo train and (of course!) dinosaurs to ride it.
I also really like the LEGO Duplo dollhouse.
I find the interactive sets captured my children's attention for longer, and I'm all about that.
It's all about imaginative play at this age.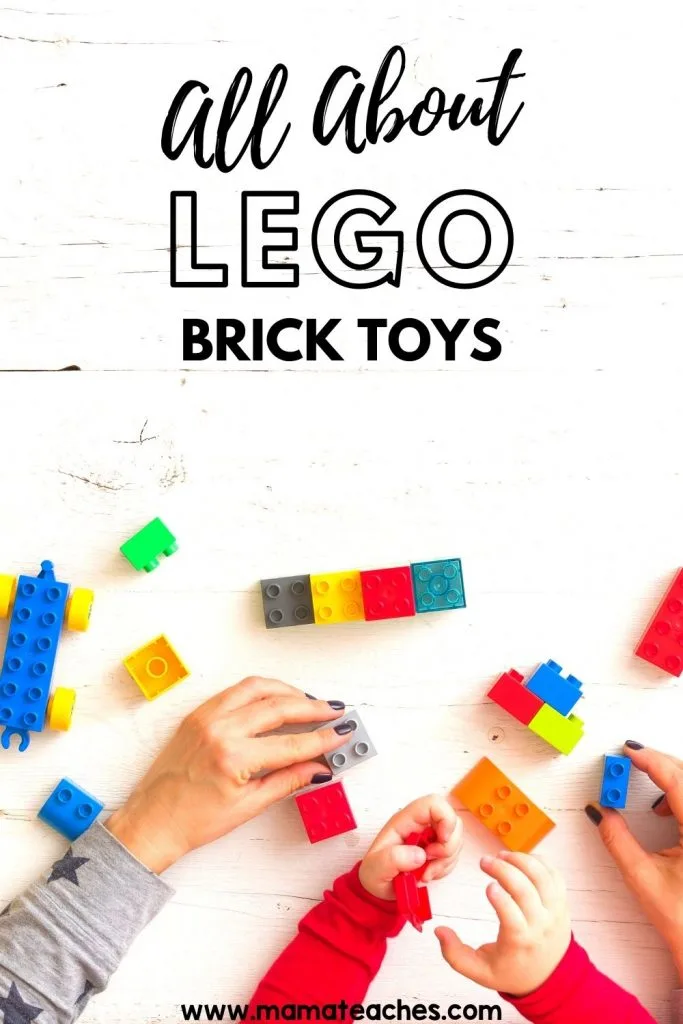 LEGO Bricks for Elementary
As your move into the elementary years, your child will be ready for the traditional LEGO bricks.
I always recommend starting with a LEGO Classic bin.
As your child moves into sets, she'll be thankful to have the basic assortment of pieces to use as a supplement.
You should also invest in some LEGO base plates so your child can create stable structures.
I suggest starting with green for buildings (since it's the color of grass) or using gray if your child wants to build more space-oriented sets.
After you have LEGO Classic, your early elementary kids may want some LEGO Junior sets.
The advantage to these sets is that they have bases for motor vehicles.
If your child likes cars and trucks and other things that go, Lego Junior helps him build those things with ease.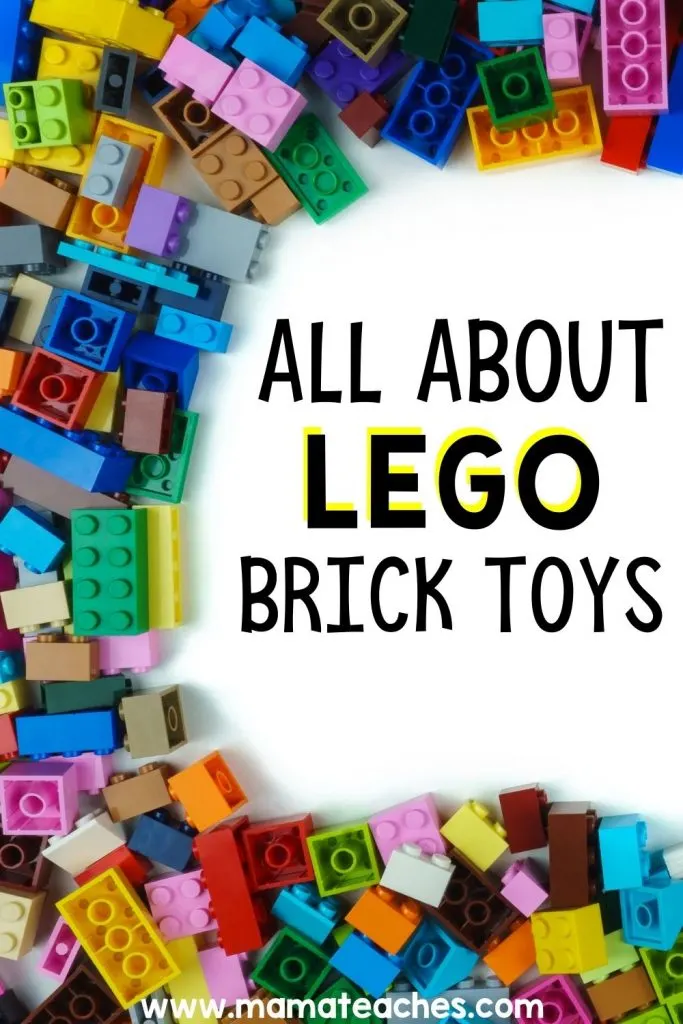 LEGO Sets for Middle School
In later elementary and middle school, your child is ready for the regular sets.
Some of these sets are easier to build than others.
Start with smaller sets with fewer pieces and build up to larger sets.
You can select sets across many themes: Lego Friends (like this Doggy Day Care set), LEGO Star Wars (like these Sith Troopers), LEGO City (like this sports car), LEGO Harry Potter (like this hospital wing), and more.
I'm also a big fan of the LEGO books.
Books help you get more mileage out of your pieces by giving you hundreds of ideas of things to build.
LEGO Building Ideas for Teens and Adults
Lego bricks are hardly just a children's toy.
They can be combined in numerous ways to create complicated builds and engineering marvels.
The advanced sets have hundreds or even thousands of pieces.
The traditional bricks come in sets to challenge teens and adults.
Here are some standouts:
The more pieces a set contains, the more expensive it is.
LEGO sets for adults and teens don't have to break the bank to be appealing.
I love the LEGO flower bouquet, the LEGO ship in a bottle, and the LEGO Ford Mustang.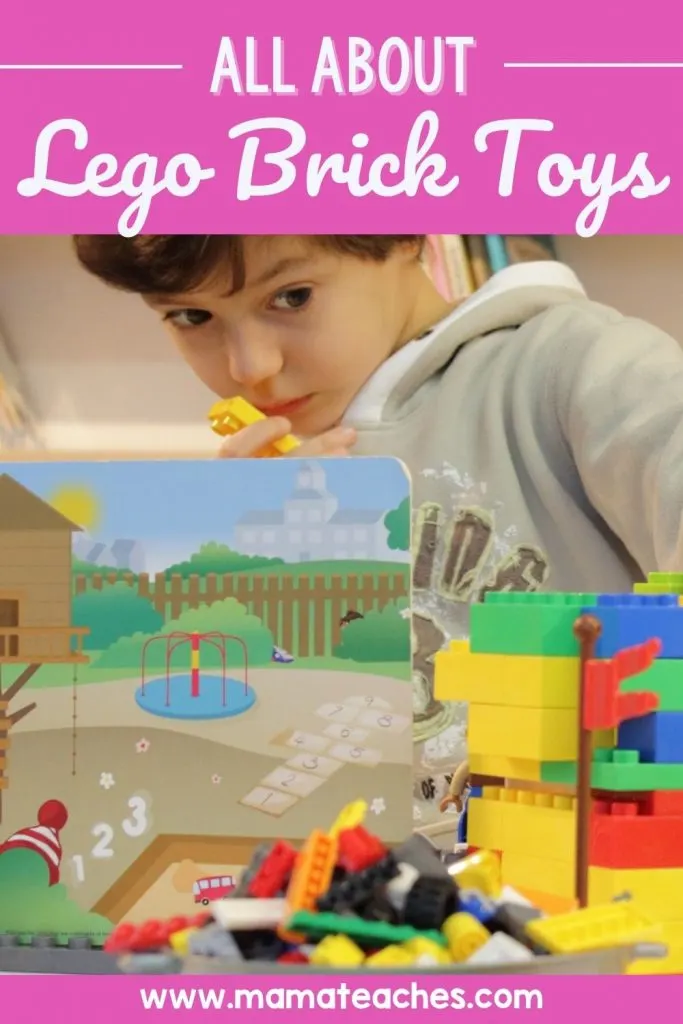 What Kind of Lego Brick Builder Are You?
You need to ask yourself what type of LEGO brick builder you are.
What do you want to do with these sets?
1 – Build them once and keep them assembled to display
2 – Build them and then later take them apart to either rebuild or mine for pieces
If you fall into the Builder 2 category, you will want to have a LEGO Classic set on hand to replace missing pieces.
You'll also want some LEGO base plates.
LEGO Technic
In addition to classic LEGO bricks, LEGO also has the Technic line.
These sets can be automated with motors, lights, and remote controls (but not all sets have this).
Technic pieces are a completely different shape from traditional bricks.
Some of my teen son's favorites are the neon green Ford Mustang and the Land Rover Defender.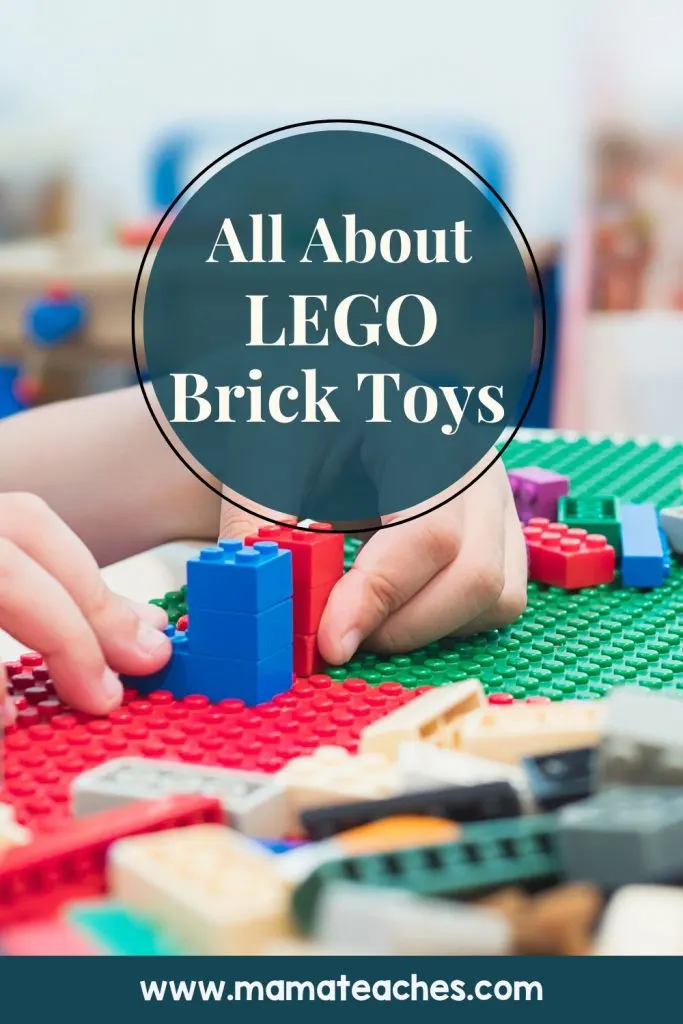 Original Designs
Don't forget that you can repurpose your LEGO bricks to create new designs.
You can get inspiration from books (like this one) or from the LEGO Ideas website.
On LEGO Ideas, you can submit your own LEGO designs (and potentially get them made into real sets)!
My son has made great ball contraptions, custom vehicles (like his own Batman car), and his latest–a pinball machine.
My friend makes family portraits with custom Minifigures.
The sky is the limit when it comes to creating with LEGO bricks and pieces.
A Guide to LEGO Toys
LEGO brick toys grow with your child, so he will never grow too old for LEGO brick toys!
Although the LEGO company continues to innovate, the six basic principles are still the same.
LEGO brick toys may be limited in size, but they are not limited in play.
They are affordable.
They are simple and durable.
They are for boys and girls of all ages.
They are a classic.
They are easy to distribute.
LEGO bricks aren't going out of style, so why not give them a try?
If you are already into LEGO, check out these LEGO toy ideas for fresh takes on these classic toys.
You May Also Like: