Can you do recess digitally?
Absolutely!
Read on for 7 fabulous digital indoor recess ideas.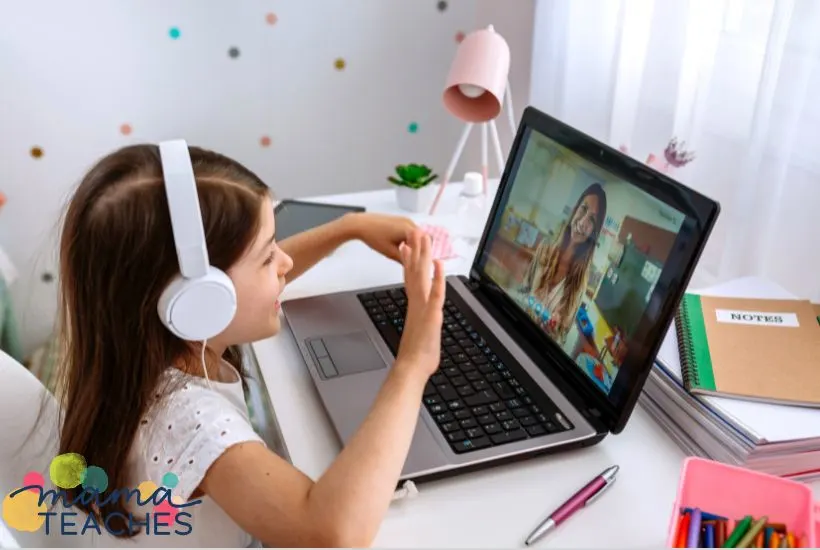 This article contains affiliate links to things that you might like.
Why You Need Digital Indoor Recess Ideas
Digital indoor recess is a recent addition to recess time.
Thanks to virtual schooling and computers in classrooms, digital indoor recess is a popular alternative to traditional recess.
Digital indoor recess has certain advantages.
The activities are self-propelled, which means students can go through them at their own pace.
Also, in general, kids love everything related to computers and electronics.
Digital indoor recess is a fun treat.
For the teacher, digital indoor recess means you have some precious time to yourself.
Students can do most or all of these activities quietly and independently.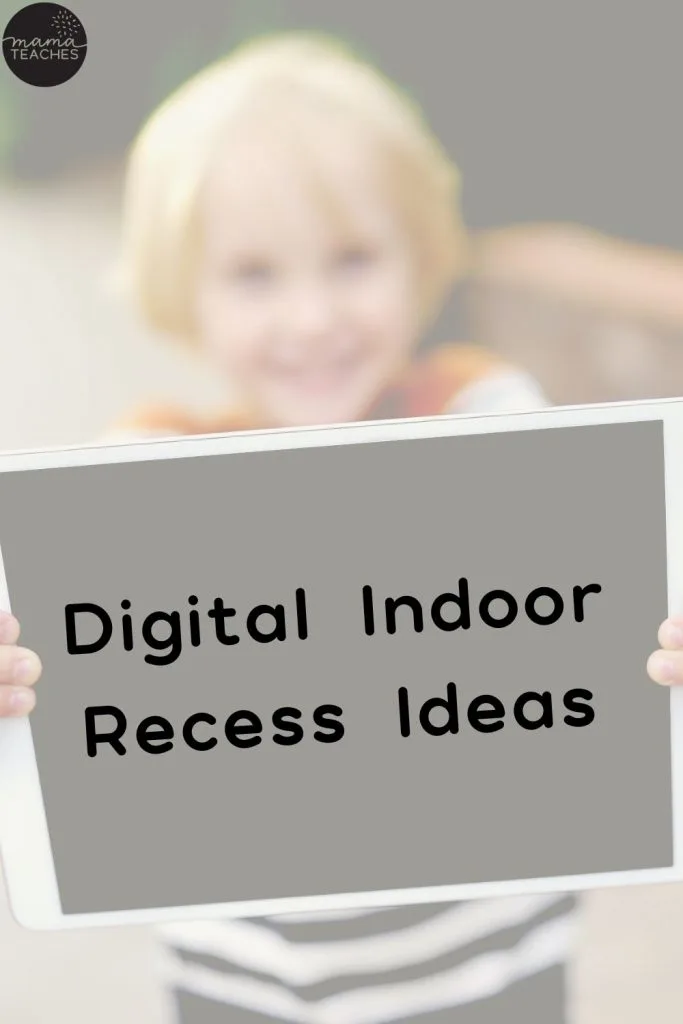 7 Easy and Enjoyable Digital Recess Ideas
This list of digital indoor recess ideas is varied.
Some of the activities are interactive, while others are more presentational.
Some are game-focused, while others are educational.
You can choose the activity for your students or let them decide for themselves.
BOOM Cards
BOOM cards are a great way to review topics since they are fast, fun, and interactive.
You can assign virtual decks of BOOM cards to your students through your BOOM learning account, and once your students play a deck, you can immediately see their results.
You can find decks on almost any topic.
Check out this list for BOOM card decks on sequencing, bar graphs, and telling time.
Want to learn more about using BOOM cards in your classroom?
Digital Choice Boards
Children love options, and a digital choice board lets them decide which indoor recess idea they pursue (from a list of ideas you have chosen ahead of time).
The activities on the choice board can range from artistic to interactive.
You don't have to generate a choice board from scratch.
Here are two free boards to get you started: this one is Star Wars themed and this one is themed for fall.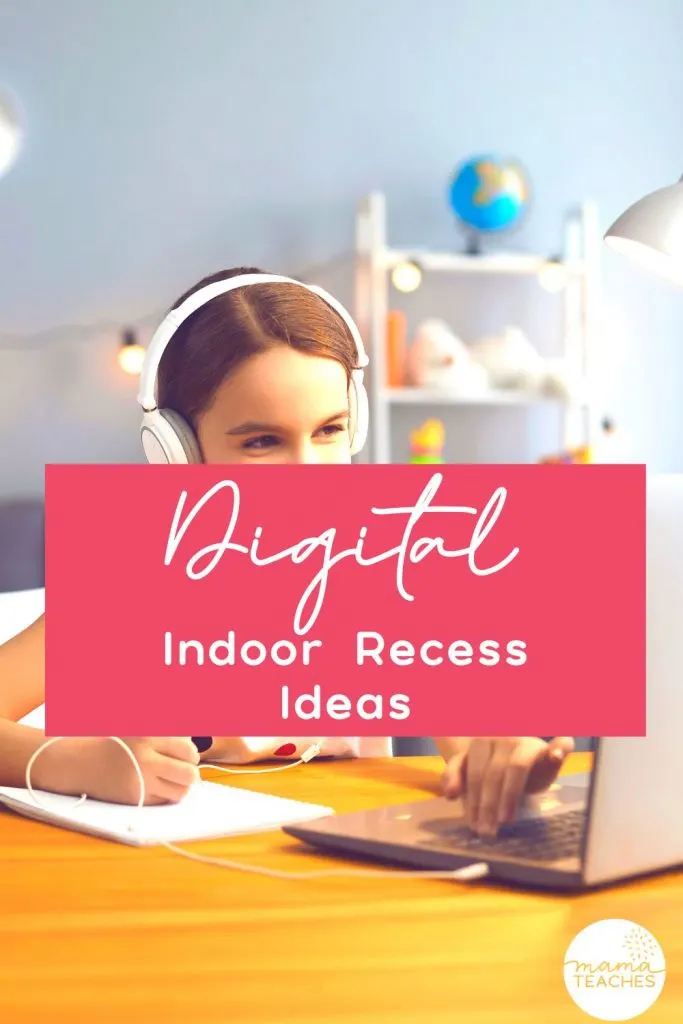 Would You Rather Questions
Everyone love Would You Rather Questions.
From fantastical to realistic, Would You Rather Questions let students dwell in the world of "What if?" Digital Would You Rather Questions are the perfect way to spend a delightful indoor recess.
Do you want to test out Woudl You Rather Questions so you can see what a hit they will be?
Download the FREE Digital Would You Rather Sampler Pack below.
Games
A list of digital indoor recess ideas would not be complete without games.
Games are one of the main reasons children love computers and devices!
Students can play games for fun, but indoor recess packs a double punch when the game reinforces learning.
This FREE apple addition digital math game is the perfect example.
Virtual Field Trips
Indoor recess can take you far outside the walls of the classroom when you go on a virtual field trip.
Travel to Buckingham Palance, Ellis Island, Pompeii, and Yosemite with just a few clicks.
How do you find these amazing virtual trips?
This list of 20+ virtual field trips is a great start!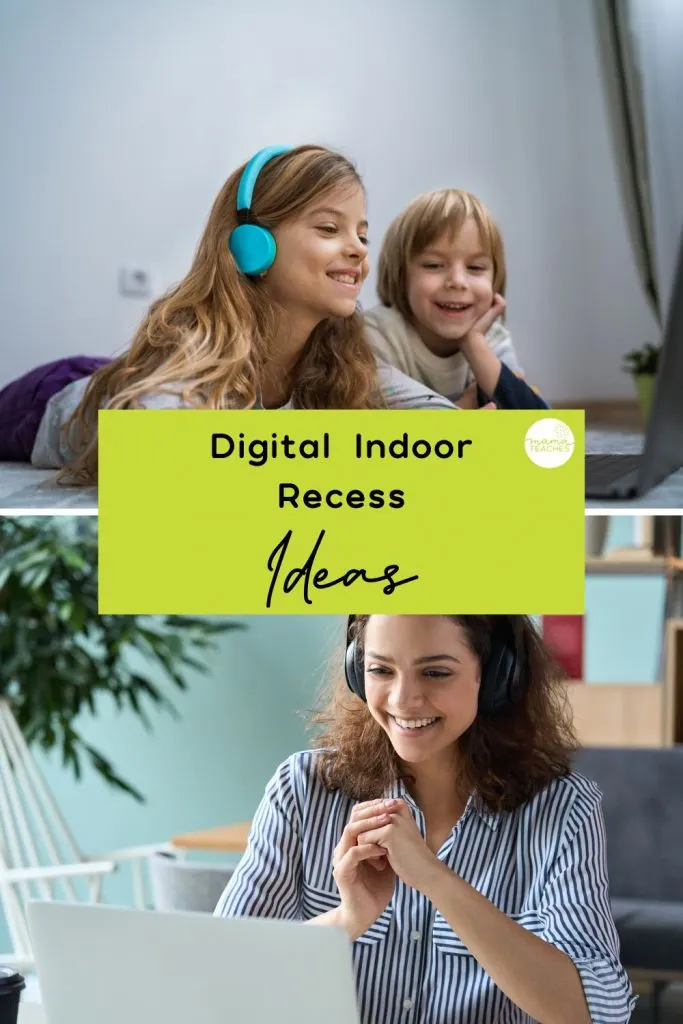 Animal Cams
When the school day is long and difficult, relax and unwind while watching cuddling koala bears, inquisitive meerkats, and adorable baby elephants in real time.
Zoo cams are a 24/7 peek into the adventures and habits of the world's most interesting animals.
With just the click of a button, you can watch animals from 11 of the finest zoos in the world.
Podcasts
With a pair of headphones for every student, indoor recess can become a time of silence for you and a time of enchantment and wonder for your students.
Podcasts are the perfect way to find hours of age-appropriate content across all subject areas, from history to science to storytelling.
Check out this list of the 10 best podcasts for kids.
Planning Digital Indoor Recess Activities
With minimal planning, indoor recess can be a roaring success.
Kids will be clamoring to spend time on these 7 easy and enjoyable digital indoor recess ideas.
You May Also Like: