Many teachers and parents, like yourself, are turning to the digital world to help educate their kids.
Using this FREE digital math game, your students or children will be able to learn the art of addition!
As a simple addition game, it would be best for kids in preschool to kindergarten.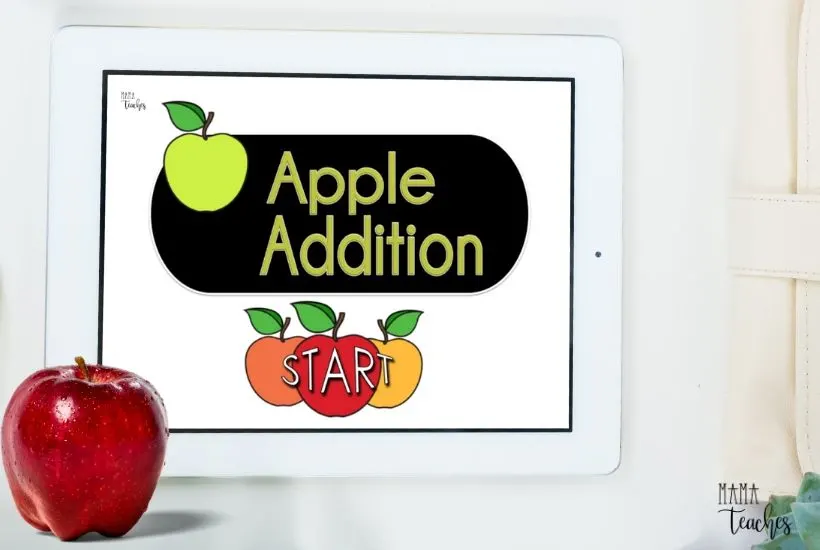 This article contains affiliate links to things that you might like.
Digital Math Game
The addition math game revolves around adding up apples, so this could be a great add-on for a teacher giving a unit study on the letter A.
With the game having a self-checking aspect, kids will be able to know instantly if they have chosen the wrong answer.
The immediate feedback makes this game extremely helpful for teachers who have started distance learning with their students.
Pop this game into Google Classroom to get started!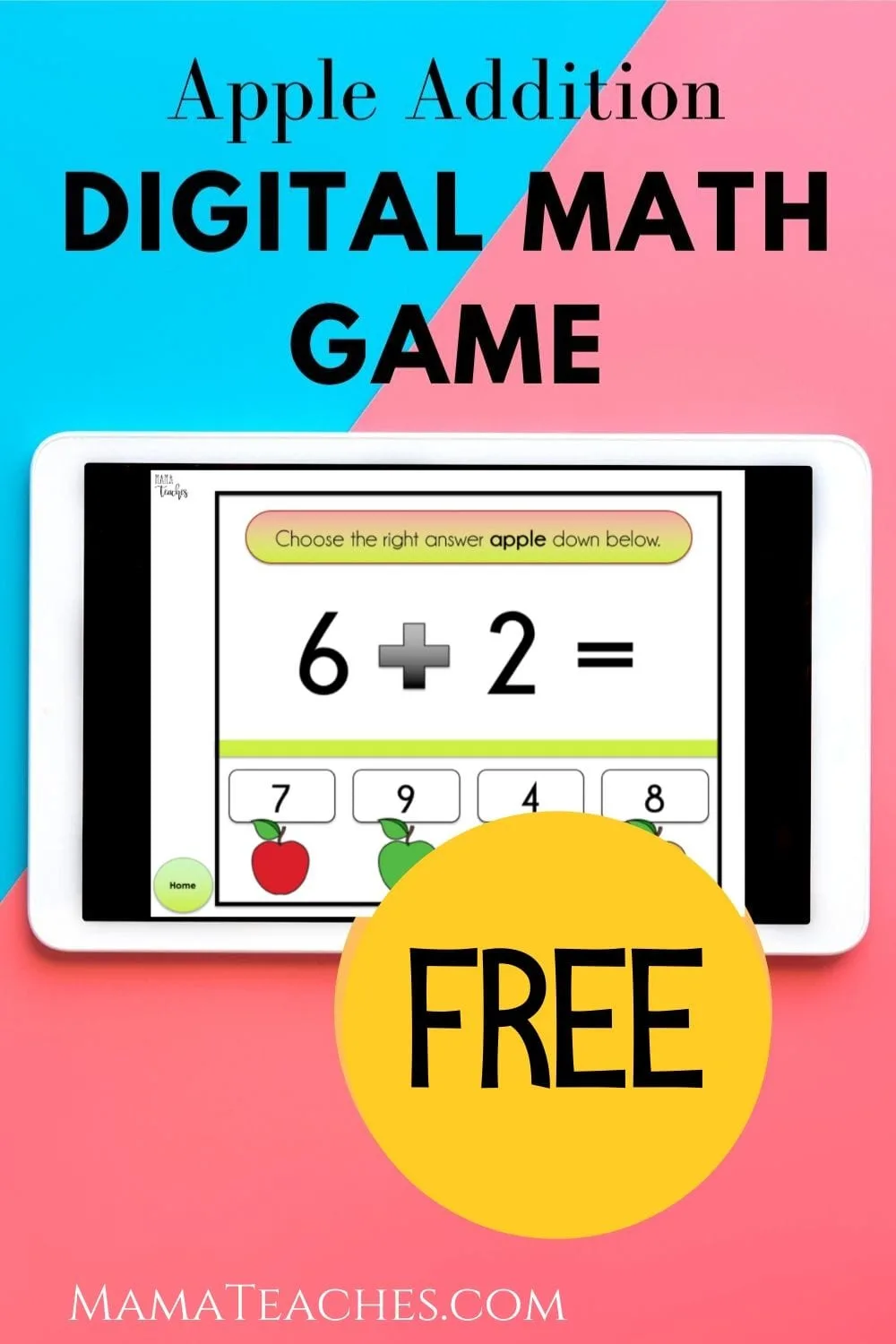 Apple Addition
You may be a parent that is homeschooling your children, or a parent simply trying to find educational, yet fun games to share with your preschool-aged children.
The apple addition digital math game is educational, fun, and engaging.
It's the perfect way to help your kids learn and practice addition concepts!
HOW TO USE THE APPLE ADDITION DIGITAL MATH GAME

Knowing all the benefits of the game that have been stated above, it still gets better!
The apple addition digital math game is super accessible and can be used on tablets, computers, and even phones.

Below are step-by-step directions that outline how to set up the free apple addition digital math game for your kids or students!
Please follow them step-by-step.

Making a Copy of the Apple Addition Game
Log in to the Freebies Library and scroll down to DIGITAL ACTIVITIES SECTION. If you're not already a member of the Freebies Library, you can sign-up at the end of this article.
Click on the APPLE ADDITION GAME to MAKE A COPY of the game to your Google Drive folder. This is super important! You must make a copy of the game––please do not request access.
Head over to your Google Drive Folder. You should now see a copy of the game in the drive. Go ahead and open that copy!
If you are on a computer, the file will open to an edit-slide screen. Just click "Present" at the top of the page to start the game.
If you are on a phone or tablet, the game may automatically be in presentation mode and you can start playing right away. If it does not start automatically, simply click "Present" to begin. *Note, you may need to download the Google Drive app if you do not already have it installed on your device. This will ensure the game opens and runs properly.
The first slide will come up, welcoming you to the game. Press the "Start" and follow the directions!
There is a "Home" button on each slide. Click it to return to the main activity page to either select a different activity or to have another attempt at the one you just tried!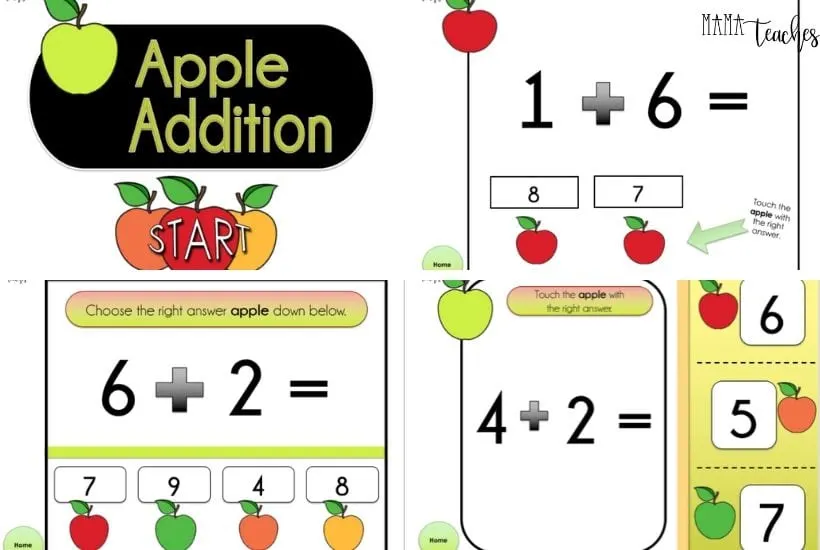 USING THE DIGITAL GAME IN GOOGLE CLASSROOM
If you are a teacher planning to use this math game in Google Classroom, follow steps 1 and 2 above and then take these next steps.
PLEASE MAKE SURE YOU MAKE A COPY AND DO NOT SHARE THE ORIGINAL LINK FROM THE FREEBIES LIBRARY WITH YOUR STUDENTS! <—SUPER IMPORTANT!
Once you have your own copy in your Google Drive folder, you will be able to upload THE COPY to Google Classroom. Be sure to share YOUR copy, not the original link provided here. It won't work properly if you do not share your own copy.
When your copy has been uploaded to Google Classroom, click "Assign to All Students" in order for each student to receive their own copy of the game.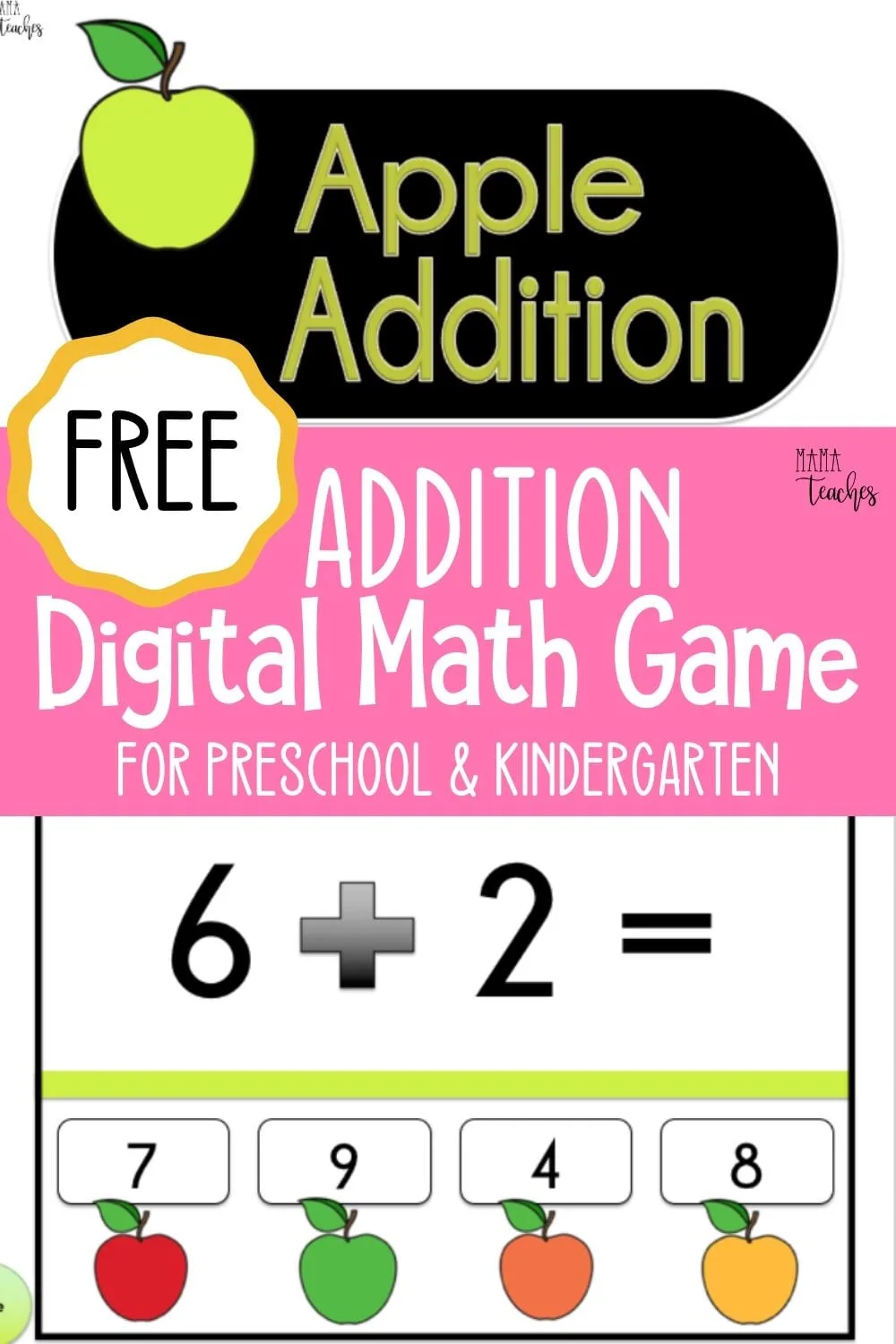 FUN DIGITAL MATH GAME
You can use the game anywhere you have an Internet connection so even road trips will be more fun!
Practicing basic addition math facts will keep kids engaged and ready to tackle new math skills.
Share with us how you incorporated the apple addition math game into your online learning or homeschool math practice!
Tag us on Instagram @MamaTeaches and tell us what you think!

GRAB YOUR COPY OF THE DIGITAL MATH GAME
The Apple Addition Digital Math Game is available in the Freebies Library.
If you're already a member, click here to enter your password and grab it under the Digital Activities section.
Lost your password?
It's sent out every week in the newsletter so check your inbox and search "MamaTeaches" to find the latest email.
Not a member yet?
No worries!
Sign up for free below!
You Might Also Like