Looking for blue light blocking glasses for kids?
Here are some of the best blue light glasses to help reduce eye strain and more!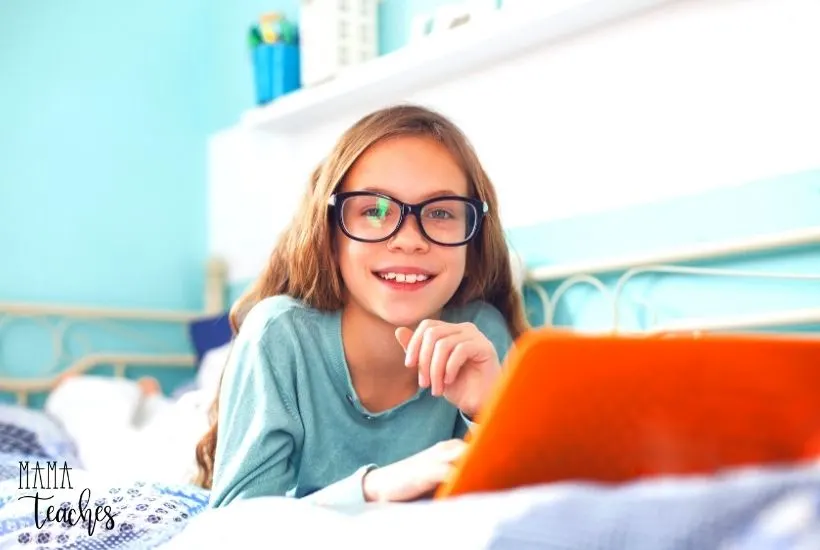 This article contains affiliate links to things that you might like.
What are Blue Light Blocking Glasses?
With distance and virtual learning in full swing, you may have noticed that your children are complaining more about their eyes being tired or hurting.
Headaches may be happening more frequently and kids may even have more trouble sleeping, By the end of the day it's not uncommon for kids to want to do anything but be online or in front of screens.
Blue light blocking glasses can help.
Blue light is naturally occurring light that's visible to the human eye.
It has a short wavelength which produces a higher amount of energy.
As Harvard Health says, blue light can "boost attention, reaction times, and mood." That's great for daytime hours, but in the evening it can actually disrupt sleep.
Blue light blocking glasses help to filter some of that light (which is why the lenses often seem yellow tinted) so that eye strain is reduced and sleep patterns are not disturbed.
For children who are now online for hours at a time, blue light blocking glasses can be a huge help.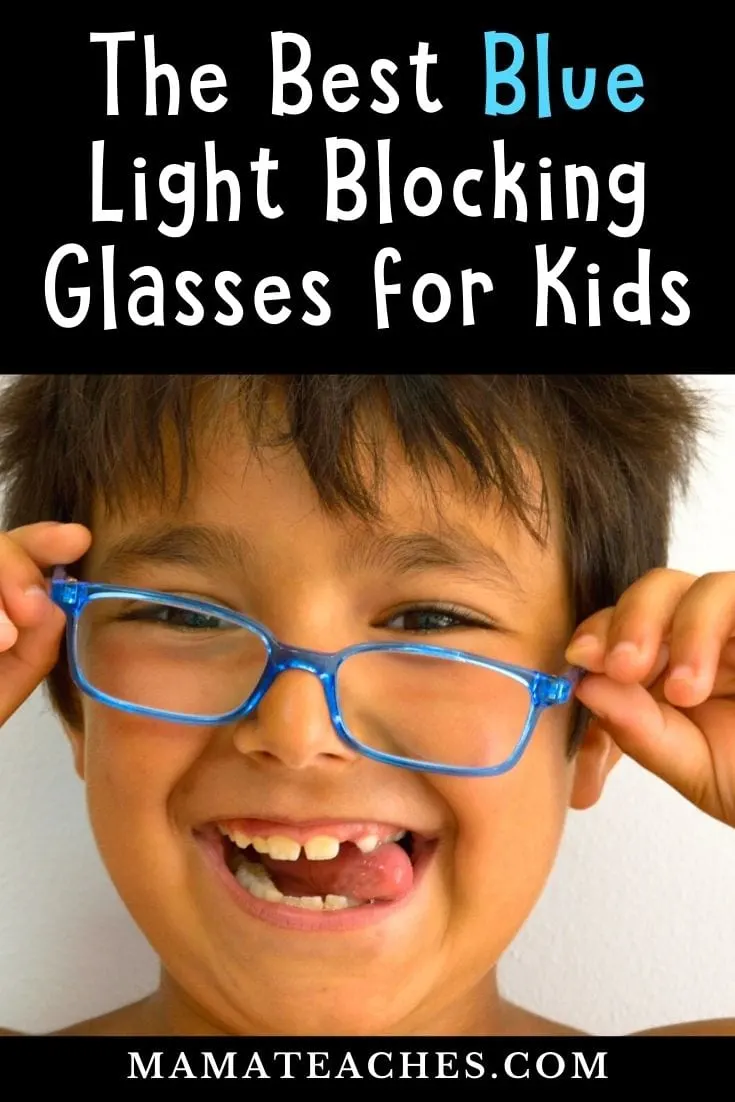 The Best Blue Light Blocking Glasses for Kids
As with all things, the best blue light blocking glasses for kids are going to be the ones that work best for your family.
There are a few things to keep in mind when selecting glasses though that might make it easier to find the perfect pair.
How to Choose Blue Light Blocking Glasses for kids
Fit
It's important to make sure that the blue light blocking glasses fit properly.
If they're too tight on the ears or slip down the nose, the glasses won't be comfortable enough to wear for any length of time.
Style
While little learners may not care too much about how their blue light blocking glasses look, you can guarantee that your upper elementary through high school students will, There are plenty of different styles available to choose from so let your older kids select styles they like best.
Price
Let's face it, school supplies are expensive and blue light glasses are now a necessity.
Thankfully there are many cost-effective options available that will make it less cringe-worthy should the glasses get scratched or broken.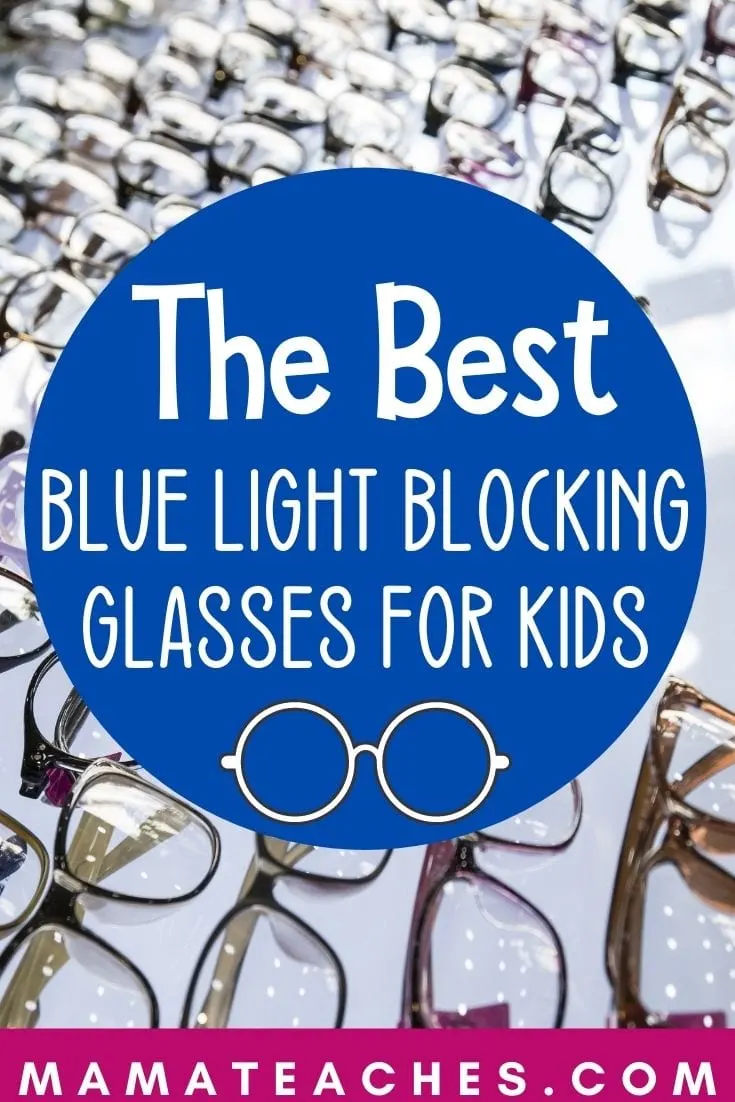 Blue light blocking glasses
Here are some of our favorite blue light blocking glasses for kids.
I hope they help you narrow down your choices!
This article contains affiliate links to glasses that might help you.
Fun and funky, these spring hinge blue light blocking glasses are great for kids 5-10.
Perfect for little ones, these flexible blue light blocking glasses are made of silicone so they're a bit more durable than traditional glasses.
Ideal for kids 3-12.
If your kids love color, these unbreakable blue light glasses are a great choice.
They come in a wide variety of color combinations and are great for kids ages 3-12.
Grab this two-pack of glasses – one in pink and aqua and one in shades of blue – for double the blue-light blocking power!
Perfect for your tweens and teens, this five-pack of retro style glasses are a sure hit.
They are larger, so they would not be as good of a fit for preschool and lower elementary-age kids.
Channel your inner Harry Potter with these colorful round frame blue light blocking glasses.
They come in a variety of colors and the silicone frames make them more flexible than traditional glasses.
If glasses never stay on your child's ears, these super cool blue light blocking glasses might be a great option.
They come with handy adjusters that allow you to secure the glasses behind the ear without causing strain on the skin.
They're made for kids 5-12.
Choosing Blue Light Glasses for Your Kids
No matter which blue light blocking glasses you decide to try, remember that kids are kids and the glasses will almost definitely break or scratch at some point throughout the school year.
While all of the glasses above are made for the wear and tear of kids, even the most durable glasses are not indestructible!
Choose ones that your child likes and go into the purchase with a grain of salt. 😉
Happy virtual learning, friends!
You Might Also Like…