These 17 inspirational quotes for kids are wonderful ways for teachers and parents to foster children's positive attitudes and growth mindsets.
A growth mindset is the belief that intelligence can be obtained through hard work and perseverance.
This is quite opposite from those with a fixed mindset who believe that we are born with a "maximum capacity" for learning.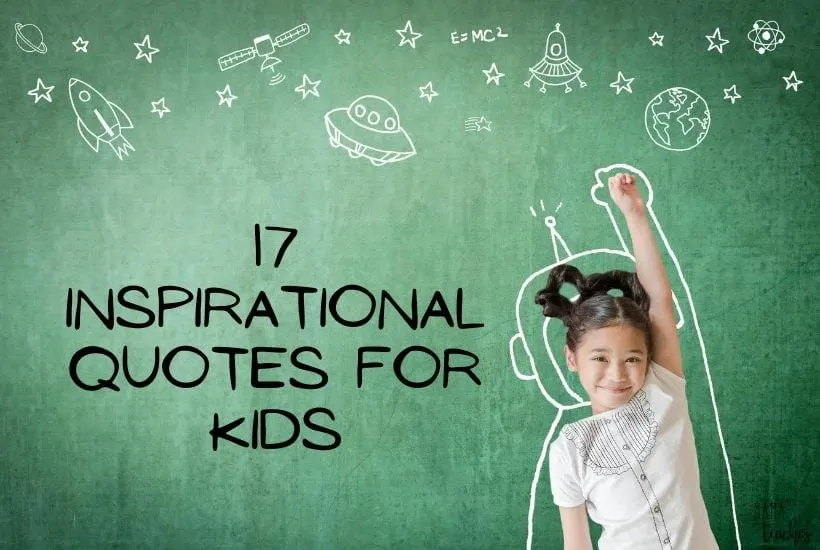 This article contains affiliate links to things that you might like.
WHY ARE INSPIRATIONAL QUOTES IMPORTANT?
Short, inspirational quotes for kids can motivate and inspire them to push harder and reach higher.
As teachers and parents, it's our job to help our children believe that they have the power to reach their highest potentials.
How amazing is it that you can be that person for the children in your life?
You can use encouraging quotes to teach the power of the word "yet."
Think of the younger child struggling with letter sounds or the older child having trouble with long division.
They haven't failed. They just haven't mastered the skill yet!
This is a great time to remind them of Nelson Mandela's quote, "It always seems impossible until it's done."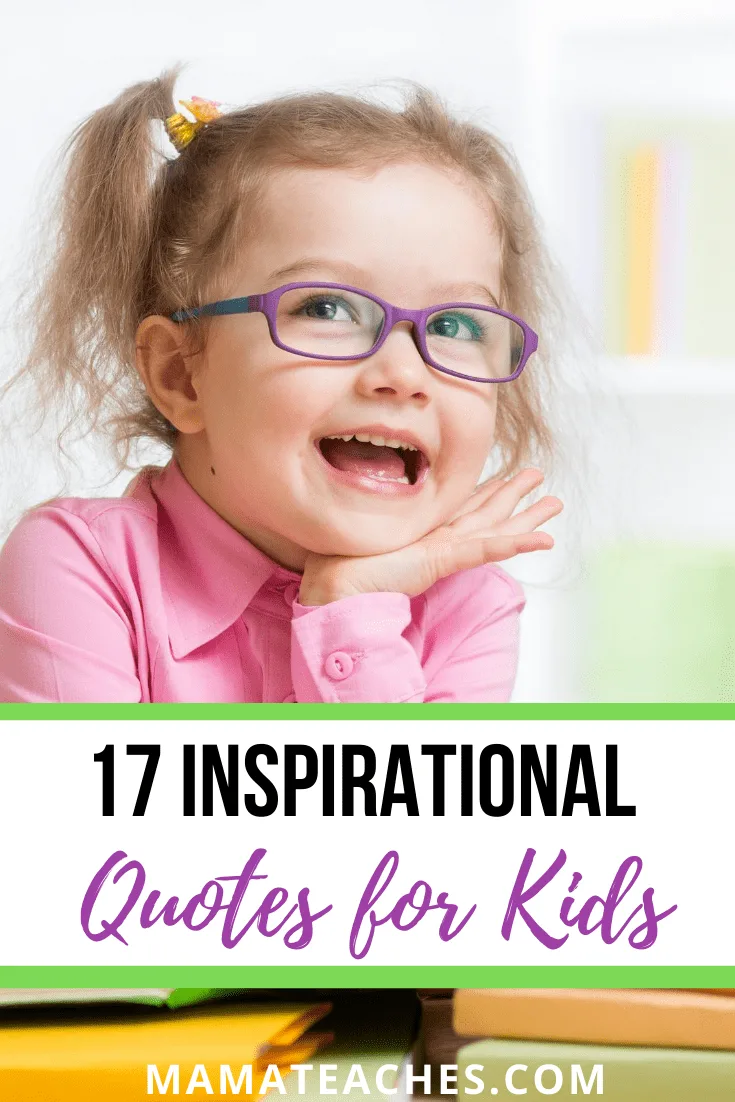 HOW TO USE Encouraging QUOTES FOR KIDS IN THE CLASSROOM
There are so many ways to use inspirational quotes for kids in school settings, whether you teach in the classroom or if you homeschool.
Here are just a few ideas you can use to spread positivity and encourage kids to shoot for the stars!
Create colorful posters filled with inspirational quotes and place them around your classroom or homeschool area.

Grab a set of FREE Growth Mindset posters here!

Get your admin on board and see if you can post encouraging quotes around the school. Great places would be in the halls, in the cafeteria, and even in the school office.
Cut and paste an inspiring quote on the top of test papers or put one up on your interactive whiteboard (or a wall, an easel, etc.) during tests. These Growth Mindset notes in my TpT store are perfect for that!
Choose a quote for the week and focus on it. Post it, discuss it, print it on correspondence to parents, and maybe even write it out on a slip of paper and pass it to a child who might really need extra encouragement.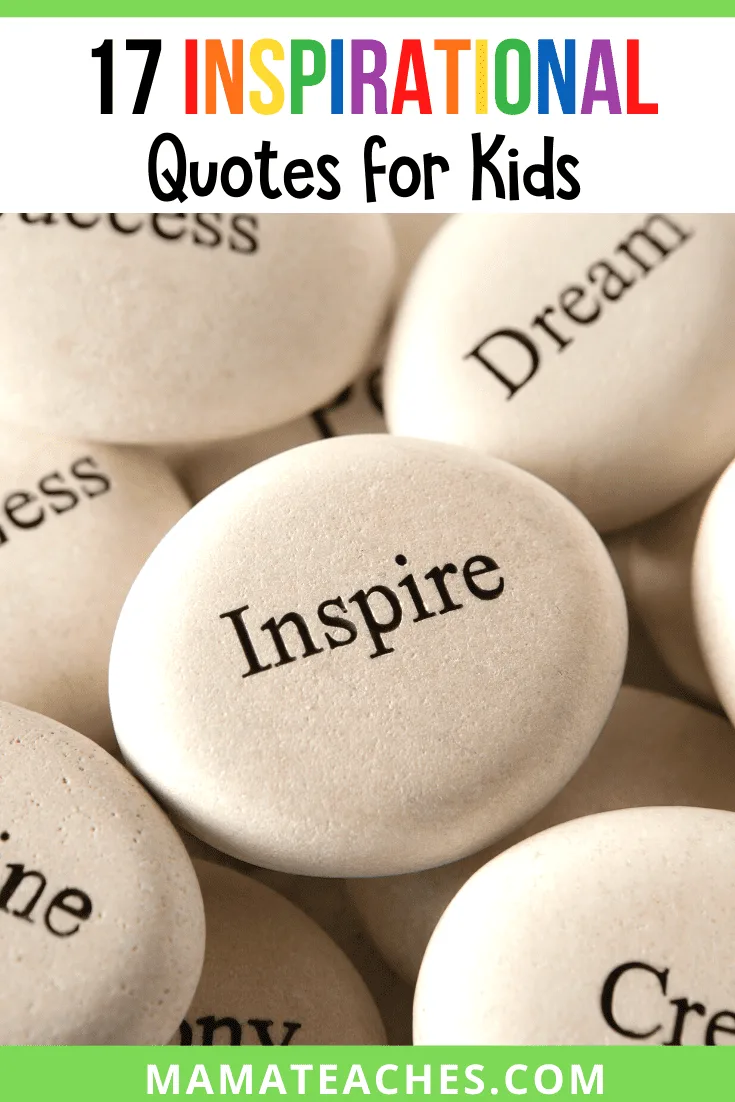 17 INSPIRATIONAL QUOTES FOR KIDS
Here are 17 of my favorite inspirational and encouraging quotes for kids. Get creative with these, and use them to foster a growth mindset in the lives of the children that are special to you!
1. "Why fit in when you were born to stand out?"– Dr. Seuss
2. "If you can dream it, you can do it."– Walt Disney
3. "It always seems impossible until it's done."– Nelson Mandela
4. "Never let the fear of striking out stop you from playing the game."– Babe Ruth
5. "Education is the key to unlocking the world, a passport to freedom."– Oprah Winfrey
6. "The beautiful thing about learning is that no one can take it away from you."– B.B. King
7. "You miss 100% of the shots you don't take."– Wayne Gretzky
8. "Try to be a rainbow in someone's cloud."– Maya Angelou
9. "Never look down on anybody unless you're helping them up."– Jesse Jackson
10. "The time is always right to do what is right."– Martin Luther King, Jr.
11. "Anything is possible. Anything can be." – Shel Silverstein
12. "Winning doesn't always mean being first. Winning means you're doing better than you've done before. " – Bonnie Blair
13. "Be silly, be honest, be kind." – Ralph Waldo Emerson
14. "No act of kindness, no matter how small, is ever wasted." – Aesop
15. "Being different isn't a bad thing. It means you're brave enough to be yourself." – Luna Lovegood
16. "Even though you're growing up, you should never stop having fun." Nina Dobrev
17. "You're off to great places. Today is your day! Your mountain is waiting, so get on your way!"― Dr. Seuss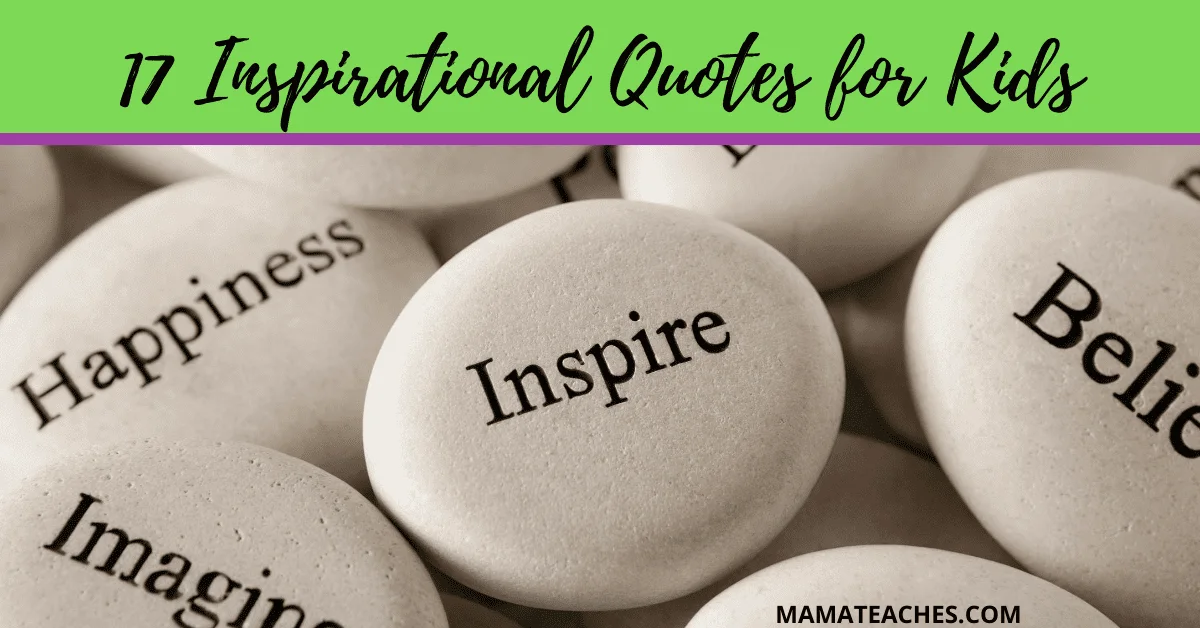 Looking for more info about growth mindset? Try these!