You want to teach inferencing, but where do you start?
We have just the place!
Check out these books to teach inferencing to your kids.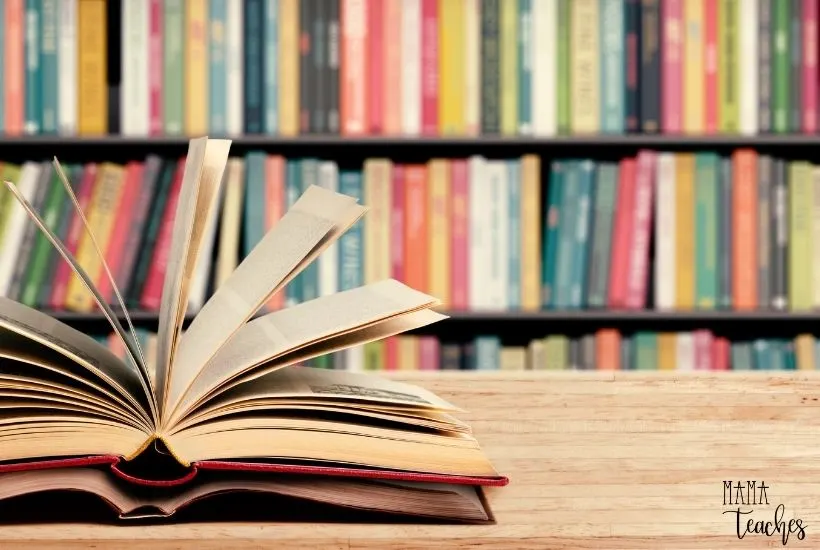 This article contains affiliate links to things that you might like.
Books for Inferencing
Inferencing involves using existing clues in a picture or piece of text to draw conclusions that are not stated outright.
To infer, a student must be able to notice subtle details, draw from existing information he already knows, and make a logical deduction.
Inferencing is not only a vital skill in reading comprehension, it is necessary to master subjects like science and math.
Picture Books for Inferencing
Where do you start teaching inferencing?
With pictures, of course!
These picture books use detailed drawings and subtle clues that rely on the viewer's ability to infer.
As you thumb through the pages with your student, ask questions like:
What do you think the character is thinking/feeling/doing?
What is going to happen next?
What would happen if…
Why is the character doing __?
---
Would you want a bag of magic chalk?
What if everything you drew with it came to life?
Would that be wonderful…or terrifying?
In this captivating wordless picture book, the pictures are photorealistic (but they are hand-drawn).
When you name books to teach inferencing, this is a must.
Everyone will be asking (and inferring), "What will happen next?"
This quirky book is beyond compare.
It is funny in an unconventional way.
The opening line involves a fish with a hat saying, "This hat is not mine. I just stole it."
With so little text on each page, the opportunities to ask inferencing questions abound.
"Whom do you think he stole the hat from? Why do you say that? What clues did you use?"
If you enjoy this book, you'll be delighted to know it is part of a hat trilogy (yep, you read that right).
What would two mischievous ants think of an expedition to the unknown world of a kitchen?
Children will need to draw on what they know to figure out exactly what the ants are encountering and how they can get out of the mortal danger of everyday kitchen objects!
What are the strange crystals that lure the ants to the kitchen? (sugar) What is the sea of boiling brown liquid? (coffee) What is this swirling silver grinder that flings the ants across the kitchen? (the garbage disposal)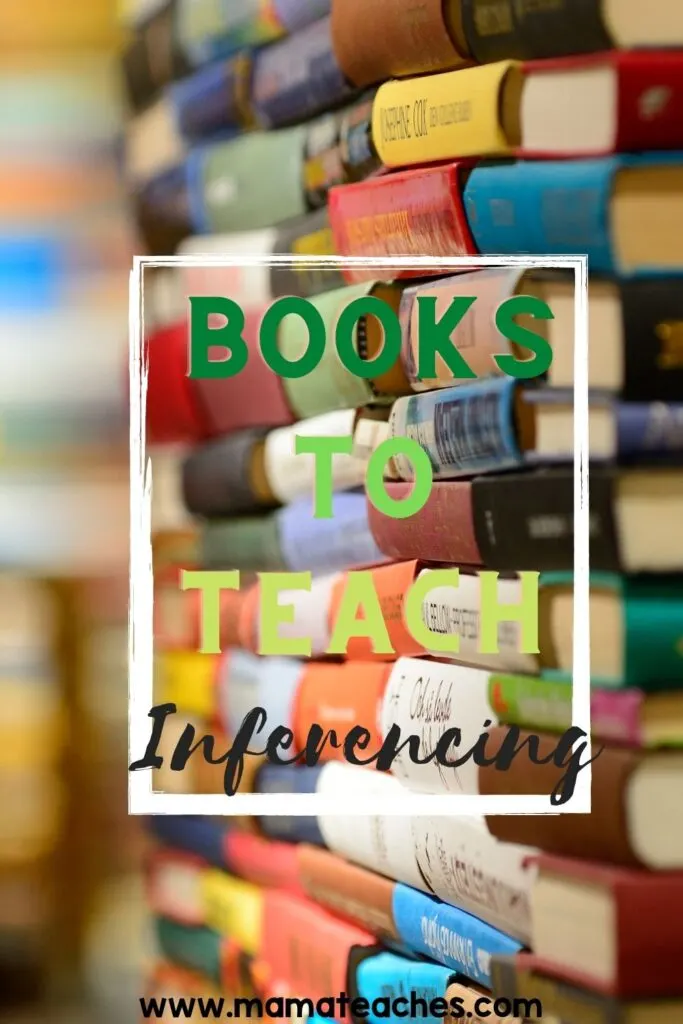 This is more than a Halloween book.
The action-filled illustrations beg for inferencing questions.
When Gritch the Witch announces that she intends to make a piggie pie, the pigs invent a plan to outwit the old shrew.
What will they do?
What do you think will happen?
How will this end?
I remember this book from my childhood–do you?
It's a classic for a reason.
When the sweet Miss Nelson doesn't show up to teach her unruly class, a substitute beyond description takes over.
Follow the clues to solve the mystery–where did Miss Nelson go?
Why do you think she left?
What is going to happen to the meanest substitute on the planet?
In certain books, the illustrations speak louder than the words.
This is certainly true for Blackout, where the reader sees inside the houses of a busy neighborhood.
What is this/that person doing?
Why?
What will happen when the neighborhood loses power?
What do you think will happen when it comes back?
How did the people change?
The wolf always gets the pig, right?
Not if you are Preston the Pig (aka the luckiest pig in the world).
Children will love figuring out how Preston will elude the hungry wolf page after page.
This is the book that started the franchise, and it deserves all its fame.
Hilarious and clever, the illustrations by Betsey Lewin show the thoughts and emotions of each character better than words ever could.
What do you think Farmer Brown is feeling?
What are the chickens thinking?
What are the cows going to write in their next note, do you think?
This book is the start of a wordless trilogy that takes the viewer to a land where imagination reigns.
When a girl finds a magic door in her bedroom that leads to a fantastical land, she finds power in her trusty (and magical) red marker.
Where is the girl?
Is this a real place?
How do you know?
What is the girl thinking as she first steps through the door?
What will happen next?
Why limit picture books to fantasy?
These vibrant, lush illustrations will inspire the viewer to infer scientifically.
What do you think will happen to the banana when gravity is taken away?
What happened to the boy's objects at the end of the story?
How do you know?
What does the title tell you about the book?
It's a caper!
In this wonderfully delightful story, four characters creep through the woods toward a brilliantly colored bird.
What is their plan?
What will happen?
What is the littlest fellow thinking?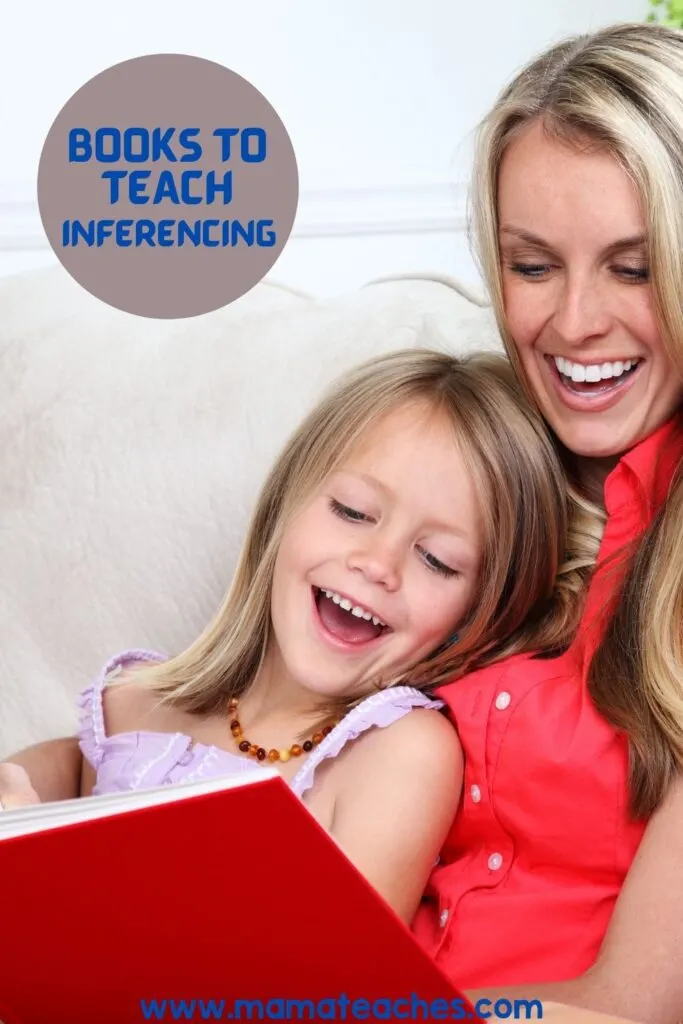 This touching story about a lonely old man appeals to kids of all ages.
The paintings by Peter Catalanotto are realistic and not cartoony, and their scenes invite the viewer to ponder.
What is the man thinking?
What is he feeling?
How can you tell?
As his wishes are granted one by one by a mysterious waiter named Angel, how is the man affected?
What is the message of this story?
These charmingly humorous and adorable illustrations will make your student fall in love with Gloria, Officer Buckle's clever canine.
How does Gloria act out each safety tip?
What will she do next?
What does Officer Buckle think about the children's reactions to his speech?
Why?
Inferencing Books for Kids
You wanted books to teach inferencing to kids, and now you've got them.
Open one of these fabulous stories and charm your kids into learning a new skill.
You May Also Like: