Helping your child develop a love for literature and composition just got easier with Mr. D Math's NEW Comparative Literature and Composition class!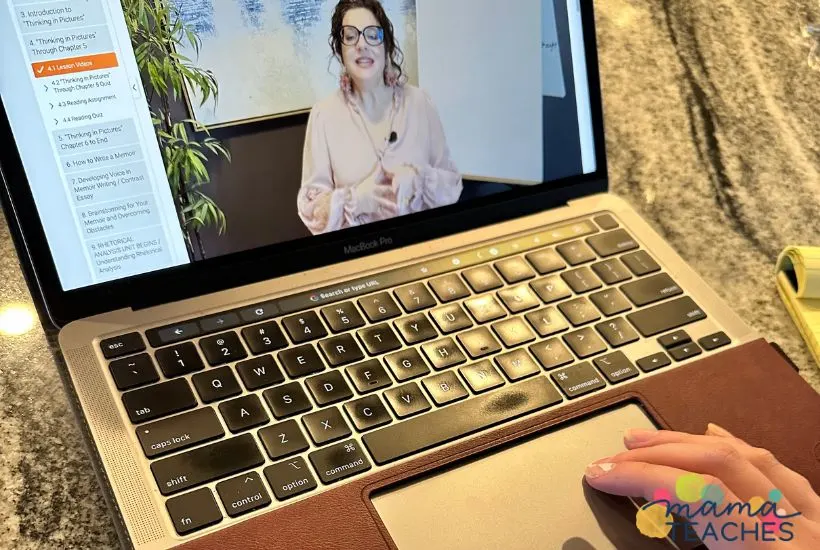 I was compensated for my time writing this article. All opinions are my own. This article contains affiliate links.
As a homeschooling parent, you strive to provide your child with the best education possible, nurturing their intellectual growth and fostering a love for learning.
When it comes to high school literature and composition, finding a course that covers the essential skills and ignites a passion for literature can be challenging.
Look no further, as Mr. D Math's new Comparative Literature and Composition online class is here to jumpstart your child's literary journey.
A Unique Approach to Literature and Composition
The new Comparative Literature and Composition self-paced online class Mr. D Math offers stands out from traditional literature courses due to its innovative and engaging approach.
We love all of the Mr. D Math courses and have found that they work well in our curriculum. This new language arts class is no different!
The course goes beyond the standard curriculum by incorporating various writing techniques, including memoir writing and poetry.
By exploring these different forms of expression, students can tap into their creativity, develop their unique voices, and expand their literary horizons.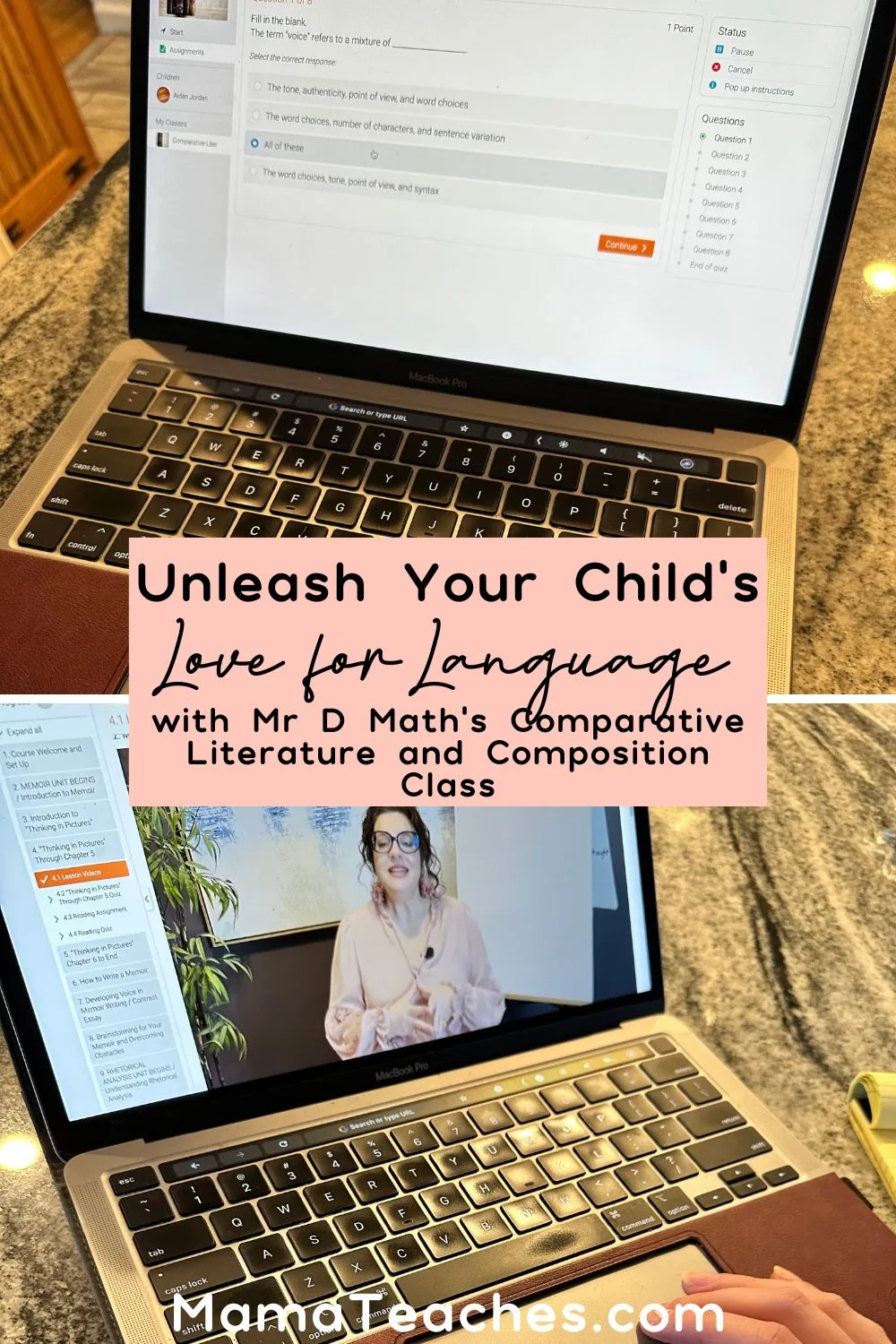 Cultivating Analytical Thinking
One of the key benefits of enrolling your child in Mr. D Math's Comparative Literature and Composition class is the emphasis on analytical thinking.
Throughout the course, students are challenged to delve deep into texts, critically evaluate ideas, and analyze what they're reading.
This skill enhances their comprehension of literary works and hones their ability to think critically about the world around them.
Mastering Rhetorical Analysis
In the realm of literature and composition, understanding rhetorical analysis is a crucial skill.
Mr. D Math's Comparative Literature and Composition class provides students with the tools necessary to dissect and analyze rhetorical devices employed by authors.
By examining how language and structure shape meaning within a text, students gain a deeper appreciation for the power of words and enhance their writing abilities.
It's like putting the skills they have read about and analyzed into action in their own writing!
This is a huge benefit for my youngest because it allowed her to see how those literary devices worked before tackling them herself.
Exploring Themes and Cultural Issues
Literature provides a window into different cultures, perspectives, and historical periods.
Mr. D Math's Comparative Literature and Composition class allows students to explore various themes and cultural points prevalent in different literary works.
Through thought-provoking discussions and assignments, students develop a broader understanding of the world they inhabit while honing their ability to analyze complex themes critically.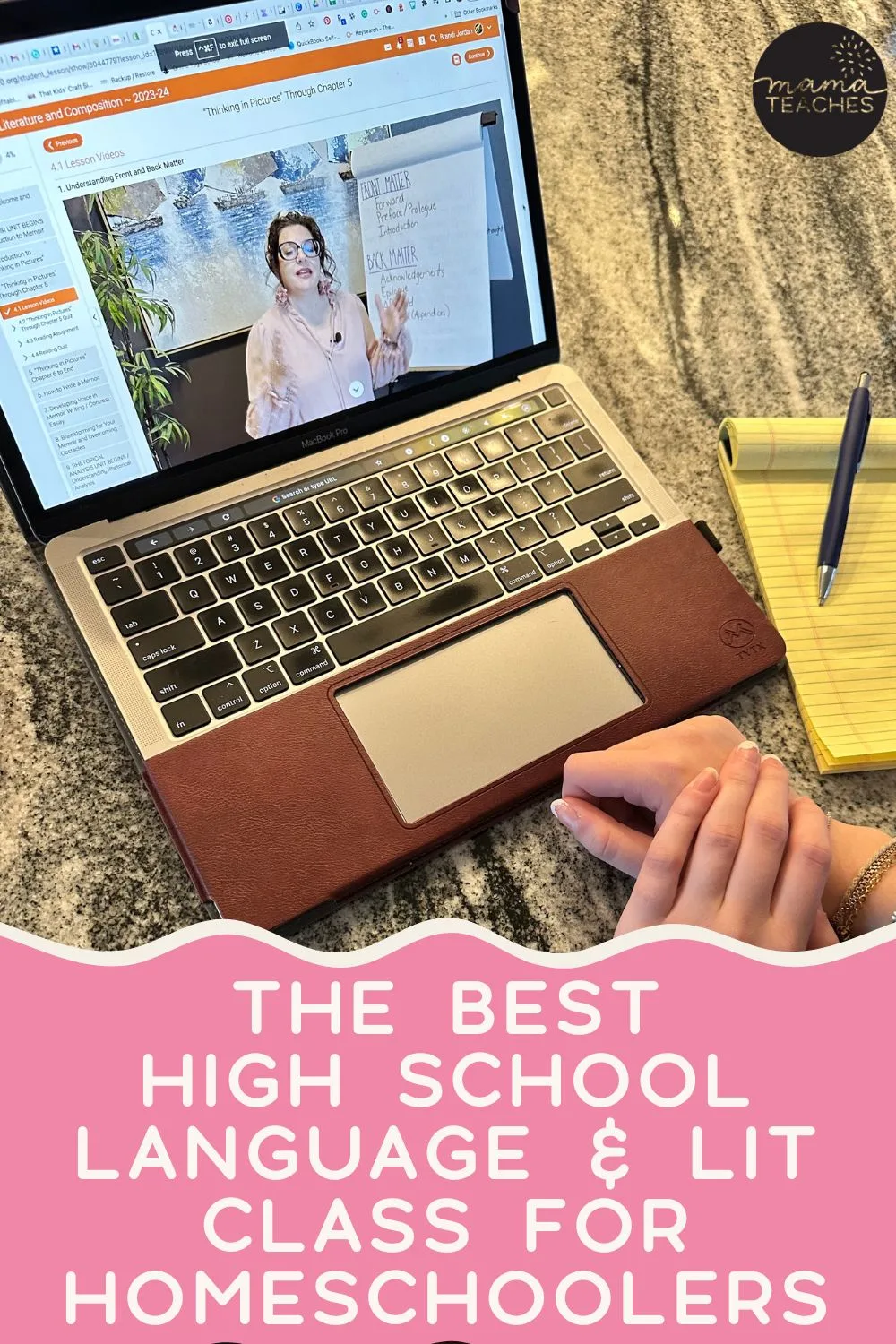 Unleashing Creativity through Memoir Writing
One of our favorite sections of the Comparative Literature and Composition class was the memoir writing piece.
Memoir writing is a captivating form of self-expression that allows individuals to reflect on their own experiences and share their unique stories.
In Mr. D Math's Comparative Literature and Composition class, students are introduced to the art of memoir writing.
By learning from established memoirists and engaging in their own personal narratives, students refine their writing skills and discover the power of introspection and storytelling.
For high schoolers today, the ability to express themselves in a more profound way can be daunting in the face of so much social media.
Memoir writing helps them to dig deep.
We also found the lessons on it to be truly interesting and helpful!
The Heart of Darkness: A Journey into Literary Analysis
As part of this dynamic course, students have the opportunity to dive into Joseph Conrad's acclaimed novel, The Heart of Darkness.
This literary masterpiece serves as a catalyst for discussion, analysis, and exploration of complex themes such as imperialism, morality, and the darkness within human nature.
By dissecting this work, students sharpen their analytical skills while gaining a deeper appreciation for the power of storytelling.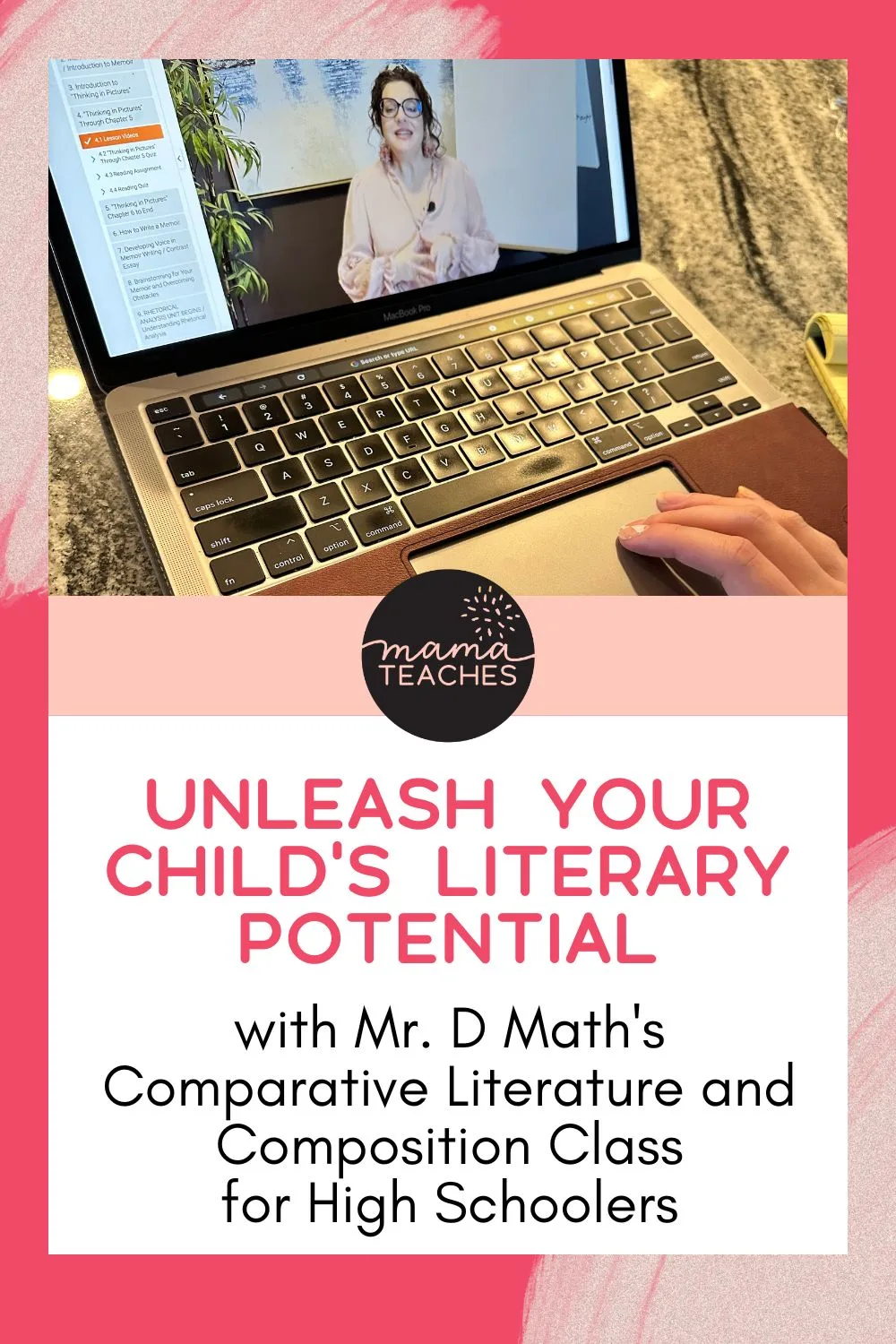 Key Take Aways and Things We Loved About the Course
There are so many wonderful things to say about Mr. D Math's new Comparative Literature and Composition class!
Here are some of the things that really stood out for us and made it a course we'll come back to again and again.
Self-Paced Learning Rules: Being able to complete the course in a self-paced format was so helpful. It allowed us to dig in a little deeper where we wanted to and move through other things more quickly.
Fabulous Instructors: In our experience, all of Mr. D Math's instructors have been terrific. The instructors for the class, Jenni Stahlmann and Jody Hagaman, really made the topics interesting and kept us engaged in the lessons.
Well-Made Videos: We have attended online classes where the videos could have been better. That's not the case with the Comparative Literature and Composition class video lessons. They were great, and you could always hear the instructors.
It's Not Mom Teaching: It's hard to say who was more excited about this aspect of the course – me or my daughter. While we both love literature and writing, having me teach it to her has proven to be challenging in the past. So, to have a self-paced class that she could work through independently was a huge benefit for both of us.
A Year-Long Course: Planning your homeschool year can be daunting, especially when planning out high school credits. This course spans two semesters or one year of high school. That means that the course will cover language arts for your student's freshman or sophomore year of high school.
Ignite Your Child's Passion for Literature
Enrolling your high schooler in Mr. D Math's Comparative Literature and Composition online class can be a transformative experience.
I know that sounds exaggerated, but it's true.
It really can change the way your child thinks and feels about literature and writing.
The course equips students with essential writing skills and nurtures their love for literature and creative expression.
From memoir writing to poetry analysis, this comprehensive course encourages analytical thinking, rhetorical analysis, and exploration of themes in literary works.
Take advantage of this incredible opportunity to unleash your child's literary potential!
Enroll them in Mr. D Math's Comparative Literature and Composition online class today and watch their passion for literature flourish.
YOU MAY ALSO LIKE…