Decimals can be tricky!
Give your upper elementary and middle school students practice with adding and subtracting decimals in this FREE Decimals Addition and Subtraction Virtual Escape Room!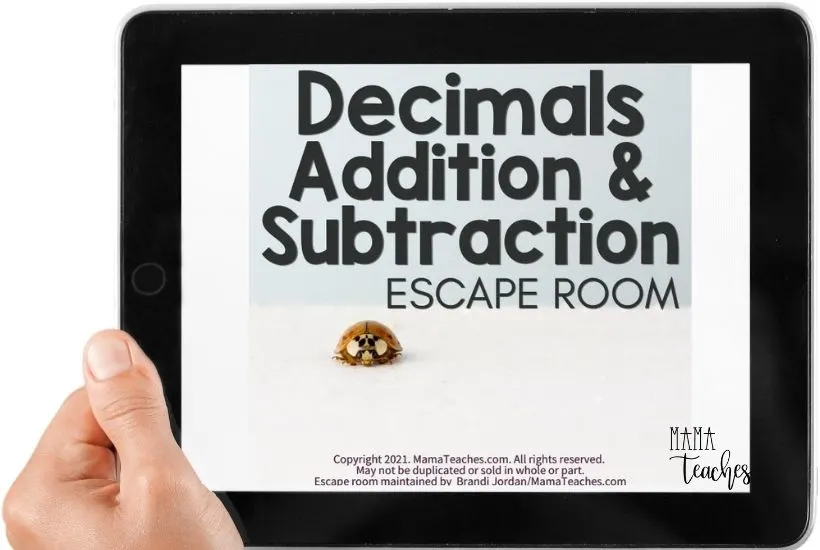 This article contains affiliate links to things that you might like.
Using Escape Rooms in the Classroom
We love using digital or virtual escape rooms in the classroom for everything from math centers to Friday Fun activities.
They're a great way to easily get students engaged and keep their attention throughout the activity.
Since our escape rooms focus on specific skills, topics, or holidays, they're a great addition to your lesson plans!
How you choose to use them in the classroom is up to you, but they are sure to be an activity that all of your students enjoy participating in – no matter how you're teaching!
You can also check out other ways to use escape rooms in the classroom HERE.
How to Use the Decimals Addition and Subtraction Virtual Escape Room
If you're working on having students add and subtract decimals, this virtual escape room is going to be great practice.
It does include addition with carrying and subtraction with borrowing, so be sure that your students are well versed in those math skills before having them attempt this digital activity.
The escape room can be assigned as a math center using student iPads, tablets, or computers.
It's accessible from this webpage as well as the direct link that's found below the embedded escape room at the end of this article.
Since you will not be able to see which students have completed the escape room (we do not collect personal data, nor do we share the answers collected with anyone), if you're using the escape room as a graded activity, be sure to print and hand out the answer sheets that go along with it.
They are found in the Freebies Library which can be accessed or signed up for HERE.
The last slide of the escape room includes a secret word.
Students can record the secret word on their answer sheet along with their answers to the problems.
Since they will not be able to move on to the next problem without answering their current problem correctly, you can rest assured that they will have mastered the task by the time they get to the secret word.
There are 20 questions in this digital escape room, so plan accordingly in terms of the time students will need to complete it.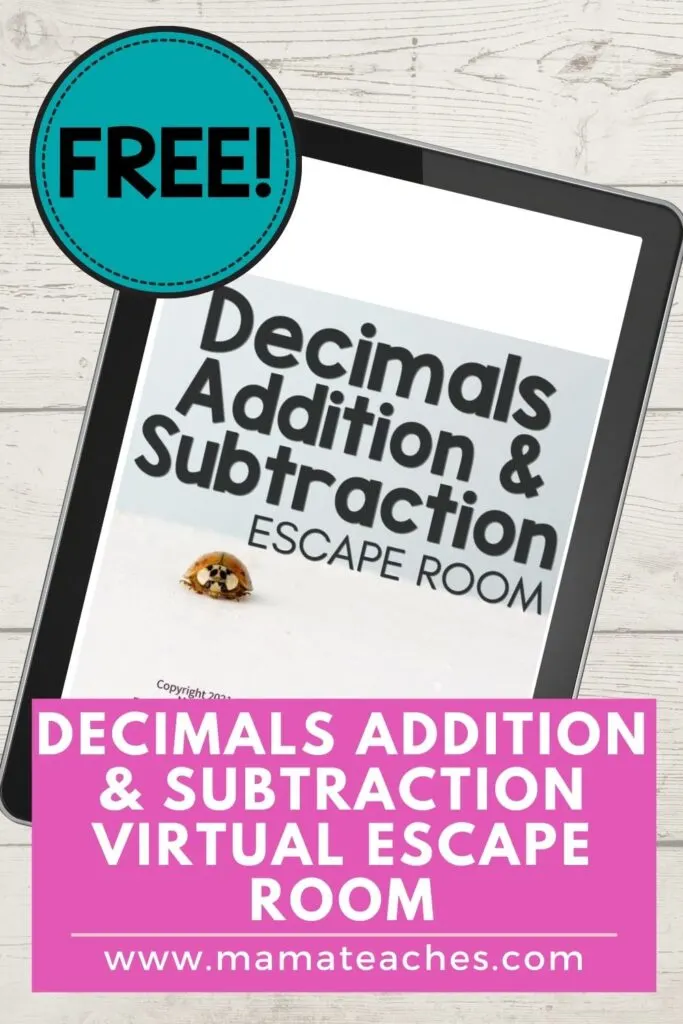 Ready to play?
Let's go!
Decimals Addition and Subtraction Digital Escape Room
Directions: Complete the digital escape room below.
Write the answer to each problem on your answer sheet.
When you have completed all of the problems, you will be given a secret word to write down on your paper before turning it in.
Don't forget to write your name on your answer sheet!
You can also access the escape room directly from this link if you want to assign it that way.
Have fun and thanks for playing!
You Might Also Like: