Starting a unit on our prehistoric pals in your preschool class?
Try incorporating this big book of dinosaurs into your lessons for those early readers of yours!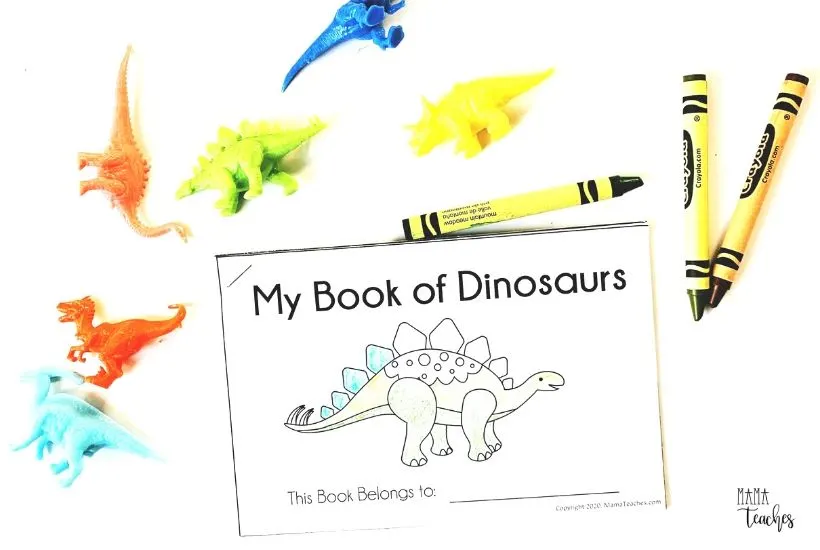 This article contains affiliate links to things that you might like.
Book of dinosaurs
Dinosaurs are awesome, but what's even more awesome is knowing all the different types of dinosaurs that once existed.
This free printable book gives kids an opportunity to put a name to those mysterious giants.
The layout of the book is very simple and straightforward, a.k.a. easy to read and understand for your students or children.

SETTING UP YOUR DINOSAUR BOOK

There are a few materials you will need to get this dinosaur book ready for your kids.

Standard 8.5″x11″ sized printer paper
Scissors
Stapler OR hole punch and string
First things first, the printing process.
There are a total of six sheets that will print, so be sure to load up your printer with as much paper as you will need.
So, if you plan to print two books, put at least twelve sheets of paper in the printer.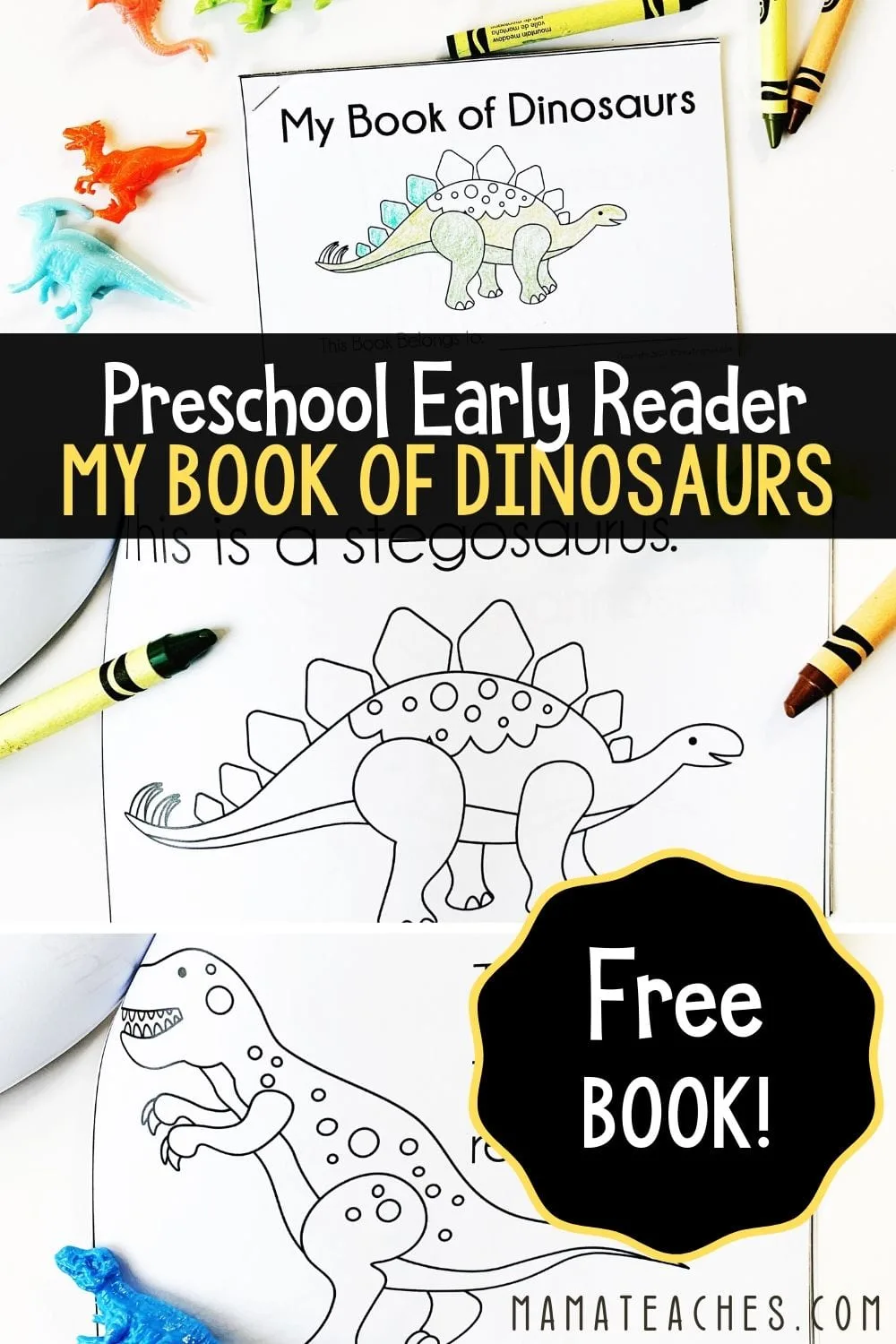 Next, you'll need the scissors.
Each sheet that prints will have two pages to the book along with a thick black line in the middle to separate them.
Use your scissors to cut the sheets in half.

The last step is up to you.
You could simply staple the book together, or create a fancy book bind with the hole puncher and string. If you plan to use the hole puncher, it may be best to put the holes at the top of the pages and use two different pieces of string to tie the book together.

USING THE EARLY READER DINOSAUR BOOK

Your students and children can enjoy this book immediately after you finish the bind.
Each page has a picture of a dinosaur, along with the name of that dinosaur so they can build up their word recognition skills.
This free printable can be used in a number of ways, from in the classroom, on a field trip, during homeschooling, or on the go as a parent.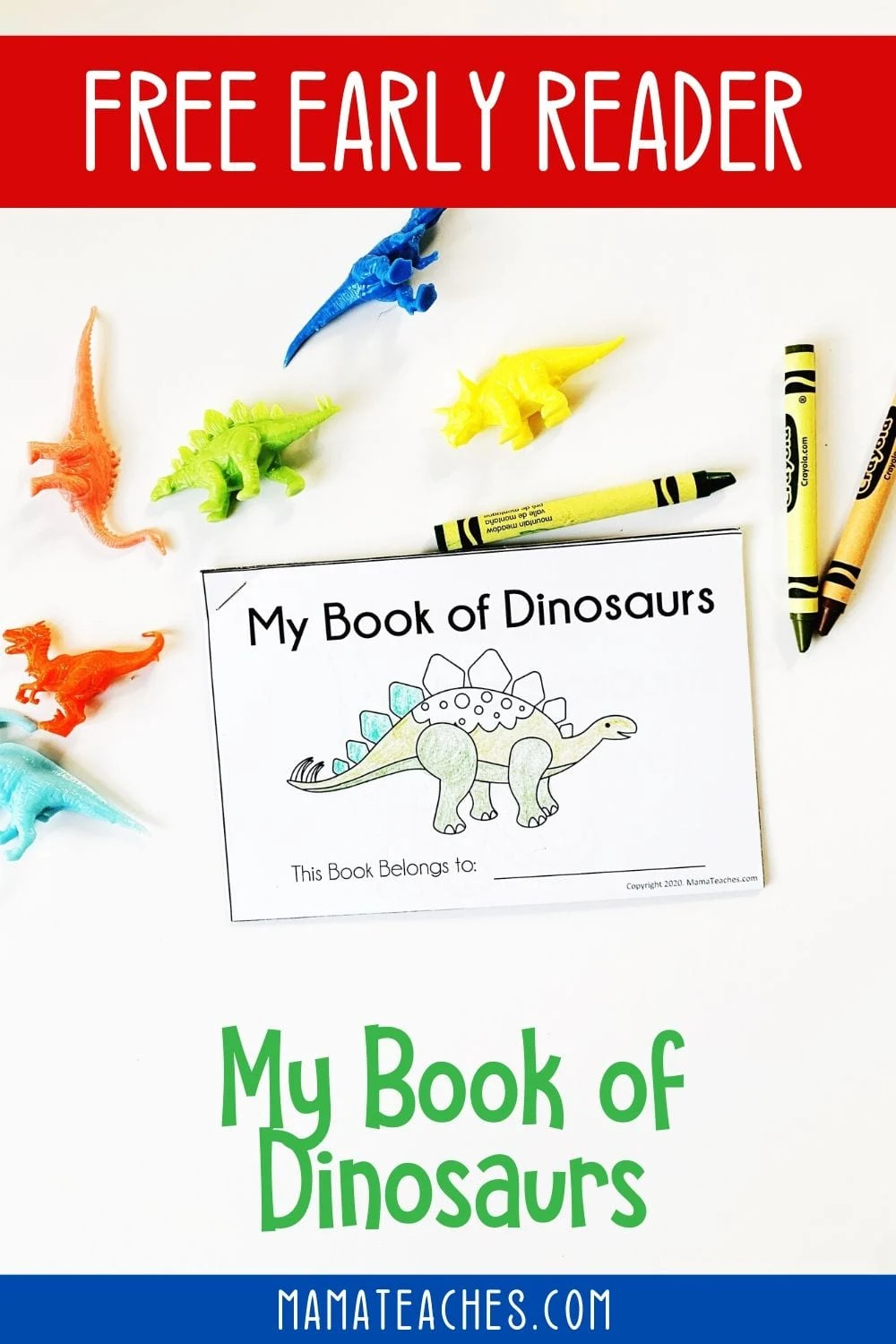 Take copies of this book on a field trip to the dinosaur museum with your preschoolers!
This will be the perfect activity to incorporate into a thematic unit on dinosaurs.
If using this book during a lesson on dinosaurs, you could combine it with other dinosaur-related books and activities to strengthen their understanding of the concepts.

Whenever your kids do use this book, pass them some coloring utensils to color in their dinosaurs. Coloring pencils, crayons, and washable markers work best!
Download Your Free Early Reader
This early reader for preschoolers, My Book of Dinosaurs, is free in our Freebies Library!
If you're already an email subscriber, you can log in with the secret password here.
(The password is sent in each week's email, so just search your inbox for [email protected] to see this week's newsletter in case you forget the password.)
Not a subscriber yet?
No worries!
Just fill out the form below and the password will be emailed to you!
Ask your kids which of the dinosaurs in this book is their favorite!
Show us which one they choose by tagging us on Instagram @MamaTeaches.
You Might Also Like: