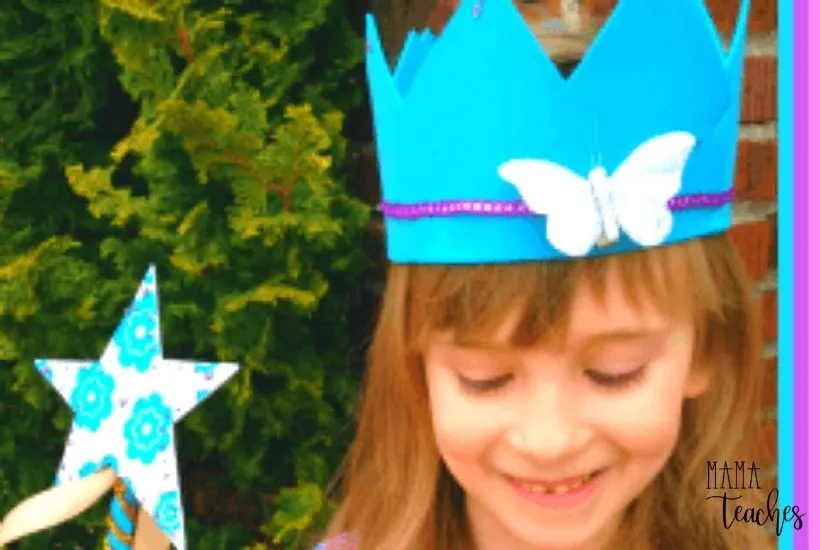 This article contains affiliate links to things that you might like.
Most little girls, at one time or another, want to be a princess.
After watching a Disney movie or seeing a play, the overwhelming desire to wear a princess crown and carry a princess wand embeds itself in their enchanted psyches.
So, what better time to whip up a quick princess crown and wand than before watching their favorite princess movie for the 9 billionth time?
Making a Quick Princess Crown and Princess Wand
The wand and crown will take a total of about 20 minutes to complete.
They require only a few supplies and, if you use coordinating colors, will work perfectly with the Princess Tutu Skirt.
In under an hour, your little princess can be dressed up and singing "Let it Go" with Idina Menzel.
You're welcome – and we're sorry all at the same time.
Have fun!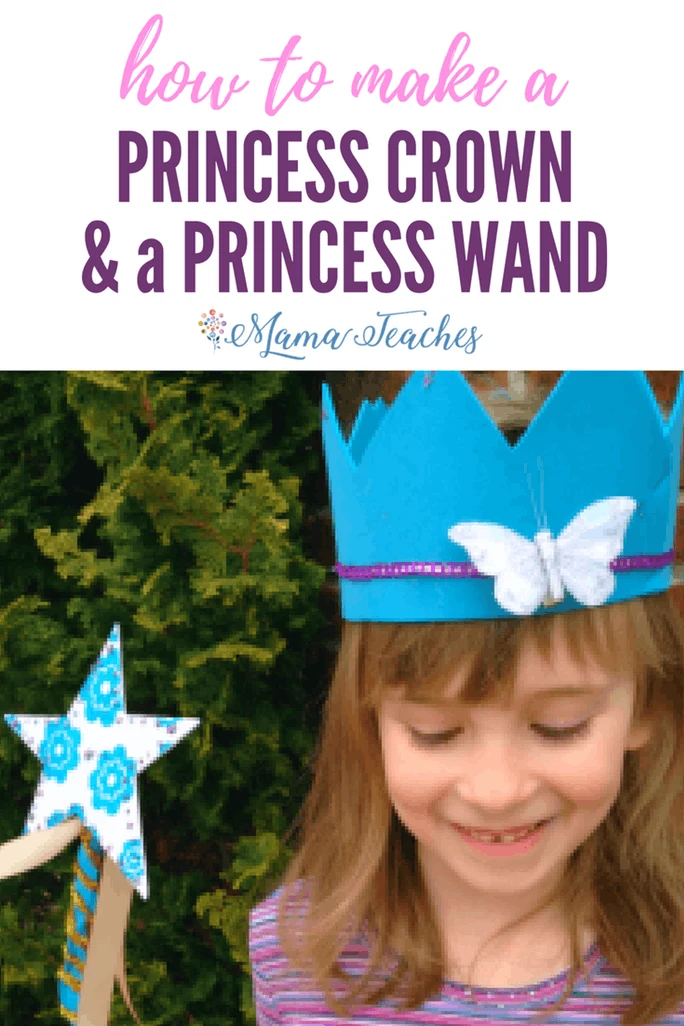 How to Make an Easy Princess Crown and Wand Craft
Ages: 3+ (with adult supervision)

Time: 15-20 minutes
Materials Needed:
3 – 8.5″ x 11″ sheets of colored foam in coordinating colors
Stapler
Scissors
3 – Gold or silver pipe cleaners
Glitter glue (optional)
Ribbon (optional)
Butterfly clip (optional)
Markers (optional)
Short wooden dowel (optional)
​
Directions for Making the Princess Crown:
Fold one sheet of foam in half lengthwise (hot dog-style) and cut it into two pieces.
Place the two strips together and cut a design on one long side for the points of the crown.
Staple the pieces together at one end.
Decorate the crown with glitter glue, ribbon, markers, etc. You might even want to glue some costume jewels on it or sprinkle it with glitter.
After the decorating is done and the glitter glue (if you used it) is dry, wrap the crown around your princess' head. After you have measured, take it off from your child's head and where the pieces overlap, staple them together to create the crown shape.
​
Directions for Making the Princess Wand:
Cut a large star from one of the pieces of foam.
If desired, decorate it with markers, ribbon, glitter, glitter glue, etc.
From the final foam sheet, cut a 2 1/2″ x 8″ strip for the wand's stick. You could also use the wooden dowel to make the wand more sturdy if you so chose.
Wrap a pipe cleaner around the strip of foam that you cut to give it more stability and sparkle. Add another pipe cleaner or two as needed.
Staple one end of the foam/pipe cleaner stick to the back of the star.
Staple strips of ribbon to the back, if desired.
​
Tie on your Princess Tutu Skirt and you are now ready to rule your kingdom! (Or sing Let It Go another 900 million times.)
​
Did you make a Princess Crown and Wand with your kids? Take a photo and share it with us below or tag us onInstagram @MamaTeaches!
You Might Also Like…