Hip hip hooray! It's the birthday of one of your students.
How do you celebrate it in a fun and easy way?
We've got 8 fantastic options!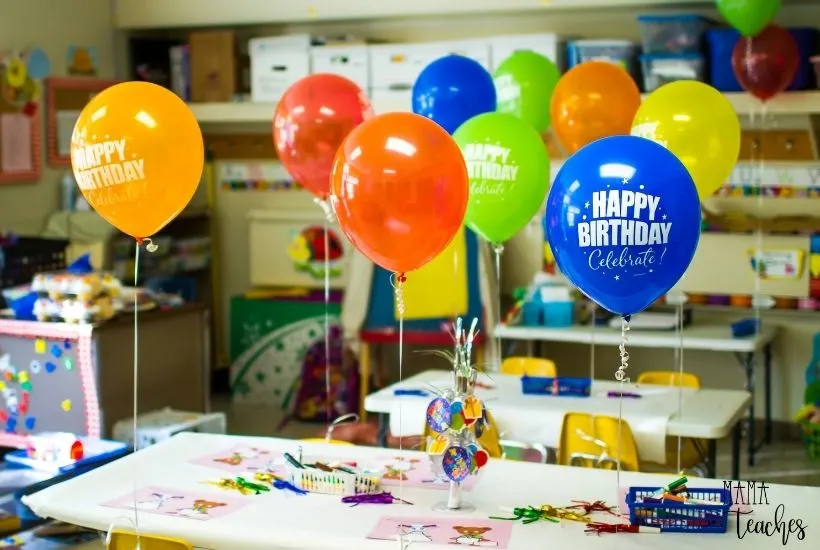 This article contains affiliate links to things that you might like.
Why Should I Celebrate Student Birthdays?
Birthdays are a special day for the student.
When you acknowledge and celebrate a child's birthday, it shows that you pay attention and care.
Ideally, the child would be celebrated at home as well, but sometimes that doesn't happen.
A simple birthday gesture from you could be more meaningful than you know.
Make a class list of birthdays and post it somewhere.
You can also add each birthday to your calendar (yes, please, a reminder!) to help you keep track.
You can celebrate summer birthdays on their half birthday in six months.
8 Ways to Celebrate Student Birthdays
With all that you already do, you need birthday ideas that are simple and easy to execute.
Here are 8 options that are sure to bring a smile from the birthday boy or girl.
Make a Sign
At the beginning of the year, make a sign that says "Today is _____'s Birthday!" and laminate it.
Then on the special day, write the child's name in the blank with a dry erase marker.
Hang the sign on the door to the classroom or on your whiteboard for everyone to see.
Make a Class Card
Buy a birthday card and write a note to the birthday boy or girl.
Have everyone in the class sign it.
You could also use these free printable mini Happy Birthday cards and have students decorate them for the birthday child.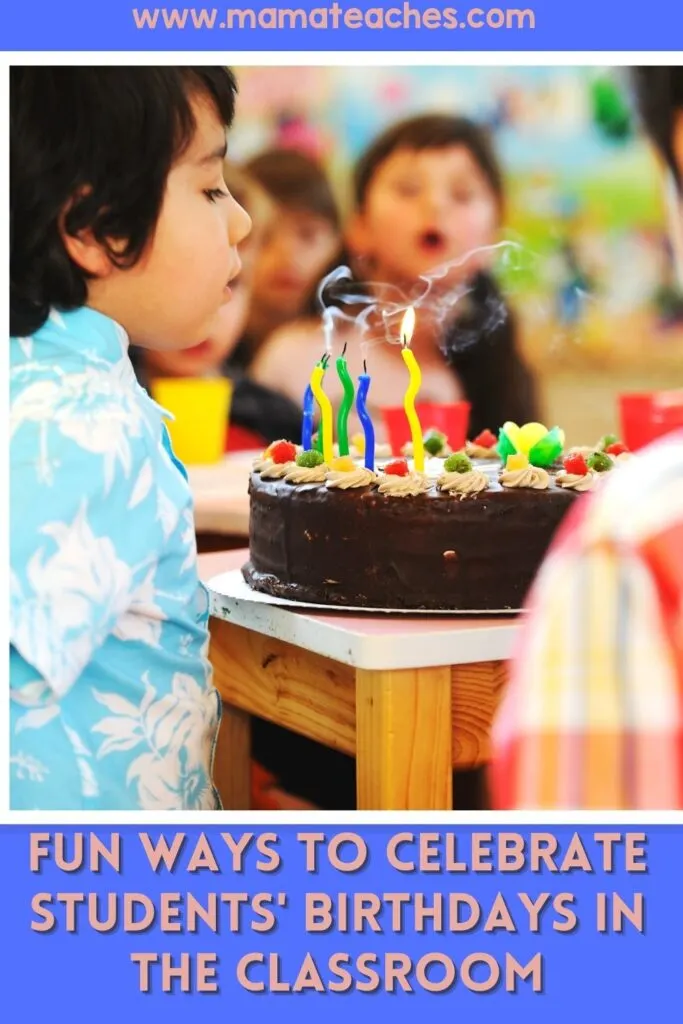 Favorite Food Birthday Snack
Ask the student if he would like to bring in his favorite snack for the class to try.
It's a great way to get to know the student better!
Do Something Special
Do something out of the ordinary for a birthday.
Hold a five-minute party (play a fun song and cap it off with a streamer cannon) or serenade the birthday girl with kazoos.
You can rearrange the desks for the day or play a short game together.
Go off the beaten path of your schedule and celebrate the day with something special!
Download Free Birthday Bookmarks
Grab a set of four free printable birthday bookmarks in the Freebies Library!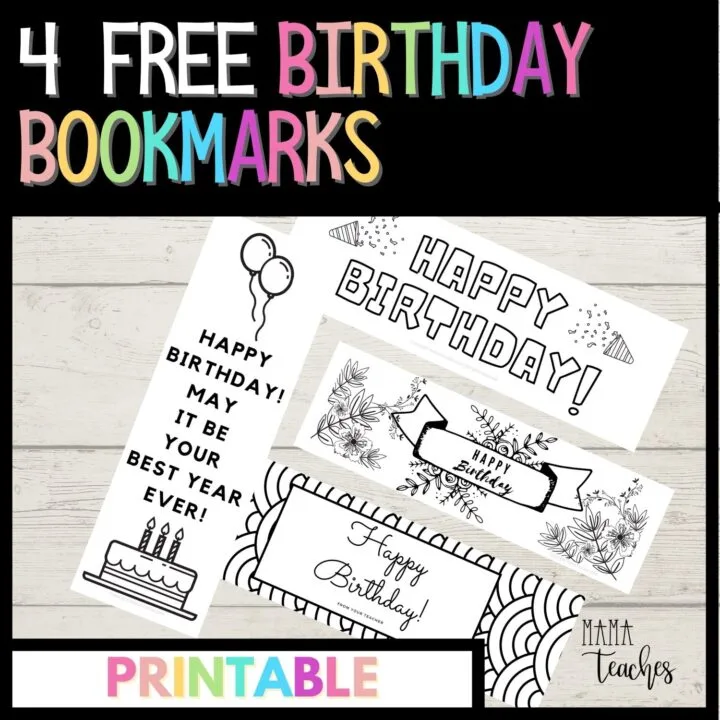 Mystery Reader
Invite the student's family to the classroom to read a book to everyone.
Call the person your "Mystery Reader." Yes, the kids will catch on as the year progresses, but the birthday student will not know which family member will appear.
Make It Memorable
Take pictures of the birthday celebration (however you chose to recognize the student) and save the photos for the yearbook.
Birthday Crown
Everyone will recognize the birthday boy or girl with this special birthday crown.
It's easy to make, I promise!
Give a Small Gift
Everyone loves to receive a gift.
Even a small gift from a teacher can mean a lot.
You don't need to break the bank.
Buy multipacks online and have your gifts ready to go.
Here are some ideas:
Desk pets
Ice cream gift certificates (often local places will give you these for free!)
Painted rocks (if you are the crafty sort)
Art supplies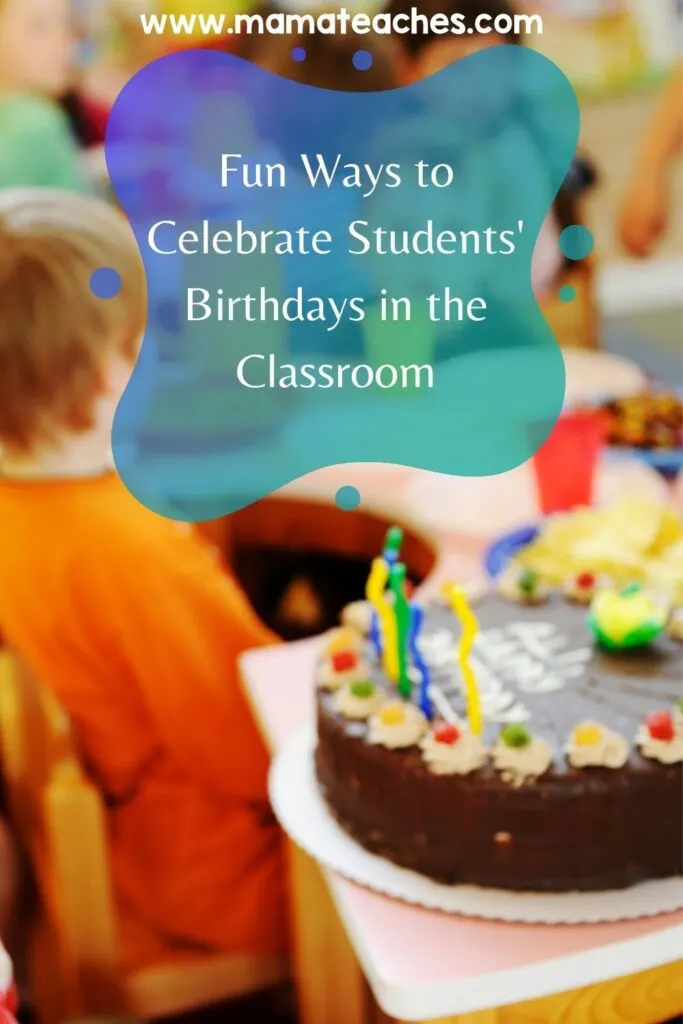 Celebrating Student Birthdays in the Classroom
No matter what you do, your gesture will be appreciated by your student.
Celebrate student birthdays with something fun and special, and make a kid's day in the process!
You May Also Like: