Your homeschool room can function better than ever with these DIY homeschool room ideas.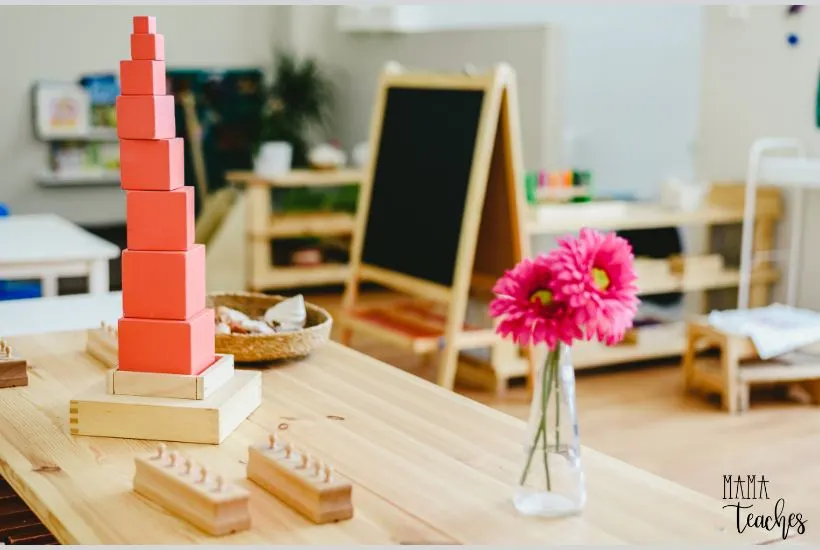 This article contains affiliate links to things that you might like.
Quick and Easy DIY Homeschool Room Ideas
The organizational challenges of a homeschool room are clear:
1) There is never enough storage space.
2) Clutter can get out of control.
3) You may need the room to be dually functional.
Check out these clever hacks and DIY ideas to make your homeschool room its best self.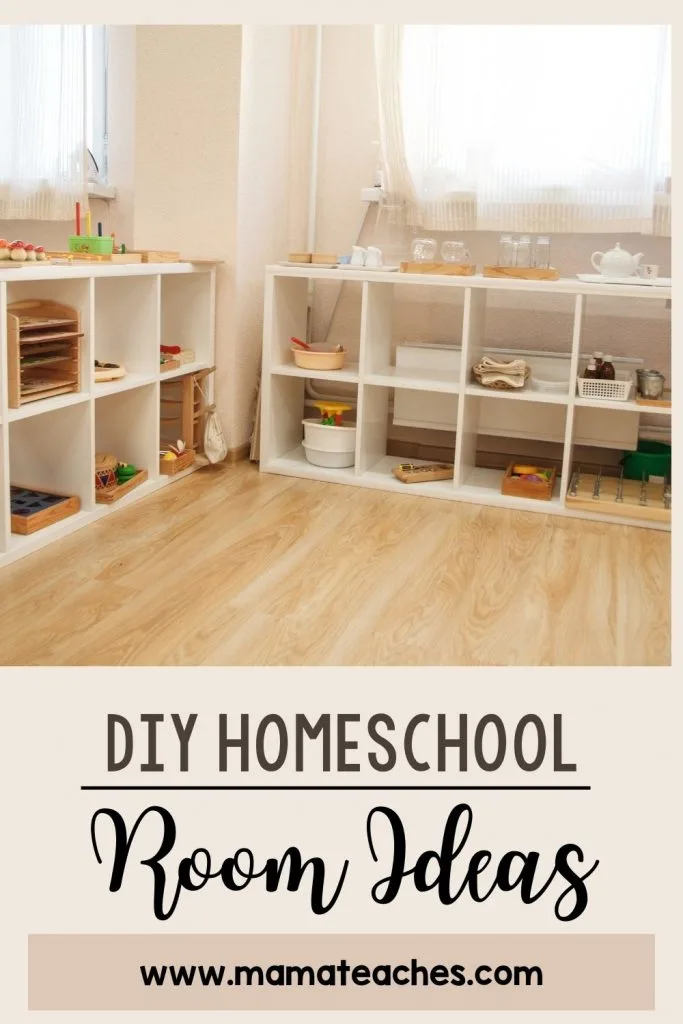 Do-It-Yourself Homeschool Room Ideas
From space-saving solutions to clever hacks to carpentry projects, this list is sure to spur some ideas.
Bins for Past Work
Are you overrun with papers?
Put hanging files in bins to save your child's best work and art from year to year.
Magazine Boxes on Shelves
Sort books on shelves by placing them in magazine boxes.
Then you can easily sort the books by child or by subject.
Plus you can pull out one section without the other books falling over.
Make a Discovery Space
Are you starting a unit study?
Make a discovery space where your kids can explore the topic on their own terms.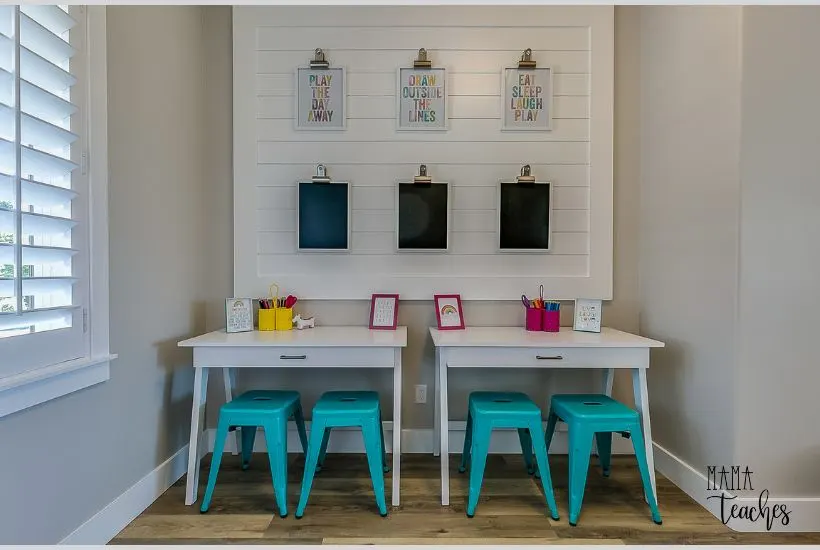 Keep It Little and Low
This Montessori homeschool room keeps everything child-size and in-reach.
If you are homeschooling a young child in a child-led learning style, reorganize the room for her.
Keep everything on her level.
Make Use of Bins
Bins hide the inevitable clutter of homeschooling.
These attractive wicker bins allow this multifunctional space to act as a homeschool room and a family room.
Use Caddies for School Supplies
Keep pens, pencils, scissors, and coloring supplies out in the open with these caddies on the table.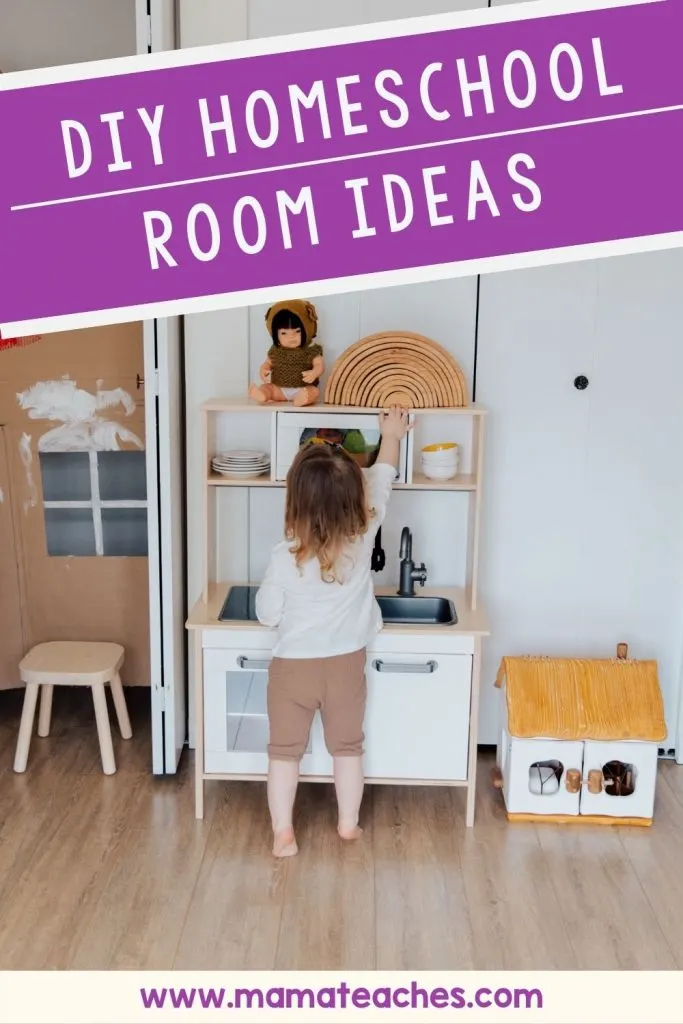 Use a Rolling Cart
Keep your must-have supplies on hand with this three-tiered rolling cart.
The best part?
You can tuck it out of the way (even in a closet) when it's not school time.
Face Out Shelving
Book display shelving (where books sit face out) is the perfect way to inspire reading.
You can rotate which books get pride of place.
Invest in Cushions
A cushion is as versatile as the old refrigerator box (and even more so).
You can build with it, lay on it, and even read inside your own hideaway.
Make a Bench Seat
The best part about a bench seat?
The hidden storage, of course!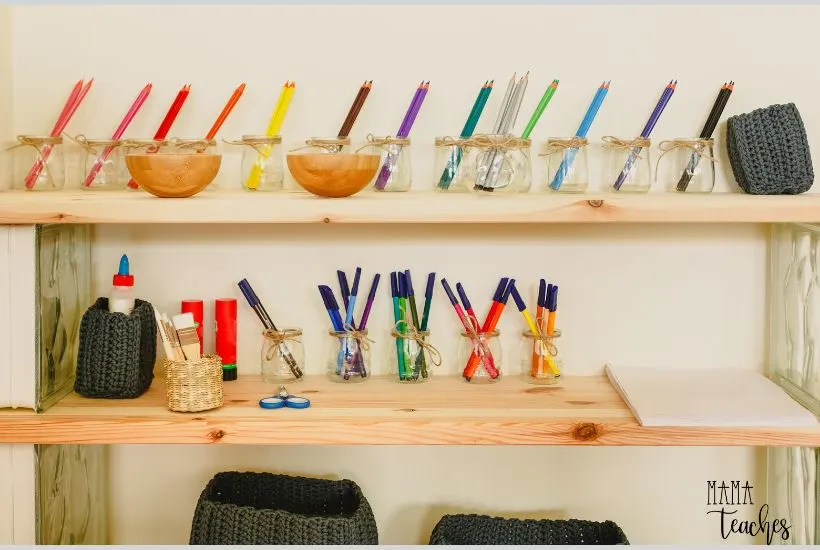 Use the Window
Lean the blackboard/whiteboard against the window for support, and then tuck it away when it's not in use.
Use a Bookcart
Librarians know the secret–book carts are super handy.
This homemade book cart rolls out when you need it and rolls away when you don't.
Wire Racks
Designate a hot spot for collecting papers from the week until they can be sorted.
These hanging wire racks are the perfect place for just that.
The Original Wiggle Seat
Try putting rocking chairs around your homeschool table.
It will keep the body busy so the mind can stay engaged!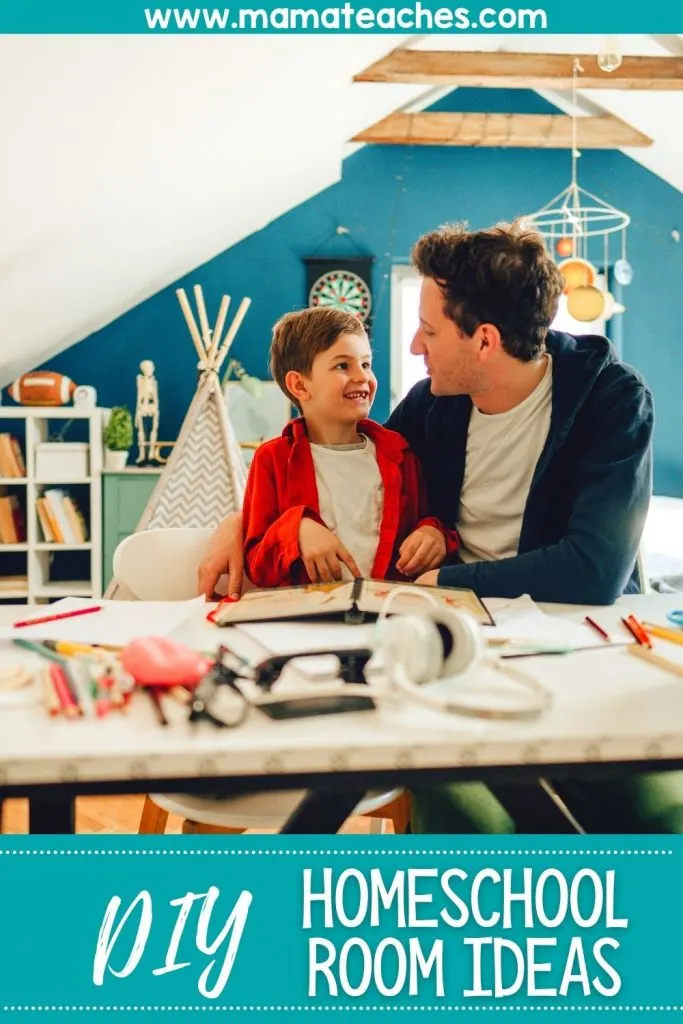 Use a Coffee Table as the School Table
Sometimes kids and chairs just don't go together.
Use a coffee table as the central workspace in your homeschool.
Make a Display Wall
Go for it!
Display all that artwork with pride!
By crowding the pieces together, you create a swirl of color and ideas that breeds even more art!
Jar Storage
Keep your art supplies sorted in clear glass Mason jars.
Create a Themed Sign
This blackboard is centered inside the school shelf.
Find a central place to write your theme of the month.
You can add Bible verses, growth mindset quotations, habits, and goals on the board.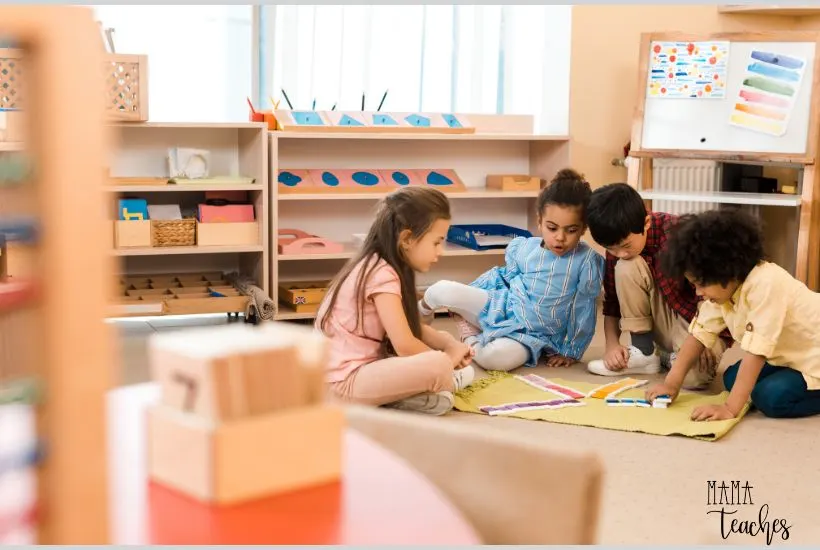 Hang a Hammock
If you can find a spot to hang a hammock inside, do it! It will be the new coveted reading location–I guarantee it!
Make a Teacher Milk Crate
You need a place for your teacher guides and curriculum.
Enter the milk crate.
You can even add hanging file folders.
Create Sensory Spaces
Just by placing this luxe throw on the chair, this room now has a soothing space for any sensory-seekers.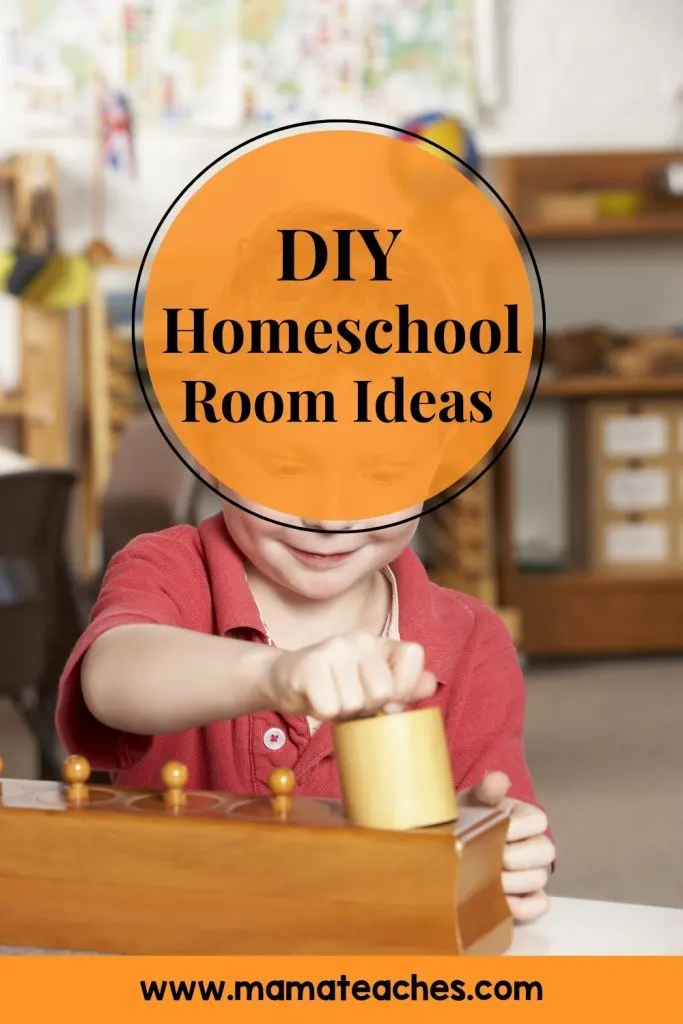 Get Whimsical
You don't have to mimic a traditional classroom setup.
Feel free to embrace whimsy and add some fun pieces to your homeschool room.
This mom bought a tiger rug!
(She also has an amazing wall shelving system!)
Add Speciality Lighting
Task lighting is important when you are reading, writing, and using a computer all day.
But lighting can also affect the mood of the room.
Check out the twinkle lights over the chalkboard!
Repurpose Furniture
You don't have to furnish your homeschool room with only traditional classroom pieces like desks, chairs, and shelves.
You can repurpose other types of furniture like bureaus, TV cabinets, and (in this case) a hutch.
Ask yourself, "Can I put books on it or in it?" If the answer is yes, go for it!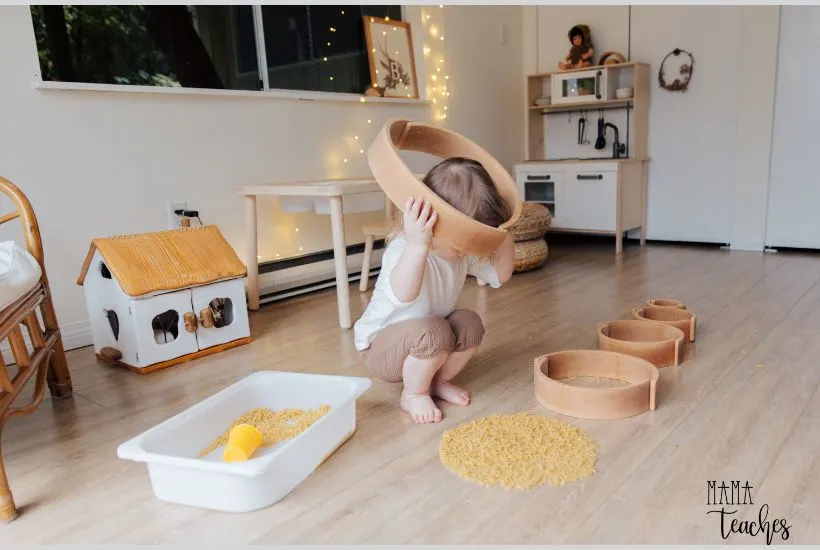 Lazy Susan
Why not put supplies on a lazy susan so everyone at the table can reach them?
You can use a specialty lazy susan caddy like the one on this table, or make your own version with mason jars and a lazy susan from a home improvement store.
Make Your Own Wall Shelf
If you are a confident DIYer, you can try your hand at a custom wall-mounted bookshelf like this one.
Make a Music Corner
Are you studying music as part of your homeschool?
Check out this music corner with wall-mounted records.
One trip to the thrift store and you're ready to decorate!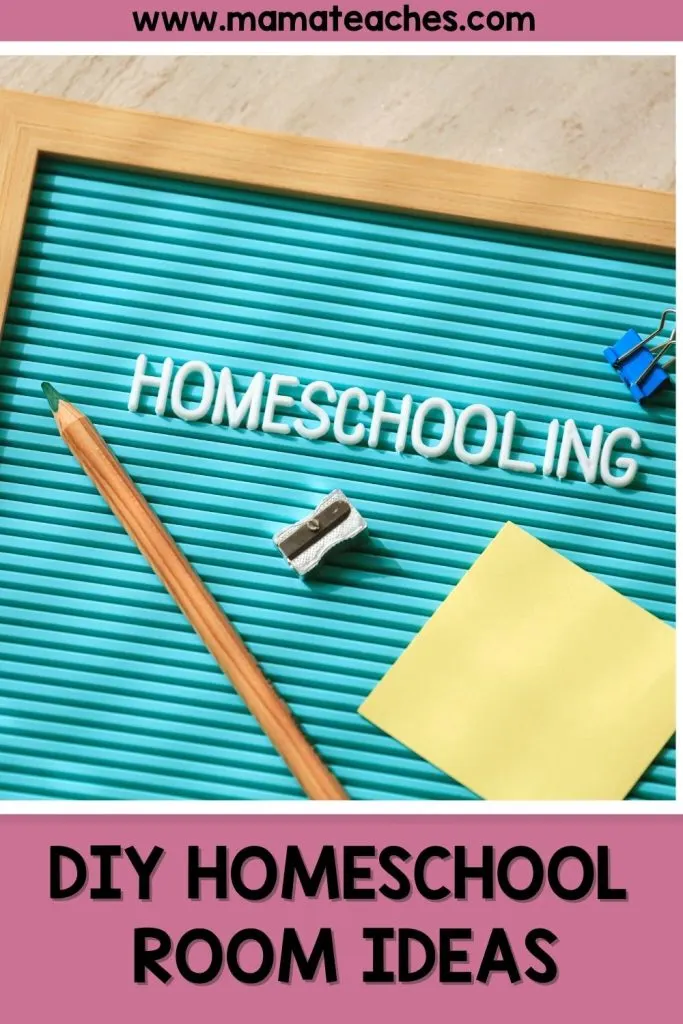 Add a Map
What's the dead giveaway that someone homeschools?
They have a map hanging in their house.
If you don't have one, get one!
They are art with purpose!
Make an Art Banner
Hang your children's art from a clothesline in the room.
You can easily change the artwork over time.
Add Fresh Flowers
It's easy to prioritize the function of your homeschool room; just don't forget about beauty.
Fresh flowers or live plants can speak to the soul and make your homeschool room "a happy place."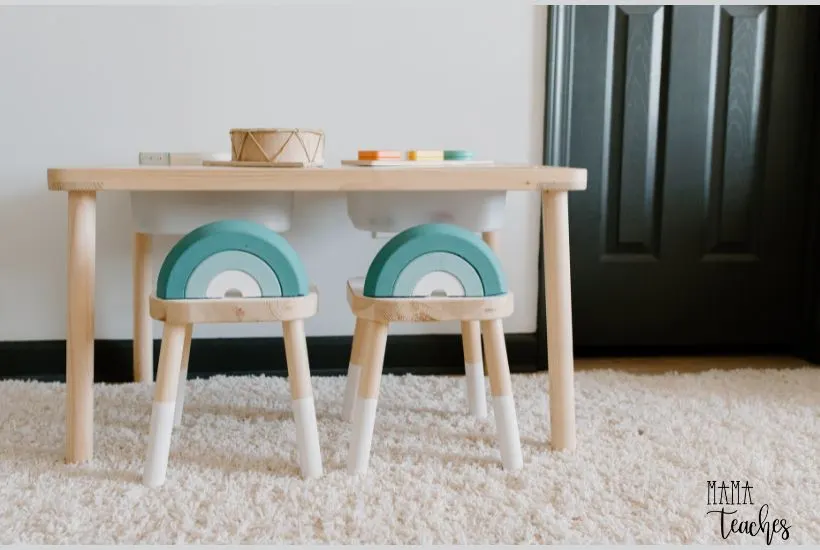 DIY Homeschool Room Ideas for Everyone
How do you take a homeschool room from basic to beautiful, functional to fantastic, ordinary to extraordinary?
Add some of these DIY ideas!
You can make your homeschool room the best it can be, a treasured spot for your family.
You May Also Like: