Homeschool students can accelerate their post-high school learning with Thiel College's NEW Accelerated Bachelor's/Master's Degree Pathway! Thiel College degrees offer students a chance to explore, learn, and grow in their chosen fields.
Discover why Thiel is an excellent option for homeschoolers from around the country.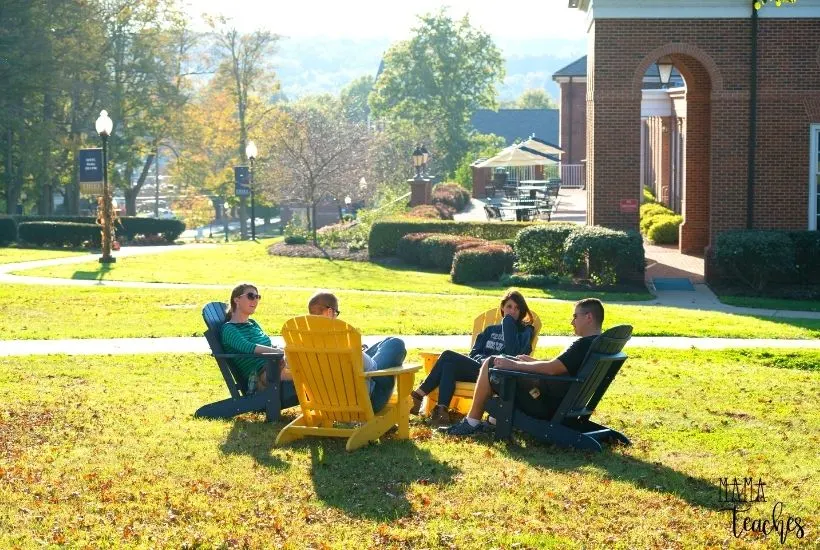 Thiel College has compensated me for my time writing this post but all opinions are my own.
What is Thiel College?
Thiel College (pronounced "teal" like the color) is a private college located in the small, western Pennsylvania town of Greenville in Mercer County.
It boasts over 60 areas of study for students and has an impressive student-faculty ratio of 11:1. In fact, 70% of classes have less than 20 students which creates a learning environment where professors get to know each of their students and students get to know their professors and each other.
This diverse, yet small college provides the ultimate haven for homeschooled students.
For those who prefer a more rural college experience, Thiel's location affords students the chance to get outside and explore the abundance of nature and activities available in western Pennsylvania.
For those who prefer a bit more activity, the drives to downtown Pittsburgh, PA and Cleveland, OH are 90-minutes from campus, and Youngstown, OH is a quick 40-minute trip.
Thiel is the best of both worlds as it provides the intimacy of classes and the college community that is often ideal for homeschool students while also providing numerous opportunities for dynamic cultural experiences.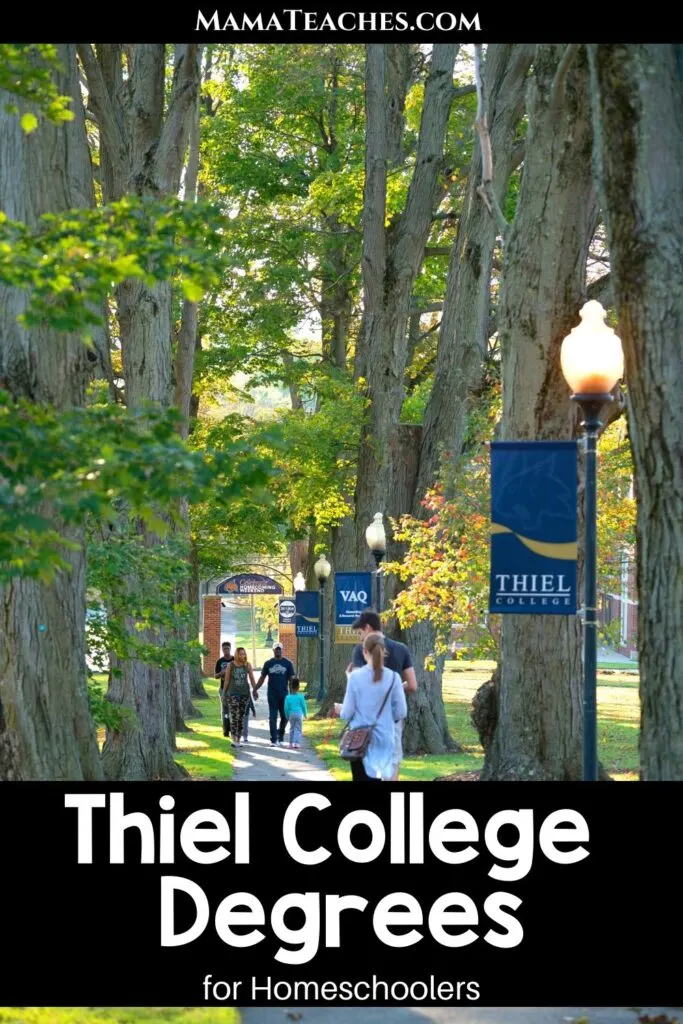 Academics at Thiel College
Thiel offers an abundance of academic majors making it a great option for students who are entering college undecided. Not only are they able to explore a wide variety of subjects, but they can do so while fulfilling their general education requirements.
Whether your student is interested in a degree in actuarial science or wants to pursue a speech-language degree program, Thiel has the resources and the staff to help students complete their degrees.
In fact, 80% of the faculty at Thiel hold the highest degree possible in their field. Not only are they well-educated and highly respected, but they are also committed to the students at Thiel.
In addition to their academic major work, students are also able to take advantage of study-abroad opportunities and enrichment programs that take learning outside of the classroom.
One of those enrichment experiences includes the internship programs that work in conjunction with the academic programs. 100% of students at Thiel participate in some type of undergraduate internship before graduation. Internships offer students a chance to expand their understanding of their chosen field and give them experience before ever earning their degree.
Proof of Thiel's strong academic and experiential opportunities is seen in their success rate of having 95% of their graduates employed in their chosen field within three months of graduation. For those who want to further their learning, Thiel alumni have gone on to study at academic institutions like Vanderbilt, Harvard, Yale, Duke, and Oxford.
With an active alumni network of over 15,000 graduates, Thiel students have access to a wealth of information, guidance, and support while they are in college and post-graduation.
Leveling Up – Quickly
Thiel recently introduced a NEW! Accelerated Bachelor's/Master's Pathway to allow students to earn their Bachelor's degree followed by their Master's.
This 5-year program accelerates the Master's degree program so students can quickly enter the job market with more knowledge and skills than their counterparts.
The accelerated pathway is currently available for:
Communication Sciences and Disorders/Speech-language Pathology
Business and Accounting/MBA
All other majors/Communication and Leadership
Physician Assistant/Physician Assistant
Psychology/Clinical Mental Health Counseling
For homeschool students who are eager to enter the workforce, the accelerated Thiel College degrees are a wonderful way to get in both a bachelor's and a master's in a fraction of the time that it would typically take.
Saving time in college also saves money which means less student debt and more financial freedom!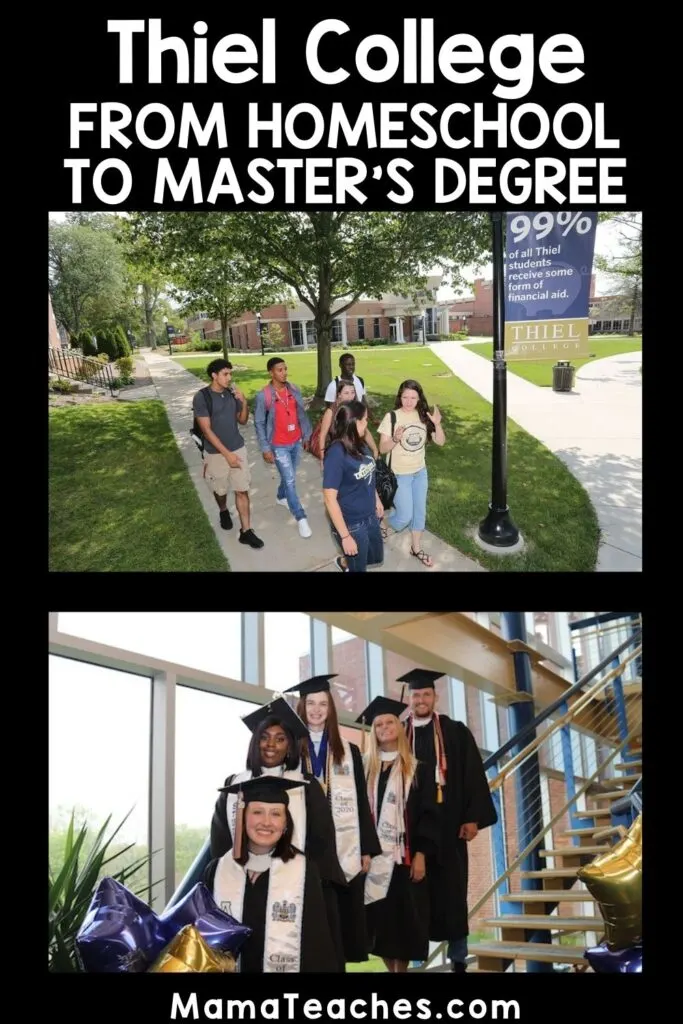 Life at Thiel College
Unlike other schools that have a large portion of their student body living off-campus or commuting, 95% of Thiel students live on campus.
This provides students with an opportunity to truly immerse themselves in the college experience and get to know their peers.
There are over 100 teams, clubs, and organizations for students to get involved with if they so choose. For homeschoolers with diverse backgrounds and interests, this wide variety of social and sports organizations makes it easier to find their niche.
Are Thiel College Degrees Right for Your Homeschooler?
As a mom of two sons who are both entering college in the next year, I know how hard the college process can be. Thiel makes it easy.
Whether your child wants to enter college undecided or has his heart set on a specific degree program, chances are that Thiel has it available.
The quiet community and engaged campus at Thiel create an environment where your child will not only succeed but where he will thrive.
The only way to know if Thiel is right for your homeschooler is to visit. Whether it's through a virtual campus tour, a one-on-one tour with personalized attention, a group visit, or a twilight tour, getting to know the school and its community firsthand is what will make or break your student's decision to attend.
Schedule a tour and discover why Thiel was ranked as the top school in western Pennsylvania and, more importantly, why it's committed to helping homeschoolers succeed in college.
You Might Also Like: