It's the end of middle school, and high school is right around the corner.
Find out what you need to know about homeschooling 8th grade.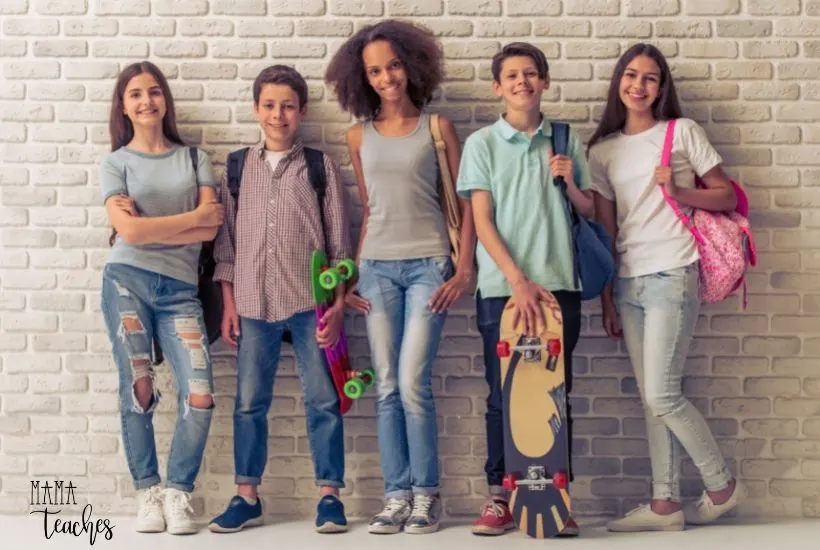 This article contains affiliate links to things that you might like.
Homeschooling 8th Graders
8th grade is the year to make a plan.
What do you need to do in this final year of middle school to prepare your child for success in high school?
Do any of his skill subjects, such as reading comprehension, writing, and math, need sharpening?
Will he pursue a college-preparatory track in high school or consider hands-on or vocational preparation?
You can use this year to lay the groundwork for high school.
Some homeschool 8th-grade courses can be included as part of your student's high school transcript.
This would include higher-level math like Algebra 1 or the first full year of foreign language study, like Spanish 1 or French 1.
Does your student need some time to focus on skill subjects?
Set the stage for high school essay writing by choosing a formal writing course.
Spend the extra time in math to make sure he has his math facts cold and critical thinking skills sharpened.
For some students, homeschooling 8th grade begins to look like high school.
For others, it is a year to firm up the foundation of education to prepare for high school.
Either way, it is a pivotal year and a great year to homeschool.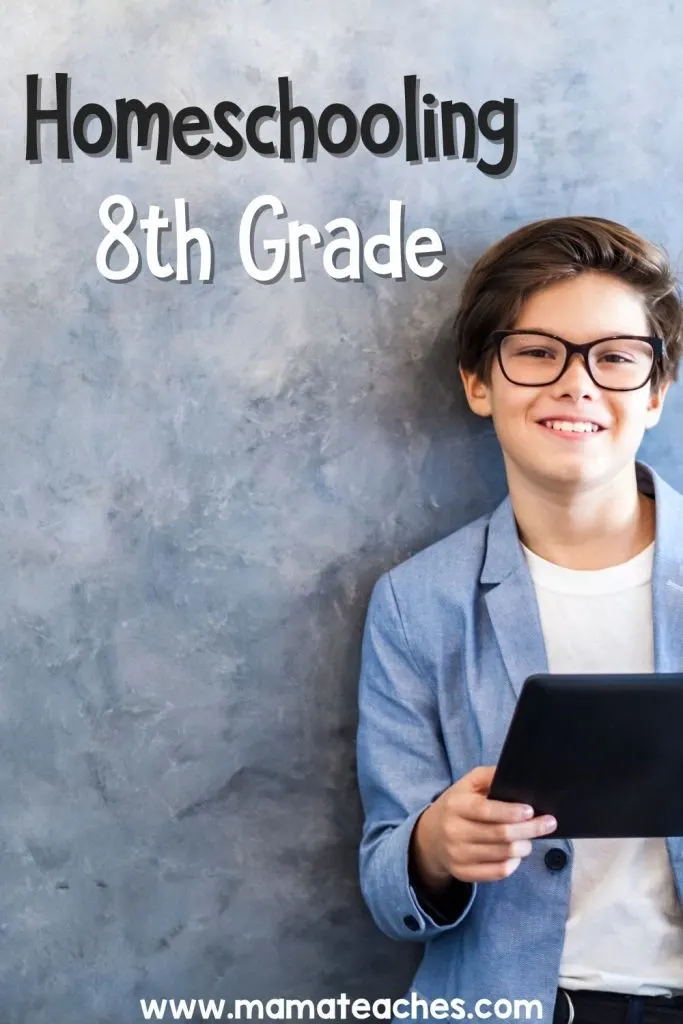 Homeschool 8th Grade Learning Objectives
Learning objectives for a homeschool 8th grader will vary by your student's courses.
Here are some general guidelines for each subject area:
Reading and Language Arts
Reads and comprehends different types of writing: both fiction and nonfiction
Summarizes, analyzes, and critiques texts
Understands and applies symbolism, mood, tone, and point of view to critiques of literature
Composes multiple writing assignments like formal letters, poems, creative writing, persuasive papers, and research papers.
Can write a five-paragraph essay with intro, body, and conclusion
Applies grammar knowledge to writing and editing
Understands more advanced vocabulary: learning Latin and Greek roots, idioms, synonyms, and antonyms
Math
Learns about rational and irrational numbers
Solves and graphs linear equations
Can complete two- and three-step word problems
Works with algebraic concepts
Works with fractions, percentages, ratios, scientific notation, and exponents
Can draw and interpret graphs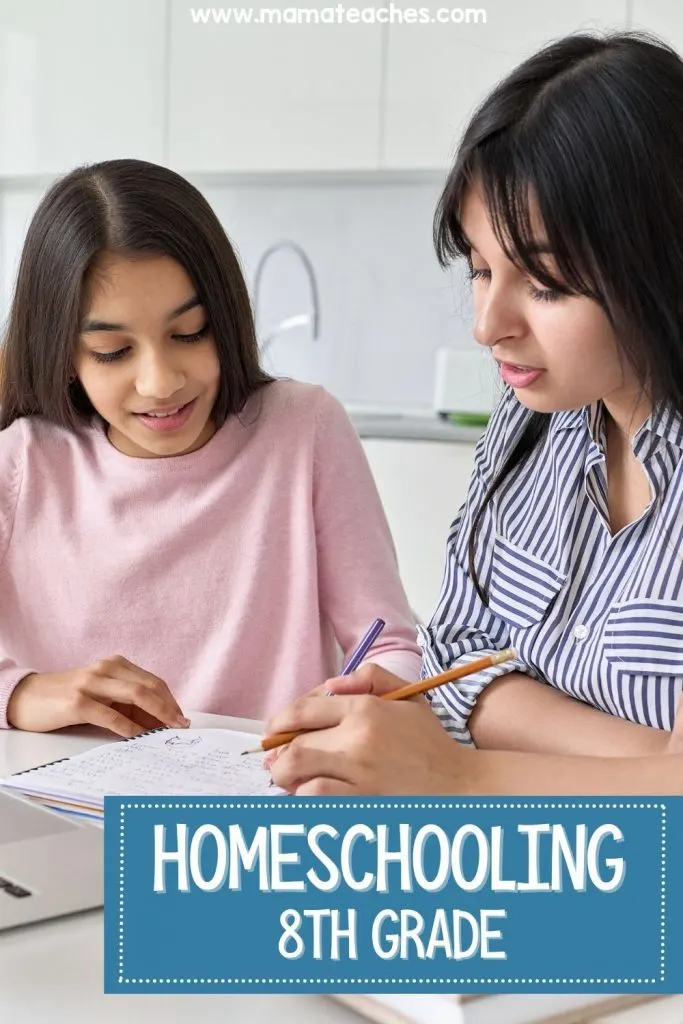 Science (these will vary depending on your curriculum)
Learns about Periodic Table and elements
Understands the types of matter, chemical reactions, and bonds
Can explains the relationship between work and energy; force and motion
Learns about sound, light, electricity, and magnetism
Conducts experiments according to the scientific method
Records data in charts and graphs
Uses instruments of measurement with accuracy
Social Studies (these will also vary):
Studies US History
Learns about Constitution and Bill of Rights
Studies American independence, Westward expansion, slavery, Civil War, and Reconstrcution
Learns about industrialization, the Great Depression, invention and transporation
Researches famous US leaders
Presents projects and reports on historical topics
Integrates history with science, music, literature, and art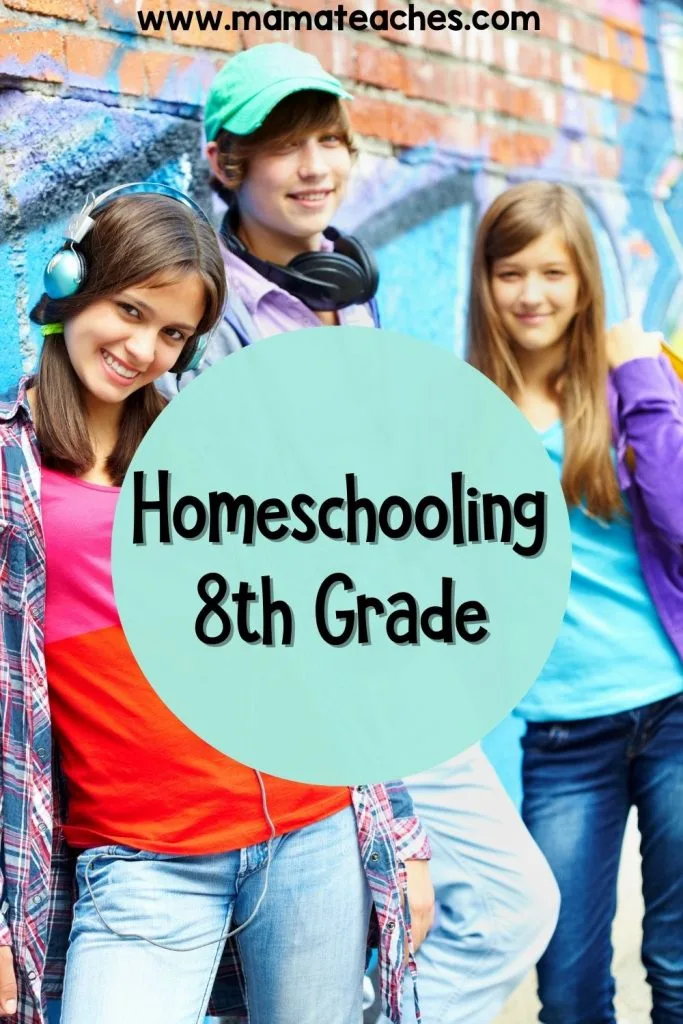 Curricula for a Homeschool 8th Grader
Consider your goals for your student this year.
Is he ready for high school-level work (or close to that)?
Or do you need to spend some time shoring up those foundational skills?
Perhaps you can incorporate some practical or vocational courses as well.
Writing
The Institute for Excellence in Writing has a wonderful program that works especially well with reluctant writers.
Its step-by-step checklist approach teaches students to take notes and write different styles of writing (including formal essays, research papers, and literary critiques that will be required in high school).
If you are interested in a classical writing program that focuses on the three stages of writing: invention (coming up with an idea), arrangement (organizing your ideas), and elocution (expressing your ideas well), try the Lost Tools of Writing from the Circe Institute.
Math
Sometimes students struggle with math because they can't read the instructions or problems quickly and accurately.
If this rings true for your child, consider a computer-based program like Teaching Textbooks that teaches the lessons and reads the problems to your student.
Saxon is a great math program to choose because it stretches all the way to Calculus and Physics, so you can continue this program through high school if you choose.
If your child is advanced in math, you may want to consider Algebra 1 for 8th grade.
Saxon can also work for kids who struggle with algebraic concepts.
Both Saxon 8/7 and Algebra 1/2 (two books that would work for 8th grade) have pre-Algebra concepts included so your child is firmly ready for Algebra 1 when he gets there.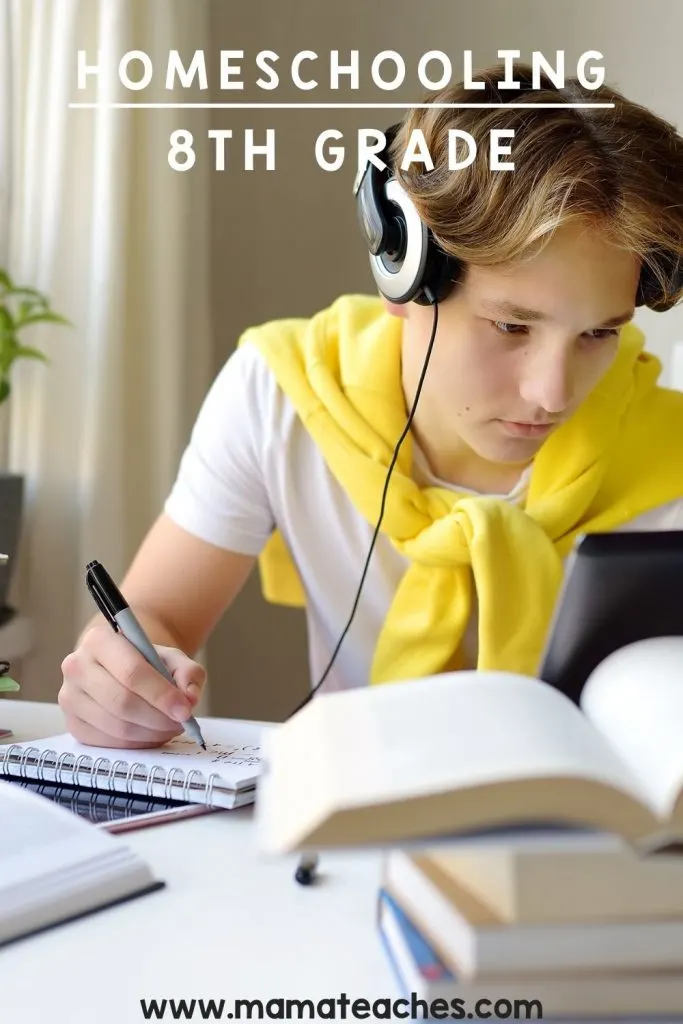 Reading
If your child needs practice with reading comprehension, try the Spectrum Grade 8 Reading workbook.
It includes both fiction and nonfiction passages.
Homeschooling 8th Grade Daily Schedule
As your student approaches high school, you want him to balance his workload across the week and to work diligently at his school.
You can help him gain these traits by setting a routine of sleeping/meals/free time.
A tired teen cannot pay attention and focus on his work, making everything take longer.
Set the stage for success by creating a framework for the day: a consistent start time for school, healthy food, physical activity, and a reasonable bedtime.
Keep school time as distraction-free as possible, and save free time for after the school work is done.
The typical 8th grader works for 5 hours on school.
If your student has issues with focus or takes frequent breaks, the day may take longer.
Remember that you are schooling more than the mind; you want your teen to be nurtured physically, emotionally, and mentally.
Make sure she has time for some activities she enjoys, time with friends and family, and free time for herself.
Homeschooling 8th Grader Tips
Homeschooling 8th grade is a wonderful experience when you make goals for the year, pick materials that work for you and your student, and maintain a balanced schedule.
You can do this!
You May Also Like: