Cat, splat.
Book, took.
Ring, thing.
Rhyming couldn't be simpler, right?
You only think that because your brain has already learned to recognize and follow rhyming patterns.
How do you teach this important skill to your child?
Keep reading for tips on how to teach rhyming words.
Why Teaching Rhyming Words Is Important
Even if your child never grows up to be a poet, it is important to know how to teach rhyming words.
Believe it or not, rhyming is an important pre-reading skill.
Words are made up of sounds (called phonemes), and recognizing those individual sounds helps the brain make the connection between sounds and symbols (the letters of the alphabet).
So when your child can hear the similarity and the difference between "cat" and "bat," she is learning to divide those words into sounds.
That is the first step to reading!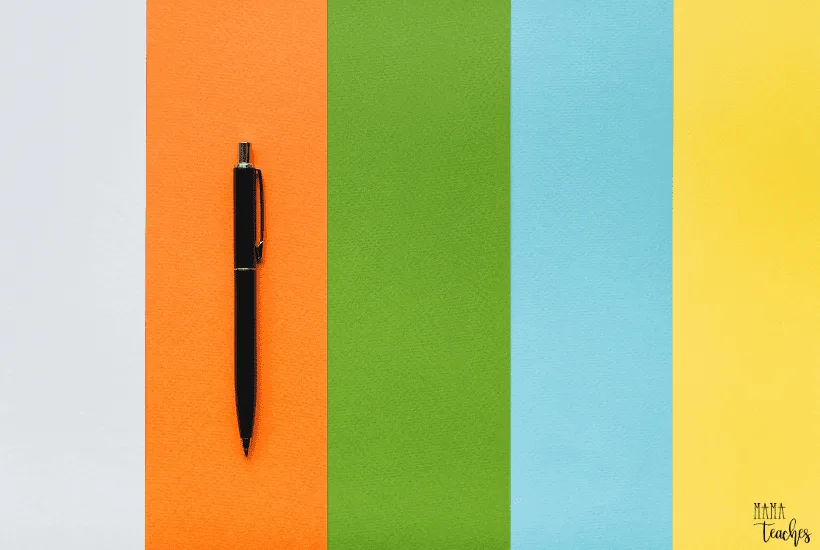 Why Students Need Rhyming activities
Rhyming words continue to pay dividends when it comes to reading new words, learning sight words, and learning how to spell.
Rhyming words often fall into families, groups of words that have similar spelling and pronunciation.
If you know how to read, spell, and say "cat," it is not a big leap to read, spell, and say a less familiar word in the same family, like "vat."
Rhyming words are the backbone of rhyming poetry, so learning to recognize them also helps with reading fluency (reading with expression and understanding).
It focuses the child's ear on the subtle emphasis of a word or syllable.
That emphasis can make all the difference when it comes to understanding what he reads or hears.
How to Teach Rhyming to Preschoolers
Do you want to know how to teach rhyming to preschoolers?
The first step is hearing rhyming words.
Your goal is to expose your child to as much rhyming as possible.
No problem!
Kids love the sing-song nature of rhyme.
Read Books with Rhyme
You are probably already doing this because kids naturally gravitate toward these titles.
Here are some of my preschool-age favorites:
Hop on Pop by Dr. Seuss
Chicka-Chicka Boom Boom by Bill Martin, Jr. and John Archambault
Brown Bear, Brown Bear, What Do You See? by Eric Carle
Moo, Baa, La La La by Sandra Boynton
Sheep in a Jeep by Nancy E. Shaw
Goodnight Moon by Margaret Wise Brown
Sing Rhyming Songs
These classics are more than just fun to sing; they are working your child's brain.
Add some finger play to work on fine motor coordination at the same time!
Play "Fishing for Rhymes"
You can explain to your child that rhyming words have the same ending sounds.
Place four small household objects in a bowl (such as a spoon, glue, pen, and a book). Then you say, "I'm hungry.
Can you get me a fish that rhymes with "look"?
Your child would then retrieve the book for you.
You can make this game more fun by using kitchen tongs or an aquarium net to retrieve the items.
Check Out Online Games
Educational sites know the importance of teaching rhyming words.
Try Pbskids.org for games such as Grover's Rhyme Train or Wonder Red's Rhyme Racer.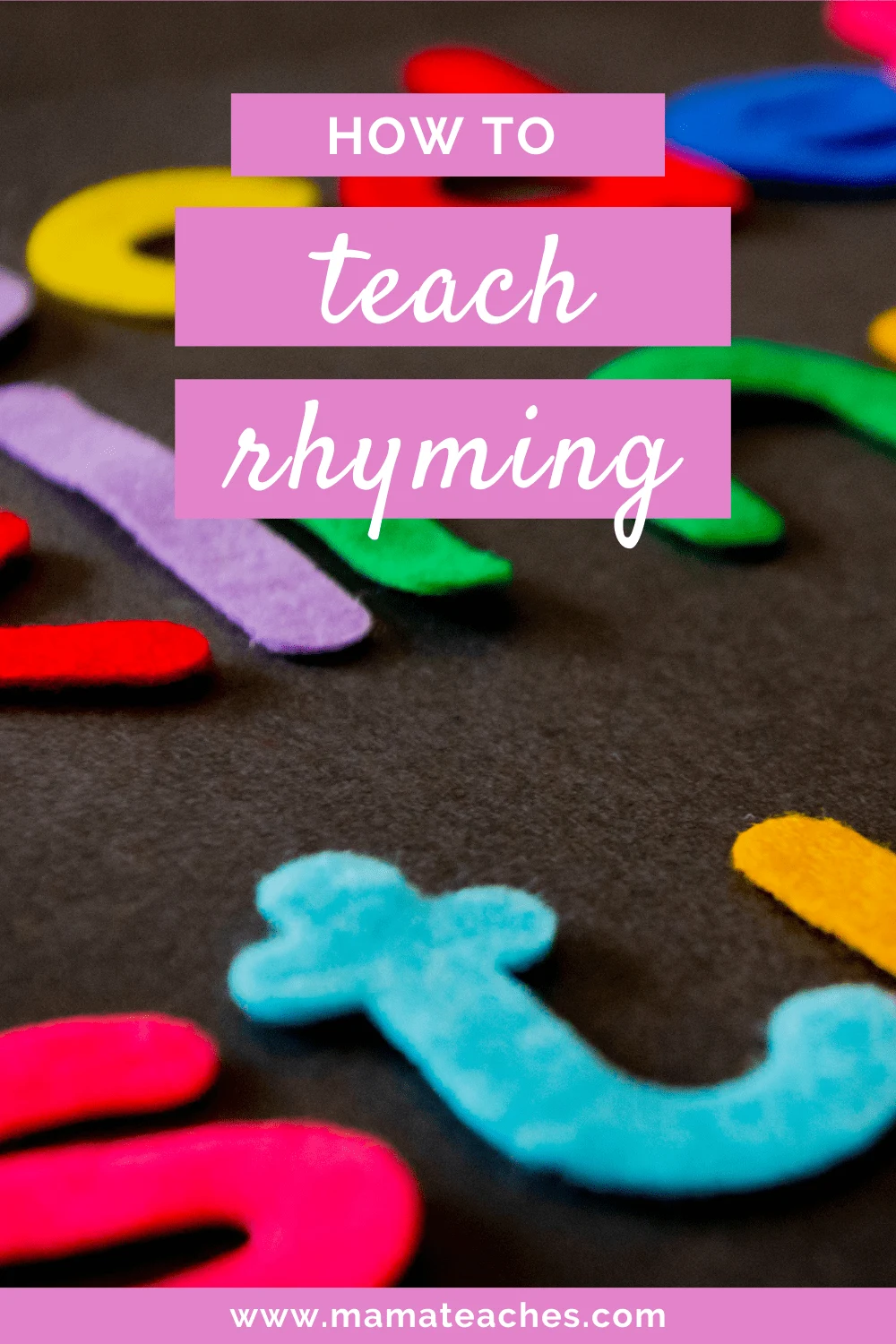 How to Teach Rhyming Words – Kindergarten
Knowing how to teach rhyming words to kindergarten-age children goes beyond simply hearing rhymes and increasing phonological awareness; it involves teaching your child to recognize and produce their own rhymes.
Keep Reading Rhyming Books in older grades
These are some of my kindergarten favorites:
Llama, Llama Red Pajama by Anna Dewdney
Green Eggs and Ham and There's a Wocket in My Pocket by Dr. Seuss
Bear Snores On by Karma Wilson
How Do Dinosaurs Say Goodnight? By Jane Yolen
The Wonky Donkey by Craig Smith
Play Rhyming Games
Add some rhyming games to your lesson plans!
You can purchase games that practice recognizing rhymes such as rhyming puzzles, Bingo, and matching activities.
You can also make your own rhyming activity.
Draw on a pair of index cards a picture of a tree and a picture of a bee.
Repeat with other rhyming pairs such as cat/hat, block/sock, ten/pen, mad/sad, man/pan, bed/red, dog/frog, bug/mug, nut/cut.
You can make these into your own memory game, or play "Hunt for the Rhyme." Hide half of each pair around the room.
Give your child a card and ask her to find its match.
Repeat with the remaining cards.
Memorize Rhyming Poems
Not only does memorizing poetry give your child an ear for rhyme and help develop phonemic awareness, but it also develops confidence and ignites a love of poetry.
Nursery rhymes work well, as do these poems.
"The Caterpillar" by Christina G. Rosetti
"My Shadow" by Robert Louis Stevenson
"A Bird Came Down the Walk" by Emily Dickinson
"The Goops: Table Manners" by Gelett Burgess
Try Some Online Options
Check out online rhyming games such as Alphabats on abcya.com or free apps such as Partners in Rhyme.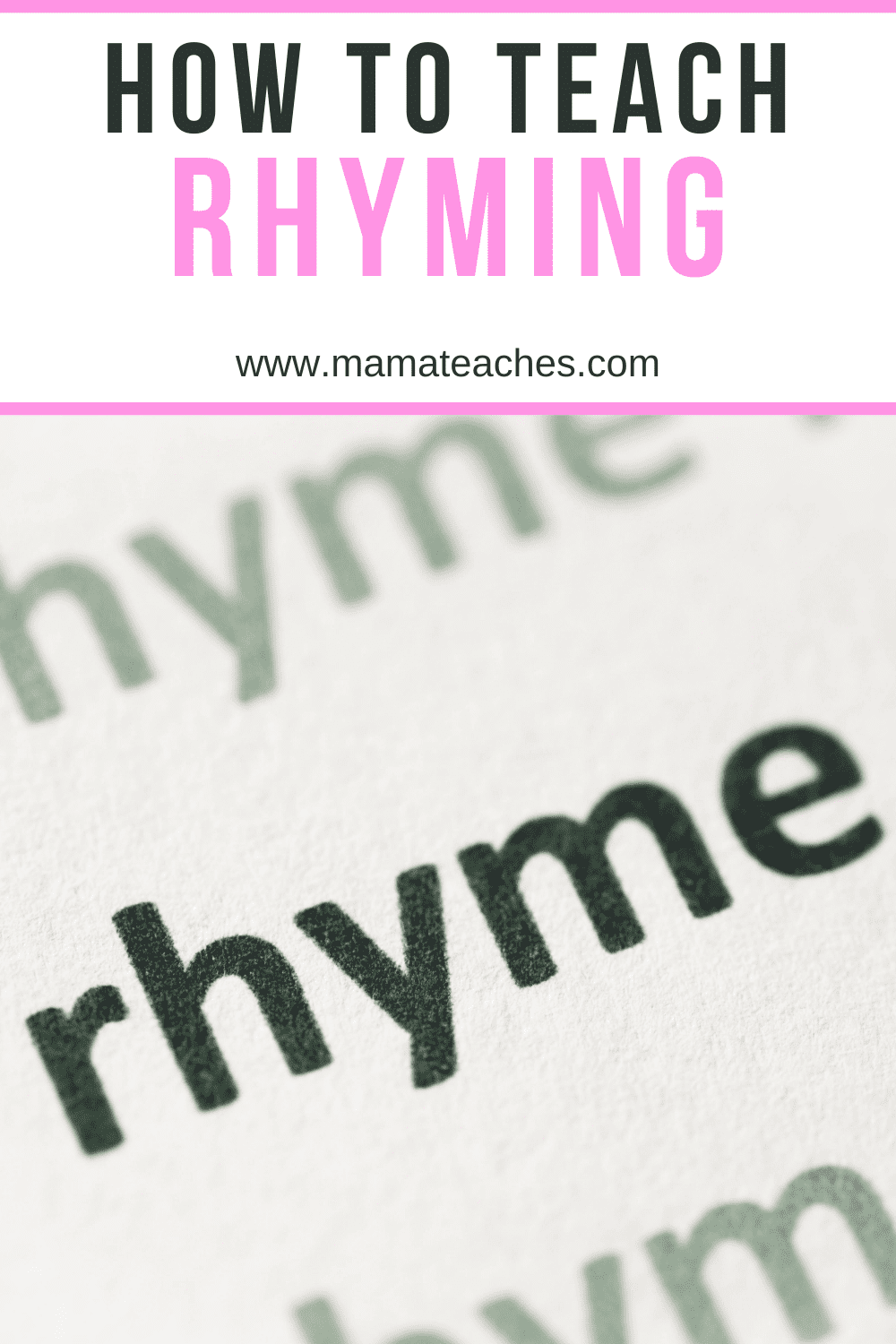 Knowing how to teach rhyming words gives your child a leg up on decoding, spelling, writing, and reading fluency.
Get started today and make it time to rhyme!
You Might Also Like: