So, you want to learn how to speak French at home? We did too! Here's how we did it and why it might work for your family too!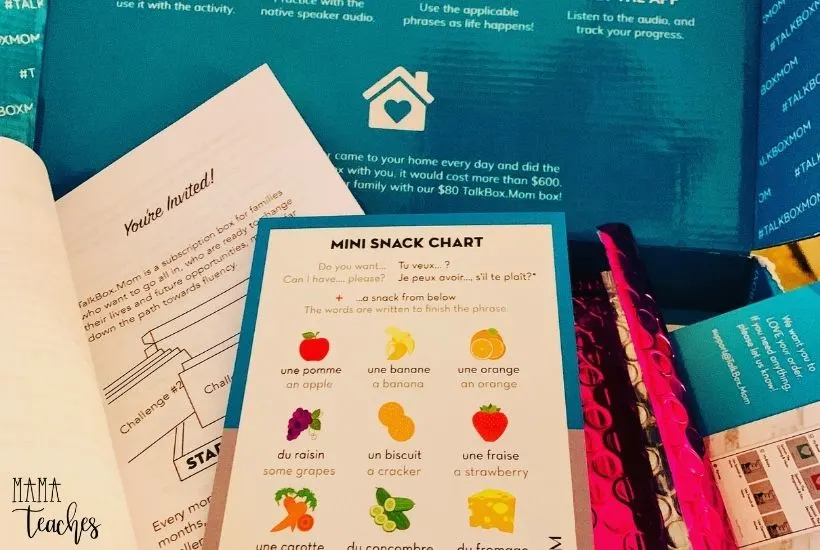 Speak FrencH at Home
While I graduated college with a minor in Spanish, I haven't kept up with it. So, when the youngest declared that she wanted to learn a language together, I suggested Spanish – mostly because I thought it would be easier. But, she was insistent that she wanted to learn how to speak French. Uh-oh.
About that time I was introduced to the foreign language programs at TalkBox.Mom and was given a chance to try out the French program. While I was excited, I'll admit that I was horribly nervous about tackling a new language. The youngest? She was thrilled!
And thus began our journey to learn how to speak French at home!
Conversational French Is Fun
When we received the TalkBox.Mom Box we quickly realized that learning conversational French was going to be a lot of fun. This program is different from other language programs that we have tried in the past and the youngest and I both agree that we like this format a lot more.
What Makes TalkBox.Mom Different
One of the things that makes TalkBox.Mom so different from other at-home foreign language programs is that it's meant to be done by families. They even point out that if you're hoping your child will learn the language on their own, this is not the program for you.
It's very interactive and relies on families practicing the language together. Whether you're homeschooling by choice or circumstance, it's a great way to make the time spent together fun and educational for all of you.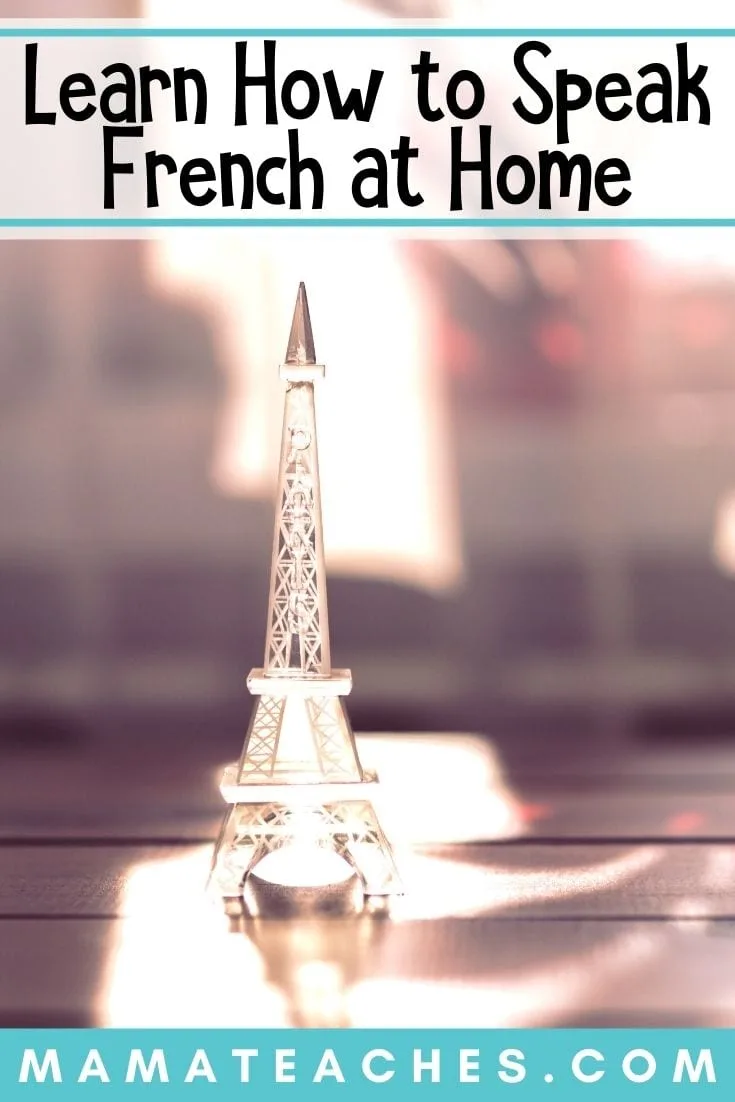 How Does the Homeschool French Program Work
Each box comes complete with three challenges to motivate families to learn more French (or whatever language they have selected).
For us, those challenges were a lot of fun and kept us eager to learn more phrases!
Foreign Language App Support
One of the best things about the TalkBox.Mom program is that it comes with companion app support. After you sign-up for the program, there's an app to download that contains the phrases you'll be learning.
The audio is recorded by a native speaker of the language, in our case French, so that you get an authentic listen to how the words are pronounced.
This was SO helpful as we definitely needed some support in the pronunciation area! Ha!
Speaking French in 7 Minutes
Think it's impossible to learn foreign language phrases in seven minutes? Think again! TalkBox.Mom's combination of app phrase practice and challenges makes it easy to practice and master new phrases.
After we practiced repeating the phrases from the app, we then started using them around the house. The focus of our first box was food, so our phrases revolved around things in the kitchen.
It was a bit awkward at first, but once we got into the groove of it, we were looking for ways to weave our French phrases into everything. Since we were learning it together, it made it fun to practice and kept us eager to learn more.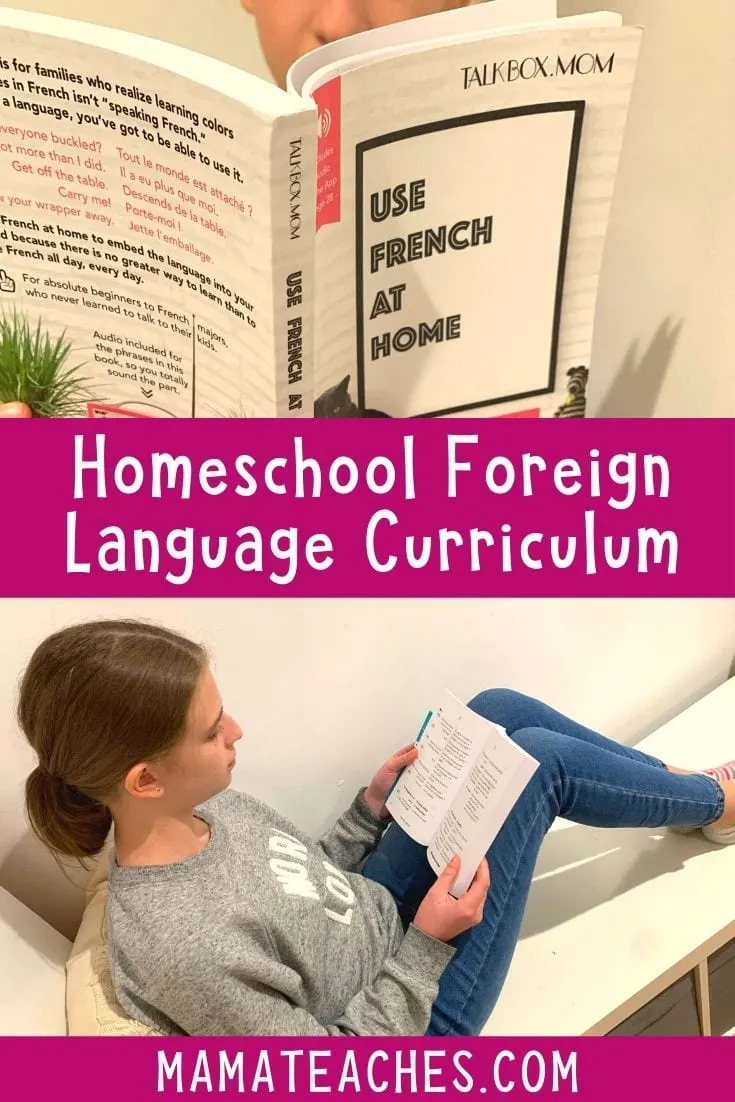 Community Support
After trying TalkBox.Mom, I don't think we'll ever go back to another language program. In addition to the material that's provided in the box and the companion app, there's also a Facebook community that provides support, information, and challenges. That extra support was so helpful!
Languages Supported by TalkBox.Mom
If French isn't your cup of tea, don't worry! There are currently 11 different languages taught by the TalkBox.Mom program. If you're not sure which language is right for your family, check out this helpful guide for finding a good fit.
I'd encourage you to keep an open mind and go with a language that your children are curious about. When they're invested in learning, they're more likely to practice without fussing and it's going to be a lot more fun! Besides, it really is fun to learn a new language!
Try A Foreign Language Challenge
If your kids are competitive, the TalkBox.Mom Ball Challenge is a great way to try out the program and get a taste for the materials to see if it would be a good fit for your family.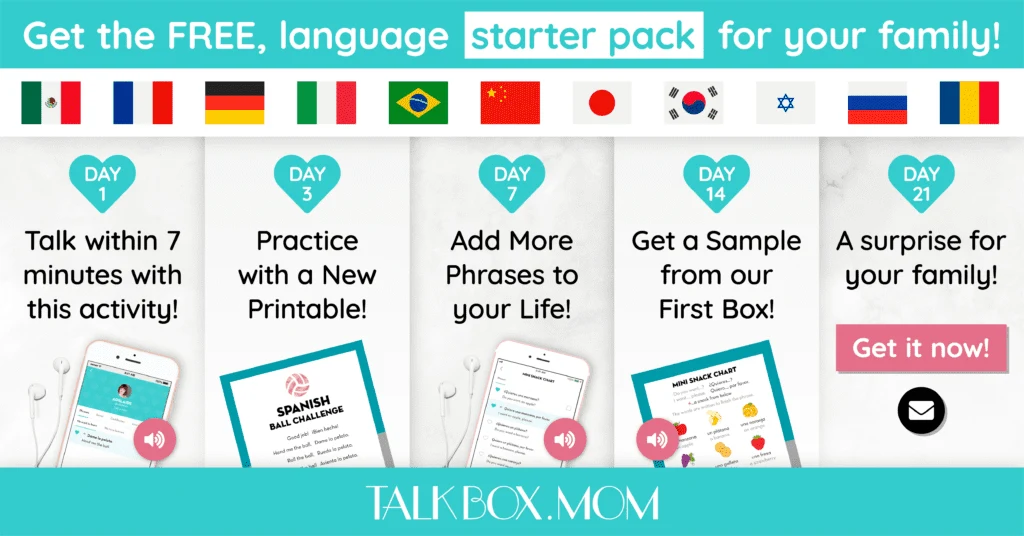 If you find that the TalkBox.Mom program would be a great fit for your family (we think you'll love it!), you can get $20 off your first box + book! Just use the code: thankful at checkout. (Offer expires December 20, 2020.)
Enter to Win!
TalkBox.Mom is hosting a giveaway! Three lucky winners will get their choice of language kit (a box + phrasebook + companion app access). Fill out the form below to enter!
Please note that the giveaway is being administered by TalkBox.Mom and they are responsible for fulfilling the prizes to the winners. MamaTeaches.com is not responsible for the giveaway or the fulfillment of prizes.
Take the first step to becoming conversationally fluent in a new language this school year with TalkBox.Mom! We think you'll love it as much as we do!
Follow TalkBox.Mom on Facebook, and Instagram for more language learning fun!