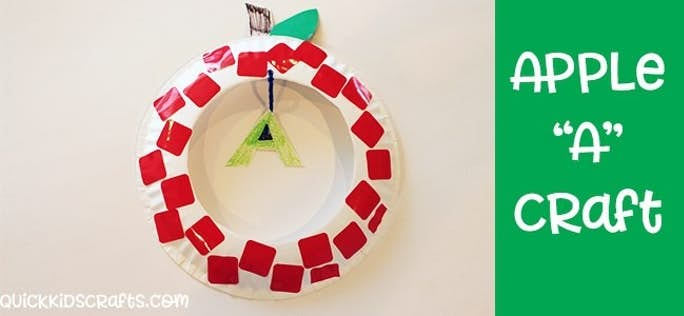 Big stickers, little stickers, themed stickers, generic stickers – it doesn't matter as long as it sticks. That's why we're super excited to share with you this fun Apple Sticker Craft that's a quick and easy kids crafts. Whether you're learning the letters and need a preschool alphabet craft or studying Johnny Appleseed in the Fall, this quick kids' craft is a must-try. Don't forget to share some interesting apple facts for kids while you're crafting to tie learning and fun together! So, grab the simple supplies below and get crafting!
PRESCHOOL PAPER PLATE LETTER A APPLE STICKER CRAFT
HOW TO MAKE THE PAPER PLATE LETTER A APPLE CRAFT
Ages: 2+ (with adult supervision)
Time: 20 minutes
Materials Needed:
Paper Plate
Red Stickers
Green Construction Paper
Glue Stick
Yarn
Hole Punch
Scissors
Markers
Crayons
Directions:
Cut the center out of your paper plate and set aside.
Place red stickers around the ring of the paper plate.
Cut a letter A and a stem from the inner circle that was cut out of the paper plate.
Color the letter A light green. Color the stem brown.
Cut a leaf out of the green construction paper.
At the "top" of the apple, use the hole punch to punch a hole. Punch a hole in the letter A.
Run one end of the yarn through the hole in the apple and one end in the letter A. Tie them off so that the A dangles in the center of the apple.
Glue the leaf to the stem and then glue them both to the "top" of the apple.
Let dry and then display!
Classroom Display Tip: Punch a hole at the top of the apple and hang it from the ceiling with some yarn or a Jumbo paper clip or create a bulletin board of your students' apples!
Share your Apple Sticker Craft with us by posting a picture on our Facebook page or tagging us on Instagram @MamaTeaches!
Pin the image below to save this idea!