Giving your children the gift of music doesn't have to be expensive! Check out these free and low-cost online music lessons for kids ages 2 to 18!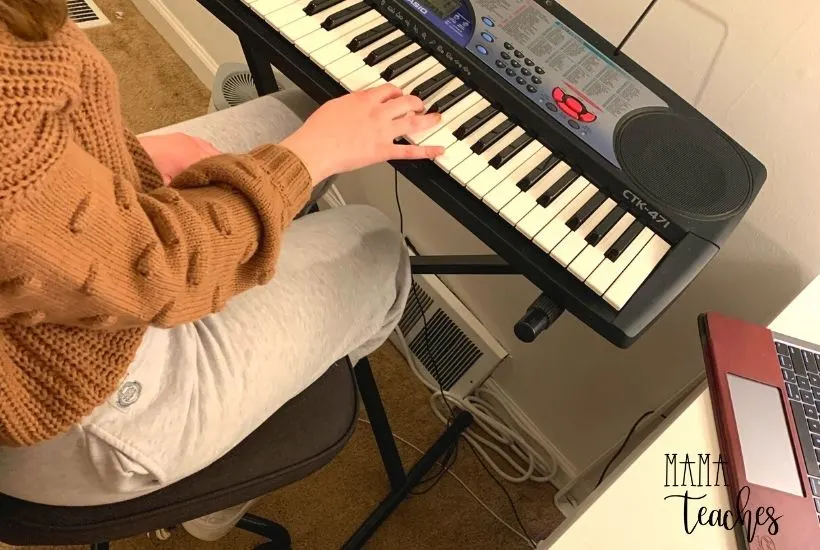 I was compensated for my time to write this post. All opinions are my own.
Kids' Music Lessons
When I was growing up I took piano lessons, tried to learn to play the flute (hello, scarred for life from that experience!) and was in high school choir for four years. But music wasn't a huge part of my life and music lessons definitely weren't something that was pushed.
So, as a mom, I have to be really honest that it's been hard for me to figure out how to integrate music into my kids' lives.
I wish I had known about Great Bend Center for Music when they were little. If I had, they would have been taking music lessons from 2 years old right through high school!
What is Great Bend Center for Music?
Great Bend Center for Music is a non-profit exploring research-based ways that people — especially in rural communities — can use music to build community.
They have found that making music together builds the connections that nourish self-esteem, leadership, and a sense of belonging. Those skills are more important in our world now than ever before.
Great Bend Center for Music's early childhood music program is called Sound Scholars™, and their youth music program is known as HighKey Kids™. Both are great examples of their mission and the positive impact that it has on kids today.
Sound Scholars™ is a series of free online music lessons that are geared for kids from two years old through third grade. The lessons are based on the El Sistema model which seeks to eliminate barriers to participation and are typically delivered with no cost to participants – hence why the classes are free!
The weekday, 30-minute sessions teach not only music literacy & ear training, but also build:
Arts-driven STEM skills
Listening skills
Leadership & teamwork abilities
Friendships and a sense of belonging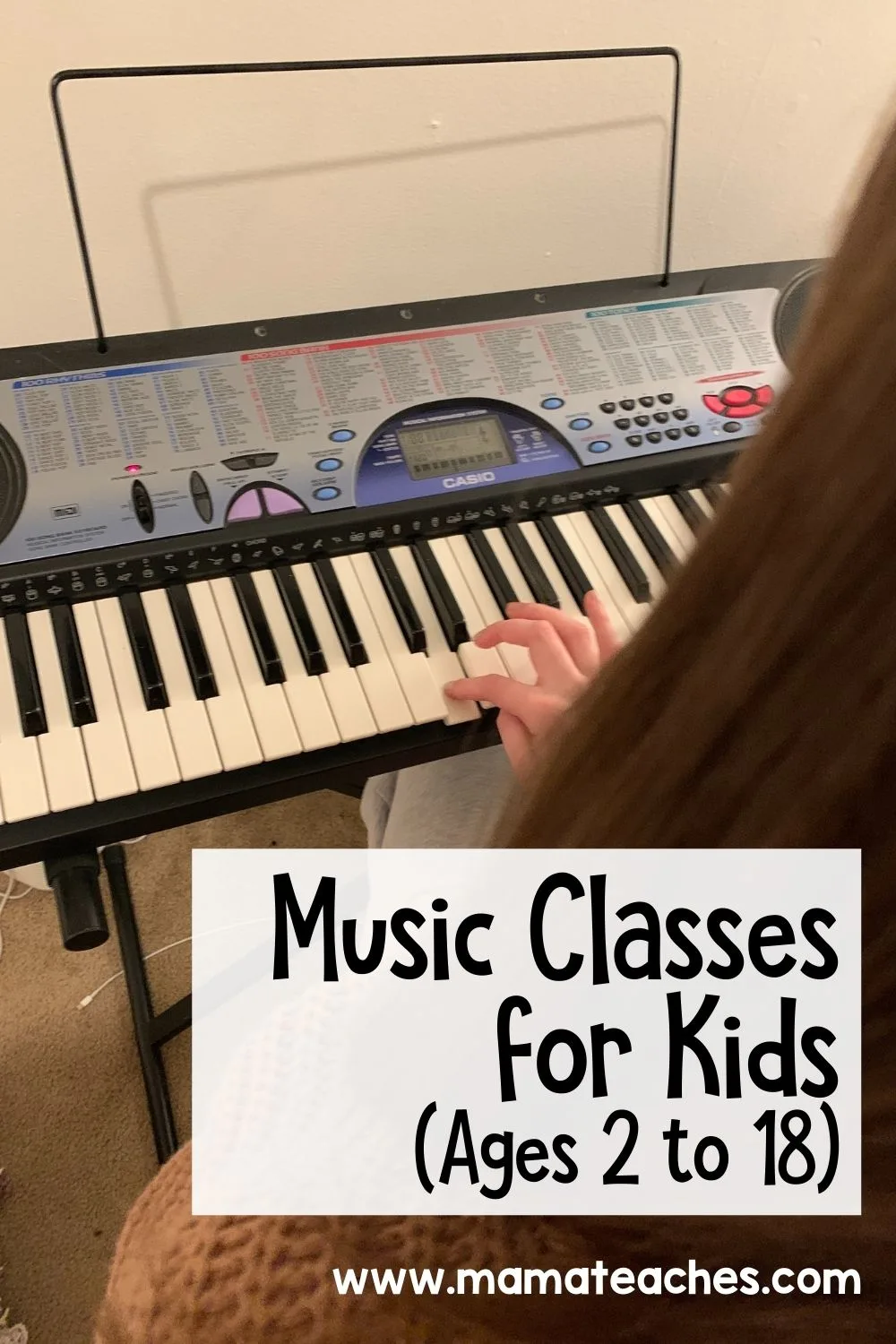 HighKey Kids™ is Great Bend Center for Music's collection of affordable virtual music classes that cover a wide range of topics. Classes offered range from Video Game Music, Songwriting, Podcasting & Beatmaking, Ukulele, to Piano/Keyboard.
Every weekly or twice weekly 45-minute class over the ten-week term is designed to:
Accommodate students of all levels
Prepare kids for a broad range of musical exploration over a lifetime
Introduce the latest digital tools and apps
Foster both independent and collaborative studies
They also offer special one-time classes during each term as a bite-sized way to introduce kids to different musical opportunities.
HighKey Kids™ in Action
Since my kids are older we tried out the HighKey Kids™ Group Piano/Keyboard class. My teen daughter has been longing to play the piano so this was the perfect class for her!
We logged onto the Zoom classroom and were quickly greeted by the instructor. He made my daughter feel welcome right away which helped ease some of her anxiety. (Entering a new class can be scary no matter how old you are!)
The class was small with only two other students, but the attention that the instructor paid to each student was abundant.
While skillfully winding occasional stray conversations back to the music lesson at hand, the teacher managed to introduce chords, encourage the students to create their own music, and make everyone feel supported and successful.
As a former classroom teacher, even I was impressed with his rockstar classroom management skills!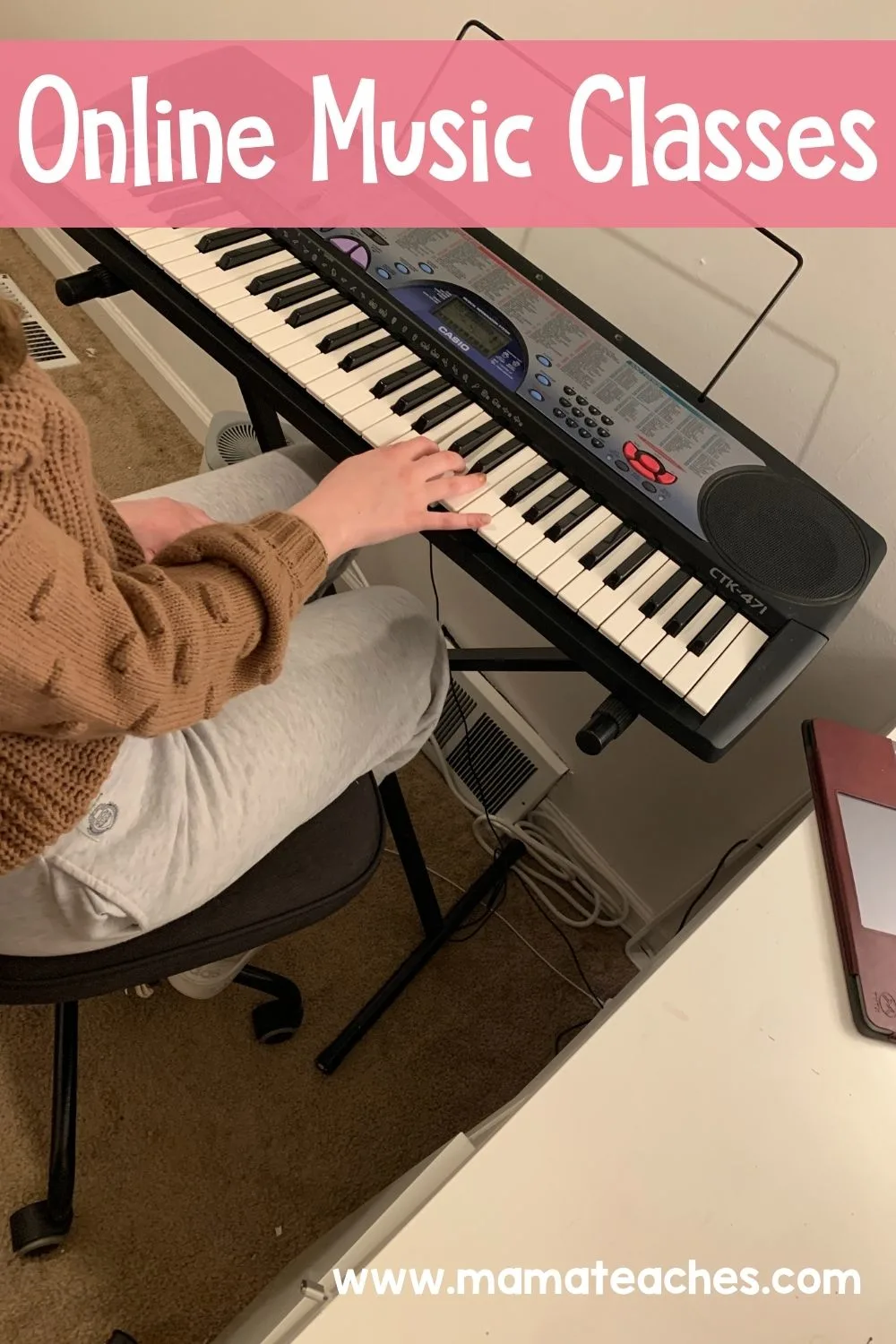 What We Loved About the Class
A Teen's Point of View:
I loved that there was no pressure to be at a certain level or have a certain set of skills before coming to class. Everyone was learning no matter what level they were at and everyone was supported. I felt welcomed right from the start.

– 14 Year Old
A Mom's Point of View:
We've been in some online classes where classroom management was a challenge for the teacher, but I absolutely loved how the instructor at Great Bend Center for Music skillfully managed this class. There were some students who really wanted to get off-topic, but he was a master at acknowledging them, redirecting them, and teaching them all at the same time. It left me feeling like the class was time well-spent and that my daughter was really learning.

I also appreciated the fact that the class was fun and while she was learning how to play some more advanced things, there was never pressure – just encouragement.

I can't recommend Great Bend Center for Music highly enough!

– Brandi, MamaTeaches.com
Enroll in Classes
The Spring Term starts April 11th, 2022 and you can use the code "homeschool" (without the quotation marks!) to save 15% on all HighKey Kids™ classes!
Remember, the Sound Scholars™ classes for children 2 years old through third grade are free, but you do need to register for them.
Whether you're looking for a one-off class or weekly online music lessons for your kids, Great Bend Center for Music's courses are worth checking out!
YOU MAY ALSO LIKE…