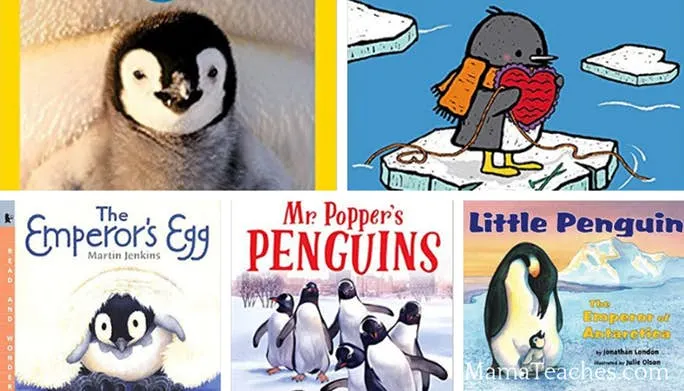 This article contains affiliate links to things that you might like.
We love studying penguins and watching live animal cams of them from zoos across the country.
Since reading is a key part to any unit study, these 21 penguin books for kids are must-haves!
They're the best, most entertaining children's books about penguins around!
Some are factual and some are fiction, but all of them will keep your kids smiling as they learn more about penguins.
​
The Best Penguin Books for Kids
March of the Penguins by Luc Jacquet
Beautiful photographs and interesting information about penguins keeps readers young and old engaged!
​
Ping and Pong the Penguins by Sylviane Gangloff
​This funny story is definitely whimsical as the penguins in the book come alive and talk back to the illustrator.
What will they say?
​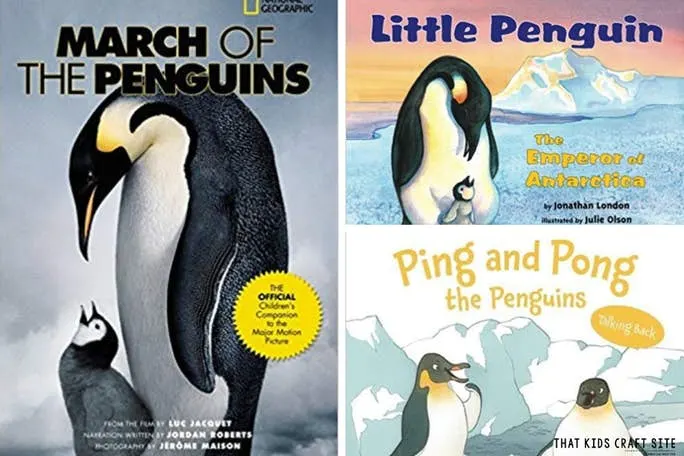 Little Penguin: The Emperor of Antarctica by Jonathan London
Follow the life of a penguin from the moment he breaks free of his shell until the time he's holding his own baby penguin at his feet.
​
Tovi the Penguin Goes to Ireland by Janina Rossiter
Tovi the penguin is a character!
This time he's visiting Ireland for St. Patrick's Day – it's sure to be a blast!
​
Penguin in Love by Saline Yoon
Penguin is curious who dropped the mitten he found and sets off on an adventure to find the mitten's mate.
​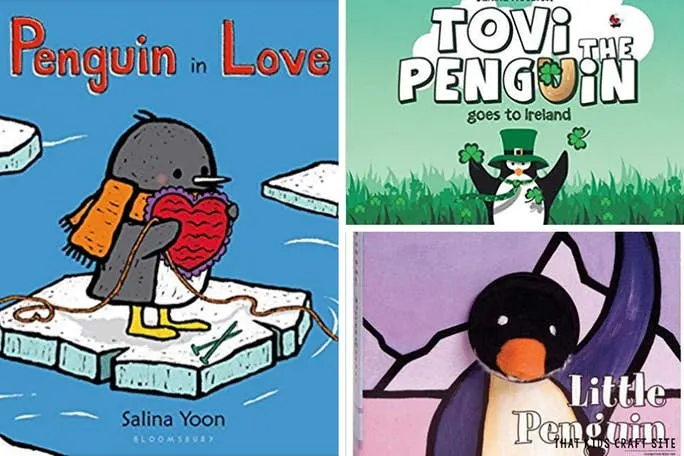 Little Penguin: Finger Puppet Book by Chronicle Books
If you're studying penguins with your preschooler, this finger puppet penguin book is a must-have!
It's adorable and engaging!
​
Learn all about how penguins survive in their habitat with the beautiful illustrations and information in this penguin children's book.
​
Tacky and the Winter Games by Helen Lester
Tacky the Penguin and his friends are gearing up for the Winter Games.
Will they be able to get in shape and compete?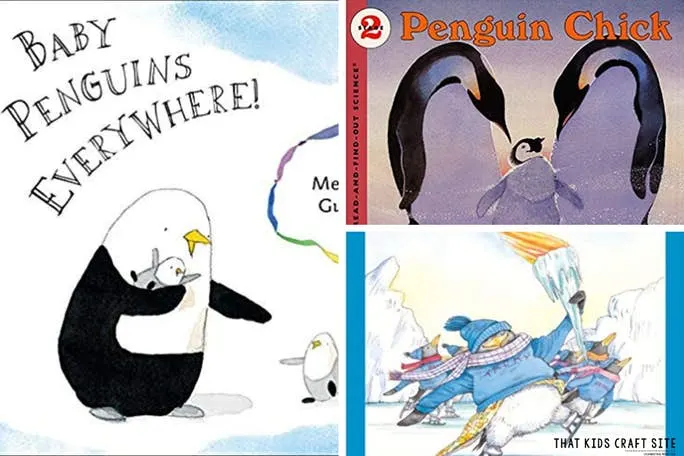 Penguin and Pumpkin by Salina Yoon
Penguin's younger brother, Pumpkin, is disappointed that he can't go with him on a trip.
But, in brotherly love, Penguin surprises him with something when he returns.
​
Baby Penguins Everywhere! by Melissa Guion
A funny tale of a mama penguin who has a few more penguins than she bargained for!
​
P.I. Penguin and the Case of the Missing Bottle by Bec J. Smith
This dyslexia-friendly and autism-friendly penguin children's book is a wonderful story filled with rhythm and rhyme to help struggling readers master vocabulary and fluency.
The fact that it's all about penguins makes it even more awesome!
​
Follow the story of a little penguin as his mommy penguin cares for him and helps him grow and learn.
​
The Emperor's Egg: Read and Wonder by Martin Jenkins
Learn all about the male Emperor penguin's role in the hatching of his offspring.
Kids will be fascinated to learn how he doesn't fish for the entire season!
​
If You Were a Penguin by Florence Minor
Beautiful illustrations accompany simple text that is easy for beginning readers to master.
More detailed information about penguins is in the back of the book.
​
Penguin's Big Adventure by Salina Yoon
Penguin is on another big adventure and this time he's exploring the North Pole!
​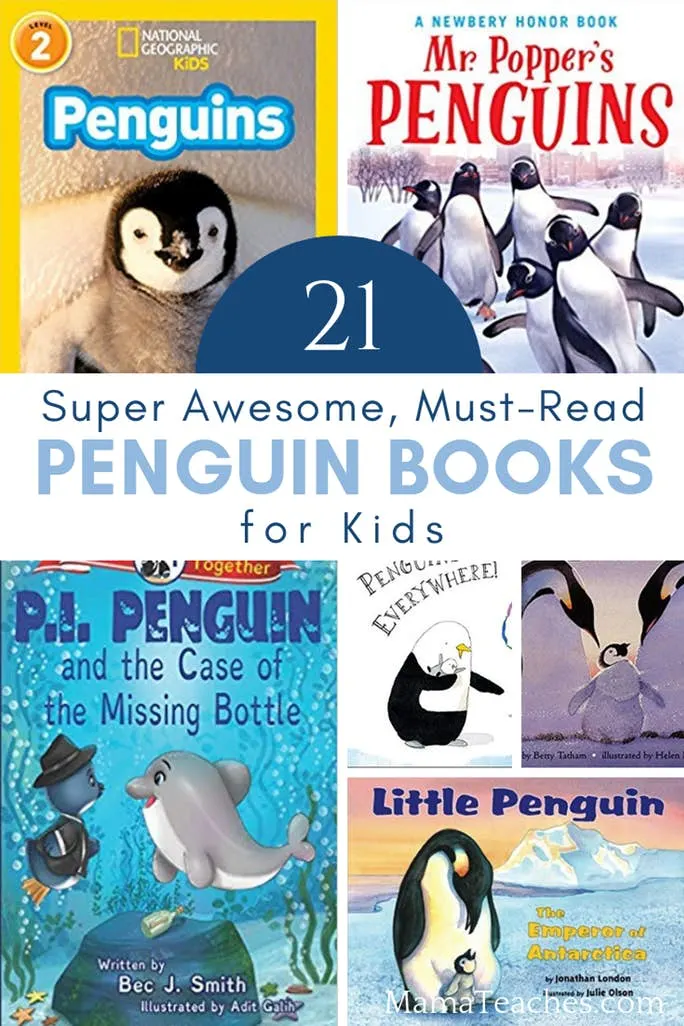 Little Penguin Gets the Hiccups by Tadgh Bentley
Get a giggle and make kids smile with this adorable book about a poor little penguin who ends up with the hiccups.
​
Mr. Popper's Penguins by Richard Atwater
This classic American story features some of the most famous penguins in children's book history.
​
Tacky the Penguin by Helen Lester
What if your quirks and odd habits were the very things that saved the day?
Tacky the Penguin's unusual behavior is what helps make everything right again.
His friends learn that the things that make us different are the things that are the best.
​
How Do Penguins Play? by Diane Muldrow
Perfect for beginning readers, How Do Penguins Play?
is a wonderful rhyming book that features an adorable collection of playful animals.
​
National Geographic Readers: Penguins! by Anne Schreiber
Learn all about penguins with this factual and fun penguin resource for kids.
​
Explore My World Penguins by Jill Esbaum
Learn about the lengths penguin parents will go to keep their young safe, and how penguins survive in their harsh environment.
This non-fiction book is fun and entertaining while also a great way to educate kids about penguins.
​
​More Penguin Fun: