Make dinnertime a breeze with these quick and easy dinners that your family will love!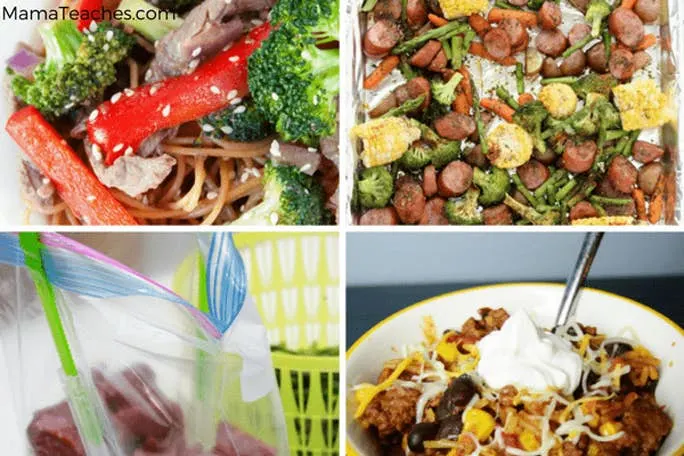 School events, Scouts, personal training, parties – you name it, our weekday nights are filled with it. That means there's only one way to get dinner on the table without a lot of fuss – meal planning.
I typically do my meal planning on Saturday mornings and then head out to the grocery store that day. For us, it works well and gives me all day Sunday to not stress about meals for the week. It's divine.
You can get the Weekly Meal Planning sheet I use here and be sure to check out this list of tips if you're just getting started with meal planning. It's got some great practical tips that I've learned throughout this crazy process.
If you're looking for quick and easy dinner recipes to add to your plans, here are 10 of our favorites. Enjoy!
Meal Planning: Quick and Easy Dinner Recipes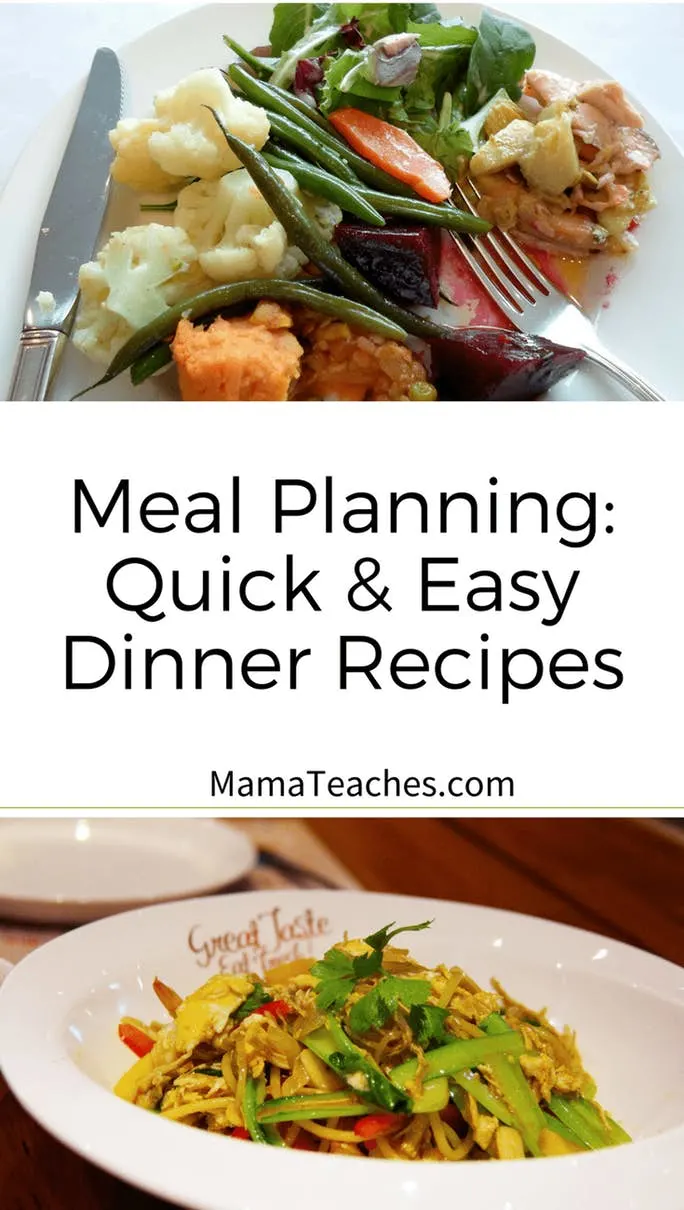 This one is quick and easy, but it fills us up with good carbs and veggies. I also add snow peas, water chestnuts, and mini ears of corn to the recipe when I have them on hand.
Cut everything up, toss it together, place it on a baking pan (I use and like this one, because the sides are high enough that stuff stays put) and bake for 20 minutes at 400 degrees. LOVE the simplicity and it's super tasty!
My oldest son loves to work the grill and I'm all for it, so this recipe is a Friday favorite. It requires just three ingredients and tastes delicious. We usually have cous cous and baked asparagus with it.
We discovered this recipe after my mother in law bought us about 3,000 pounds of beef cubes from BJs. Okay, maybe not 3,000, but it was way more beef cubes than I'd ever seen in one haul. One of the reasons I love this recipe is because it takes about 10 minutes to put together and cook. I pair it with baked potatoes, but you could do any side you wanted.
This recipe is yummy and hearty – especially on cooler nights. I use homemade tomato soup as the base instead of the variety the recipe suggests and it's fabulous!
Can I tell you a secret? I like Chinese food, but I am not a fan of Chinese food take-out. I think it's because I get grossed out over fatty chicken and no matter where we order Chinese food from, there's always a fat piece of chicken in my dish – usually in the first bite. So, these teriyaki rice bowls are the perfect compromise. Not only are they delicious, they're also a heck of a lot less expensive (and fatty!) than take-out!
My kids love this one, because, hello, pasta! I like it because it's easy. I typically make it with the leftover meat after we do a slow cooker chicken instead of buying pre-packaged slices. I also get a lower fat Mozzarella cheese. My oldest especially loves this after his personal training sessions at the gym.
I know the name of this dish is peculiar, but don't worry – no porcupines were harmed in the making of it! These delicious meatballs can be placed in the slow cooker and they're ready by dinner time. When I make them, I make a double or triple batch, so that I can freeze some for the next time. Yay for easy!
Taco Bowls. Need I say more? SO yummy!
The recipe says it will take 12 minutes to cook, but realistically, double that. It's scrumptious though and worth the extra few minutes to cook everything properly. I usually use low-sodium soy sauce, because I don't typically have liquid aminos in the house. I'm lucky I can keep milk in the house with three kids. But, it tastes just fine using my less-than-glamorous recipe hack.
So, there you have it! Enough dinners to get you through two weeks of busy week night craziness. You can always add in some soups to space the meals out if you want to too. Don't forget to grab your free Weekly Meal Plan printable, so you can write all of this week's meals down! Enjoy!