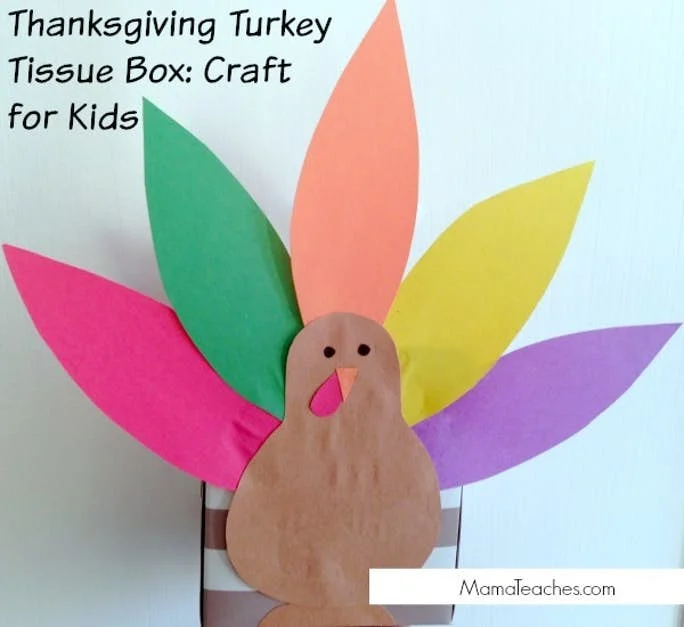 This article contains affiliate links to things that you might like.
I love shopping after the holidays, because they always have their themed merchandise on sale.
My latest finds have been the adorable square tissue boxes that had a slightly Halloween theme…really, they just had some orange in them.
At 75% off, I quick snatched them up.
And what is one to do with a slightly Halloween themed tissue box near Thanksgiving?
Turn it into a Thanksgiving Turkey Tissue Box, of course!
The kiddos and I whipped out the construction paper and glue and got to work to create about six of these to put around the house.
Super easy, super cute, and definitely Thanksgiving-themed.
Here's how we did it!
Turkey Tissue Box Thanksgiving Craft for Kids
Age: Preschool & up!
Time Needed: 20 minutes
Materials:
Brown construction paper
Colored construction paper
Scissors
Glue
Black marker
Tissue boxes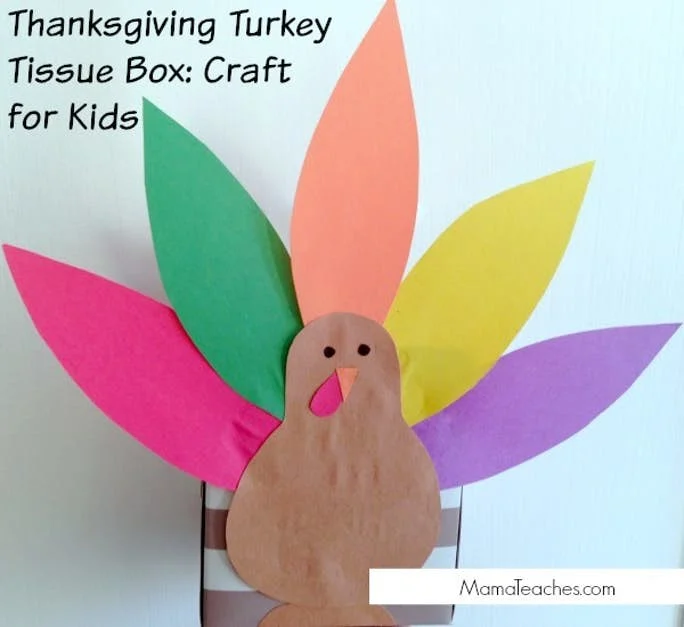 Directions:
Cut out a pear shaped turkey body from brown construction paper.
Using the brown paper scraps, cut little strips for the turkey legs.
Glue the legs onto the turkey.
Cut out 5 feathers in different colors, a small orange triangle for the beak, and a red teardrop-shape for the turkey's wattle.
Glue the feathers onto the back of the turkey and then turn it over.
Draw two eyes on the turkey's head using the marker and then glue on the beak and wattle.
When your turkey is dry, glue him to the side of your tissue box.
Ta-da! Quick and easy turkey tissue boxes at your service!
​
These are not only adorable for decorating around the house, they would also make fun classroom decorations!
​
If you decide to make your own Thanksgiving Tissue Box Turkeys, snap a picture and share it with us below or tag us on Instagram @MamaTeaches!
We would love to see your creations!