What do rainbows, starfish, and unicorns all have in common?
You can find them and all their sparkles in this printable unicorn matching game!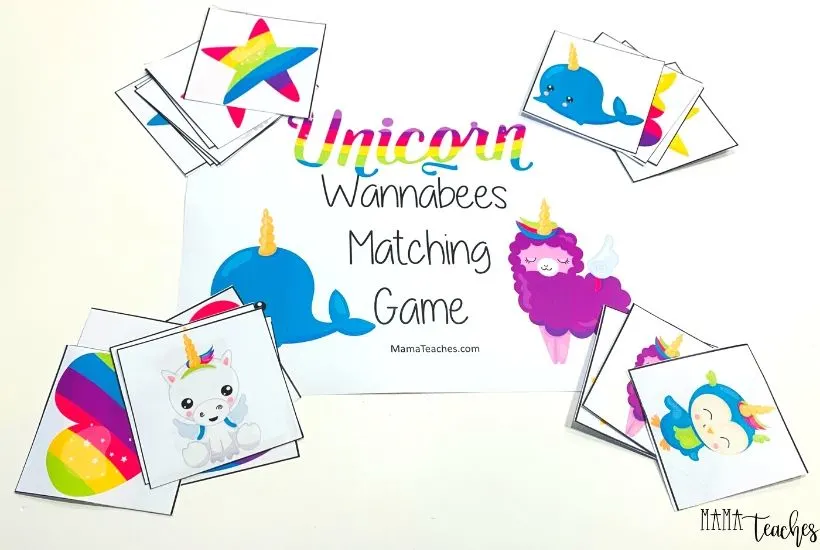 This article contains affiliate links to things that you might like.
All of the creatures found in the unicorn matching game are equally as colorful and bright.
Children from preschool to lower elementary age will be able to enjoy this game.
Okay, parents and older siblings will enjoy playing it too, because the characters are just too cute!
The best part though is that parents or teachers can be involved – or as uninvolved! – in the game playing as much as they choose.
It's truly an independent activity, as well as a partner game.
So, encourage your students or children to fine-tune those fine-motor skills along with their memory by printing and playing the unicorn matching game.
(You can grab your free copy below!)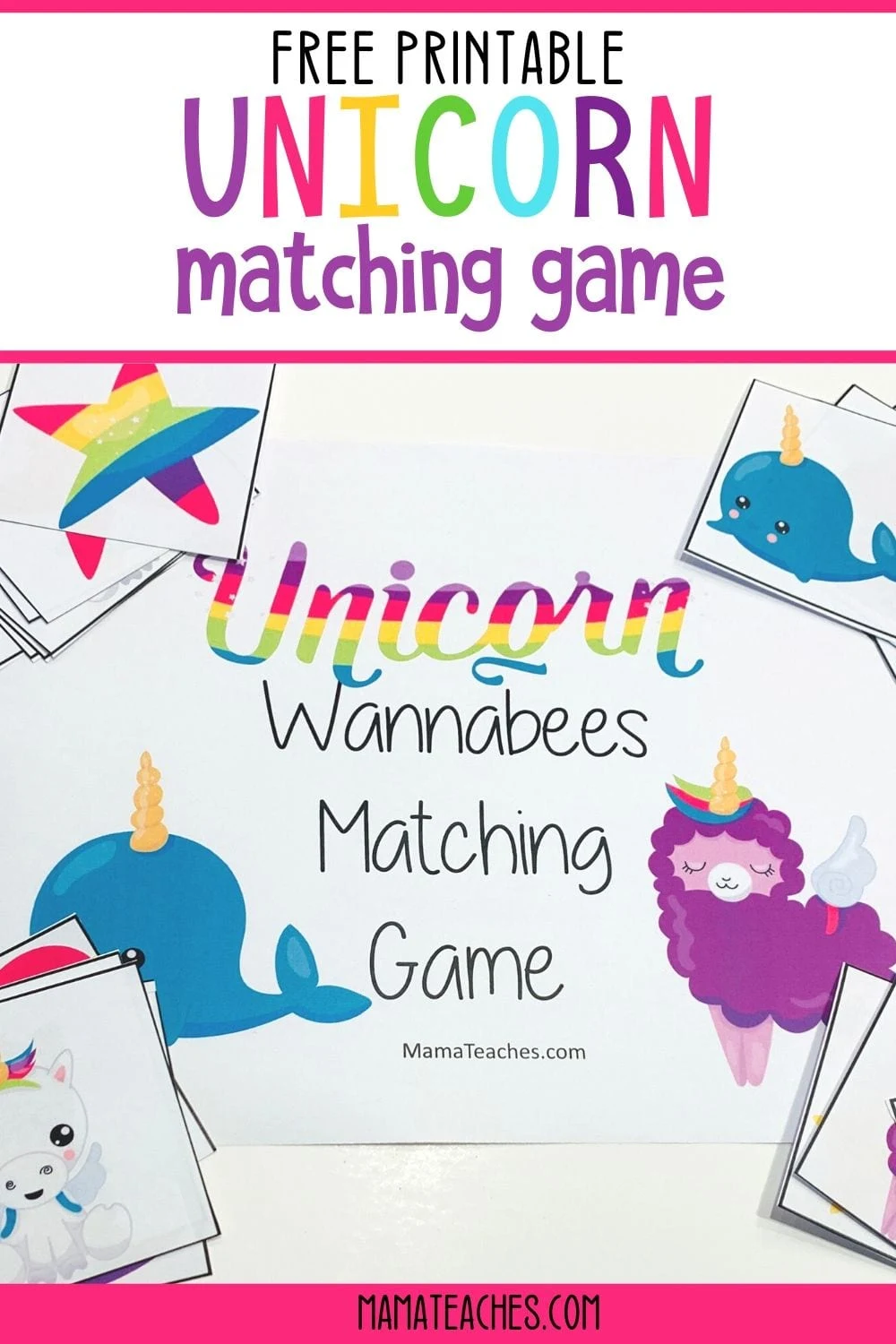 This article contains affiliate links to things that you might enjoy.
MAKING THE UNICORN MATCHING GAME
It is highly suggested to print this game on white 8.5"x11" cardstock.
This will give the game cards a sturdier feel and you will be able to reuse the game more often than if you printed on standard printer paper.
After you've printed the game, grab some scissors and cut along the thick black lines that separate all the different character cards.
Once all 30 cards are cut, the game is ready to play!
Side Note: If you're going to be using this with a lot of children or plan to store it for future use (aka rainy days), you might want to laminate the cards after you cut them out.
It will help them stay sturdy and useable for the next time you play.
Here's the laminator that I use and love.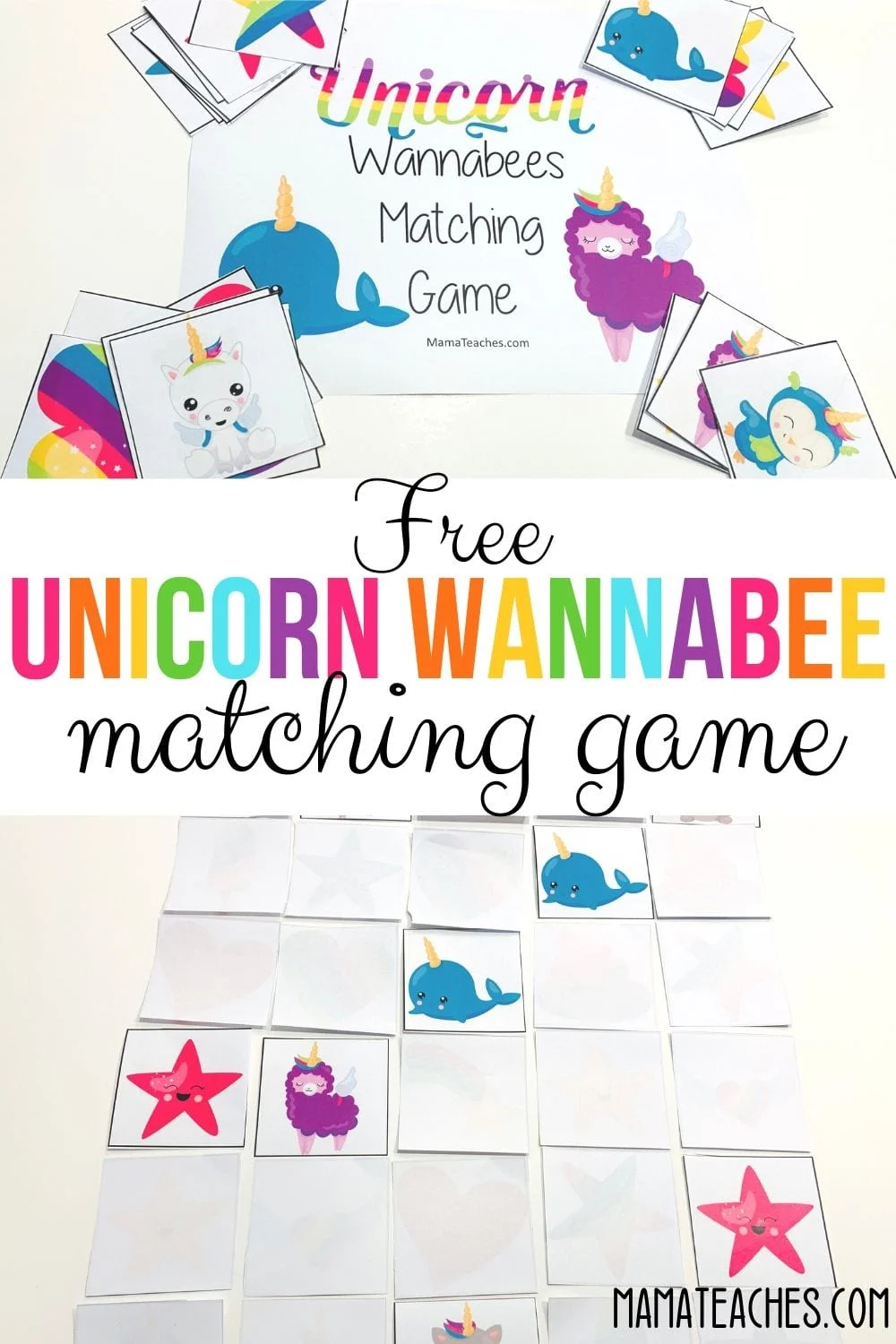 PLAYING WITH THE UNICORN MATCHING GAME
Playing the game is super simple! Below are steps to take to set up and start after you have printed out and cut apart the cards.
Mix the cards up! Flip all the cards face down.
Line them up in a row, creating 5 even columns. Each line will have 6 cards in it.
Flip over one card. Then, flip over one more card. If they match, take them and start the process over.
If the cards don't match, flip both cards back to their face-down position. Start this process over again until you find the right matches.
If playing with multiple people, have the youngest player go first. If a player makes a match, they go again. If a player doesn't make a match, the next player goes. Repeat this until all the matches are found. The winner will be the player who collected the most matches!
Using the Unicorn Matching Game in Lessons
The unicorn matching game is fun to incorporate in a unicorn-themed unit study for your homeschool preschool, kindergarten, or lower elementary classroom.
As you know, U is for Unicorn! If your classroom is focusing on the letter U, what better way to talk about things that start with U than a Unicorn-themed game.
The unicorn matching game is just as awesome of a game at home as it is in the classroom.
No matter where your young ones are using this adorable matching game, they will fall in love with the colors, animals, and images.
All the while, they will be improving their memory skills AND their visual discrimination skills when they try to find matches.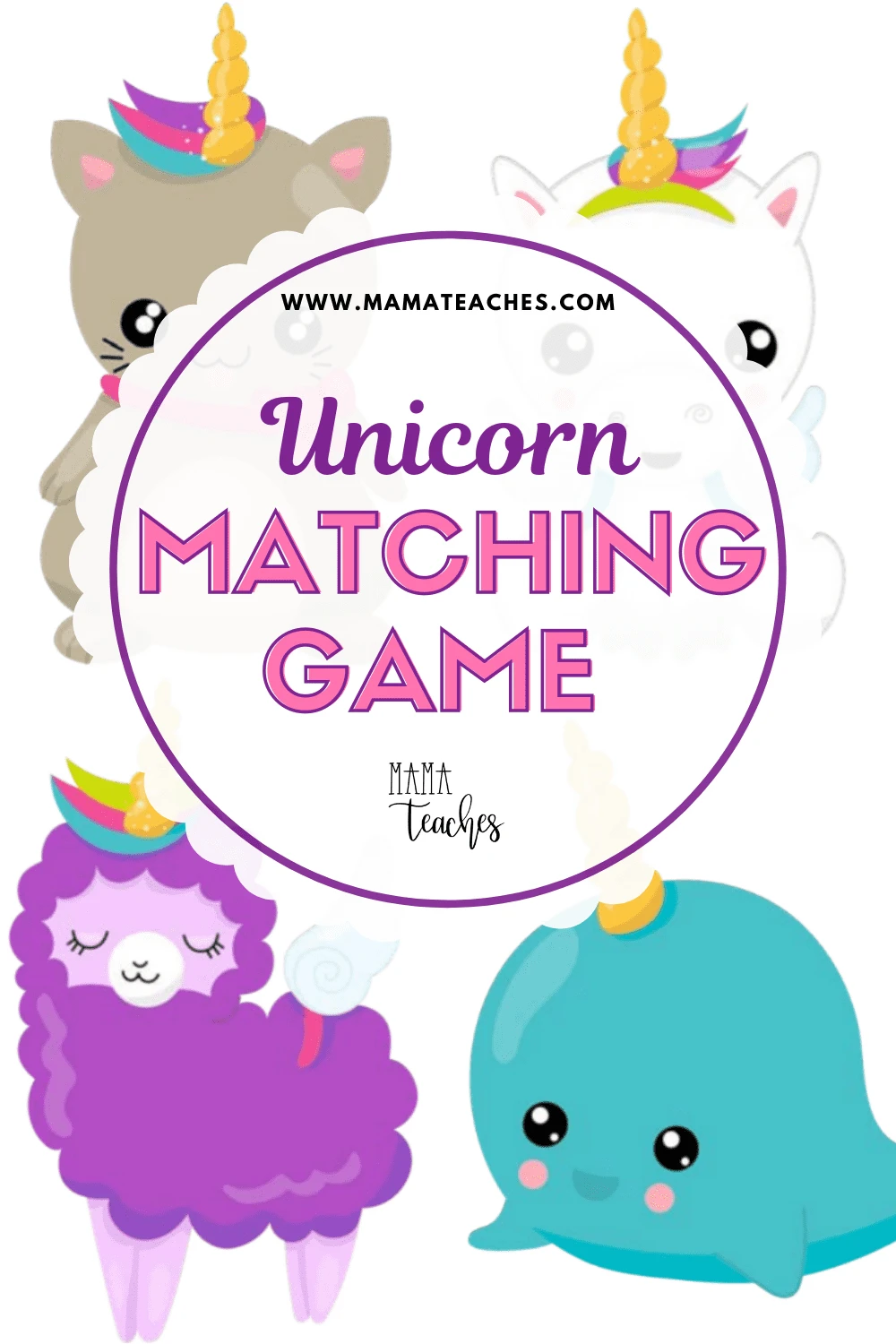 As always, we hope you enjoy this printable.
Tag us on Instagram @MamaTeaches to show us your game in action!
Grab Your FREE Copy of the Unicorn Memory Match
The Unicorn Memory Match Game is available in the MamaTeaches Freebies Library.
Already a member?
Great!
Sign-in here with the password.
(Check your inbox from past newsletters as I include the latest password in each one. Search "MamaTeaches" or "Brandi".)
Not a member yet?
No worries!
Fill out the form below and the password will be emailed to you!
You Might Also Like: