Audiobooks can be a lifesaver for kids with dyslexia, but they also have some great homeschool applications. Here are 5 places to find audiobooks to use with your students.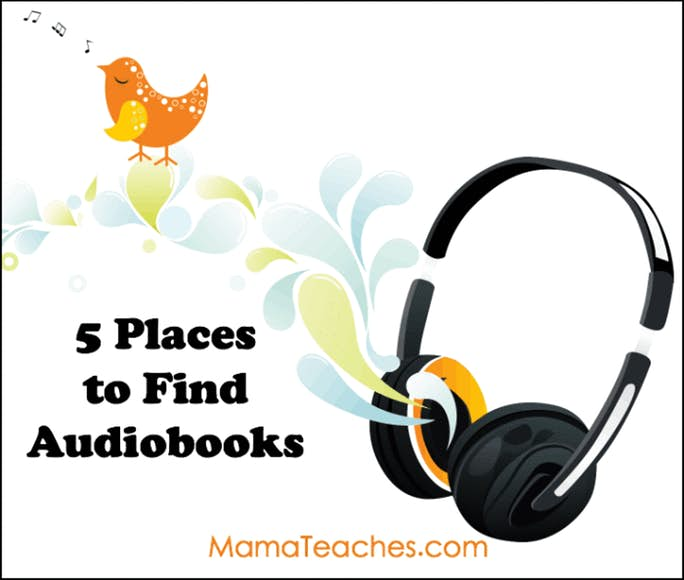 Let's Talk About Finding Audiobooks
They're particularly useful in a homeschool or classroom setting, where students who have trouble reading can often enjoy a book without having to experience the frustration of reading the words on a page. For my dyslexic teenager, audiobooks open up a whole new world and make reading fun. Ear reading is just as valid as sight reading, as the purpose of reading is getting the information in your head! Audiobooks can be found in a great variety of places—often for free or a very low price. Here are a few places you can go to find practically any book with a recording
5 Places to Find Audiobooks
1. AUDIBLE
Audible is probably one of the most well-known places to get audiobooks. You can sign up for a free 30-day trial, which includes one credit for any audiobook in their extensive library. Once you sign up for the service, you can get heavily discounted prices on audiobooks. If you decide to keep your membership after the trial is over, you receive 1 credit a month for your $14.95 subscription fee. They're currently having a promotion where you can try Audible and get two free audiobooks. If you want to get the latest audiobooks on the cheap, Audible is an excellent service to subscribe to. My oldest son has dyslexia and Audible is his favorite choice for audiobooks.
2. YOUTUBE
YouTube? Yes, YouTube! It's a home for more than cute animal videos and weird food challenges. There are a great many recordings of classic literature to be found there, narrated by professional actors. While a search on the site will most likely reveal what you are looking for, there are a few well-established channels that specialize in this. Check out CCProse and CCProseKids, both of which regularly update with new, high-quality audiobooks. A few favorites that they've narrated: Anne of Green Gables, Black Beauty, and Frankenstein. CCProse also make full use of their video format to put the words on the screen so that a student can follow along with the narrator.
3. THE LIBRARY
Your local library probably has a great volume of audiobooks—both recent and classic. These come in CD format, but it's usually a quick matter to rip them onto your computer and then transfer the files onto your mp3 player or phone. Even if your local branch doesn't have the audiobook you're looking for, you can check the catalog or ask the librarian to know if another branch may have a copy. Many library systems have also expanded their collection into digital formats. Look on your library system's website to learn more about all of their available audiobook resources. And the only thing you need to access all of this is a library card!
4. LIBRIVOX
Librivox specializes in releasing recordings of public domain books. Born from a community of book-lovers, this website is committed to producing high-quality audiobooks that anyone can access. You can access the books in a variety of ways—directly from Librivox's website, through iTunes, or by streaming. The site allows anyone to download the entire book into a zip file, but you can also access many books one chapter at a time. In a homeschool or classroom setting, this allows you to help the students digest the contents of the chapter and address questions before continuing.
5. PODIOBOOKS
If you're willing to go out on a bit of a limb in your book choice, then take a look at Podiobooks. Up-and-coming authors are able to submit their works to this site, which then distributes them for free. It gives new authors exposure for their works, which means that you're certain to find new and exciting stories there, but it also means that the sound quality is sometimes lower than many other audiobook sources. The site does have a nifty ratings system, which might help you select a good book.
What are some of your favorite resources for audiobooks?