As the school year comes to an end and summer is almost here, it's important to find exciting and engaging ways to celebrate all that has been learned and accomplished throughout the year. One popular way to do so is by conducting an ABC countdown to the last day of school!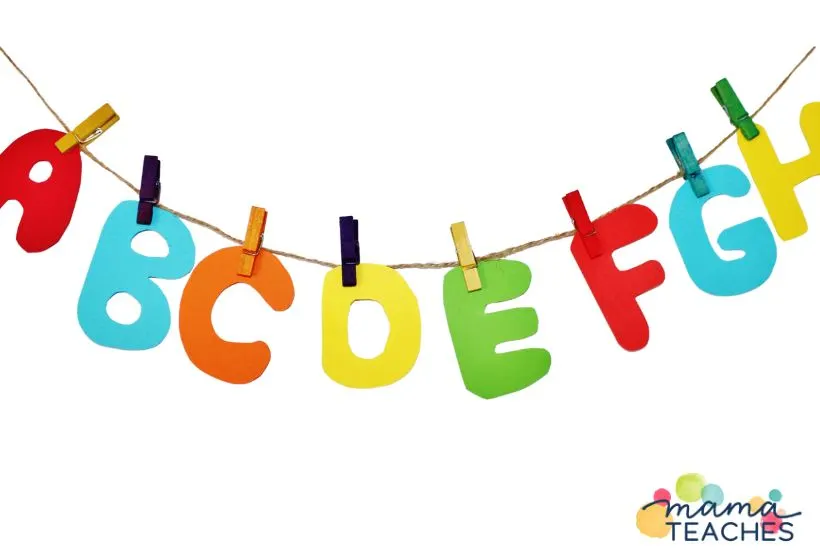 ABC Countdown
What exactly is an ABC countdown, you may ask?
Well, it's a fun and interactive way for students (and their teacher!) to count down the remaining school days, with each day dedicated to a different letter of the alphabet.
For example, "A" day could be all about "Art," "B" day could be "Beach Day," and so on.
It's an alphabet countdown!
Benefits of Doing an ABC Countdown
But why is an ABC countdown beneficial for kids?
For one, it adds an element of excitement to the end of the school year.
It's a way to keep students engaged and motivated during what can often be a time of restlessness and anticipation.
It also provides an opportunity to incorporate fun and innovative activities into the curriculum, which can help to reinforce and expand upon what has been taught throughout the year.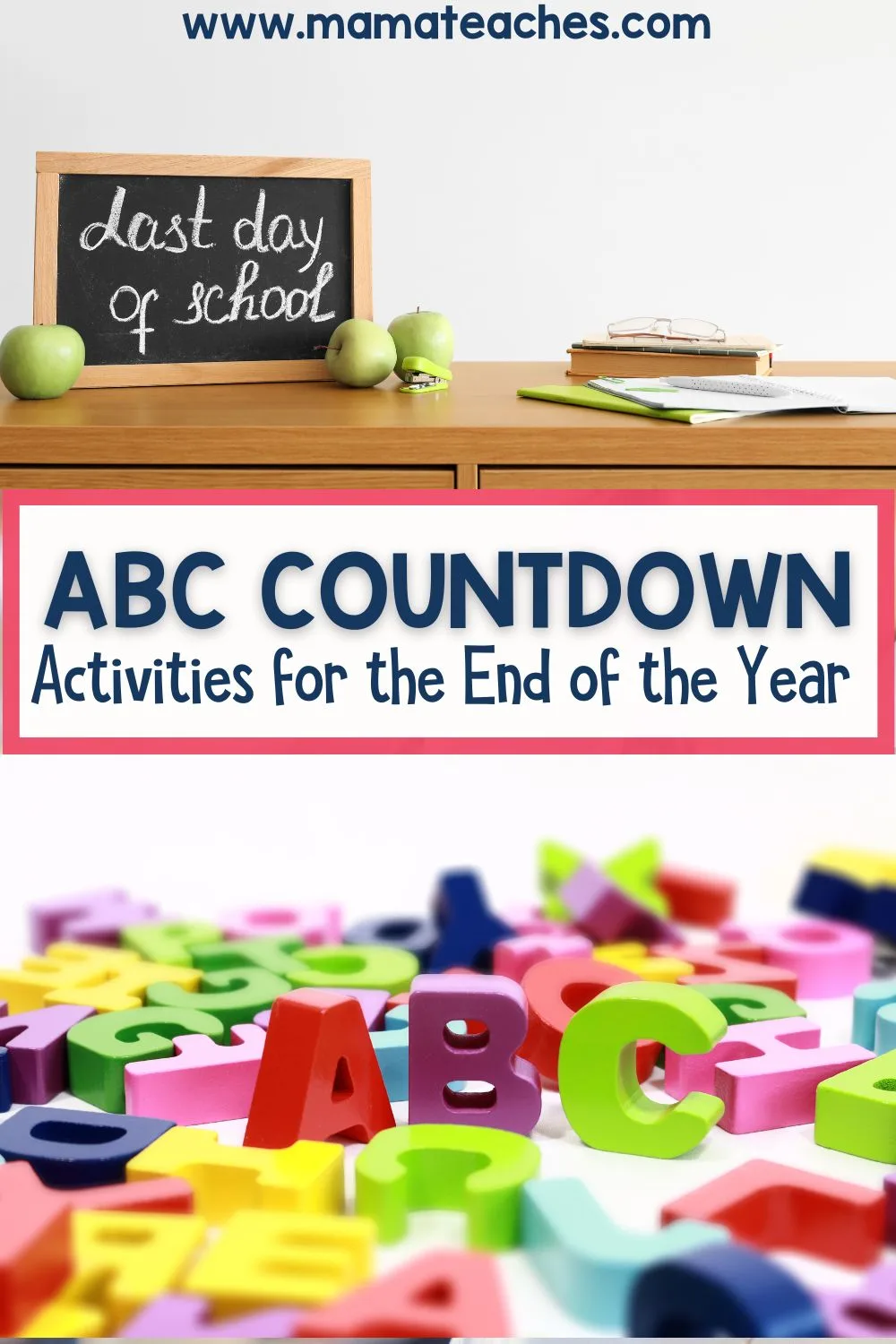 7 Steps for Doing an ABC Countdown at the End of the Year
So, how do you go about planning and executing an ABC countdown that is both engaging and memorable?
Here are some steps you can follow:
1. Choose a Theme for Each Letter of the Alphabet
You can get creative with this and assign a theme that relates to a certain subject or topic that was covered in class.
For example, "D" could be all about "Dinosaurs" if you recently studied them in science class.
Scroll down and see below for more ABC Countdown Ideas for each letter of the alphabet or get 260 themed-day ideas in the ABC Countdown Resources packet!
2. Create a Countdown Calendar
Countdown calendars simply list the theme for each day and the day when it will be celebrated.
It's a great way for you to keep track of everything that's going on and a helpful tool for parents so they can support you and their child on those days.
There are two countdown calendars included in the ABC Countdown Resources!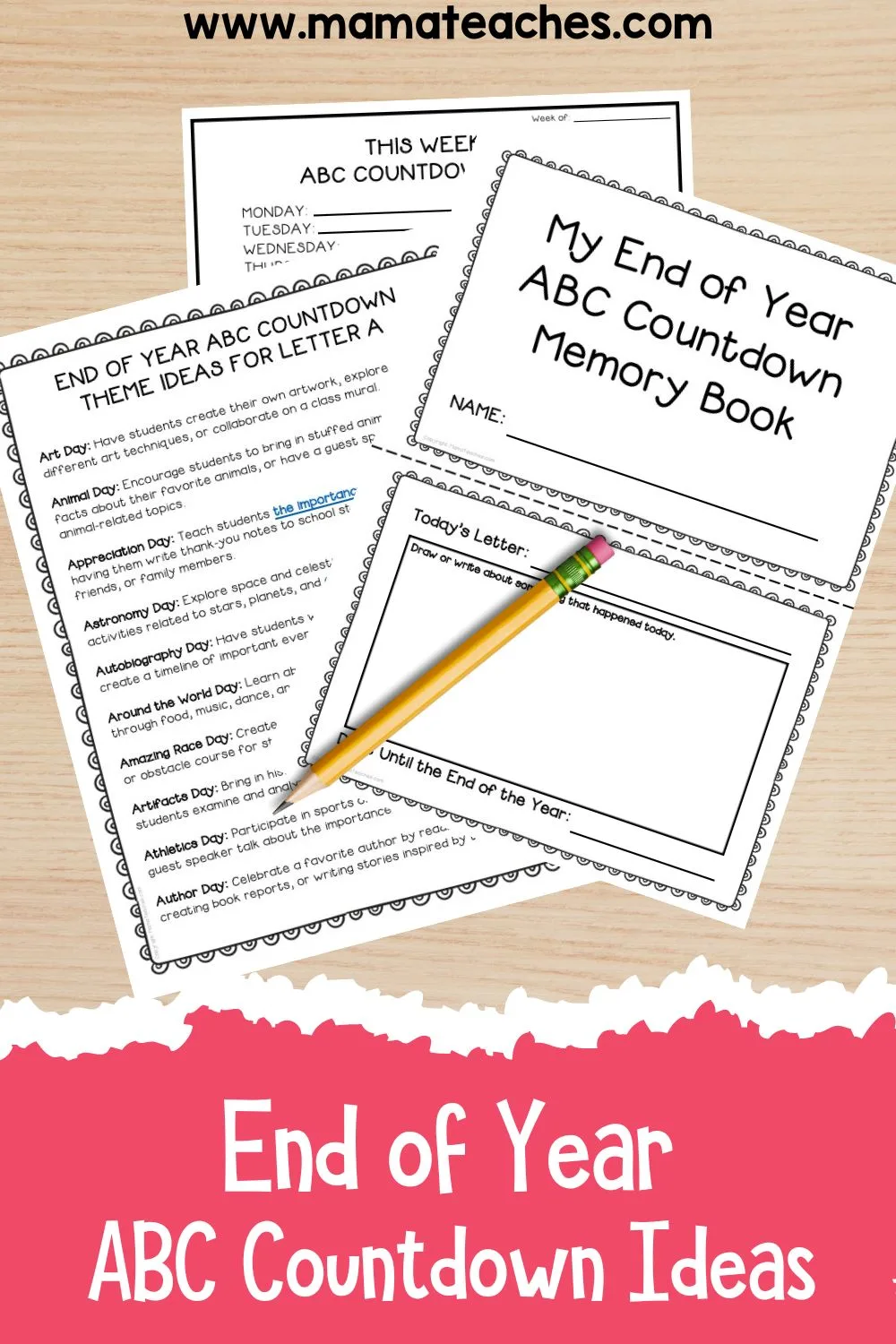 3. Plan Activities for Each Day
The activities that you plan should be centered around the assigned letter/theme for that day.
These activities should be fun, interactive, and engaging.
For example, for "B" day, you could plan a "Beach Day" with water games, sandcastle building, and beach-themed crafts.
4. Get Students Involved in the Planning Process
Encourage them to come up with their own ideas and suggestions for activities that align with the assigned theme.
This will help to keep them invested and excited throughout the countdown.
5. Communicate with Parents About the Countdown and Encourage Their Involvement
You can provide a list of suggested activities for each letter/theme that they can do at home with their children.
This will help to reinforce what was learned in class and keep the momentum going outside of the classroom.
If you need donations of materials, supplies, help in the classroom, or refreshments, don't hesitate to reach out to families.
I always found it good to send home an introductory letter, a weekly note with the themes that week (or the following week), and then a simple reminder tag for the next day. The constant reminders helped parents and students so much in terms of remembering to participate!
You can grab copies of all of the forms I used in the ABC Countdown Resource packet.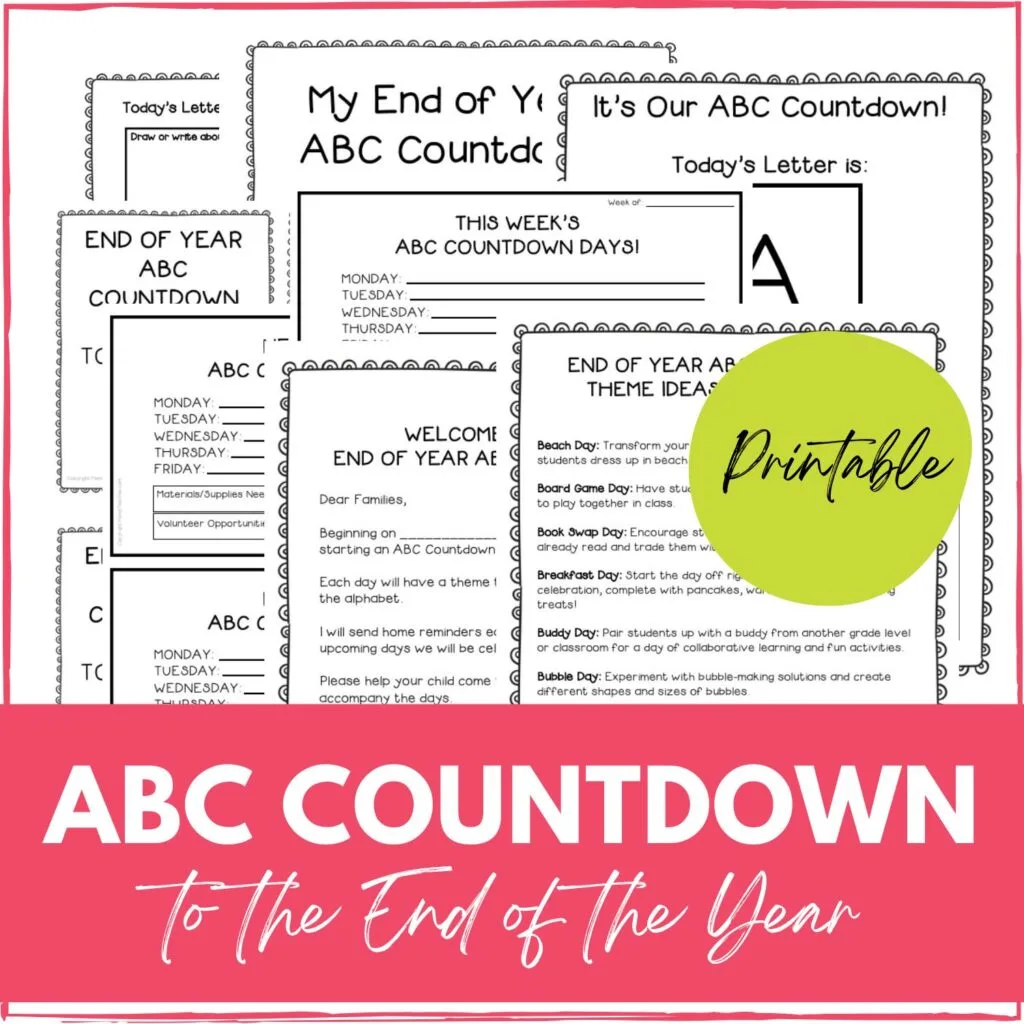 6. Maintain Discipline and Order During the Countdown
While it's important to have fun and be creative, it's also important to ensure that students are still adhering to classroom rules and expectations.
Set clear guidelines and consequences for any misbehavior.
7. Keep Everyone Motivated and Enthusiastic Throughout the Program
Keeping everyone invested during the entire ABC Countdown and the end of the year requires some creativity.
It may involve incorporating incentives or rewards for students who participate actively and positively throughout the countdown.
ABC Countdown Themes and Ideas
Here is a list of ABC Countdown themes with some activity ideas for each letter. You can also grab 260 themed-day ideas in the ABC Countdown Resources found HERE!
A – Art Day
Have a class art show or create a group mural.
B – Beach Day
Bring in sand, beach balls, and frisbees, and have a picnic on the "beach."
C – Crazy Hair Day
Allow students to come in with crazy and wild hairstyles.
D – Dance Party Day
Bring in some music and have a dance party.
Check out our curated list of 100 school-appropriate songs for the classroom below!
E – Exercise Day or Extra Recess Day
Have students participate in different exercise routines such as yoga, Pilates, and aerobics.
F – Favorite Book Day
Allow students to bring in their favorite book and share with the class why they love it.
Alternate Ideas:
Favorite Stuffed Animal Day (a favorite from when I taught kindergarten!) is when students bring in their favorite stuffed animal.
Favorite Color Day is when students wear their favorite color to school.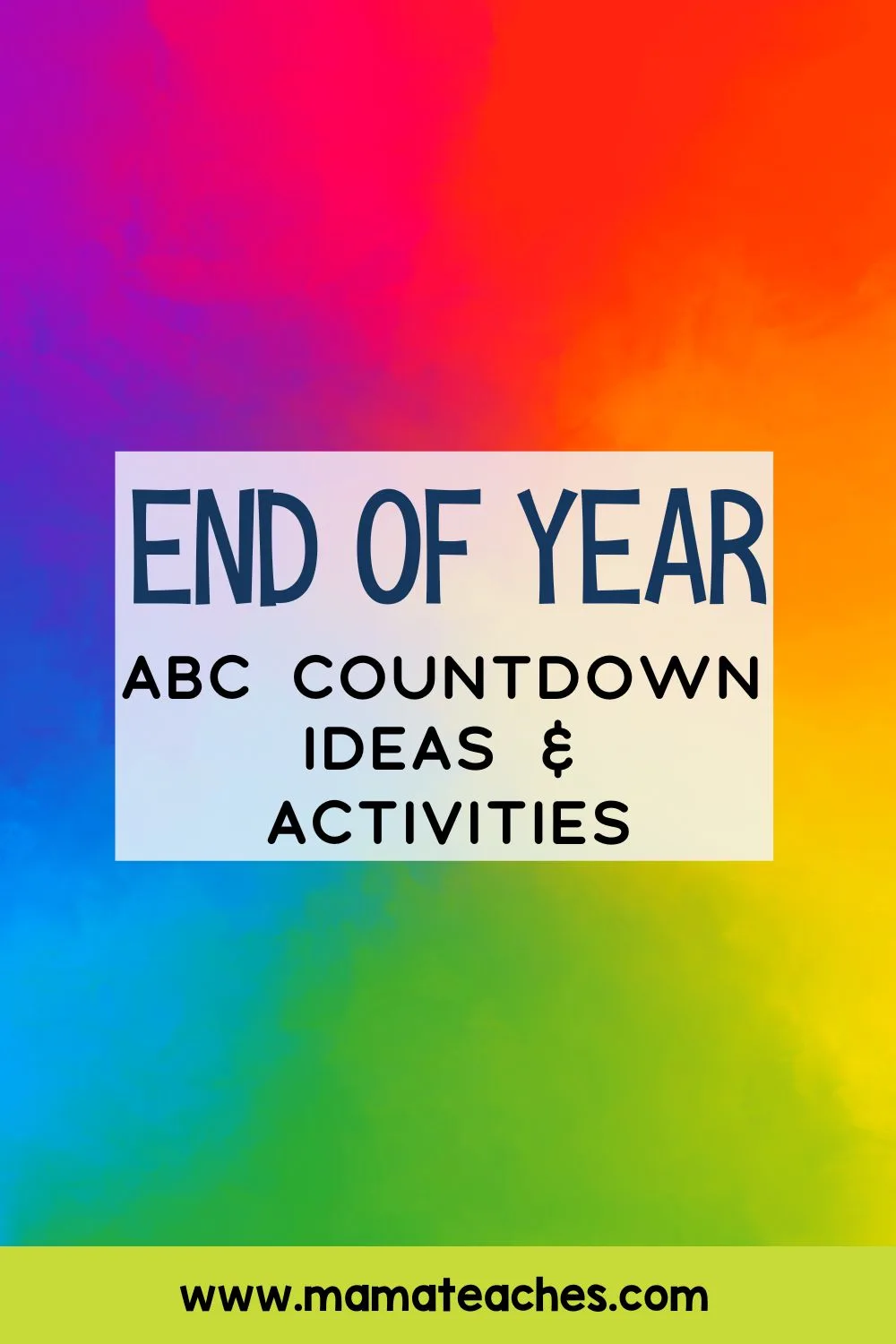 G – Game Day
Play board and card games all day!
H – Hat Day
Allow students to wear their favorite hats to school.
I – Ice Cream Day
Have an ice cream party and allow students to create their own sundaes.
You could even add a special twist by having students create their own ice cream as a STEM experiment!
J – Joke Day
Encourage students to write and tell their favorite jokes and riddles.
Need joke inspiration? Check out 240 jokes in the Year of Jokes for Kids!
K – Kindness Day
Participate in acts of kindness such as writing thank you notes or donating to a charity.
L – Luau Day
Have a Hawaiian-themed party with leis, grass skirts, and Hawaiian music.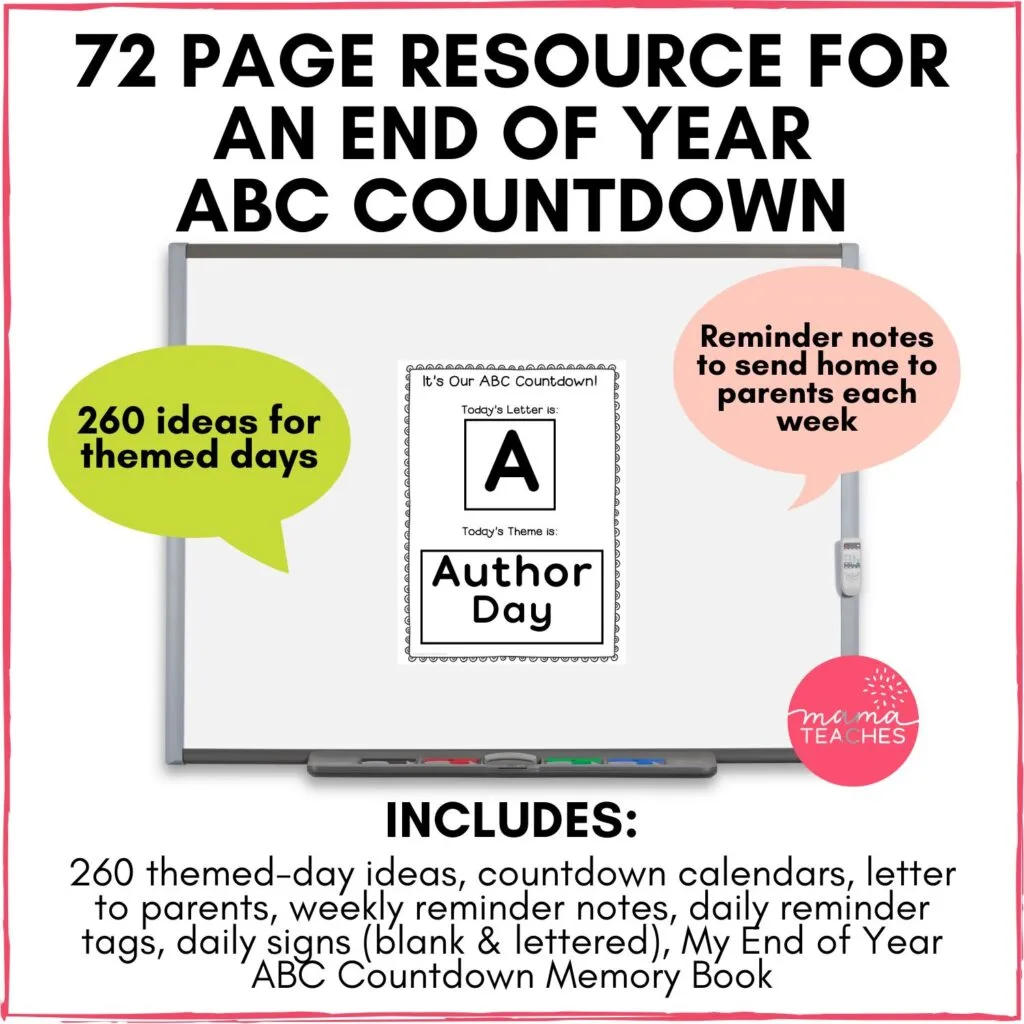 M – Movie Day
Watch a fun and educational movie related to what was learned in class.
You could also watch a movie based on a book that you read during the year.
Alternate Idea:
Memory Book Day – create a memory book as a class that celebrates all of the fun and learning that took place throughout the school year.
N – Nature Day
Go on a nature walk or participate in a nature scavenger hunt in the school playground.
Alternate Idea:
Name Day or New Name Day – when kids celebrate their names or choose a funny new one!
O – Outdoor Day
Have a field trip or participate in outdoor games such as soccer or kickball.
P – Pajama Day
Allow students to come to school in their pajamas and have cozy storytime.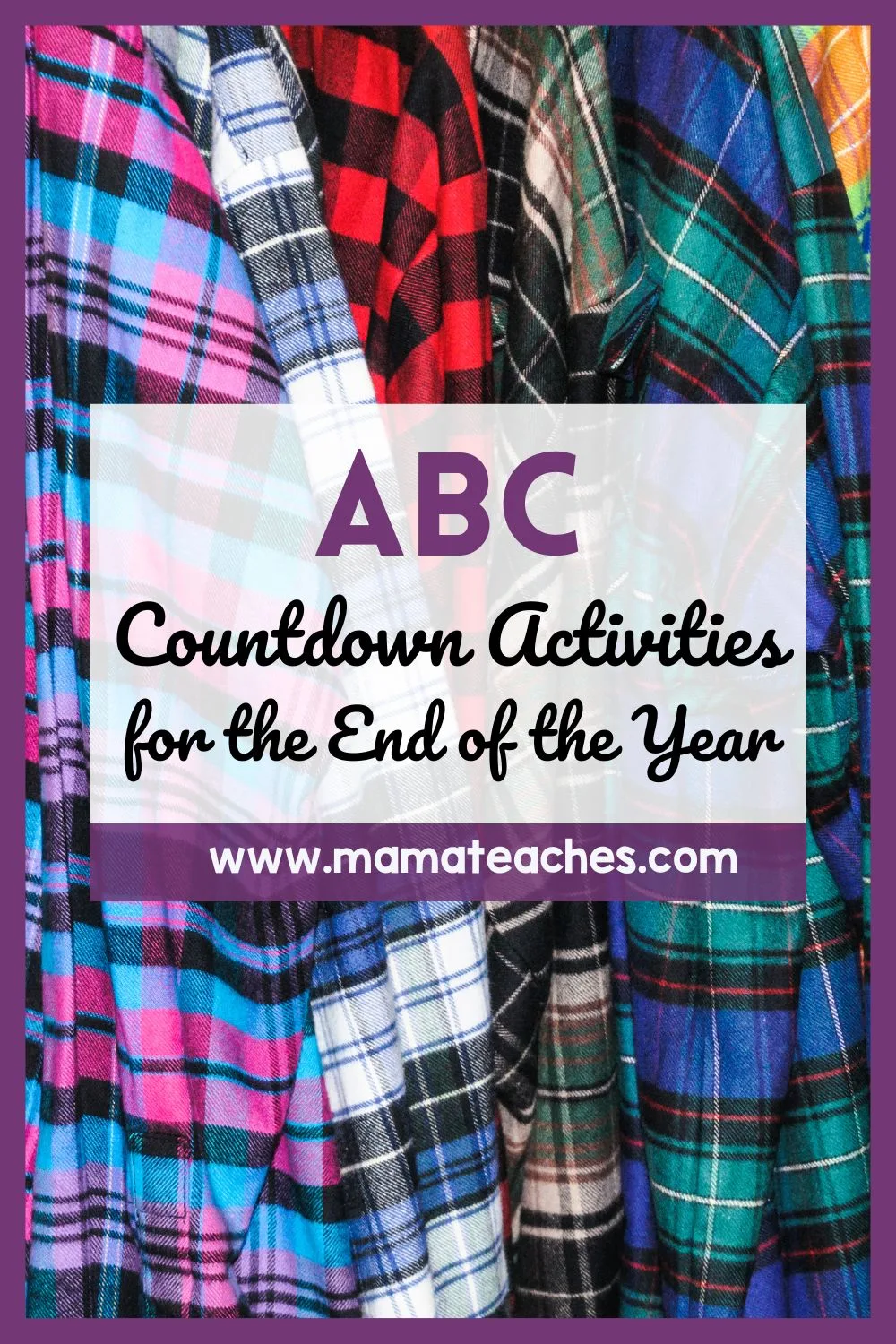 Q – Quiet Reading Day
Have a silent reading time where students can read their favorite books.
Make some fun bookmarks to go along with the day!
R – Red, White, and Blue Day
Celebrate patriotism by wearing the colors of the American flag.
S – Sports Day
Participate in different sports such as basketball, volleyball, or soccer.
Or try the free Save Sports Virtual Escape Room!
T – Talent Day
Encourage students to showcase their talents, such as singing, dancing, or magic tricks.
Alternate Idea:
Tie Dye Day is a fun end of school countdown celebration idea if you have extra adult helpers to make tie dying easier!
U – Uniform Swap Day
Allow students to swap uniforms for a day.
Alternate Idea:
Universe Day – If your students don't wear uniforms, try Universe Day and have students dress up like aliens from outer space!
V – Vacation Day
Have students share about their favorite vacation or dream vacation.
W – Water Day
Have water-themed activities such as water balloon toss, water games, or a sprinkler party.
X – eXtraordinary Day
Allow students to come up with their own ideas for an extraordinary and memorable day.
Y – Yearbook Day
Take photos and create a class yearbook to remember the school year.
Z – Zoo Day
Learn some fun facts about animals and their habitats through fun games and activities.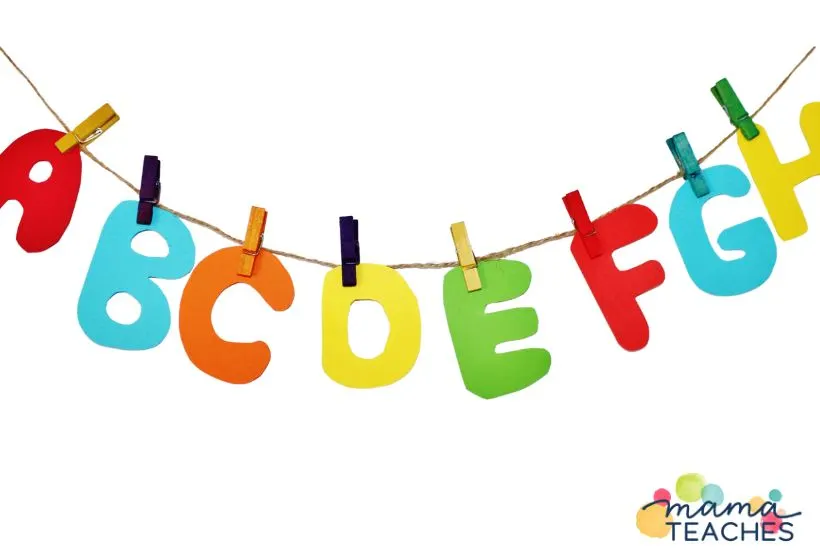 Alphabet Countdown Ideas
With some creativity and planning, you can create an exciting and effective ABC countdown that students will remember for years to come.
So go ahead and start planning – the countdown to the end of the school year has officially begun!
YOU MAY ALSO LIKE…