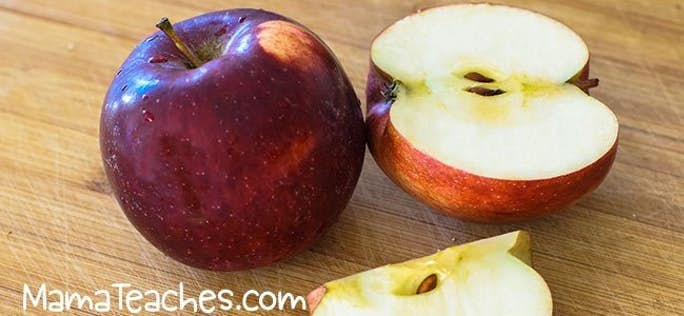 We're big apple-eaters (some of us more so than others) and apple picking in the Fall is a must-do activity. When we did the Paths of Exploration curriculum last year, one of our favorite studies was learning about Johnny Appleseed through the book by David R. Collins and Louise H. Rock. Despite our love for apples, there's a lot we didn't know about them. Here are some of the fun facts for kids that we found out about this iconic fruit.
​
Fun Facts About Apples
1. APPLES ARE A MEMBER OF THE ROSE FAMILY.
What?! The rose family?! Yep, apples, along with pears, plums, cherries, and peaches are all members of the rose family of plants.
​
2. IT TAKES ABOUT 40 APPLES TO CREATE ONE GALLON OF APPLE CIDER.
Since we love warm apple cider, this came as a bit of a surprise to us! Anywhere between 35-40 apples are needed to create one gallon of cider. Who knew?!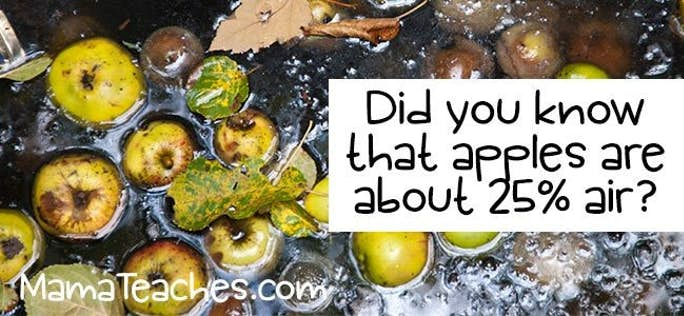 3. APPLES FLOAT, BECAUSE THEY'RE 25% AIR.
Ever wonder why there's bobbing for apples and not other fruit? The apple is made up of about 25% air. That makes them more buoyant and perfect for the watery game.
​
4. THERE ARE APPROXIMATELY 2,500 VARIETIES OF APPLES GROWN IN THE UNITED STATES AND OVER 7,500 VARIETIES GROWN WORLDWIDE.
While the grocery store and farmers' market may only have a half-dozen varieties of apples available for sale, there are actually more than 2,500 different types of apples that are grown in the US. Many of them aren't good to eat (like the crab apple – which is the only native apple plant in the US), but the ones that are all have their own unique flavor and texture.
​
5. APPLES ARE HEALTHY FOR YOU!
You may have already gathered that apples are good for you, but did you know that they're free of cholesterol, fat, and sodium? With many American diets already high in those three things, apples are a delicious and healthy alternative to pre-packaged snacks. To get even more health benefits, don't peel your apple. There's a ton of fiber and anti-oxidants found in an apple's peel. An apple a day just may help keep the doctor away!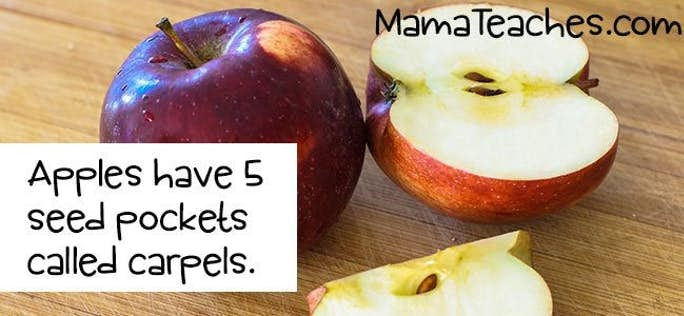 6. APPLES HAVE FIVE SEED POCKETS.
Have you ever cut an apple open and looked inside? There are five distinct seed pockets called carpels in each one. The number of seeds in each apple depends on the variety of apple and the health of the plant. A healthy plant will produce more seeds than one that's struggling to survive.
​
7. REFRIGERATED APPLES LAST LONGER.
Want to make the apples that you picked at the orchard (or in the grocery store's produce aisle) last longer? Refrigerate them! Apples stored at room-temperature will ripen and go bad about 10 times faster than those that are refrigerated.
​
8. THE AVERAGE AMERICAN EATS ABOUT 46 POUNDS OF APPLES AND APPLE PRODUCTS EACH YEAR.
Although about 60% of the United States' apple crops are eaten raw each year, the other 40% is used to make applesauce, apple pies, apple cider, apple juice, and more delicious apple-goodness. In fact, Americans eat about 46 pounds of raw and apple-products each year which makes apples the most consumed deciduous fruit in the country.
Try these apple recipes:
​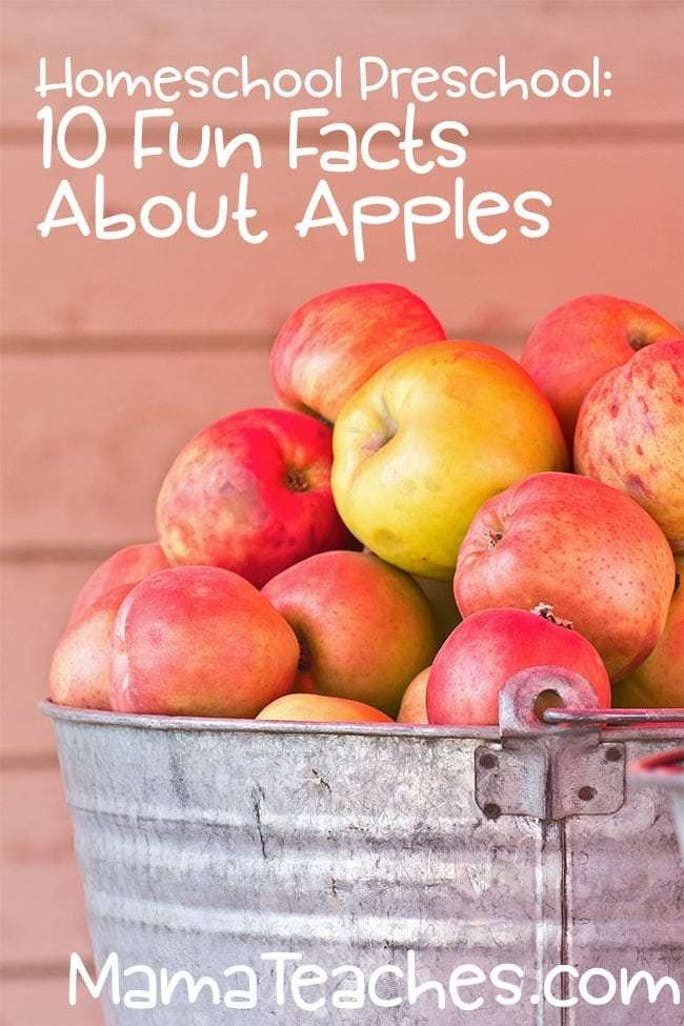 9. NATIONAL APPLE MONTH IS ACTUALLY THREE MONTHS LONG!
It only makes sense that apples are promoted the most in the Fall when they're ready to harvest. From September through November, "National Apple Month" is celebrated to help raise awareness of crops and help orchard owners sell their fruit. This three-month window of apple celebration was created in 1996.
​
10. THE BIGGEST APPLE PRODUCING STATES ARE: WASHINGTON, NEW YORK, PENNSYLVANIA, MICHIGAN, CALIFORNIA, AND VIRGINIA.
While apples are grown in all 50 states, the top-producing states are responsible for about 58% of the country's apple production. That's a lot of apples!
​
Whether you're learning about apples as part of a homeschool preschool study or simply because you adore the tasty fruit, be sure to include some fun apple crafts and activities into your lessons! There's a whole world of apple-goodness just waiting for you!
​
​
Sources: