The beginning of school brings to mind the season of fall and of course, apples!
This free apple life cycle printable resource is a great way for children to learn all about the life cycle of an apple tree.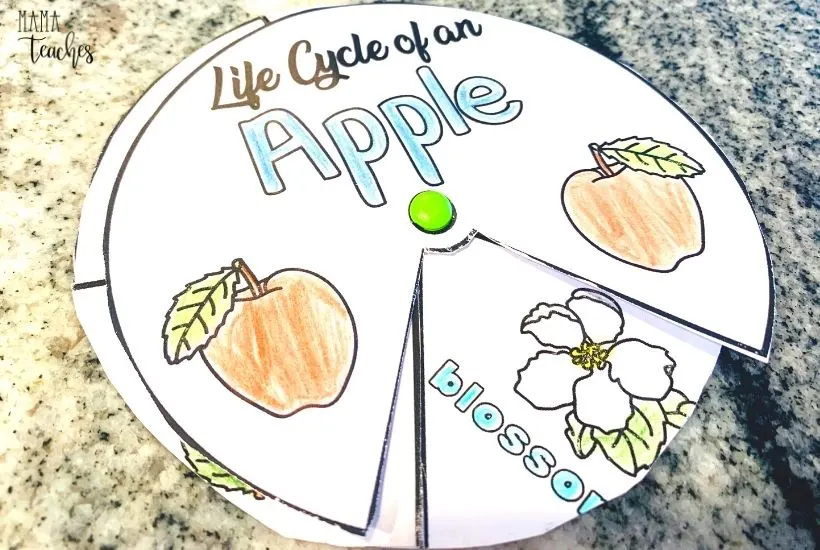 This article contains affiliate links to things that you might like.
Life cycle of an apple tree
There are five stages in the life cycle of an apple tree.
Take some time to introduce your children to these stages.
Maybe even watch a fun video or read a story to build prior knowledge!
Stage 1-Seed Stage: Apple seeds are planted and covered with soil. With sunlight and water, the apple seeds will begin to form tiny roots.
Stage 2-Tree Stage: The seeds that were planted emerge from below the surface of the soil as sprouts. These sprouts need water and sunshine to help them to continue to grow. It can take three to six years for an apple tree to be considered full grown!
Stage 3-Bud Stage: Once the apple tree becomes an adult it will begin to produce buds.
Stage 4-Blossom Stage: The buds begin to produce blossoms, or flowers. These blossoms are beautiful and usually stay on the trees for around three to five weeks. During this stage bees come and pollinate the blossoms, and about ten days later the fruit will begin to form.
Stage 5-Fruit Stage: Finally, apples start to grow on the trees where the blossoms had been. It usually takes between 160-180 days for the apples to be ready to harvest. Those sweet, juicy apples are worth the wait!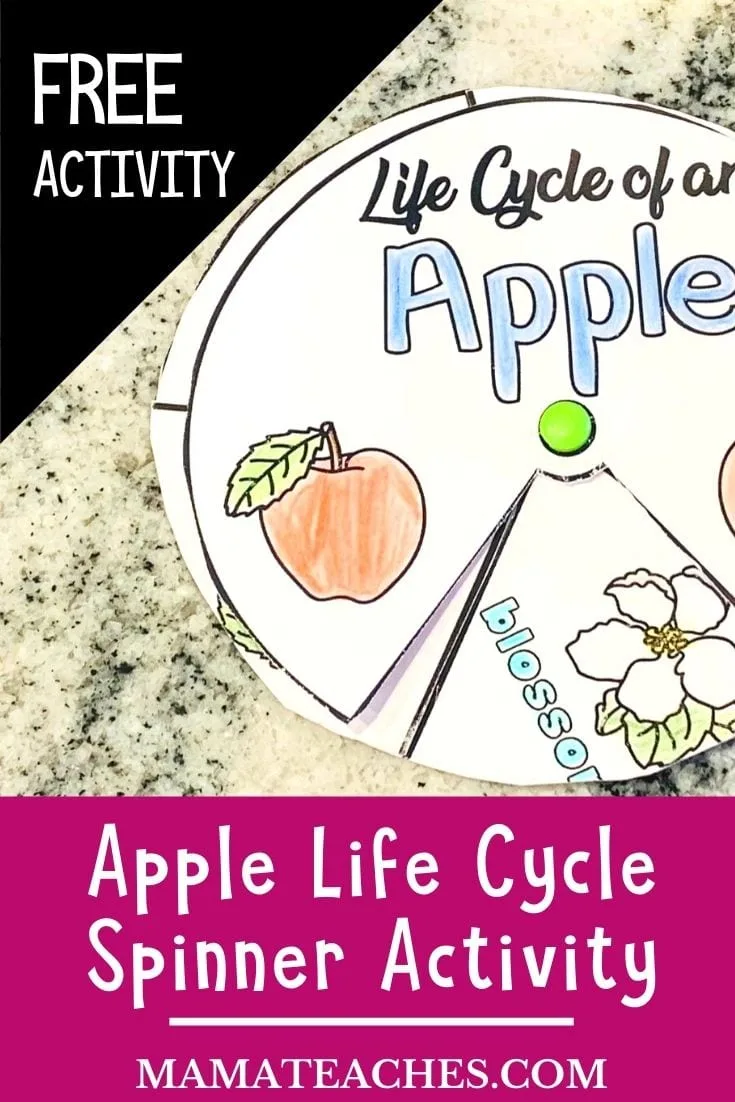 Printable Spinner Activity Directions
This is a great, free resource to enhance your apple unit study if you're a homeschooling parent or a teacher.
You might simply be looking for a hands-on activity to share with your preschool or Kindergarten-aged children.
This apple life cycle printable activity is fun and engaging, and it can be used in so many ways!
Download and print the APPLE LIFE CYCLE SPINNER CRAFT from the Freebies library. Cardstock is a great printing choice for durability.
Take some time to review the five stages of the apple tree life cycle discussed above.
After discussing the five stages, cut out the spinner craft which is found on the first page of the printable.
Guide the children in having them color, cut, and glue the different stages onto the corresponding numbered section of the spinner.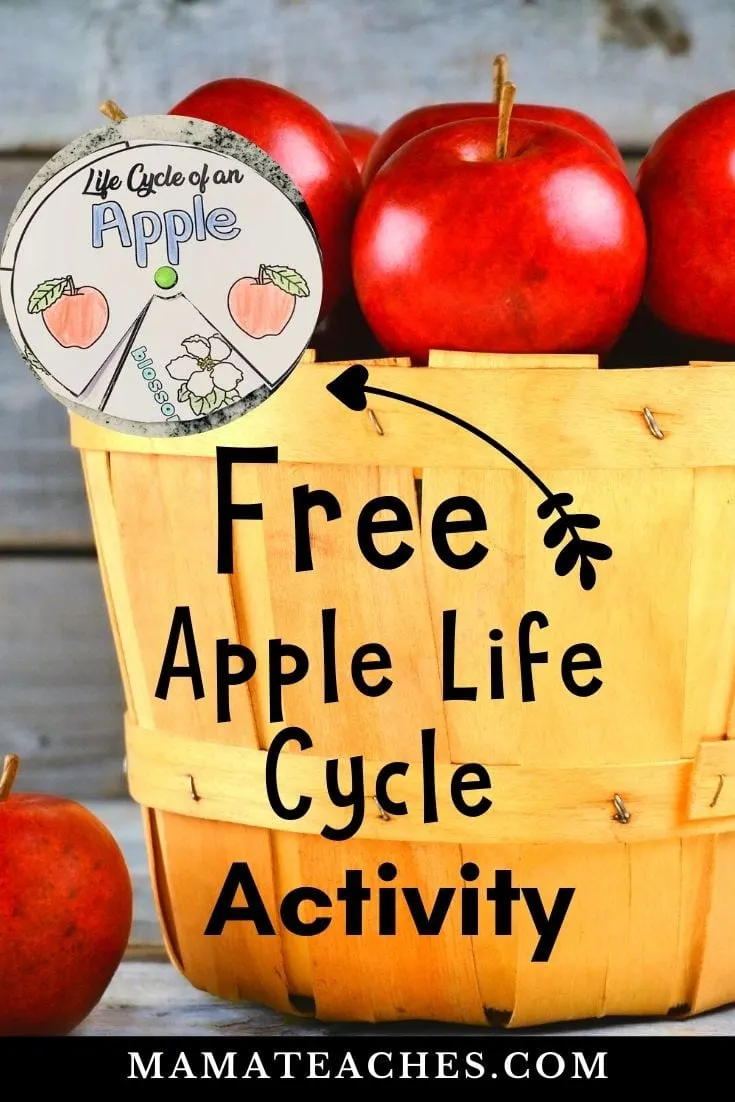 Teaching Opportunities with the Apple activity
This activity can be used in so many ways, and it can touch on so many early childhood skills! These are just a few:
One-to-one correspondence-children glue one item at a time to the spinner
Fine motor development-coloring, cutting, gluing the pieces and spinning the spinner
Sequencing of the apple life cycle stages
Identification of numerals 1-5
Story retelling-have the students use the spinner to tell the "story" of the life cycle
What comes next? For a fun little "spin," have your child close their eyes and move the spinner. When they see what stage is visible after opening their eyes, have them tell you the stage that comes before or after that stage. You can even let them quiz you!
You can find this Apple Life Cycle Spinner Craft in the Freebies library.
Not a member?
Sign-up below!
You Might Also Like