Are you looking for a new classroom configuration?
Check out these classroom setup ideas for elementary, middle, and high school.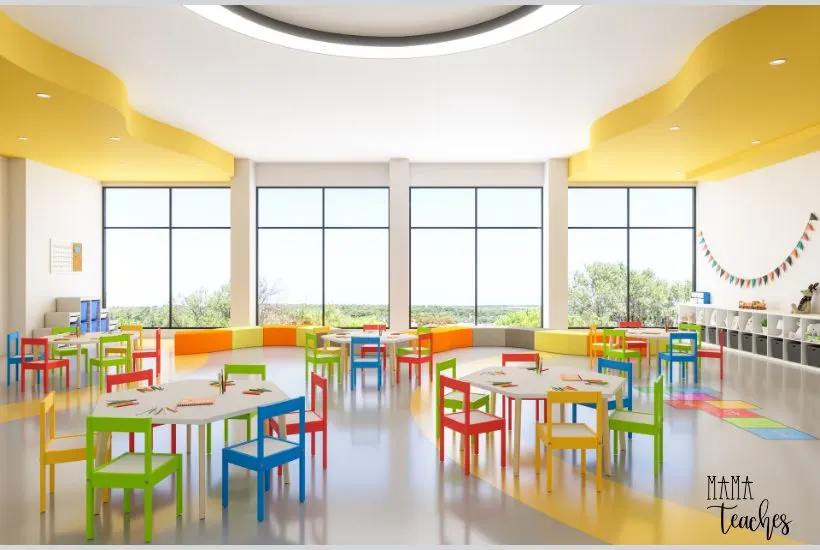 This article contains affiliate links to things that you might like.
How to Setup a Classroom
There is no single right way to set up a classroom.
You need to take into consideration the size of your space, the number of kids, and your teaching style.
Do your students work cooperatively?
Do you work individually with students or in small groups?
Are you in need of separate spaces for reading or activity stations?
Do you team teach?
Think through how you want your classroom setup to work for you, and draw inspiration from these different ways to set up a classroom.
Elementary Classroom Setup Ideas
Here are some classroom setup ideas for elementary school.
Sit Spots
Incorporate multiple seating options into your classroom by decorating the floor with color-coordinating sit spots.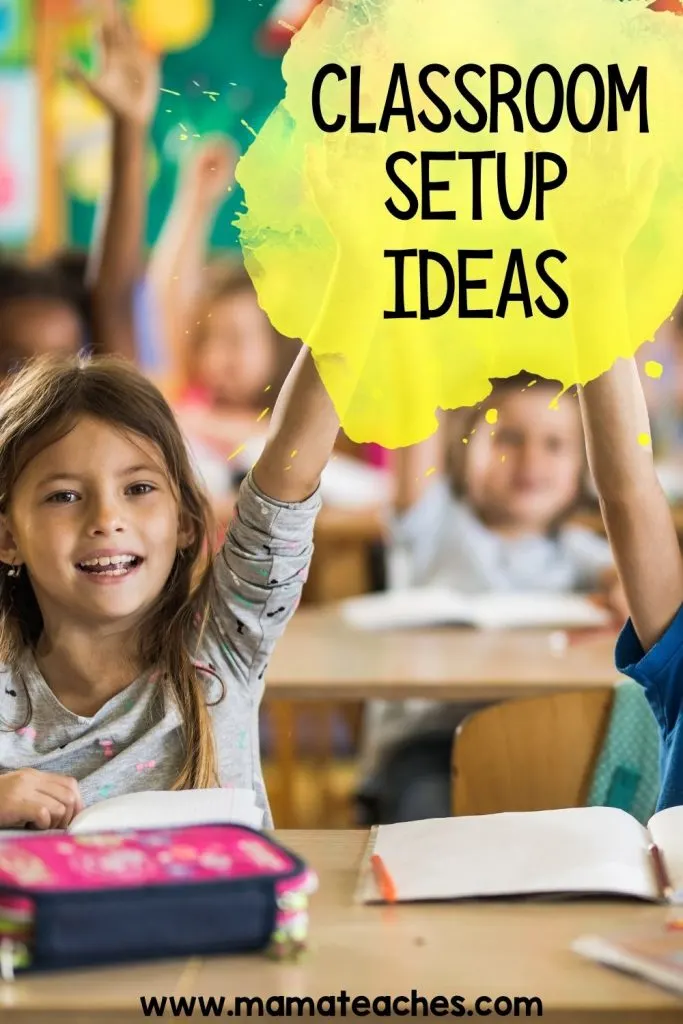 Kidney Tables Plus Desks
You don't need just one type of seating.
Use a combination of desk clusters and kidney tables in your classroom, so you have a space to meet with your students in small groups.
Milk Crate Seats
This music room uses padded milk crate seats.
If you can forgo desks in your classroom, try this seating option that has hidden storage.
Reading Nook Specialty Chairs
Scour the thrift stores for some comfy chairs on the cheap.
They will make your reading nook all the more enticing.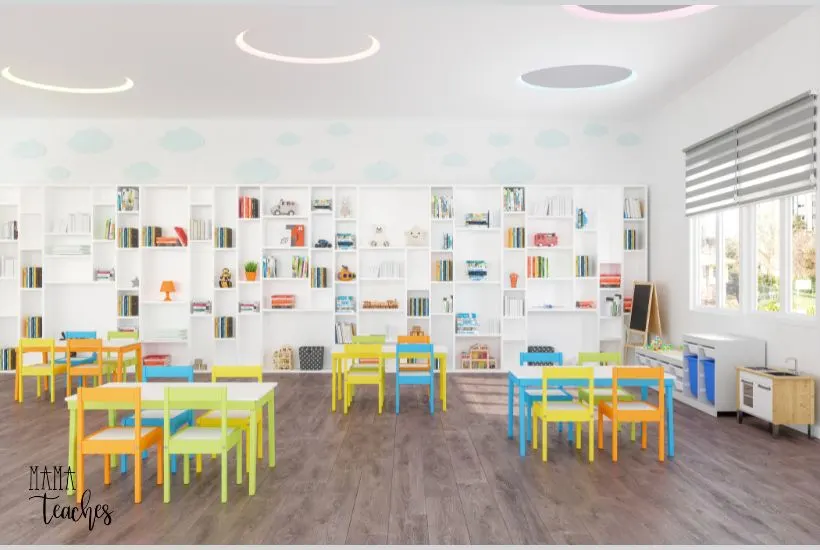 Desk Clusters
Desks don't have to all face forward.
This tiny classroom maximizes space by clustering desks together.
Rainbow Storage Shelves
Isn't this rainbow-colored shelving and bin system positively drool-worthy?
You even see the color theme in the art above the window!
Central Space
This room has it all: shelving, desk clusters, a giant screen, etc.
Notice how the center of the room is a rug.
The best part?
The comfy teacher chair!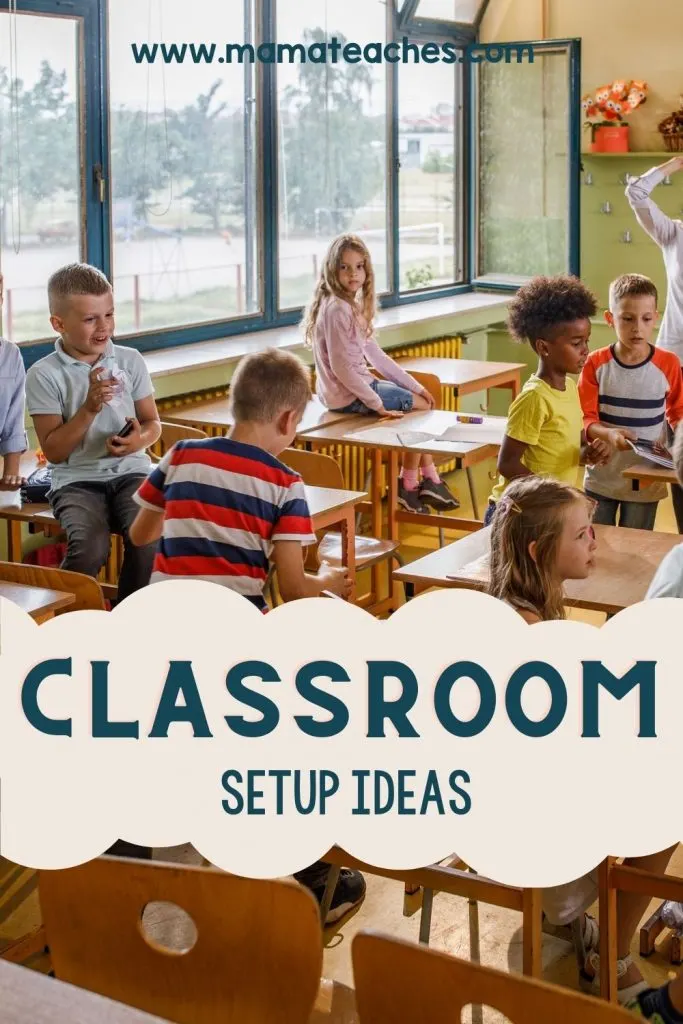 Montessori Magic
This Montessori classroom has many activity stations centered around a nature theme.
Whiteboard to the Side
Instead of teaching at the front of your classroom, try the side!
You are a part of the group with the whiteboard in the middle.
This better facilitates class discussion and participation as well as small group work.
Middle School Classroom Setup Ideas
Don't let elementary classrooms have all the fun.
Try some of these classroom setup ideas for middle school.
Flexible Seating Galore
This classroom has all the seating types.
Check out how the desks fit behind the soft seating.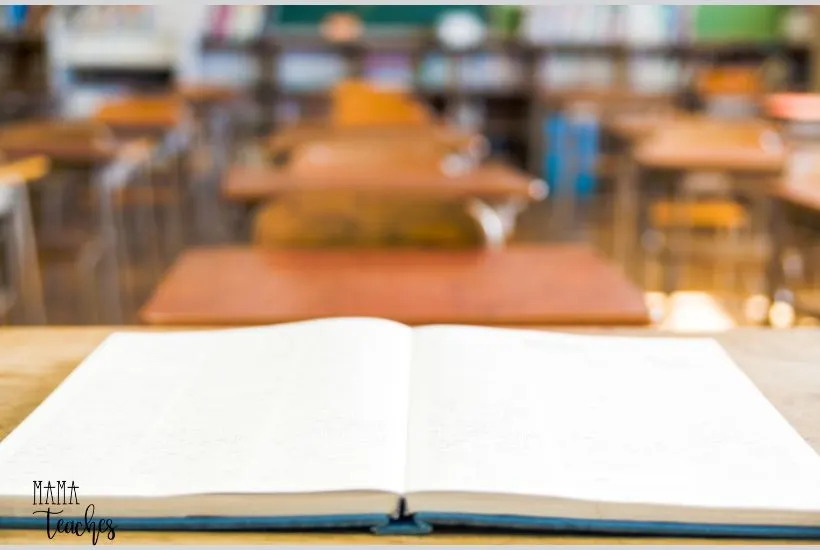 Virtual Classroom
If you are an online teacher, your classroom looks a lot different from one with students.
This beautiful but functional virtual classroom ticks all the boxes.
U Desk Arrangement
This Spanish classroom has a shallow U arrangement for the desks, plus an interior row.
Window Wall
When you lose a whole wall to windows (you lucky thing), what do you do?
Go minimal on the decorations and move everything to the middle.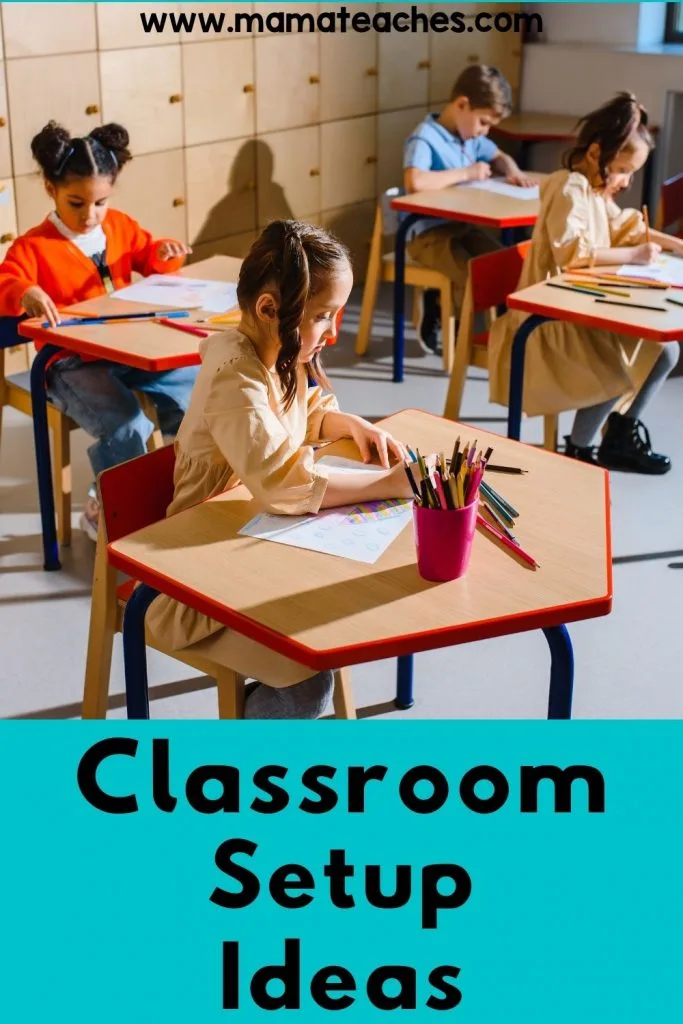 Basic Black
Two great ideas in one post. 1) You don't have to go rainbow- or pastel-themed to make a great-looking classroom. Basic black also works. 2) I love you, soft seating.
If you have a discussion-oriented class, by all means, add some cushions!
The Happy Place
Why not make a classroom where you and your students feel relaxed and happy?
This one has smiley face balloons, twinkle lights, soft seating, a live plant, and oodles of shelving.
All the Seating Including Yoga Balls
Can flexible seating work in a middle school classroom?
Absolutely!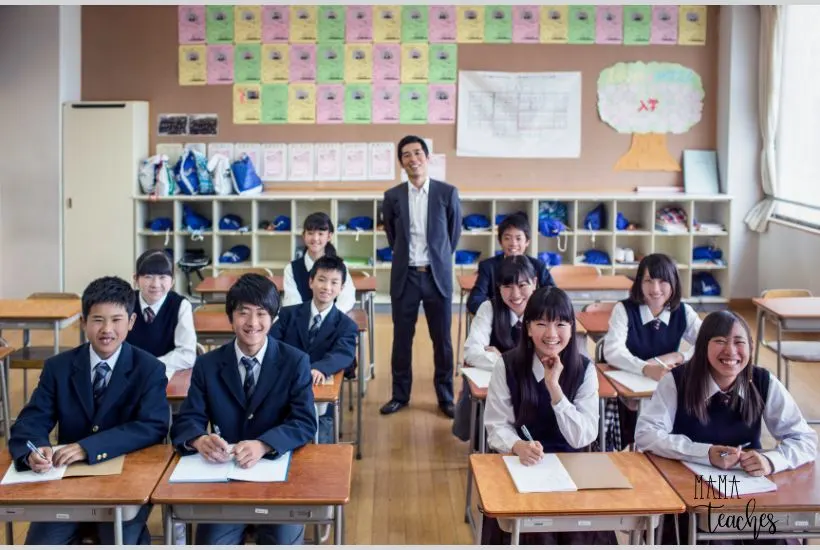 Room to Move
Do you like to move around the classroom while you teach?
Create pathways with your desk arrangement.
Middle School Montessori
This classroom is a fully inviting space.
The Best Desk
Make your corner of the room a relaxing and inspiring place to be.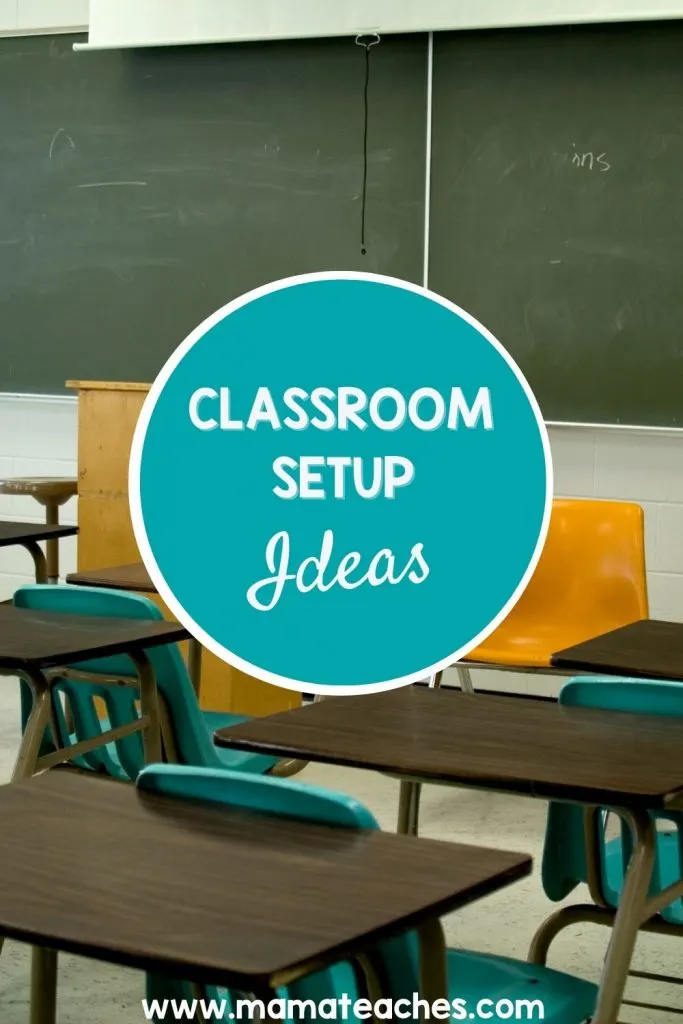 High School Classroom Setup Ideas
Older students deserve a dynamic classroom, too!
Set the stage for academic success and engagement with these ideas to set up a classroom.
Accent Wall
Use faux wood paper to create an accent wall at the front of the class.
Coffee Shop Vibe
These hightop tables and backless stools mimic the cozy atmosphere of a coffee shop.
Cozy Corner
This intervention teacher created a space where kids love to be and where the lightbulb moments can happen.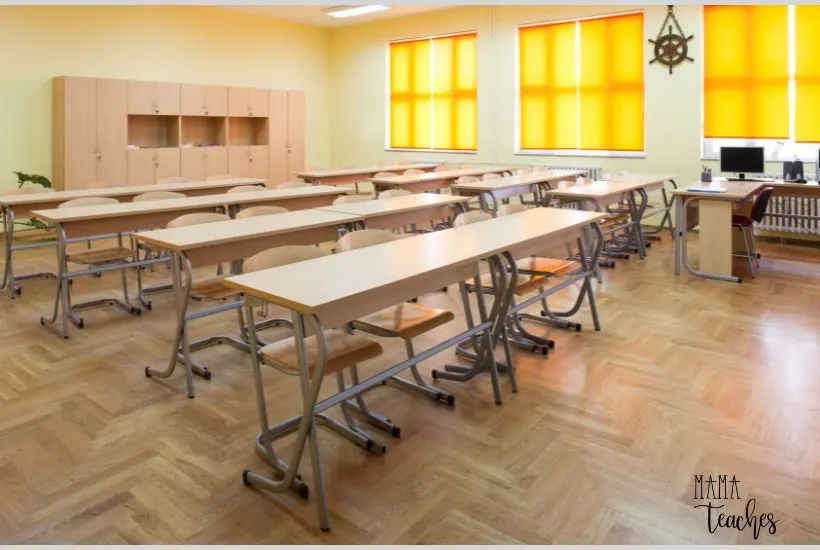 Large Tables
Who says students have to work at desks?
This classroom uses large tables and a bar table.
Dynamic Nook
What do I love most about this awesome nook?
Is it the Hunger Games volunteer meme or the fact that the cleaning supplies are directly adjacent to it?
The White Wall
If you have a projector and a tablet, why not devote an entire wall to your screen?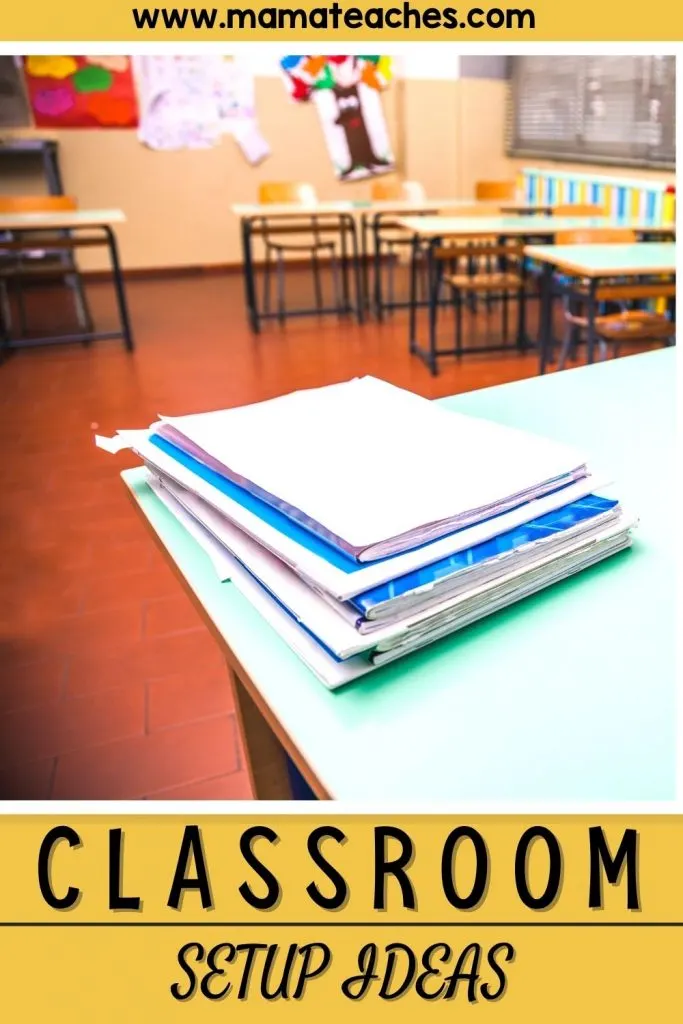 Teacher Desk Nook
This teacher nook has everything you need–including a microwave to heat up your lunch (and your coffee).
Science Shelving
Don't get me wrong; I love books.
But this shelf does something that book covers can't.
It invites wonder.
Curvy Tables
These curvy tables are mounted on castor wheels so you can change your room configuration daily.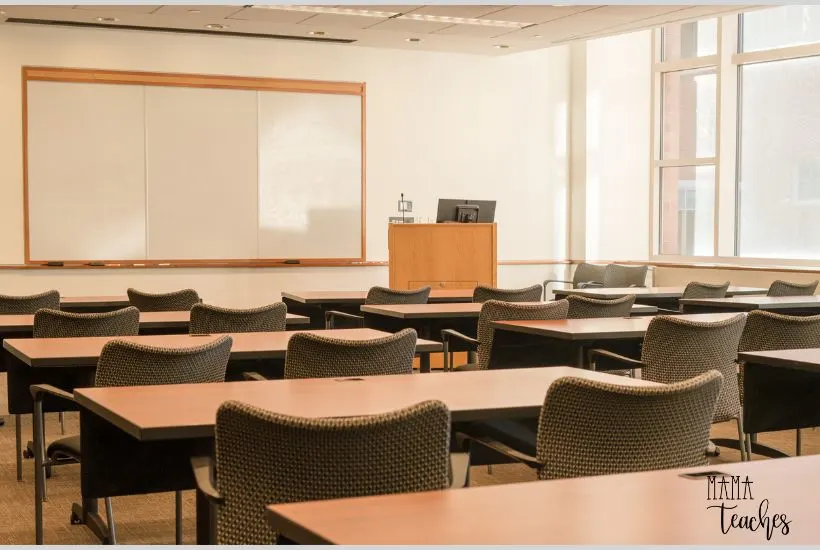 Creative Classroom Setup Ideas
Change up your classroom so it works for you.
Whether you teach elementary, middle, or high school, there is a fresh idea to set up a classroom on this list.
You May Also Like: