Make fruit a natural choice for kids with this easy and delicious fruit pizza recipe.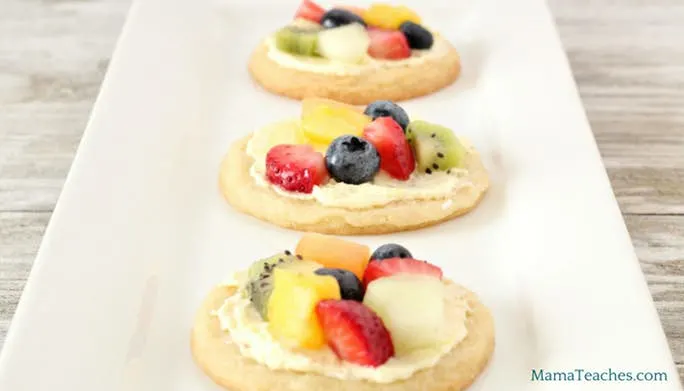 This article contains affiliate links to things that you might like.
Fruit Pizza Yumminess
We're all about moderation at our house.
Extreme anything – especially when it comes to eating – is just not our thing.
We approach meals and snacks with a healthy dose of balance.
So, when we were looking for a way to get the kids to eat more fruit, we knew we'd have to be creative.
And that's how this fruit pizza recipe came about.
It's the perfect combination of sweet treat and healthy eats.
It's also super easy to make which makes it a definite winner!
Think of it as the ultimate dessert recipe!
If you're trying to get your kids to eat more fruit, try these yummy fruit pizzas that will have them coming back for more!
​
Fruit Pizza Recipe
Ingredients:
1 roll of Sugar Cookie Dough
2 (5 oz.) containers of Low-Fat Vanilla Yogurt
4 oz. of Cool Whip
1/2 a box of Vanilla Instant Pudding Mix
Variety of favorite fruits (sliced)
Directions:
Start by combing your yogurt, cool whip, and instant pudding mix in a mixing bowl.
Mix until smooth and refrigerate for one hour.
Next, bake sugar cookies according to instructions and let cool completely.
Icing each cookie with chilled fruit dip.
Top with sliced fruit of your choice.
Serve and enjoy!
More Recipes You Might Enjoy!
If you're looking for a more traditional pizza recipe, try these healthy pizza recipes that even the kids will like!
Want another fruit dip?
Try our favorite easy fruit dip recipe!
It's scrumptious!
​