Get ready to have some snow-inspired fun with this adorable roll-and-draw snowman printable activity!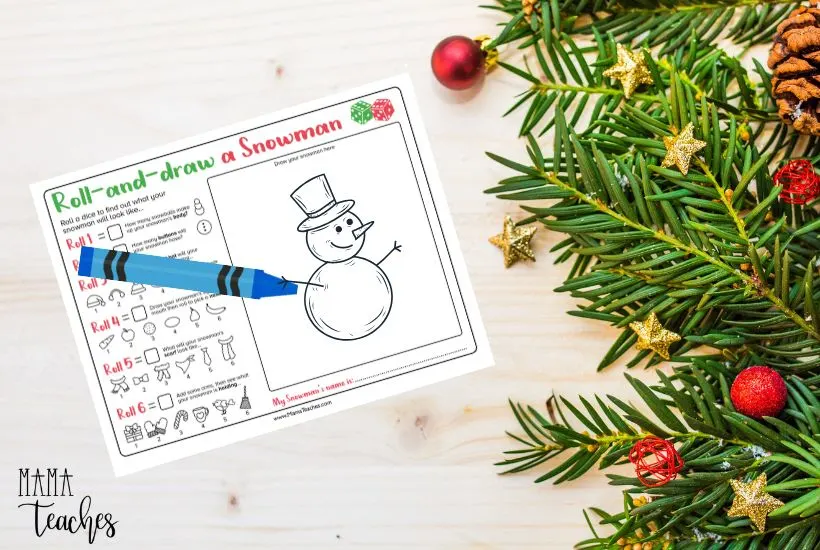 This article contains affiliate links to things that you might like.
What is a roll and draw activity?
It's a drawing prompt activity that encourages kids to draw parts of a picture based on the number they roll on a die.
The best part about these types of drawing prompts is that no two snowmen ever end up the same!
(Well, technically, it would be possible for them to be the same, but the odds of that happening are slim!)
Roll and Draw a Snowman Printable
One of the things I like best about this snowman printable is that it calls on both math and creativity in the same activity.
Instead of simply drawing a certain number of items for each roll, participants must match the number they roll with the item they should be drawing.
For example, in step five, students have to roll their dice to see what type of scarf they should draw.
The scarf choices are based on the number outcomes, so there is a sense of excitement over what the snowman will look like when all of the pieces and parts come together.
The snowman drawing printable touches on:
reading skills
creativity/art skills
math skills
problem-solving
It's a great rainy day activity or perfect for early finishers!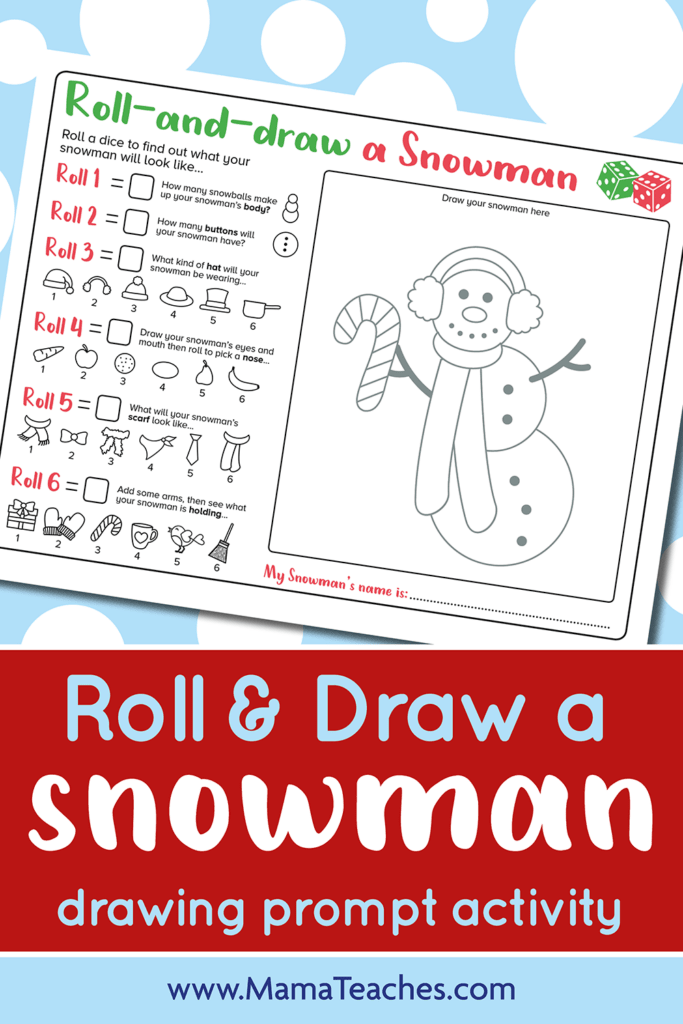 What You Need to Complete the Drawing Prompt Activity
In terms of supplies, there are not many that are needed to complete the drawing prompt activity.
Here is a basic list of what you should gather before passing out the activity to students:
crayons, markers, or colored pencils
a pencil
one die per child (or they can take turns and share!)
the free Roll and Draw Snowman Printable (scroll down to get it)
How To Play the Activity
Playing and completing the snowman activity is easy!
Simply roll the die, write the number in the box, and follow the directions for each step.
The snowman can be drawn on the same page as the instructions, so you will be saving paper and time having everything together!
When the snowman has been completed, fold back the directions or cut out the snowman and hang the paper on a bulletin board, the fridge, or another prominent location in your school space.
Grab your FREE Roll and Draw Snowman Printable Activity by signing up for the freebies library below!
Already a member?
PLEASE NOTE: The activity is under the "Holidays" section in the Freebies Library.
You May Also Like…