Do you have questions about homeschooling 7th grade?
We've got answers!
Find out how to homeschool 7th grade, this pivotal middle school year.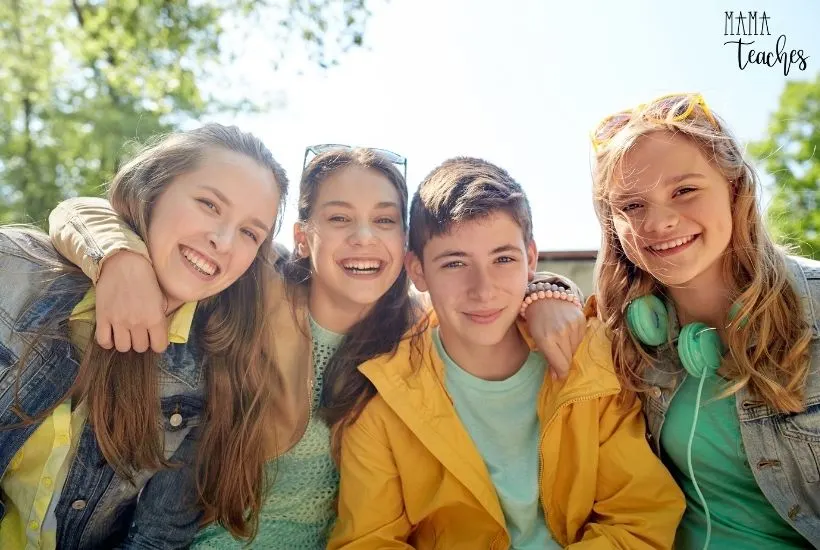 This article contains affiliate links to things that you might like.
Homeschooling a 7th Grader
The middle school years are all about transition.
Your preteen is turning into a teenager, and you've likely already seen a shift in her interests, emotions, and self-consciousness.
By homeschooling this year, you can keep stability and focus during this constant shift of terrain.
Your education focus is all above firming up the foundational skills in reading, writing, and math.
If you haven't already done so, consider administering some form of standardized testing (like Stanford 10, Iowa, or MAP) to figure out where your child needs extra help.
As you begin the transition to high school work in a couple of years, you'll want to help your child take some ownership of his own schoolwork.
He should do some assignments independently and check over his work before he hands it in.
Ideally, he would plan out his week's worth of schoolwork in his own planner.
Some kids need some extra help in this area, so provide the support he needs until he can do this independently.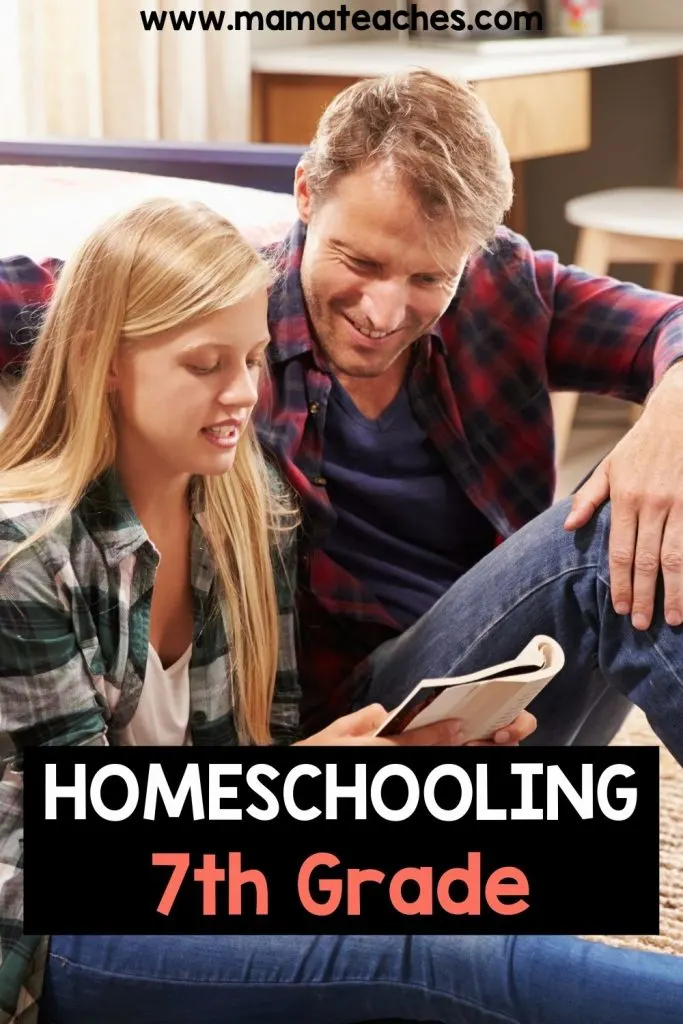 Homeschool 7th Grade Learning Objectives
7th grade is the year to look toward high school.
Is your student gifted in math?
Consider taking Pre-Algebra this year.
Start a formal writing course if you haven't already, so your student is ready for those high school essays.
7th graders are ready to look to the future and make plans (even if they seem a little unrealistic to you).
Your 7th grader may even have some future careers in mind.
Use this forward-thinking to enliven her interests in subjects now.
Your future fashion designer may sit up straighter in math when you connect measuring to her favorite interest.
Or your future YouTube gamer may pay better attention in math or history if you use Minecraft Education Edition lessons.
Reading and Language Arts
Reads and comprehends different types of writing: both fiction and nonfiction
Summarizes, analyzes, and critiques texts
Can write a three-paragraph paper with intro, body, and conclusion
Applies grammar knowledge to writing and editing
Understands more advanced vocabulary
Knows library research skills
Math
Can decode word problems to decide if addition, subtraction, multiplication, or division is needed
Can complete two- and three-step word problems
Begins to work with algebraic concepts
Works with fractions, percentages, ratios, scientific notation, and exponents
Can draw and interpret graphs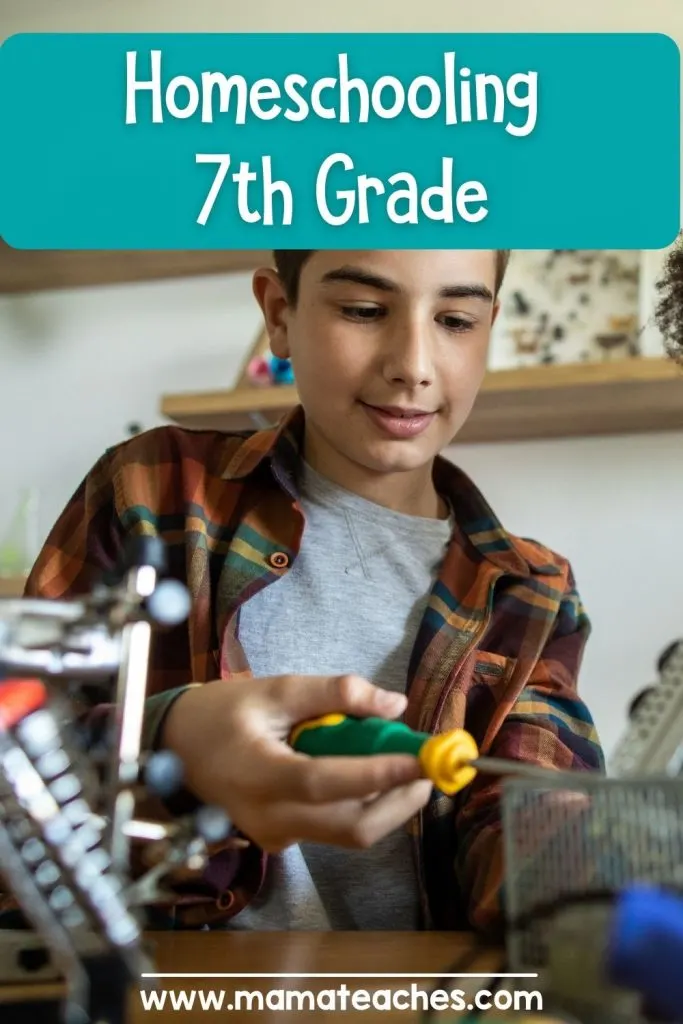 Science (these will vary depending on your curriculum)
Studies earth and space science
Classifies types of rocks: sedimentary, igneous, metamorphic
Learns parts of the Earth and tectonic plate boundaries
Studies volcanoes, earthquakes, erosion, and other geological forces
Learns about our Solar System
Conducts experiments according to the scientific method
Records data in charts and graphs
Uses instruments of measurement with accuracy
Social Studies (these will also vary):
Studies Middle Ages and Early Renaissance
Can label continents and oceans and certain countries around the world
Presents projects and reports on historical topics
Integrates history with science, music, literature, and art
Constructs a timeline of the Middle Ages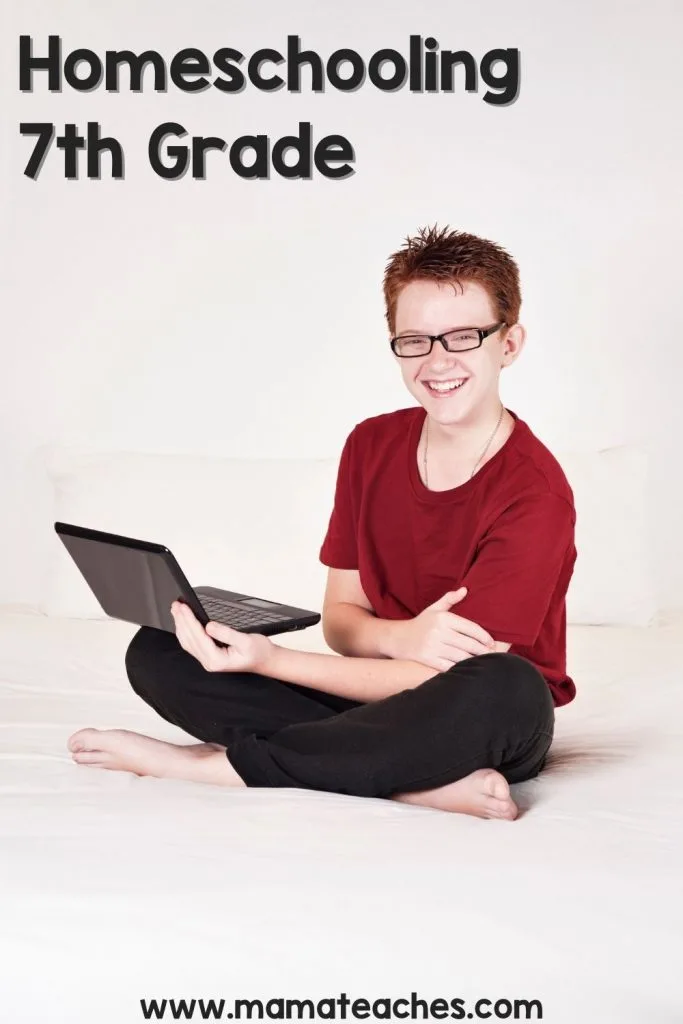 Curricula for Homeschooling 7th Grade
If you have been homeschooling up to this point, you probably have a program that works for your child.
Perhaps you want to tweak a subject or two to find a better fit, but you likely know your homeschooling style and will continue with what is working for your family.
If you are homeschooling 7th grade as your first year of homeschooling, you've picked a terrific year to begin.
There are many fabulous curriculum options available from online to written, from independent to teacher-supervised to parent-led, from secular to religious.
Pick one that suits both your teaching style and schedule as well as your child's needs.
Workbook Approach
Some kids just love workbooks.
Spectrum makes workbooks for nearly every subject from Kindergarten to 8th grade.
If you want to work on a specific skill, like reading comprehension, test practice, or word problems, they have workbooks for those too.
If you are looking for a vocabulary and reading comprehension workbook, Worldly Wise Book 7 fits the bill.
It includes passages from classic literature and tests on both direct and interpretive questions.
Unit Studies
Unit studies are fantastic for integrating all the subjects and drumming up enthusiasm for learning.
You can design your own unit study (read about that here–it's easier than you think) or go with a pre-planned one.
Check out my review of a unit study called Time Capsule: Medieval England, which could work for 7th grade.
Online Schooling
There are two options when it comes to doing homeschool online.
The first is that you can use an online curriculum, but you are still the teacher who reviews the work and assigns the lessons.
Time4Learning is such a choice, where you student watches video lessons and complete online activities.
You can print worksheets for him and check his progress.
The second online option is a virtual class.
Your student attends a class, either live or pre-recorded, and has a teacher who monitors her progress and grades her work.
Examples of this would be Power Homeschool or the Potter School.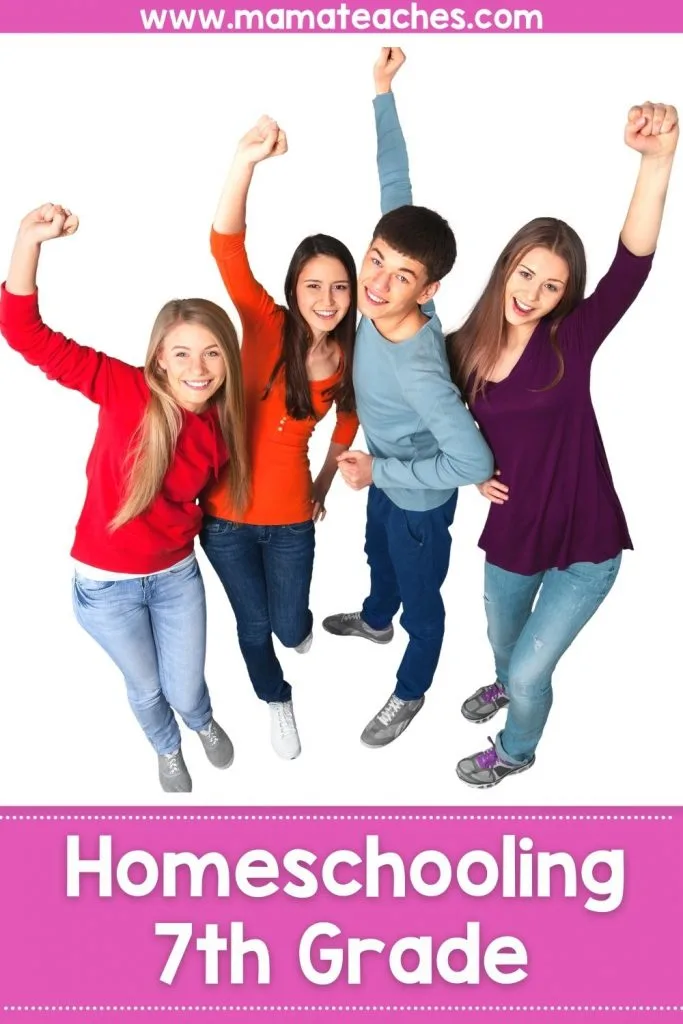 Homeschooling 7th Grade Daily Schedule
High school is right around the corner, so you want to set up habits and routines that will make that transition easier.
Start the school day at a consistent time and keep a daily schedule.
7th-grade work usually takes about 4 hours, more or less, to complete.
That is solid working time, so if your child needs frequent breaks or has trouble focusing, the school day may be a bit longer.
Of course, academics aren't the only piece of your homeschool.
Make sure your child has time for some activities he enjoys, time with friends and family, and free time for himself.
If you start school on or before 9 am, he should finish by early afternoon.
That gives him time for activities he enjoys.
Speaking of activities, this is the time to discover what lights up your student.
If he doesn't have any current passions, encourage him to try some different things.
He'll never know if culinary, archery, pet rescue, or theatre is his passion unless he gets exposed to it.
Most people do well with physical activity of some kind (this could include walking, yoga, or an organized sport) and a creative outlet (like digital art, playing an instrument, or creative writing).
How to Make Homeschool for 7th Grade a Success
7th grade is a turning point.
The elementary grades are behind your student, and a big, bright future dawns.
Pave the path to success by homeschooling 7th grade with confidence, consistency, and a dose of fun.
You May Also Like: