Teaching children to read is not easy.
So, when there's a kindergarten phonics app that can increase reading scores by 74%, it's definitely worth trying!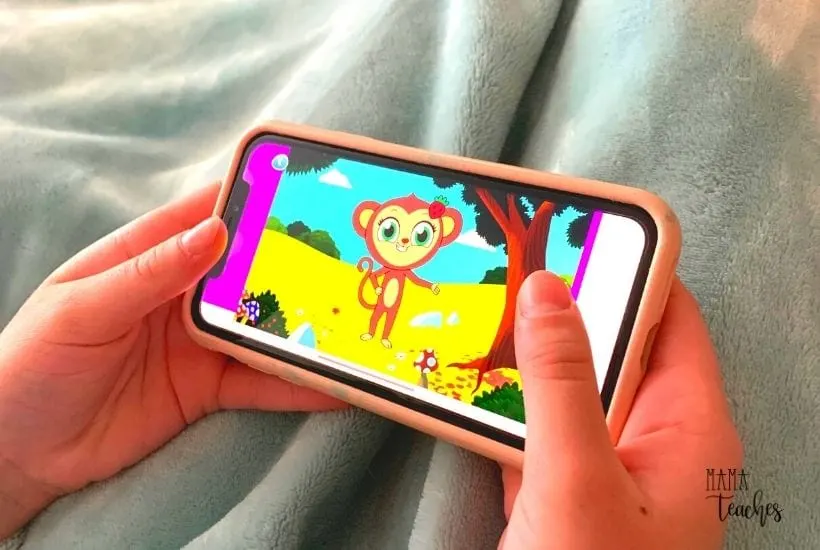 This article contains affiliate links to things that you might like.
Teaching Phonics and Sight Words
When my youngest son was first learning to read, he really struggled with phonics.
His older brother has dyslexia, so I wanted to make sure we did everything we could to give him a strong phonics and sight word background.
It took a lot of planning and a lot of work on my part since we were homeschooling.
While I was okay with that and would gladly do it again if I needed to, I think the new HOMER Reading app that I was given a chance to check out and share with you would really have been a lifesaver during that time in our homeschooling journey.
Not only does it provide a comprehensive, research-based curriculum, but it's fun and safe.
That can't be said about a lot of apps these days.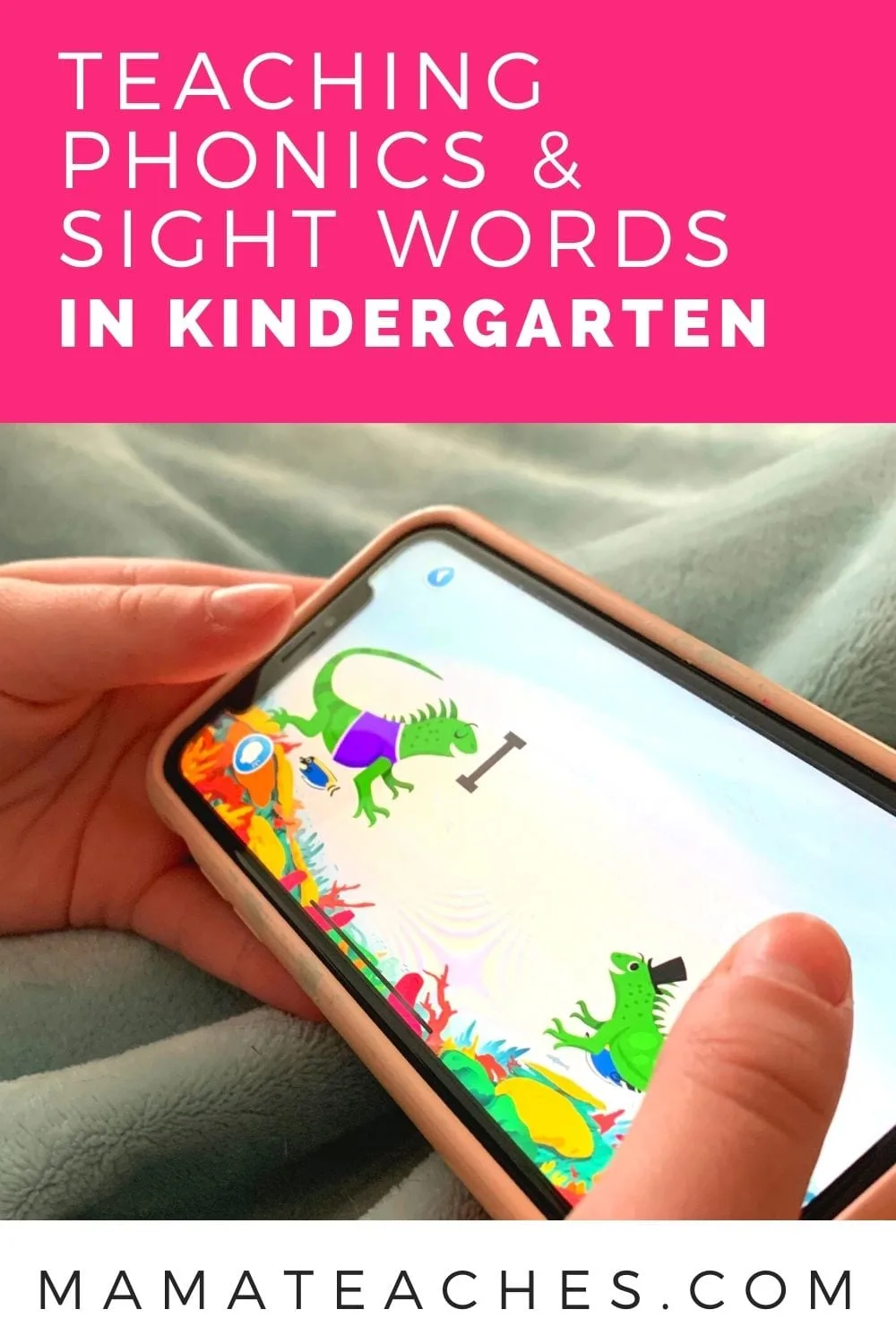 Games That Teach
Educational apps are a dime a dozen in the App store, but too many of them are not backed by solid research or designed with differentiation in mind.
The same cannot be said about the HOMER Reading app.
Yes, this kindergarten phonics app guides children through a series of lessons that feel more like fun play than anything, but that's its beauty.
Kids are only going to engage with things that interest them, and this app proves it.
In fact, their research has shown that when kids play the app for 15 minutes a day, they increase their early reading skills.
As a teacher and mom, the app's ability to keep my children interested and effectively teach them all about the alphabet, phonics, and sight words is priceless.
Not to mention that it instills a love of learning – not just playing games on the tablet or phone!
How You Can Use HOMER Reading When Homeschooling or Distance Learning
Now, more than ever, families are searching for a curriculum that will support their child's learning.
Whether you are homeschooling this year or taking part in your school district's virtual learning program, there are always gaps that need to be addressed.
That's where HOMER Reading comes in.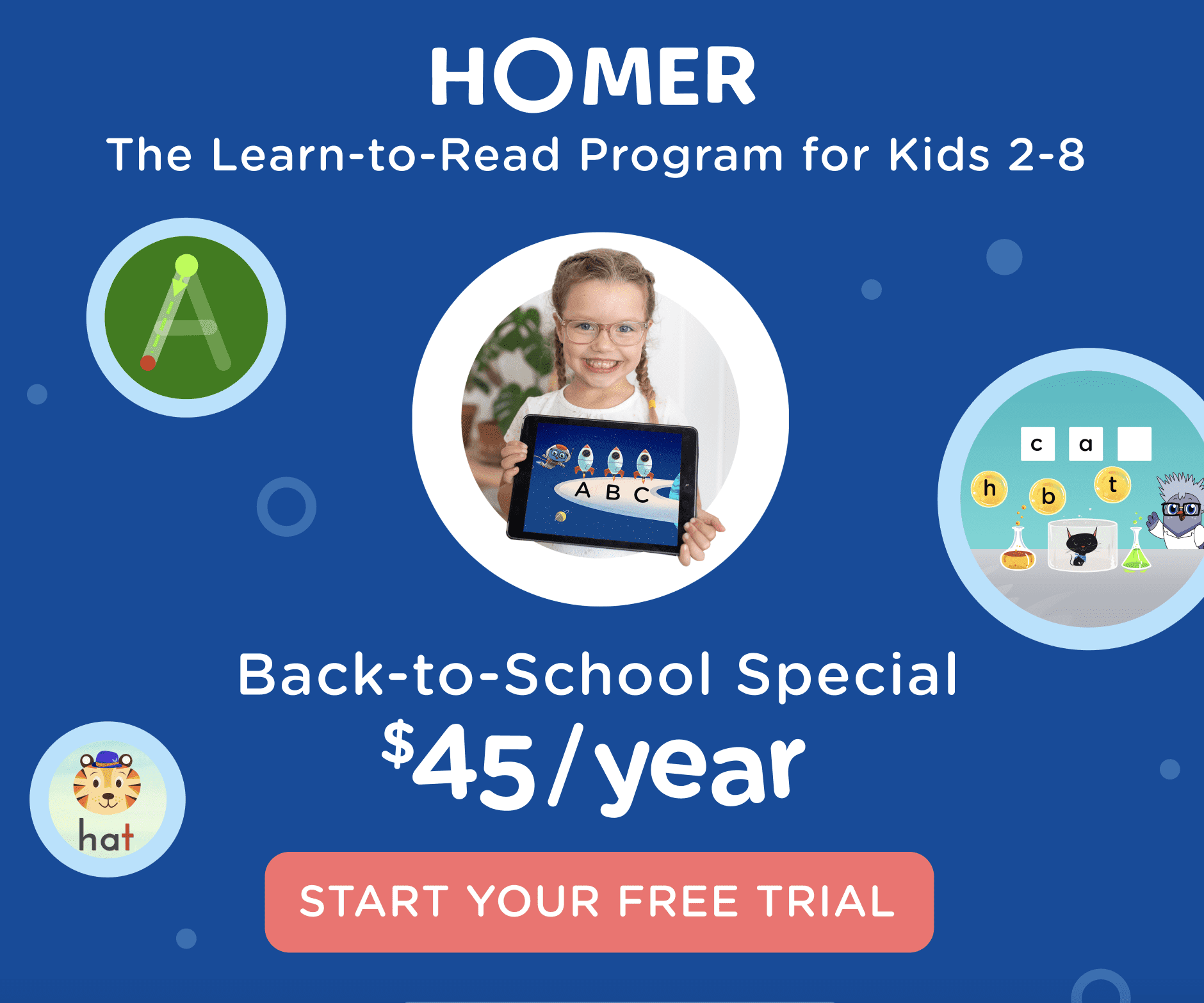 You can absolutely use the ad-free app as a standalone curriculum for phonics and sight words for early learners.
Preschool and kindergarten-age children can work their way through the lessons that are personalized for their skill level.
If they need more repetition to master a skill, the app provides that for them.
It's not simply a mad dash to get to the end of the app; it's a steady, controlled sequence of lessons that focus on mastery and building children's self-confidence.
As an additional language arts resource, HOMER Reading provides little learners with great practice on previously learned skills.
There's even an Activity Center with all types of resources that families can use to incorporate learning into their everyday life.
The Bottom Line on HOMER
Over the years, we have tried many apps to help keep the kids engaged and have them learning simultaneously.
So many of them have fallen flat.
HOMER Reading is so different from our past experiences in both entertainment value and personalized educational content.
It is a must-have resource for homeschooling and distance learning families!
Try the kindergarten phonics app for FREE!
Since seeing is believing, you can try HOMER for 30-days for FREE.
Once your trial is over and you have fallen in love with it, you can get an entire year's subscription for $45, over 60% off the usual price.
Learn more and grab your FREE Trial here!
Be sure to follow HOMER on Facebook and Instagram to snag more resources!
You Might Also Like…