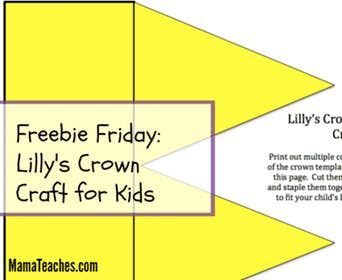 From Lilly's Purple Plastic Purse to Chester's Way, Lilly embodies all that is a free-spirited (mouse) girl. She's strong and courageous, daring and artistic, and it can never be said that Lilly marches to the beat of anything but her own drummer.
Lilly's Purple Plastic Purse Crown Craft
When we were reading Lilly's Purple Plastic Purse, we decided that instead of just reading about Lilly, we wanted to dress like her. So, Little Miss got decked out in her own personal brand of style and we whipped up some golden crowns like Lilly was wearing. Now, the first time we made them we made the mistake of trying to print them out on plain copier paper. As you can probably guess, they were nowhere near strong enough. So, on the second go-round, we used heavy duty card stock and they worked much better.It took two printings of the template for Little Miss' head, but it was quick and easy to make. I was especially excited by the fine motor skills practice that was needed as she cut out the crown with her scissors. Once the pieces were cut out, it was time to assemble them with a few pieces of clear tape and ta-da! a Lilly crown was made.If your kiddo is a Lilly fan, as well, print out today's Freebie Friday goodie below and create your own crown. It's also a great template for princess parties or if you're feeling particularly royal during your homeschool lessons.