How do you help a student who has trouble getting their thoughts to paper? These tips will help struggling writers soar!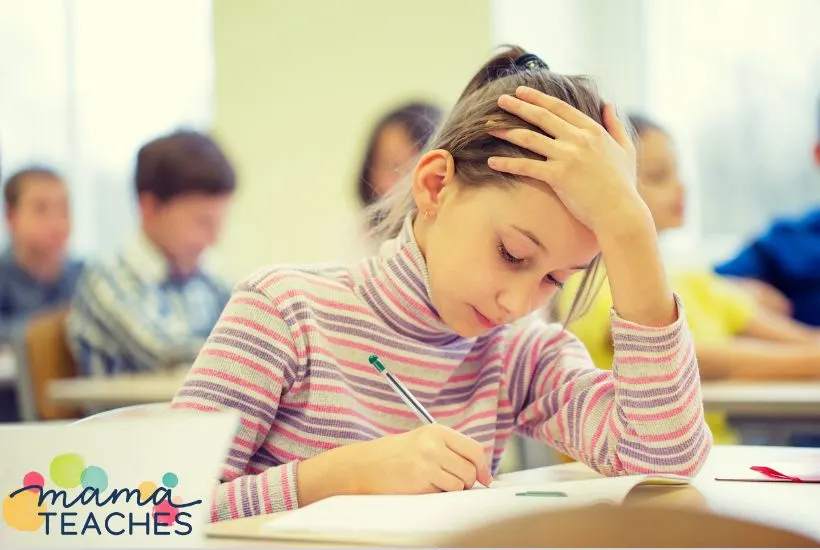 7 Ways to Help Struggling Writers
Some kids love to write. They keep journals, write stories (even books), and choose it as a free time activity.
Then there are kids who dislike writing because it is a challenge to them.
You can help those struggling writers succeed with these tips.
This article contains affiliate links to things that you might like.
Read, Read, Read Aloud
Reading aloud lays a foundation for writing.
It helps new words and correct syntax take root in a child's brain. It also gives you a chance to help a student with composition apart from written work.
You can do this by asking inferencing questions as you read. These questions could include:
What do you think will happen next?
How do you think [character] feels right now?
What will [character] say, do you think?
What sights, sounds, and scents are in this place do you think?
What is [character] thinking/planning?
These types of questions not only help with inferencing, but they also help the student express some of their own thoughts.
This is the foundation of composition.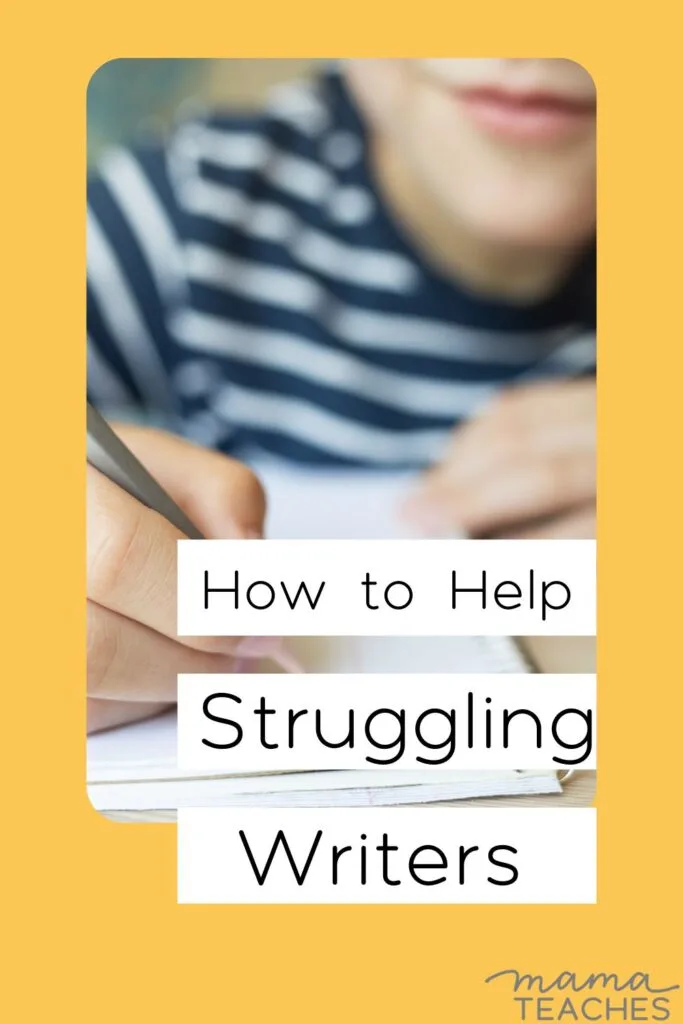 Use Graphic Organizers and Anchor Charts
Struggling writers need support.
You can't simply say, "Write a paragraph on penguins."
You need to give step-by-step instructions and use supports like graphic organizers and anchor charts to help with the arrangement of their ideas or research.
These items provide the framework for a writing assignment and make it much less intimidating.
Check out this graphic organizer for a 12-sentence paragraph and this one for note-taking.
Teach Outlining
Most students hate outlining. They consider it an extra step. (Okay, it is an extra step!) But for struggling writers in particular, it is worthwhile.
An outline organizes your thoughts and arranges them in logical order.
When you construct an outline, you focus only on the arrangement of the writing assignment.
When you write from an outline, your thoughts are already organized. You need only focus on how you express yourself (style).
Breaking the organization and expression into two separate steps creates a better finished product and makes the writing process less frustrating.
Use a Checklist
When you make a suggestion to a struggling writer, you need to be very specific.
This is where a checklist comes in handy.
Give them concrete ideas of what to improve.
Ask them to add some strong verbs (and give them a list), tell them to replace the word "said" with other words (and give them a list), and have them use three different ways to start a sentence, for example.
Pick a skill you want to focus on and then add it to the checklist.
This will give a struggling writer handholds to improve their writing.
By going through the checklist before they finalize their writing assignment, they will learn to edit their own work.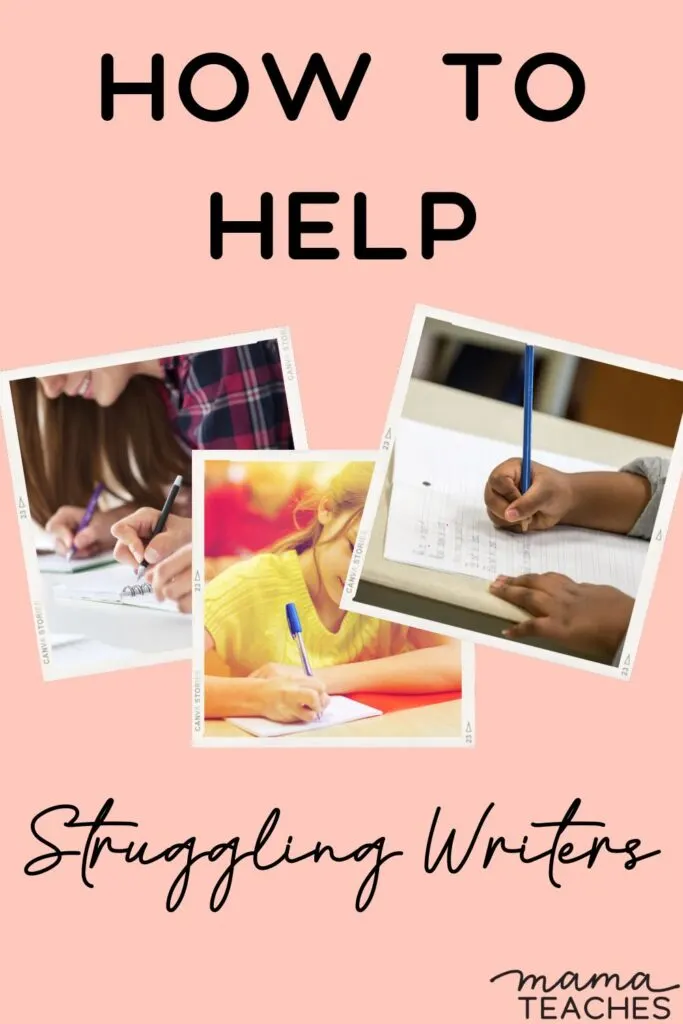 Use Writing Prompts
A blank page is terrifying to a struggling writer.
Get the ball rolling with a writing prompt or story starter.
If you need ideas, check out these lists of elementary writing prompts for spring and summer and these middle-grade prompts for spring and summer.
We also have writing prompts for your best memory and picture writing prompts.
Make Writing Fun with Writing Games
Writing doesn't have to be a chore.
You can make it fun (and provide content suggestions) with writing games such as Roll and Write, Interview Story, and Comic Story.
For more suggestions, check out this article on Writing Games.
Practice Penmanship Separately
The physical process of handwriting can take a lot of effort and concentration for some students.
Work on those skills outside of composition time.
You can use handwriting worksheets to help the students focus on letter formation.
Once those skills are improved, written composition will be much easier.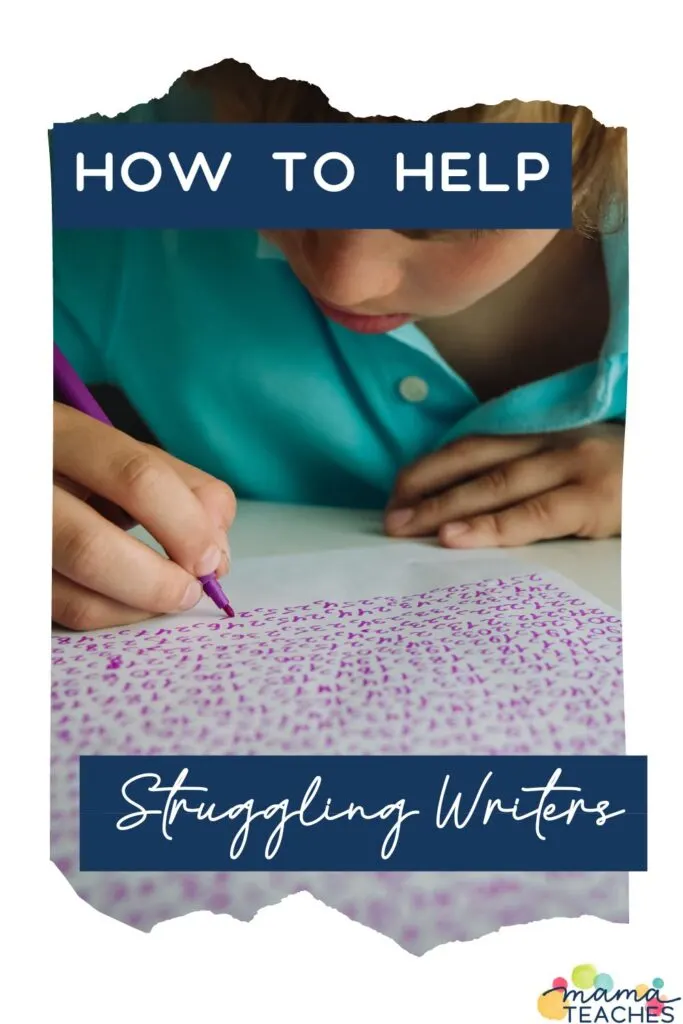 How to Help Students Who Struggle with Writing
Writing is a skill subject. It takes systematic teaching to learn and plenty of practice to perfect. You can make the process of learning to write much easier with these 7 tips for helping struggling writers.
You May Also Like: