Getting kids to practice their math skills everyday can be challenging.
Daily multiplication worksheets can be fun though!
Find out our trick for making math skills practice a breeze!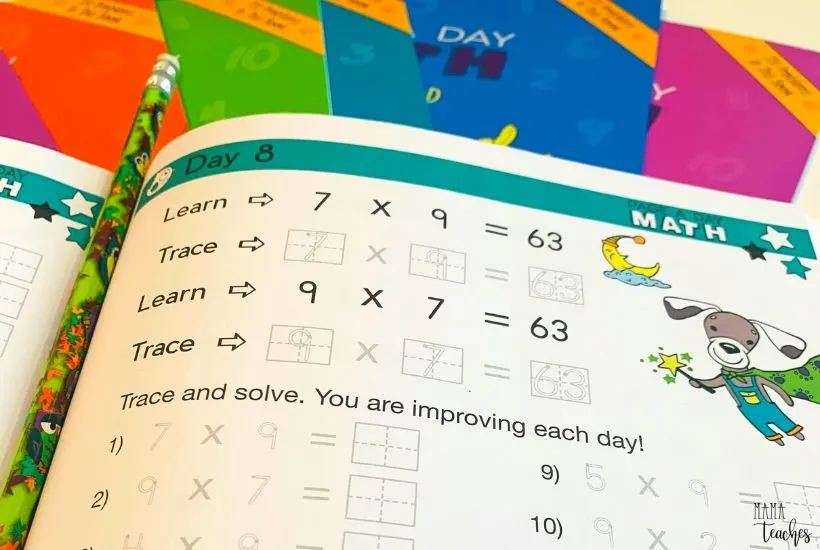 This article contains affiliate links to things that you might like.
Multiplication Practice
Even though my kids are a bit older now, it's still so important to keep them practicing their multiplication skills throughout the year.
So, when I heard about Page a Day Math's Multiplication Kit, I was excited to see how it worked for our family.
The verdict?
It's ah-mazing!
Here's why…
No-Fuss Math Skills Practice
In all of my wildest homeschool dreams, my kids love math and can't wait to tackle it every day.
They beg for more math lessons and those math facts that need to be practiced?
They jump at the chance to spend hours working on them.
Buuuuut, let's be honest, math is really not their favorite subject.
And getting them to practice math facts?
It's more akin to pulling teeth.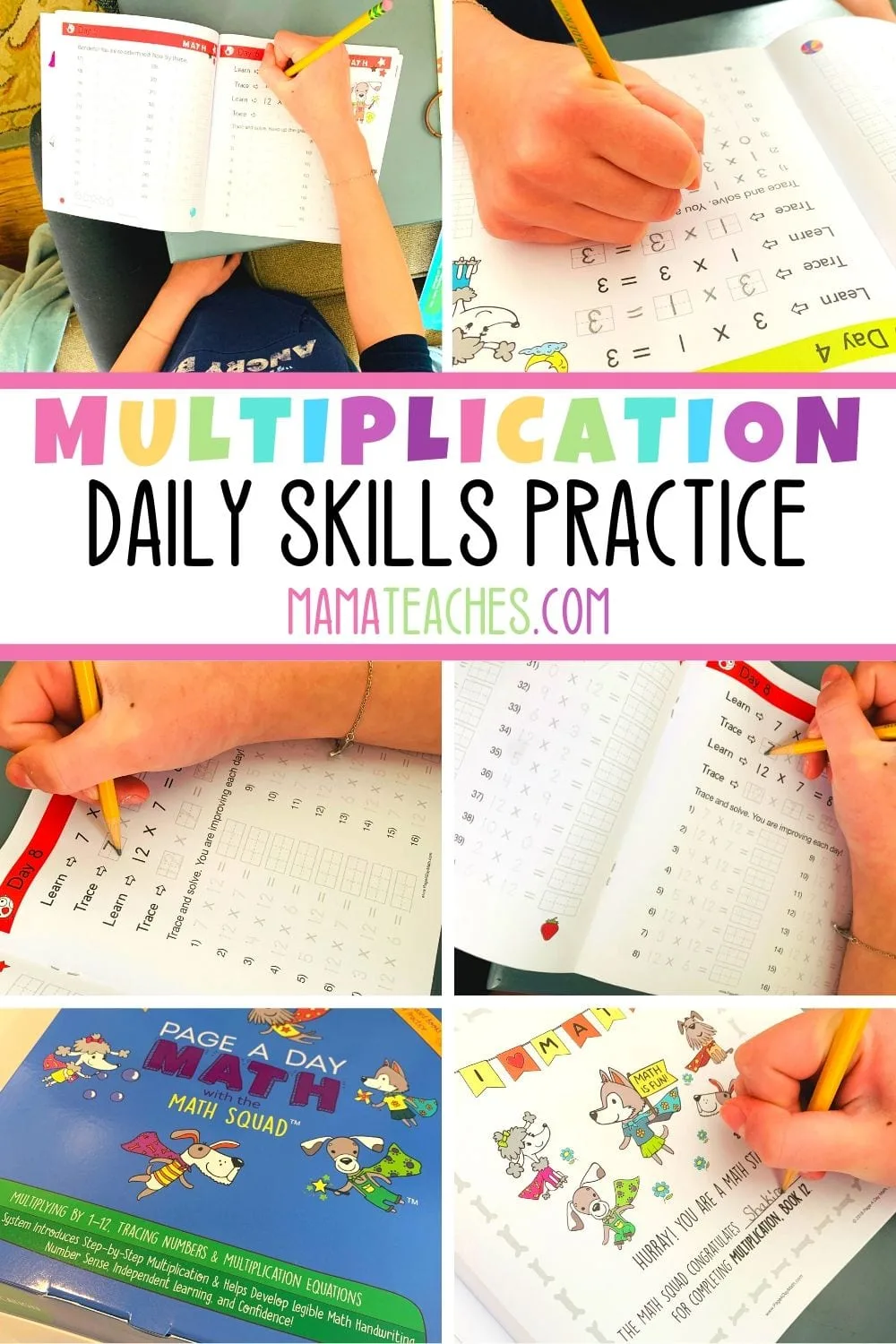 So, when I told them that we'd be doing daily multiplication worksheets, you can imagine the warm reception that that announcement received. (Not!)
And then we tried the Page a Day multiplication worksheets.
And…the fussing stopped.
Completely.
Weird, right?
But the key was that the kids actually enjoyed the books, the characters, and the predictability of the daily facts practice.
Why fuss about something you don't mind doing?
Kid's Point of View: "I like knowing how many problems I have each day and working through one day's work takes no time at all. I can practice my multiplication facts quickly."
Mom's Point of View: There's no fussing about doing their daily multiplication books. None. I wish they had a Page a Day chore book too! 😉
Planned Out Math Fact Fluency Curriculum
Although my background is in education and I taught in the classroom for almost a decade, I have been a homeschool mom for over 11 years now.
One of the things that always excites me is finding a well-planned out curriculum that's straight forward and comprehensive.
The Page a Day Math Kits are just that.
Though they are designed to be supplemental, they can, in fact, be used as complete curriculums on their own.
That means that there's no more guessing as to what to teach and when.
There's no more rushing to make copies of pages for the kids to complete.
And, most importantly, there's no more wondering if what you're teaching them is enough.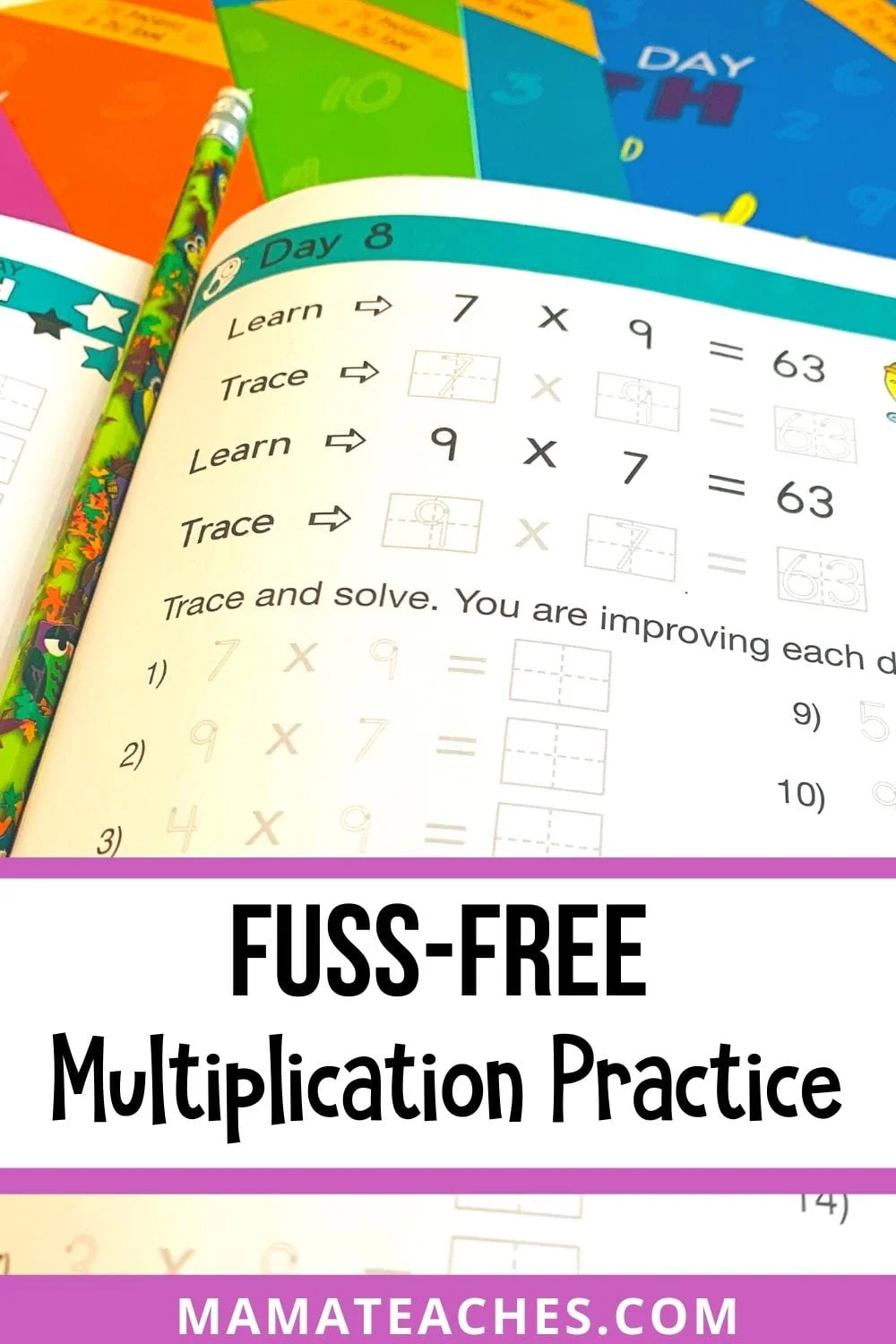 The available math kits are the:
So, no matter what age or grade level you're teaching at home (or in the classroom!!) there's something for everyone.
Kid's Point of View: "I like how the workbooks build on each other and give you practice without jumping all around. It's very consistent."
Mom's Point of View: Not having to worry about whether or not I was forgetting to touch on anything was priceless. The fact that it was all planned out for me saved time – and my sanity!
Engaging Math Materials and Characters
If there's anything I have learned after teaching in one capacity or another for over 20 years, it's that if kids aren't engaged, they're not going to learn.
So, whether you're teaching a new skill or reviewing 3rd grade multiplication, the materials need to be fun, engaging, and age-appropriate.
Page a Day Math delivers on all three fronts.
The characters used throughout the math books are called "The Math Squad" and they're made up of five adorable dogs.
They fit the curriculum's target age group well and are even perfect for older kids who are practicing their skills.
One of the things I love about the multiplication kit is that it's colorful and completely kid-centered.
Not only does that make it easy to get your kids excited about doing the worksheets, but it helps keep them engaged.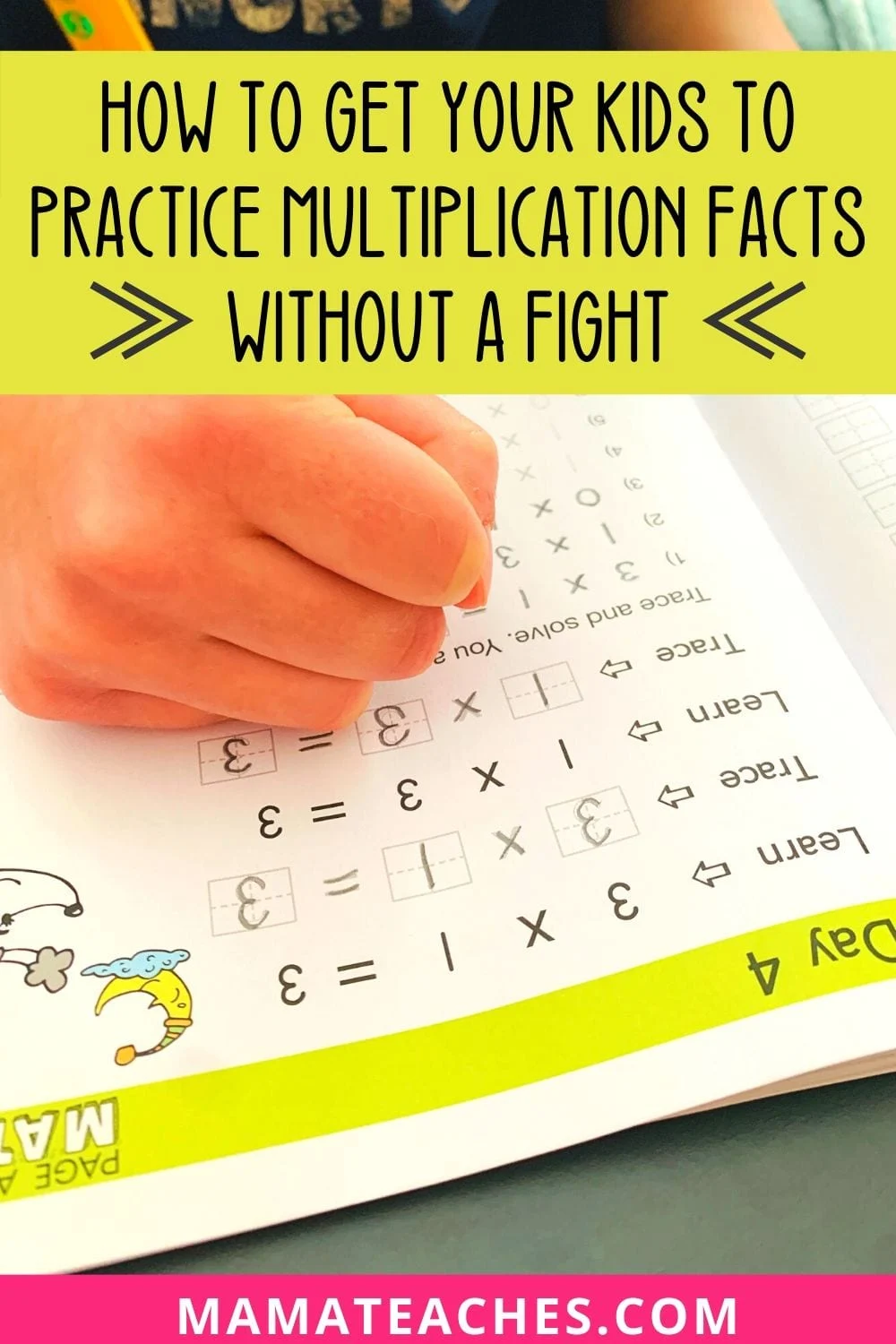 Another plus?
The books are actual books – not just printables that you have to print out at home.
As someone who loves printables (and has a freebies library full of them on the site!), this may seem like a peculiar plus.
But the truth is that my kids love workbooks.
They always have.
Much of our eclectic homeschooling curriculum over the years consisted of workbooks because the kids needed and wanted the structure of printed books.
The 12 multiplication books that come with the Multiplication Kit are perfectly sized, creatively colorful, and the most engaging math facts books we've ever worked with for review.
Each math kit also comes with flash cards, assessments, handwriting books, and a progress tracker!
Kid's Point of View: "I really liked that the books were smaller, because they were cute. The characters were adorable too. I also liked that it came with other things like the stickers and bookmark."
Mom's Point of View: The bright colors and super-cute dog characters really make the books fun. I love how they capture the kids' attention right away and keep it throughout the 15-minutes a day when they're working on their math facts practice.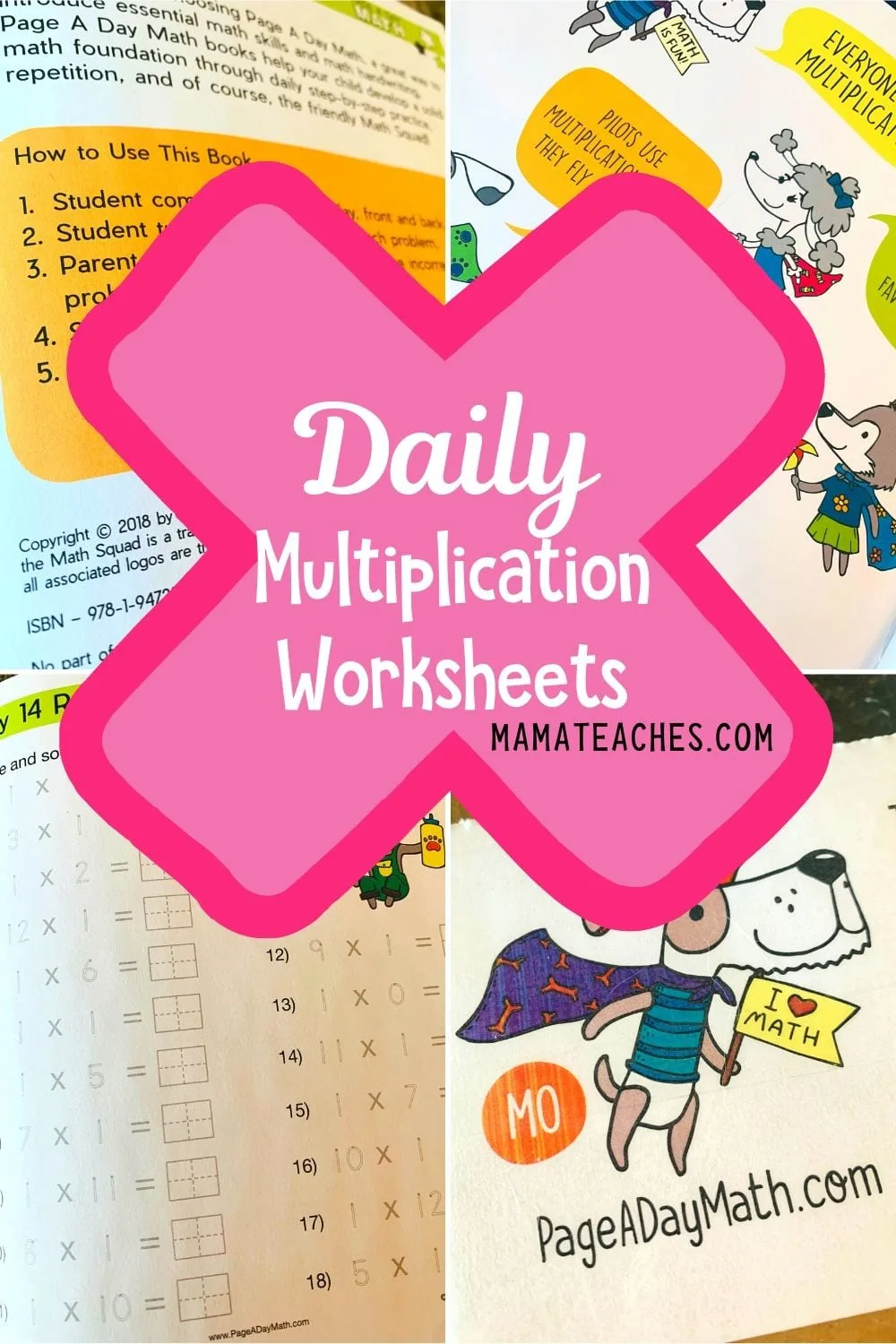 Daily Multiplication Facts
Page a Day Math's daily multiplication worksheets are now a staple in our daily homeschool routine and we'll be moving on to the Division Kit after we finish up with multiplication.
It has become a fun, stress-free part of the day and that's priceless.
You can enter to win your choice of math kit (preK, addition, or multiplication) from June 1st through July 21, 2020 below!
Be sure to check out Page a Day Math on Instagram and Facebook to see how others are using their math kits as well.
And, of course, head to their site to order your math kit for the upcoming school year!
Use the code mathsuccess15 to save 15% off any order placed in June or July 2020.