What do Harry Style, Reese's Peanut Butter Puffs, and Mufasa have in common?
They are all related to fun facts about 1994.
Read on to learn about this fantastic year.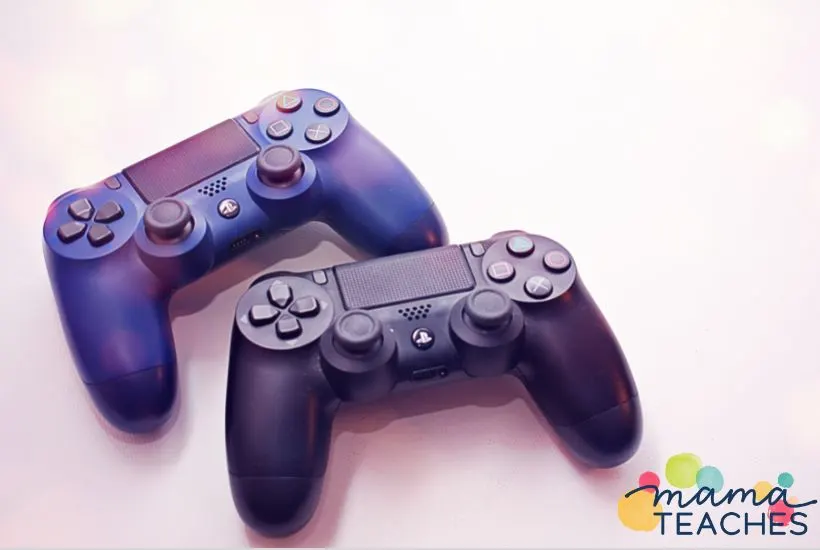 This article contains affiliate links to things that you might like.
1994 Fun Facts
In 1994, the Dallas Cowboys won the Super Bowl, OJ Simpson was arrested after a high-speed chase, Bill Clinton was president, and the FDA approved the first genetically-modified food (the "Flavr Savr" tomato).
Is that all the year had to offer?
Absolutely not!
Check out these exciting and entertaining fun facts about 1994.
1. The Top Baby Names in 1994 Were Jessica and Michael
Jessica and Michael hovered at the top of the baby name list for 1994.
Other top girl names were Ashley, Emily, Samantha, Sarah, and Tyler.
The top boy names were Christopher, Matthew, Joshua, Tyler, and Brandon.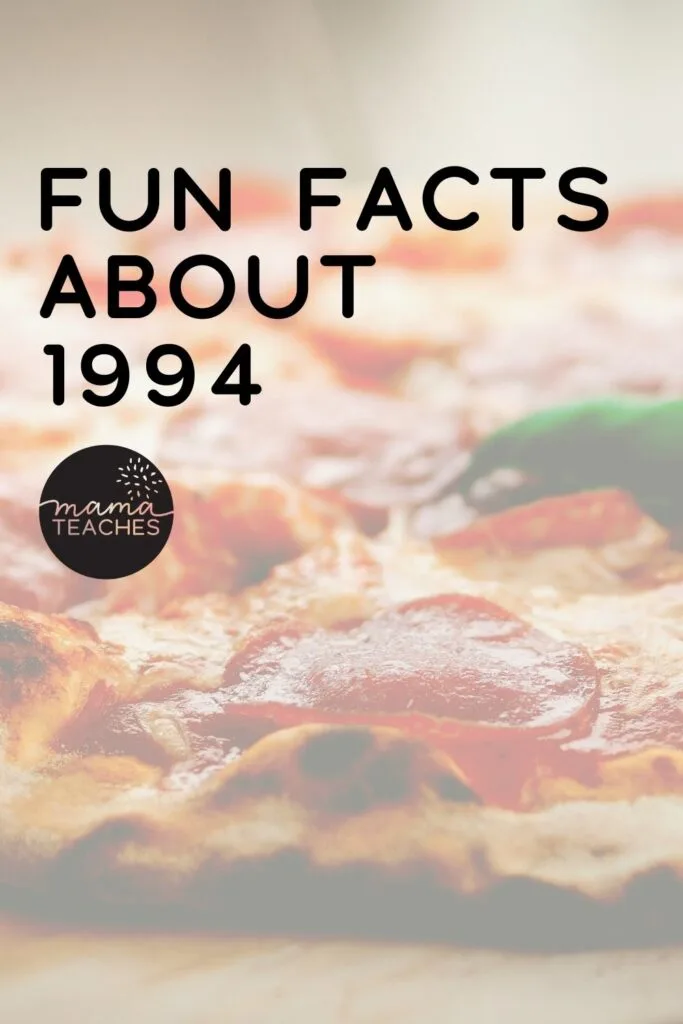 2. The First Ever Online Purchase Was…Pizza?
We can order anything we want with the touch of a button.
But when did it start?
1994.
The first-ever online purchase made was for a Pizza Hut Pizza.
An enterprising Pizza Hut franchise owner in Santa Cruz started a website (pizza.net).
It was one of the first few thousand websites on the web.
3. The First Playstation Console Was Invented
Sony invented the 32-bit Playstation console in 1994.
The 1994 PS1 games included Jumping Flash and Ridge Racer.
The console was first released in Japan in 1994, followed by North America one year later.
Immediately it occupied 20% of the US game market.
Its wildly popular games included Final Fantasy VII, Gran Turismo, Crash Bandicoot, Spyro the Dragon, and Metal Gear Solid.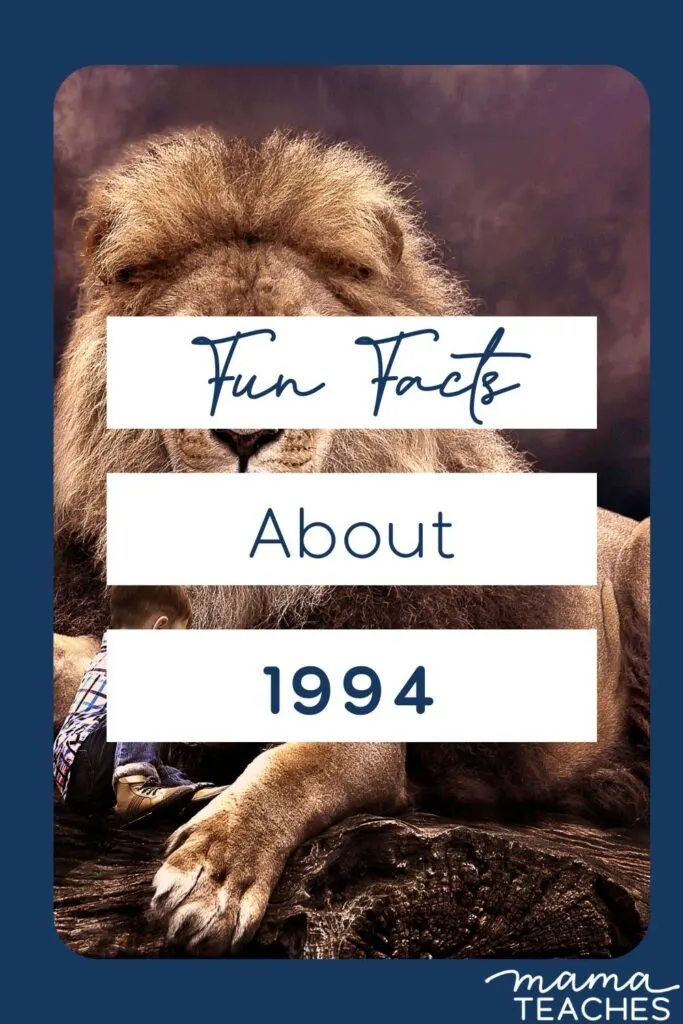 4. "I Saw the Sign" Topped the Charts
The Ace of Base hit "I Saw the Sign" was the #1 song in 1994.
Soulful ballads and lovesongs dominated the top ten songs of the year: "I Swear" (All for One), "I'll Make Love to You" (Boyz to Men), "The Power of Love" (Celine Dion), "Hero" (Mariah Carey), "Breathe Again" (Toni Braxton), and "All for Love" (the hit song from the soundtrack of Robin Hood: Prince of Thieves by Sting, Bryan Adams, and Rod Stewart).
5. Kids Went to the Movies in Droves in 1994
Out of the top 5 movies of the year, 3 were family films.
Disney's animated The Lion King was the number one film, followed by Forrest Gump (starring Tom Hanks), True Lies (starring Arnold Schwarzenegger and Jamie Lee Curtis), The Santa Clause (starring Tim Allen), and The Flintstones (starring John Goodman).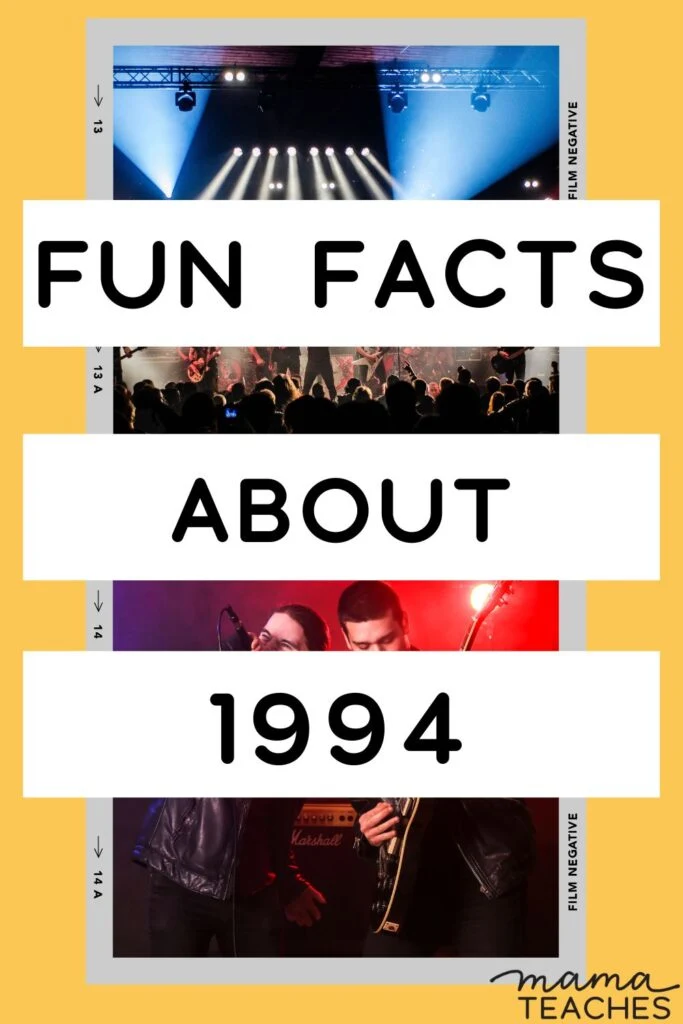 6. Major League Baseball Went on Strike
Baseball players in MLB began their strike on August 12, 1994.
The strike lasted 232 days, well into 1995.
Needless to say, there was no World Series in 1994.
In other sports news, George Foreman became the world heavyweight boxing champion at the age of 45.
7. Harry Styles Was Born on February 1, 1994
Other celebrities born in 1994 are Dakota Fanning, Saoirse Ronan, Lil Baby, Dacre Montgomery, Ansel Elgort, Justin Bieber, Halsey, Giannis Antetokounmpo, and Breanna Stewart.
8. Seinfeld Made America Laugh Every Thursday
The number one TV show in 1994 was NBC's Seinfeld, starring comedian Jerry Seinfeld and actors Jason Alexander, Julia Louis-Dreyfus, and Michael Richards.
Following close behind was the top-rated drama, ER, making actor George Clooney a household name.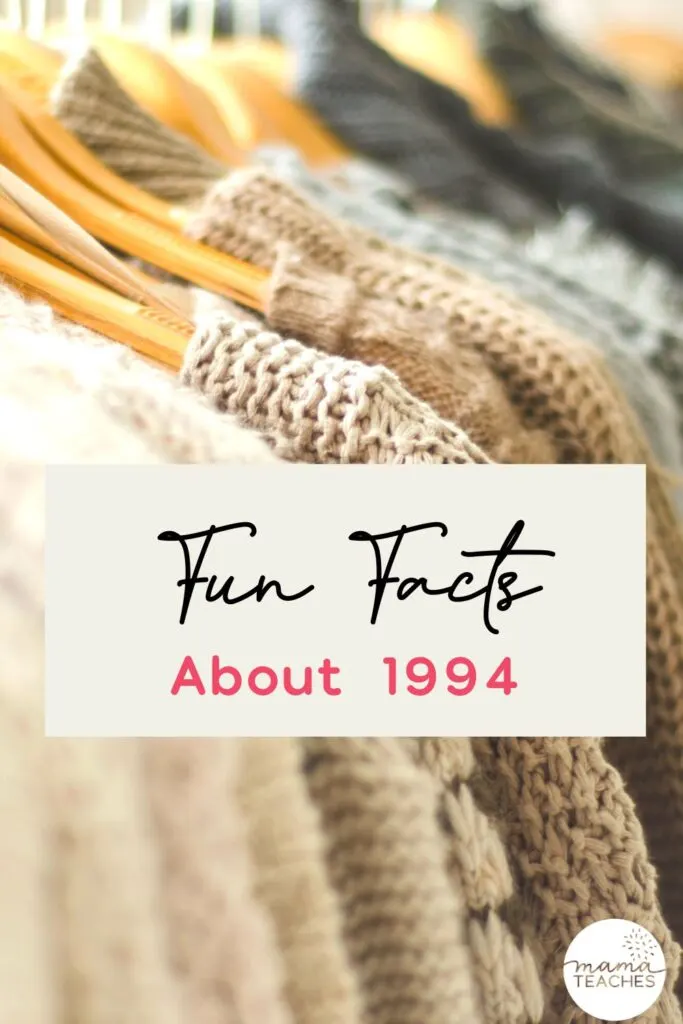 9. Overalls Were All the Fashion
The grunge look was still in full swing, making overalls, faded plaid flannel shirts, and shearling jackets popular choices.
In addition to grunge, women embraced the schoolgirl look: shrunken sweaters, baby doll dresses, mini-kilts, thigh-high tights or knee-high socks and oxford, loafers, or Mary Janes.
10. Danimals Drinkable Yogurt Was in the Dairy Case
Making its first appearance, Dannon yogurt smoothies "Danimals" were marketed to kids.
Also developed with kids in mind, Reese's Peanut Butter Puffs Cereal debuted–the first cereal based on candy.
Speaking of candy, the white chocolate bar Hershey's Cookies 'n' Creme came out in 1994 (along with its cousin, Cookies 'n' Mint).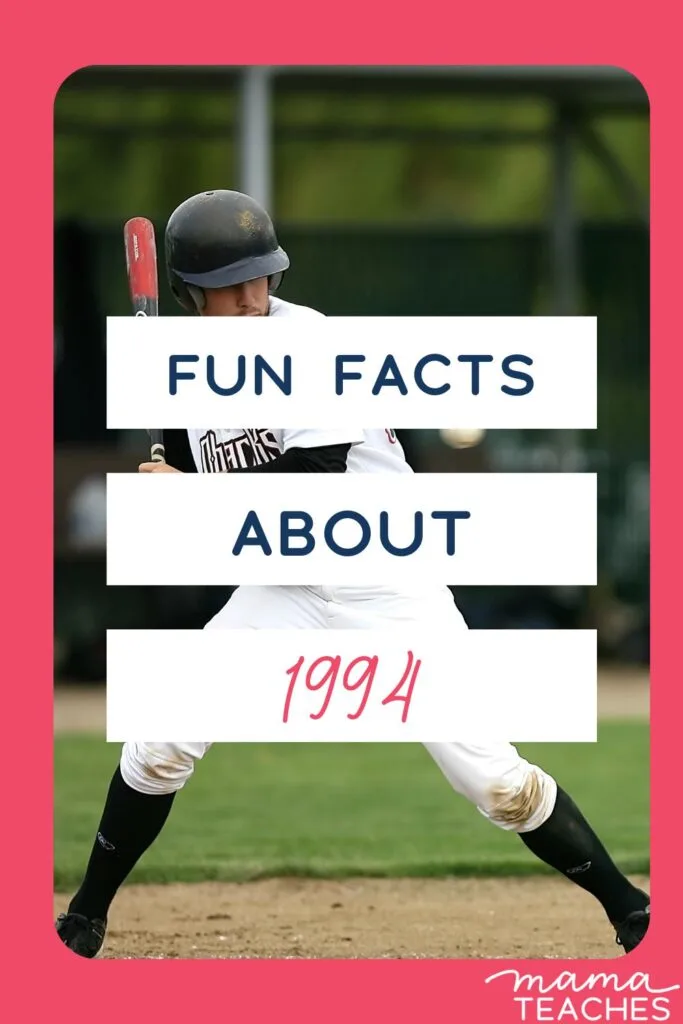 The Best Fun Facts About 1994
1994 was an eventful year (even if we did miss the World Series).
Thanks to this list of fun facts about 1994, you can experience the year all over again!

You May Also Like: