Conquer the chaos with these ingenious classroom organization ideas.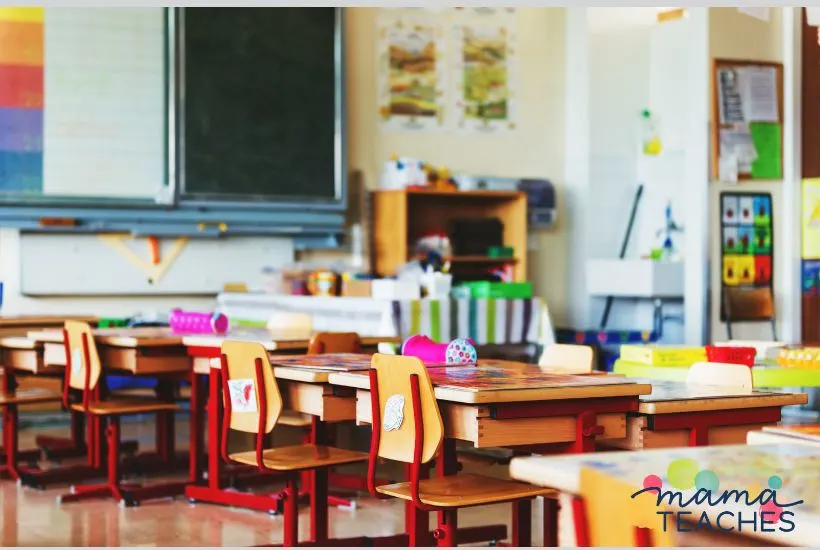 This article contains affiliate links to things that you might like.
Classroom Organization Ideas That Work
No room works harder than a classroom.
Think about it: the room must hold ten, twenty, or thirty people at a time.
It has to house scads of books and maybe rows of computers.
It needs space for all the supplies students may need to complete academic work.
It has to have space for all the completed work as well.
And it should be neat.
Keeping your classroom organized (even though it contains thousands of items) is daunting.
You need clever organization ideas to save the day, and we've got them!
Read on for the best classroom organization ideas.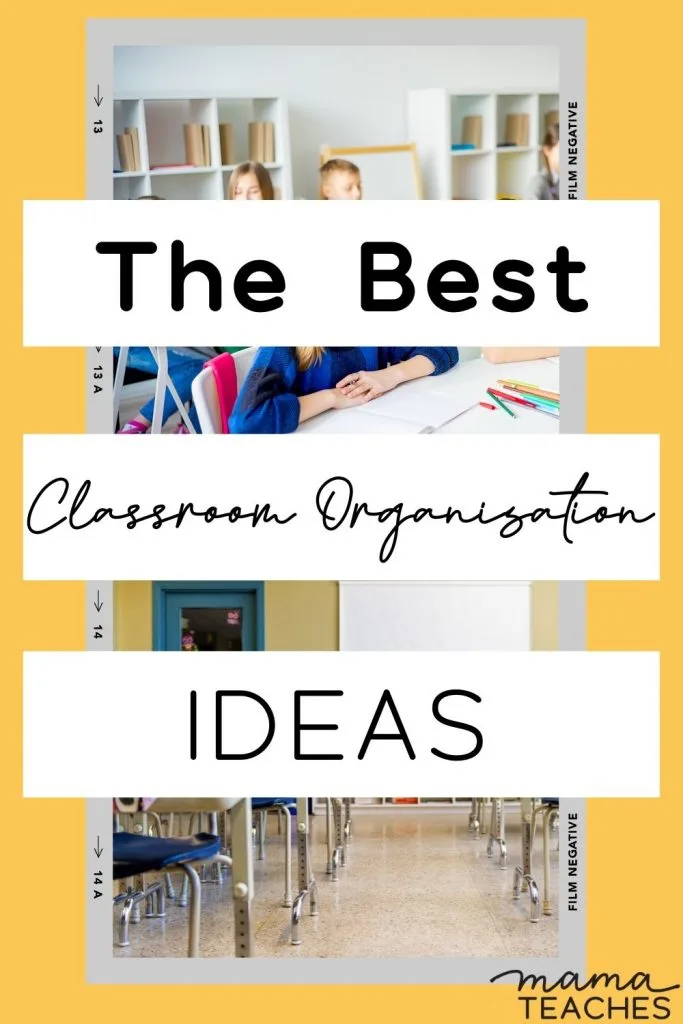 Organizing Teacher Materials
When it comes to teacher materials, you have two types of items: 1) supplies and 2) resources.
You will be tempted to keep these items on your desk.
They will navigate there, like homing pigeons.
You have to defend the real estate on your desk!
That space cannot hold everything, and it is your space.
It is the only space in the classroom that is really, truly yours, and you need to keep it as clutter-free as you can.
Only keep the essentials on your desk, the supplies that you use every hour of every day.
You can see the desk above has a surface almost completely clear of items.
Everything else is stored on shelving along the wall.
Here are some more ideas to keep your teacher materials off your desk (but still organized).
Drawers
If you are lucky enough to have a teacher desk with drawers, use them for your supplies.
Don't dump them in; use drawer organizers.
Keep frequently used items like pens and scissors and sticky notes in the upper drawers.
Save the bottom drawers for items you use only occasionally, like binder clips and your chocolate stash.
Bins
Clear plastic bins are also the perfect place to keep supplies.
Organize and label them (consider color-coding your labels so you can find items even faster).
You can then store the bins on cube shelving at a right angle to your desk.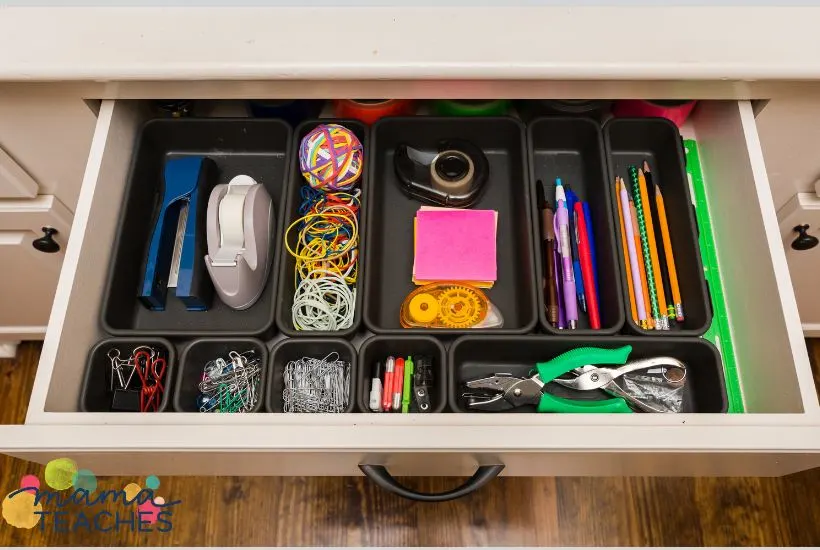 A Rolling Cart
A rolling cart is a perfect place to keep your supplies because you can roll it out when needed and then roll it away.
My favorite is the kinds with drawers.
Teacher Toolbox
Repurpose a hardware store find into the storage solution you have been craving.
Add some cute labels and–ta-da!–a perfect place to hold your supplies.
Magazine Holders
If your teacher resources are just too floppy, put them in magazine bins.
Label them by subject.
You can store them on a shelf or in a closet.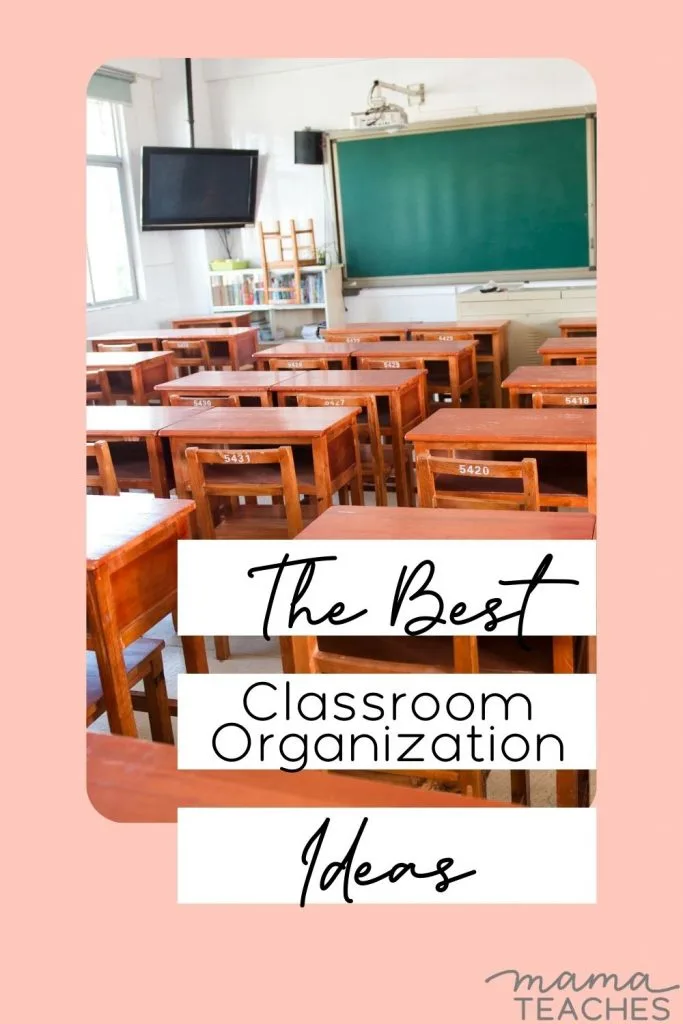 Classroom Paper Organization
By the end of the day, your classroom can look like a sea of paper.
Stem the tide with these paper organization ideas for the classroom.
Rolling Cart
This rolling cart allows you to get your act together for the whole week.
You can store worksheets and tests for the upcoming days in the week, and you also have a "hotspot" gathering space for incoming papers.
Letter Sorter
This three-tired letter sorter has a spot for the three kinds of paperwork you need to keep.
You can label the tiers: "Copy Me," "Grade Me" and "File Me."
File Cart
For filing papers, you can invest in this sleek white rolling file cart.
I love carts on wheels, can you tell?
You roll them out when you need them, and then you tuck them away when you don't.
Hanging Files
If you need storage space, look to your walls!
This hanging file folder will keep the paperwork off your desk but within reach.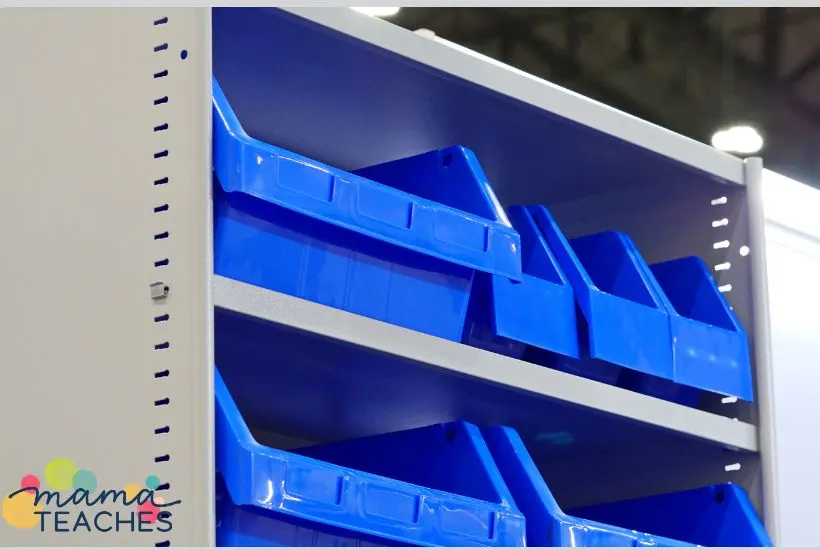 Organizing Classroom Supplies
Crayons, scissors, and glue sticks…oh my!
The number of classroom supplies you need to store can be overwhelming.
Check out these organizational hacks.
Clear Plastic Bins
A clear plastic bin is a teacher's dream.
Along with some labels, these workhorses cut the chaos and keep all your student supplies contained.
Shower Caddies
If your classroom is set up with desk clusters or tables, you can organize your supplies in shower caddies with bunches of pencils, glue sticks, scissors, and crayons per table.
Buckets or Sand Pails
Small, colorful buckets are the perfect place to store markers, crayons, scissors, and pencils.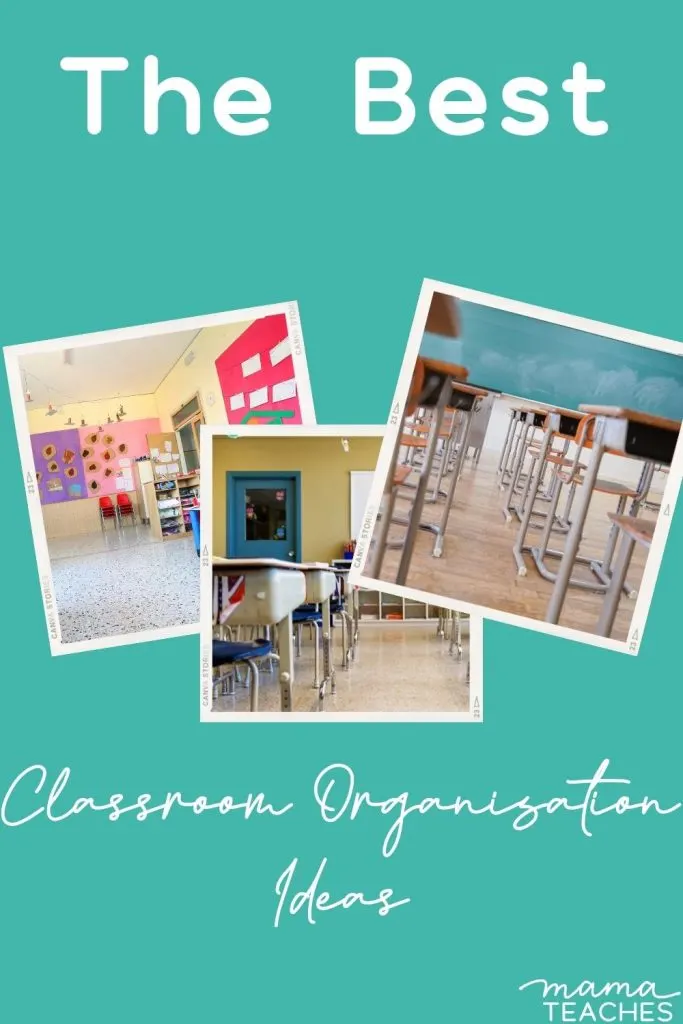 Tiered Baskets
Tiered baskets provide stacks of vertical space fo all your student supplies.
Organizing Technology and Tech Supplies
Cords, plugs, iPads, chargers…tech supplies are challenging to organize.
Tackle the tech mess with these classroom organization ideas.
Stick-on Storage
These attachable cups can store whatever you need right on the computer monitor.
Monitor Stand
A monitor stand provides storage underneath the monitor.
That space would otherwise go unused!
Cord Ties
Keep cords and cables from turning into spaghetti with these colorful velcro cord ties.
Storage Dock
This storage dock has slots for 10 iPads as well as a charging spot for each.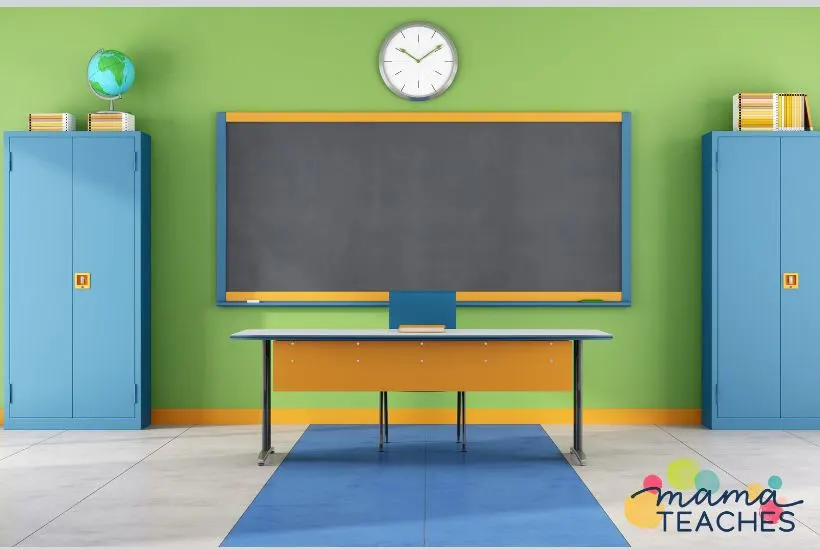 Classroom Organization Ideas That Will Make Your Life Easier
Although organization takes some forethought and implementation time, in the long run it is a time saver.
A classroom with a system in place means kids can help you keep the classroom orderly.
It's a better place to think and learn and play.
You May Also Like: