It's time for some holiday fun!
Get into the spirit with this Christmas Matching Game.
Adorable pets, tottering piles of gifts, Christmas trees, and holiday ballerinas star in this matching game for preschool and elementary.
And the best part?
It's free!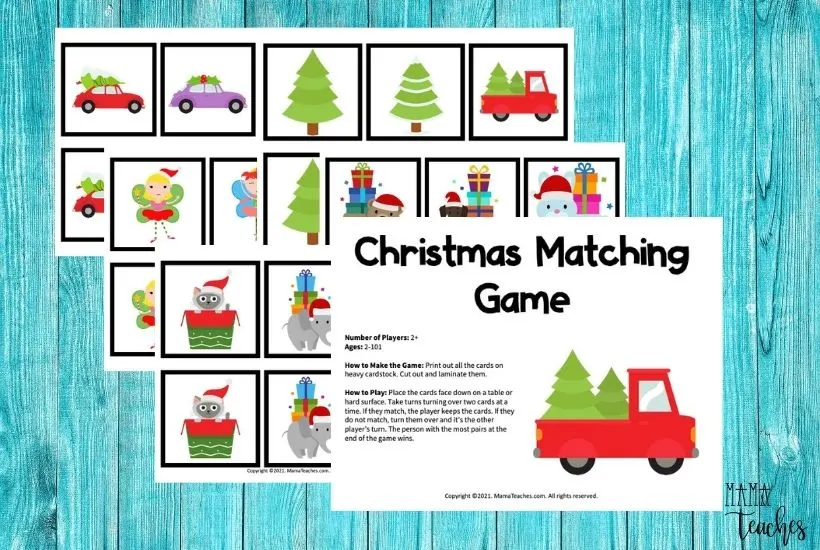 This article contains affiliate links to things that you might like.
Why Play Memory Match Games
Matching games are more than just a fun way to pass the time.
They are a wonderful way to work on important skills.
Concentration and Attention to Detail
In order to be successful at this game, kids need to pay attention to each turn in a matching game–even if it is not their turn.
They have to pay attention to details as well.
Is this the red car with the Christmas tree?
Or is it the purple car?
Visual Memory
Matching games work strengthen visual memory skills.
Can you remember exactly what you see?
This skill is important across all areas of learning, especially reading.
Logical Thinking
The ability to sort and classify different pictures practices logical thinking.
"I remember five kinds of animals carrying gifts: an elephant, cat, pig, bear, dog, and bunny. I also saw three other animals, but they were not carrying gifts."
The Christmas Matching Game
Matching games are incredibly versatile.
They work for a wide age range.
They are a great game for preschoolers all the way up to grandparents.
You need at least two players to compete, but you can play by yourself solitaire-style to test your own memory.
The game is also adaptable by skill-level.
It comes with 18 possible pairs, but you can play with fewer pairs if you have younger players.
The pairs are all themed for Christmas: cuddly animals in Christmas attire, sugar plum fairies, and snow-laced Christmas trees.
How to Make the Christmas Memory Match Game
To match the matching game, you'll need to download the file.
You can find it FREE in the Freebies Library.
Sign up to become a member to access loads of free printables and resources.
Print the game single-sided on white cardstock.
Cut apart the cards with scissors.
To make the game extra durable (and cocoa-proof), laminate the cards.
How to Play the Christmas Matching Game
Place the cards facedown on a table or other hard surface.
You can lay them out in grid or in a random shape for an extra challenge.
Players take turns turning over the cards two at a time.
If you make a match, you get to keep it.
If the cards don't match, turn them back face down, and the next player takes a turn.
The player with the most matches wins!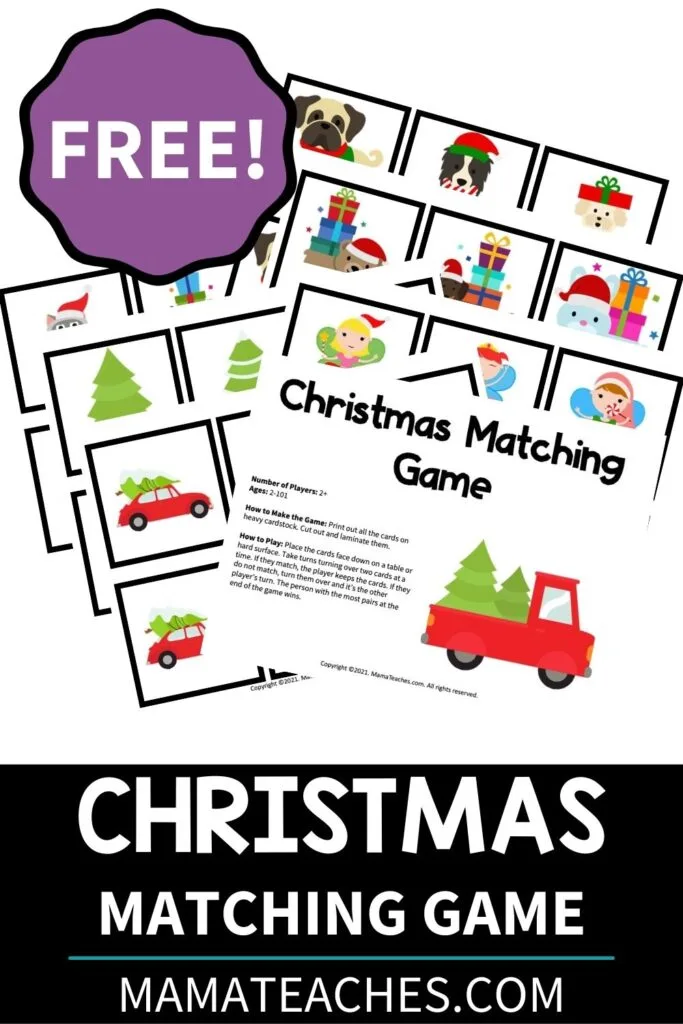 This portable Christmas matching game is both educational and fun.
You can make it part of your school day and trust that it is helping your kids with attention, concentration, visual memory, and logical thinking.
Or you can just crank up the holiday tunes, unwrap some candy canes, and enjoy a Christmas game together.
You May Also Like: