Sure, you could decorate your classroom Christmas tree with traditional ornaments, but where is the fun in that? Check out these inventive classroom Christmas tree ideas.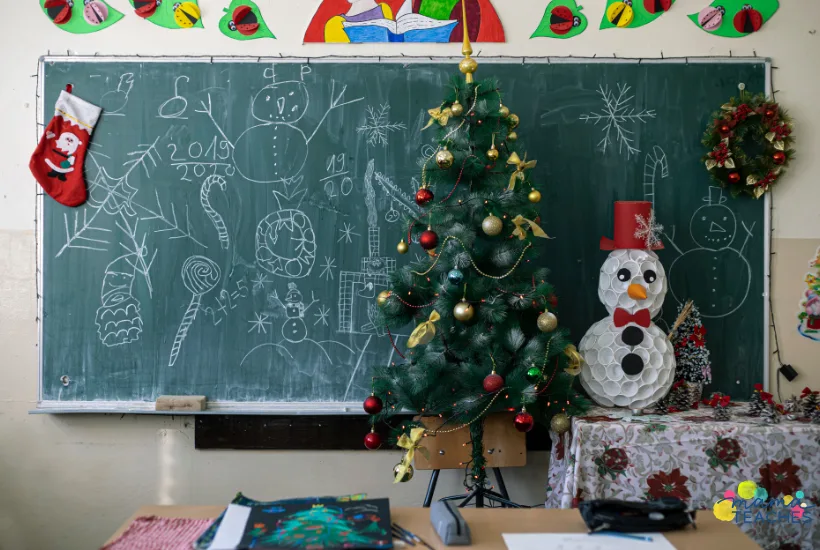 Why Decorate a Classroom Christmas Tree?
Classroom Christmas trees are an easy way to brighten your room during the holidays.
They provide a fun and festive atmosphere.
Classroom Christmas trees are an opportunity to display school-related items as ornaments.
Basically, they are three-dimensional bulletin boards!
You can even task your students with the decorations. They will love that they had a hand in the decorating.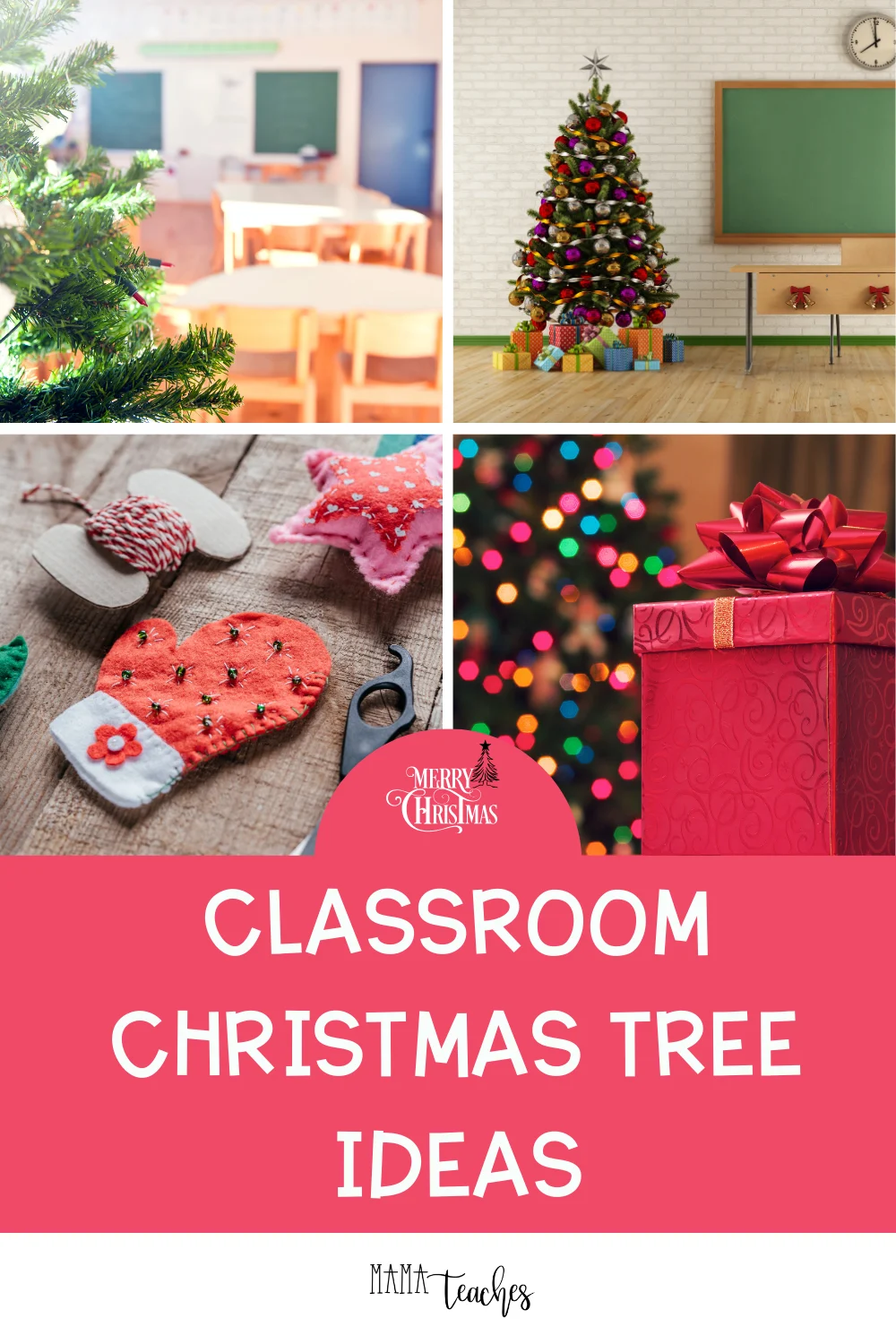 This article contains affiliate links to things that you might like.
Classroom Christmas Tree Ideas
Step 1: Put up your tree.
Step 2: Drape it with lights.
Step 3: Add one of these fun ornaments from this list of classroom Christmas tree ideas!
Book Page Ornaments
Does your school or public library have a discard bin for old or torn books?
Use some books to create ornaments out of the pages.
You can cut them into paper snowflakes or other paper shapes.
Clay Ornaments
Let your students use cookie cutters and air-dry clay to make flat ornaments (remember to poke them with a pencil to make a hole for the string).
Once the clay has thoroughly dried, your students can decorate them with paint and glitter.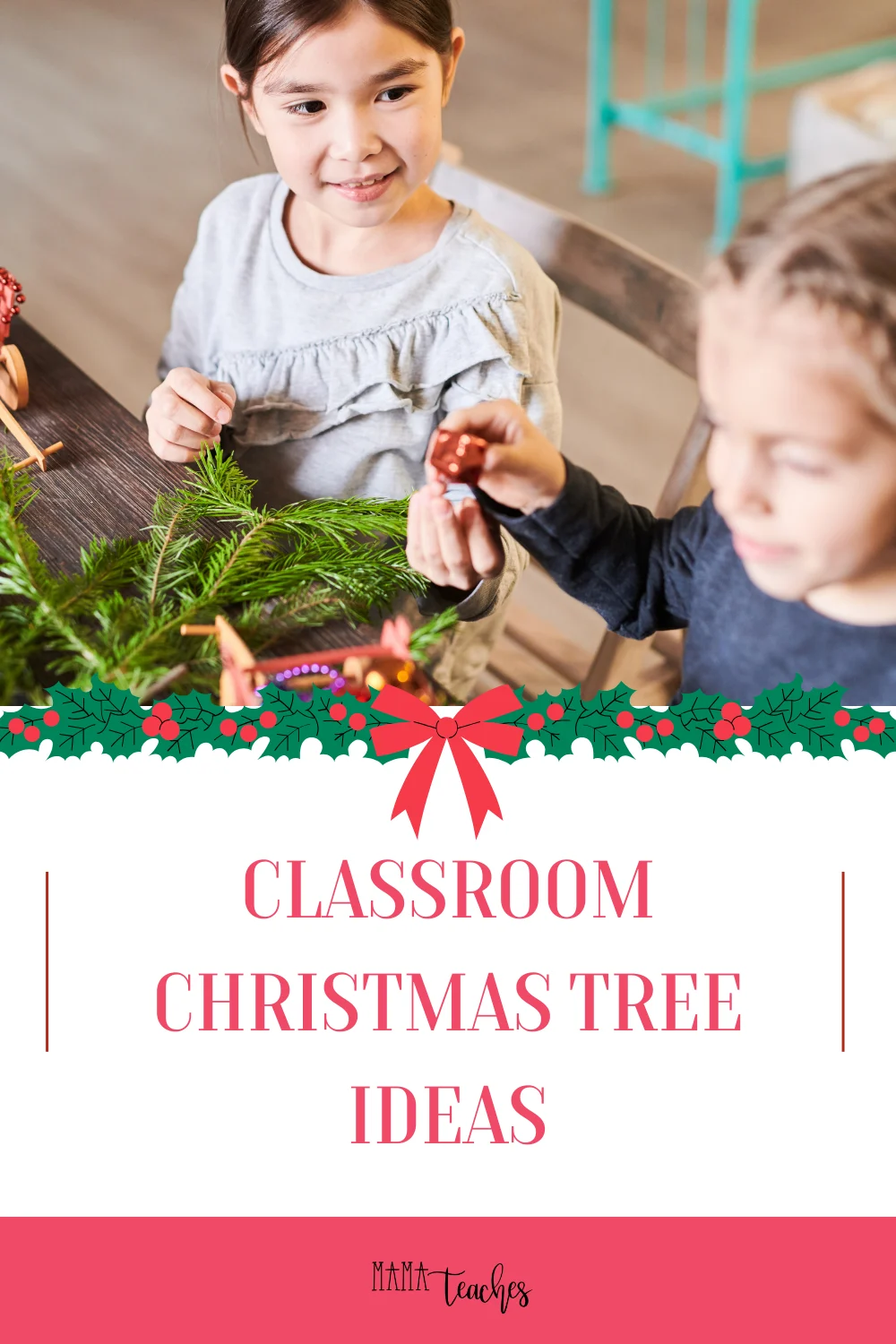 Cinnamon Gingerbread Ornaments
Make a recipe of homemade play dough or salt dough.
This is our favorite salt dough recipe because it holds up really well and is easy to use!
Knead in cinnamon or cinnamon oil. (Watch out for allergies though!)
You can also add food coloring to color the dough brown.
Red and green food coloring in equal parts make a light brown.
Yellow food dye (4 parts), red dye (2 parts), and blue dye (2 parts) make medium brown.
Roll out the dough.
Use cookie cutters to make gingerbread men or snowflakes. Don't forget to poke a hole in the top for the ribbon!
Let the ornaments dry (you can speed the process by baking them in an oven for 15-30 minutes).
You can let the kids decorate the ornaments with puffy paint (white puffy paint looks just like frosting).
Beaded Ornaments
Have the kids make beaded ornaments for your classroom Christmas tree.
All you need are pipe cleaners and pony beads.
Here are directions for Candy Cane Ornaments.
These beaded snowflakes would also look beautiful on a tree.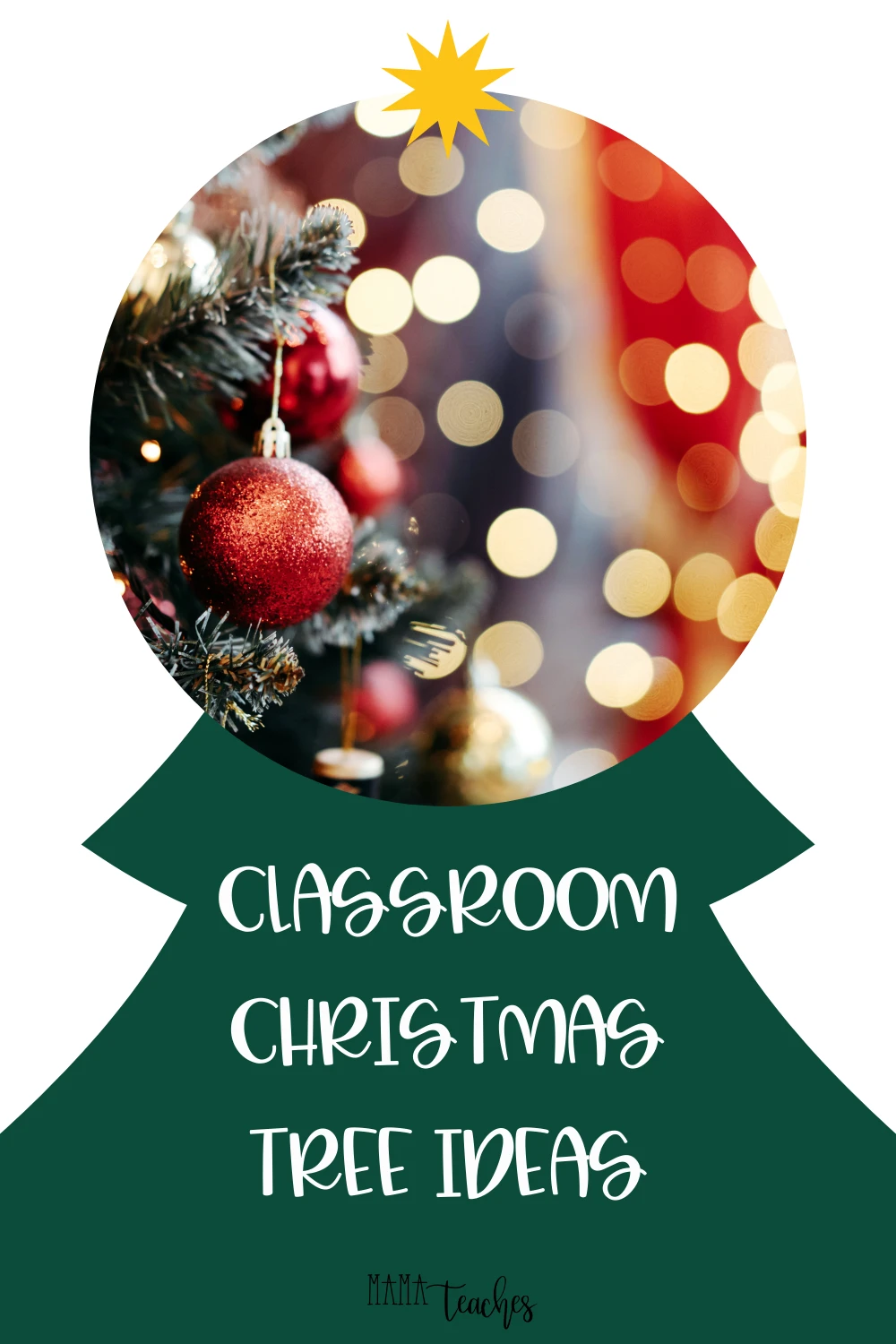 Origami Ornaments
Origami ornaments are creative and inexpensive classroom Christmas tree ideas.
You can fold origami paper into almost any shape.
Origami hearts, stars, and crowns work exceptionally well for tree decorations.
You can find a list of origami folds right here.
Jingle Bell Ornaments
Cover your tree with jingle bells.
They are an intensive ornament idea, and the tree will make a lovely tinkling sound whenever you brush past it.
Nature Walk Ornaments
A nature walk with your class can provide ample supplies to make your own ornaments.
You can hang pinecones (dust them with spray glitter if you want extra glitz).
Gather twigs to make this lovely twig tree ornament.
You can also dry citrus slices and turn them into ornaments.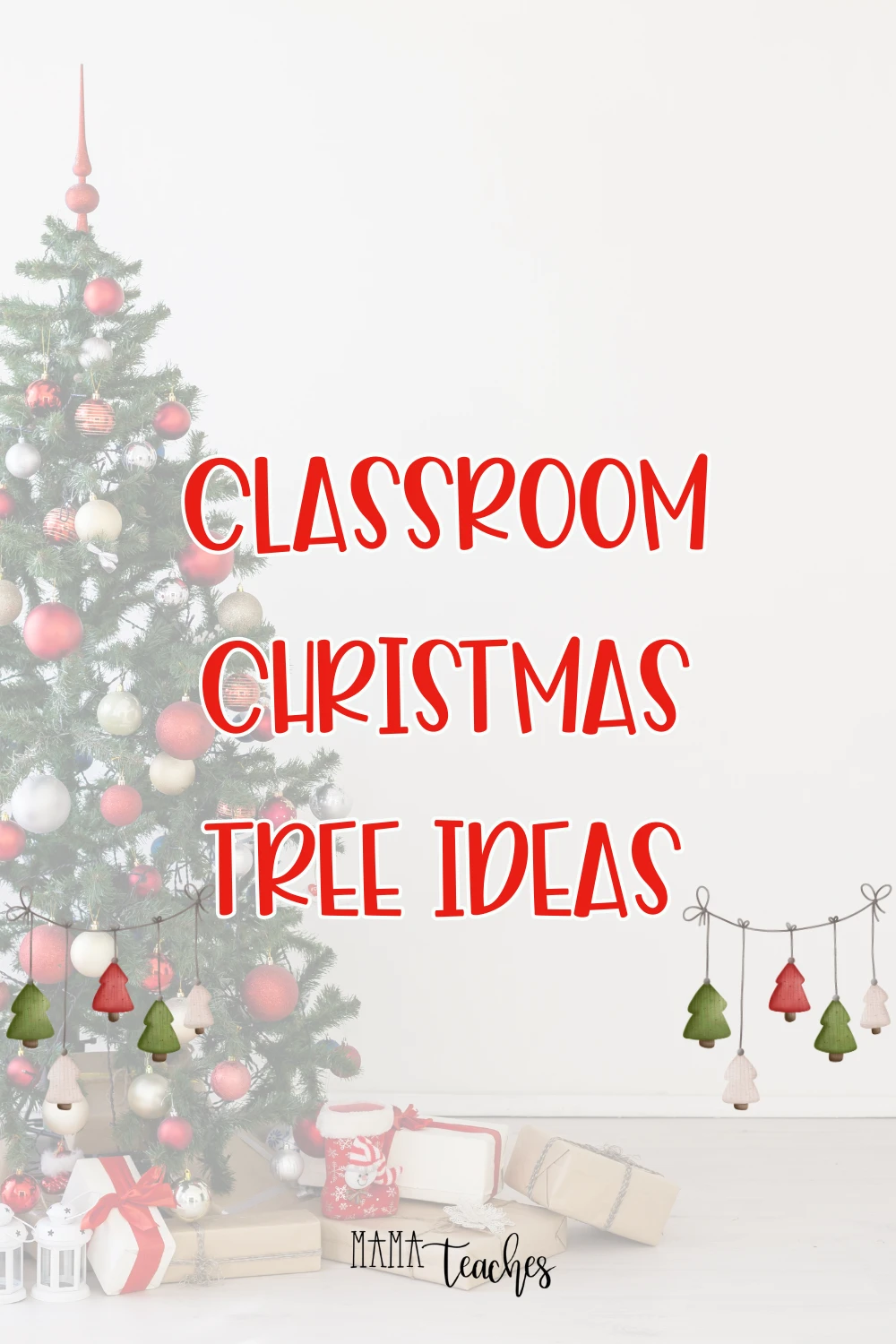 Personalized Stocking Ornaments
You can buy mini stockings in bulk and use them as decorations for the tree.
(Here are some adorable mini stockings in buffalo plaid.)
You can use puffy paint to draw each student's name on a stocking.
Or you can attach these printable Christmas tags to the stockings. Download them below!
Use the stockings regularly during December.
Tuck treats, stickers, or fun activities (like mazes or word searches) into the stockings and set aside time to check them daily.
Kids will love to see what surprises are in store on the classroom Christmas tree.
On your last day, you can tuck in a candy cane and a small gift for each student (like a desk pet, scratch-off, or one of these fun student gifts).
Candy Cane Decorations
Do you want to know one of the easiest classroom Christmas tree ideas?
If you are short on time, decorate your tree with candy canes!
You can purchase candy canes in bulk and cover the tree!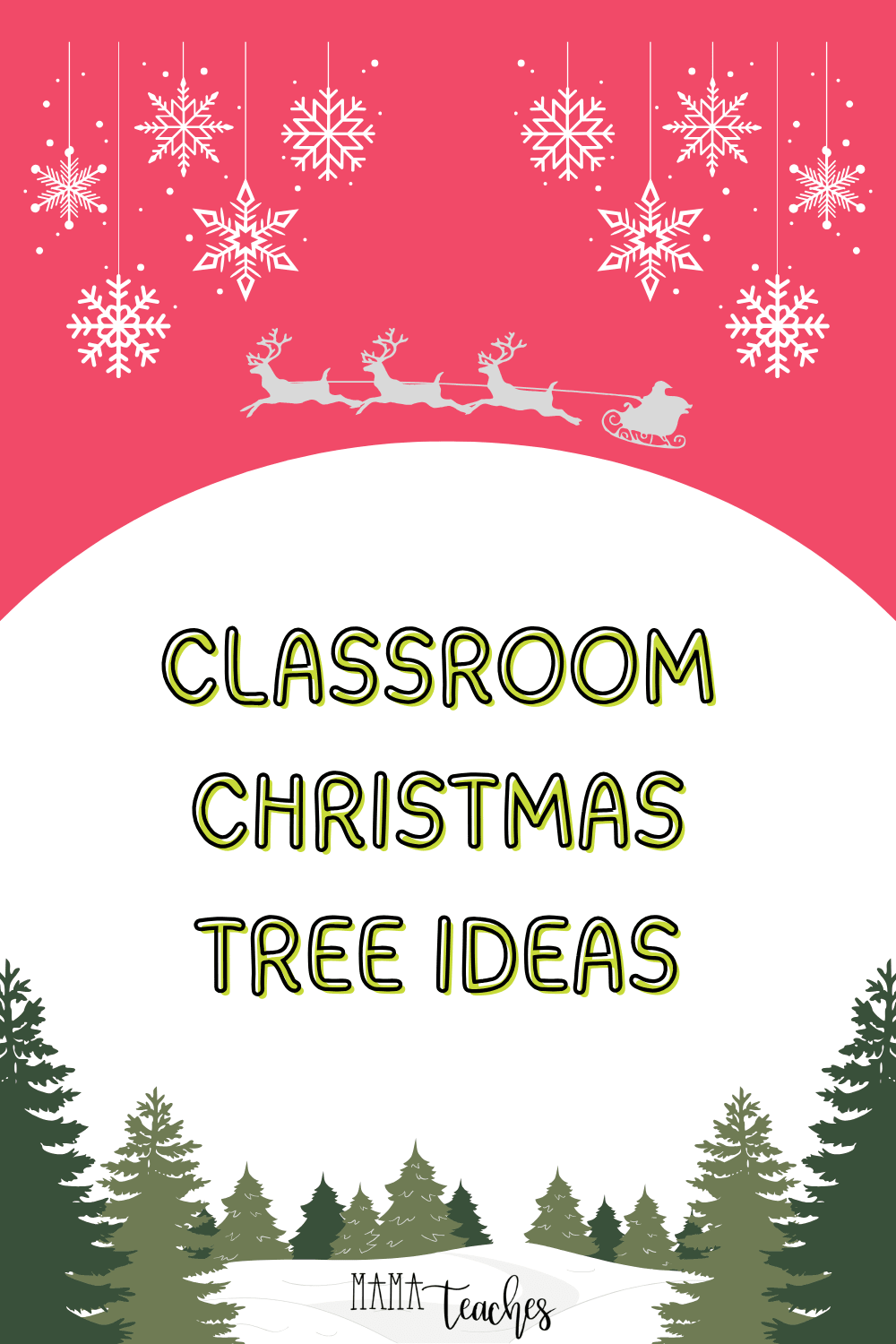 Message-in-an-Ornament
These clear plastic ornaments can hold whatever holiday message you wish.
Have students write their Christmas wish and slide it inside.
Then add in some shredded paper filler or mini pompoms.
You can also use it as a writing activity. Tear off strips of paper and write a holiday adjective on each one (e.g., merry, bright, colorful, meaningful, generous)
Curl them around a pencil before dropping them into the ornament.
Yarn-Wrapped Ornaments
Have students wrap shapes with yarn to make homespun ornaments.
You can have them wrap styrofoam balls or posterboard cutouts of shapes.
You can cut their initial letter from the posterboard and have them wrap it.
Pom Pom Ornaments
Decorate your tree with bright (and inexpensive ornaments) homemade yarn pom poms.
Kids love to make them!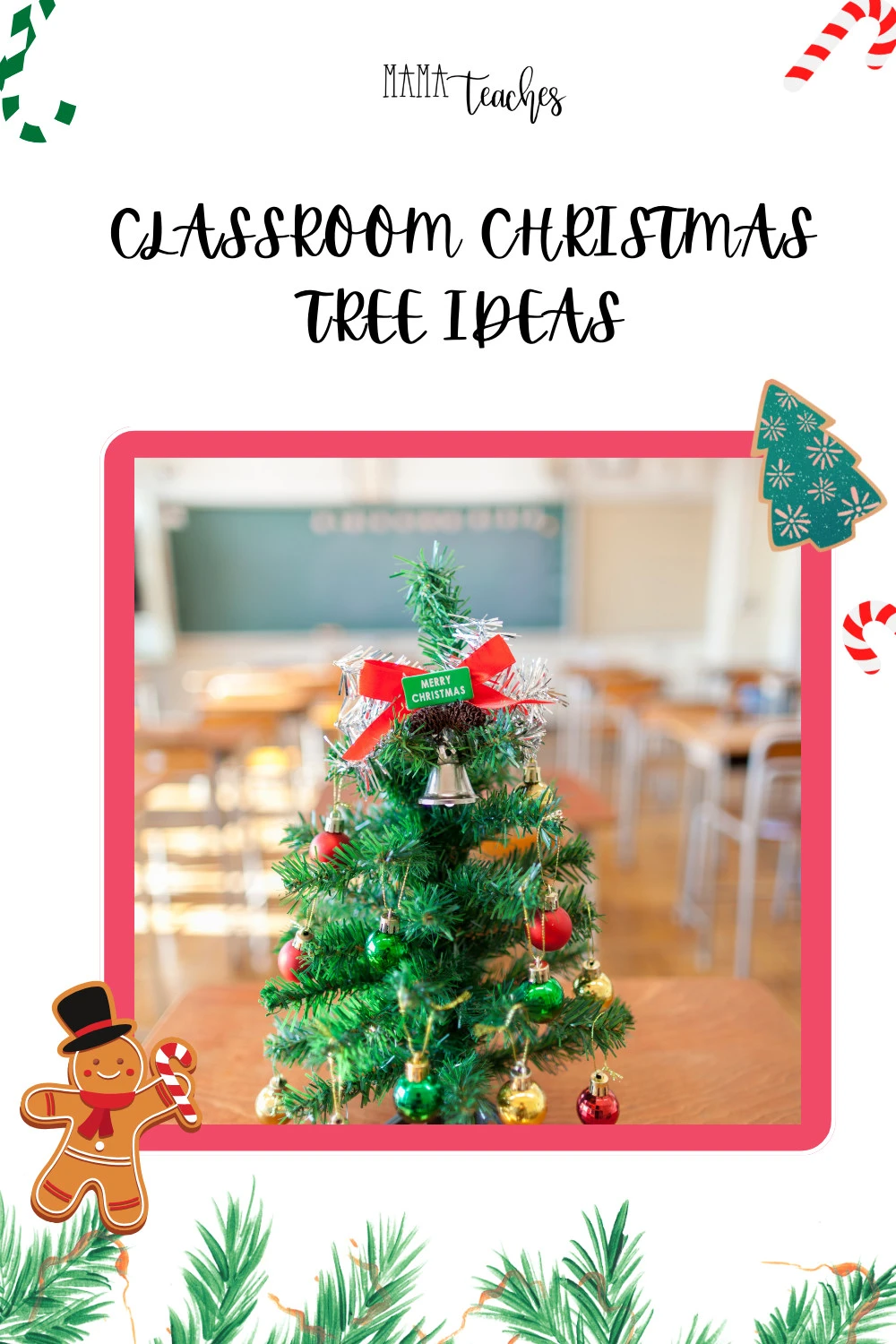 Upcycled Ornaments
Have your students bring various items from their recycling bin: egg cartons, bottle caps, cardboard, toilet paper tubes, etc.
Challenge them to use their creativity to make upcycled Christmas ornaments.
You provide the paint, ribbon, glue, and glitter.
Your Classroom Christmas Tree
Get your students involved with these classroom Christmas tree ideas.
They will love to make the ornaments and transform the classroom into a fun and festive space.
You May Also Like: