Make February 2 a day to remember with these simple and educational Groundhog Day activities.
Why should Punxsutawney Phil have all the fun?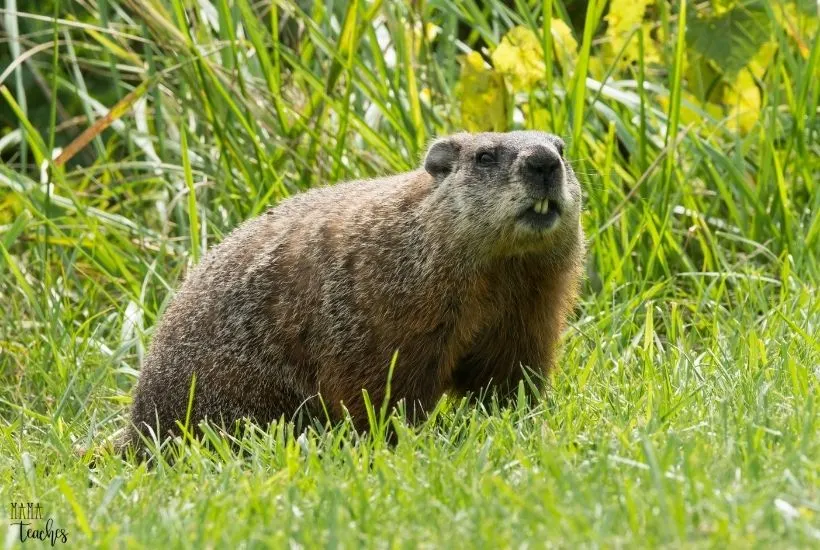 This article contains affiliate links to things that you might like.
The History of Groundhog Day
The roots of Groundhog Day go back to the Pennsylvania Dutch superstition that if a groundhog sees its shadow when it emerges from its burrow, winter will last six more weeks.
If the day is cloudy and the groundhog does not see its shadow, then spring will be early.
Nowadays the ceremony takes place on February 2 in Punxsutawney, Pennsylvania (as well as other cities in North America).
The leaders of the town (all dressed formally in suits and top hats) call out Phil the groundhog at 7:25 am.
How accurate is Phil at predicting the length of winter?
He gets it right less than half of the time.
Interestingly, Chuck the Staten Island groundhog has been right 80% of the time.
Preschool Activities for Groundhog Day
Maximize the fun on Groundhog Day by trying some of these Groundhog Day activities.
Your little learners will have huge amounts of fun!
Groundhog Day Crafts
This adorable craft shows a friendly Phil emerging from his grassy burrow.
The whole thing takes about 15 minutes to complete, so it's quick and cute!
You can also print out this FREE Groundhog Day coloring page for some crayon and paper fun.
Animal Study Lesson Idea
Why not tie in science to the holiday?
Investigate "What is a groundhog?" You can read about the groundhog, look at photos, talk about its habits and behaviors, and draw it!
Did you know groundhogs have 2 coats of fur to keep them warm all winter?
Did you know their teeth never stop growing?
This amazing animal will fascinate your preschoolers!
Current Events Lesson Idea
Groundhog Day is a great current event to study.
Your little ones will love learning the history and traditions of the holiday–and finding out if Phil, Chuck, or your nearest groundhog saw his shadow that morning!
Math Lesson Idea
Punxsutawney Phil looks for his shadow.
Is a shadow something we can measure?
Absolutely!
That sounds like math to me!
Do a hands-on STEM project outside on the sidewalk.
All you need is chalk, a tape measure, and a sunny day.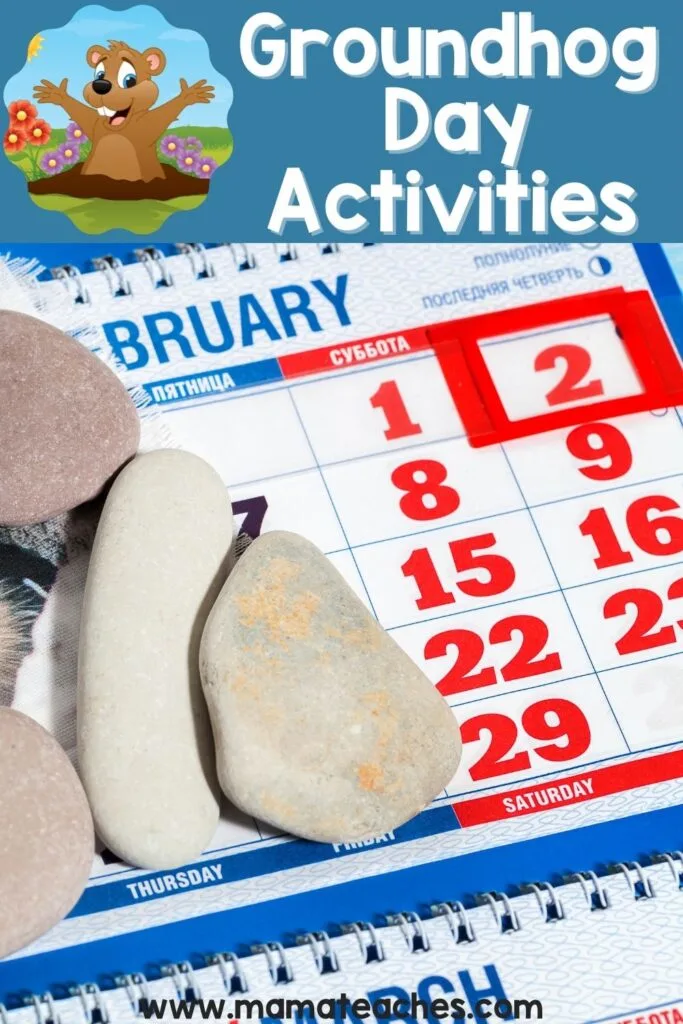 Elementary Activities for Groundhog Day
You can do a one-day unit study on Groundhog Day and tie the holiday into every subject (or just choose one activity!).
Math Lesson Ideas
Teach a lesson on fractions, percents, probability, or odds and tie it to Groundhog Day.
Here are some Groundhog Day stats to get you thinking:
The ceremony in Punxsutawney, PA has been happening since 1887.
Punxsutawney Phil has been accurate 39% of the time.
Groundhogs in Canada are on average 37% accurate.
Between 1887 and 2020, Phil has seen his shadow 104 times and has seen no shadow 20 times.
Science Lesson Ideas
Cue your earth science, ecology, or biology lesson off Groundhog Day.
Study the seasons, animal habitats, or hibernation.
Creative Writing Lesson Idea
Can you imagine Groundhog Day from the groundhog's perspective?
What is he thinking and feeling?
Does he love this day ("I'm a star!") or hate it ("Why are these people disturbing my sleep?").
Write a story from Punxsutawney Phil's perspective (or choose one of the other famous groundhogs–see below).
Poetry Lesson Idea
Make a shape poem whose words outline the silhouette of a groundhog.
Make an acrostic that spells GROUNDHOG DAY.
Here's a sample:
Grumpy, sleepy groundhog
Ready to greet the morning?
Out you trudge from your burrow
Under the clouds the day is dim
No shadow do you see!
Do you know what that means?
Hurray! Spring is on its way!
Our cold and chilly days will soon be past
Groundhog, you gave me good news!
Grab the FREE Groundhog Day Acrostic Poem Template to get started!
History Lesson Idea
Research the history of Groundhog Day.
Consider making a mini-book of the information or dramatizing the story.
Geography Lesson Idea
The US has eight celebrity groundhogs.
Find their locations on the map!
Phil of Punxsutawney, PA
Mel of Milltown, NJ
Chuck of Staten Island, NY
Buckeye Chuck of Marion, OH
Jimmy of Sun Prairie, WI
General Beauregard Lee of Jackson, GA
Thistle the Whistlepig of Cleaveland, OH
Dunkirk Dave of Chautaqua County, NY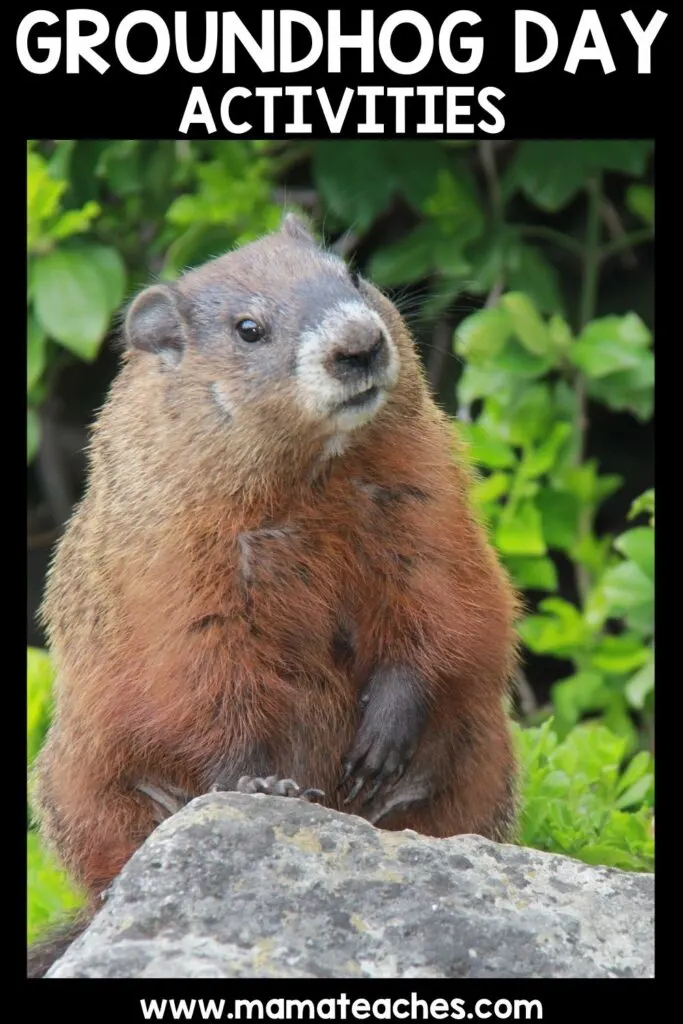 Groundhog Day Lesson Ideas and Activities
February can be a cold and dreary month, so let the sunshine into your school day with these Groundhog Day activities.
It turns out you can learn and have fun at the same time (even if you do find out winter will last six more weeks).
You May Also Like: