Make your class's Halloween party one to remember with these simple and sensational school Halloween party ideas!
Ideas for a School Halloween Party
Do you need a little inspiration for your school Halloween party?
We've got you covered with all treats and no tricks!
Make this a party to remember with ideas for Halloween decorations, food, music, games, and crafts.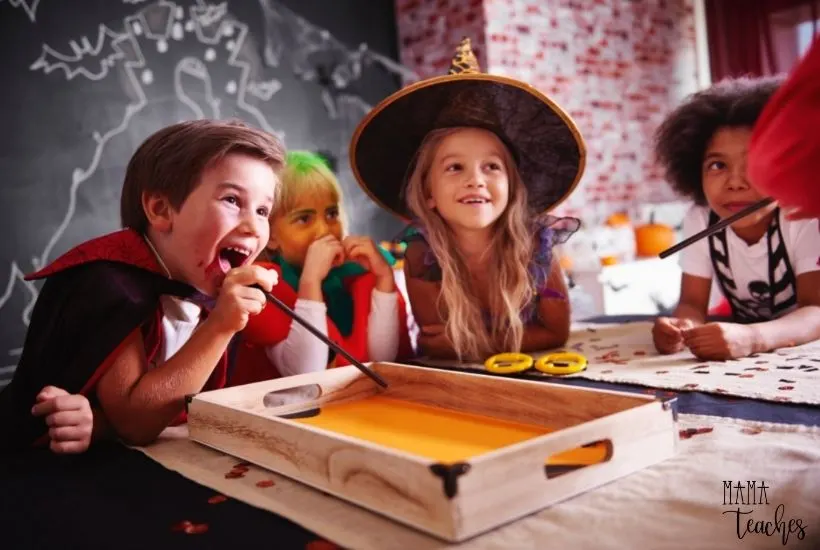 This article contains affiliate links to things that you might like.
School Halloween Party Decorations
Add some festive fun to your classroom with these inexpensive Halloween party decorations.
Spider Webs
I love stretchy spider webs and black plastic spiders for instant (and cheap) Halloween decorations.
Bulletin boards, shelves, doors, and desks are all fair game to cover with spooky webs!
Kid Crafts
Why send the October crafts home right away?
As your students create pumpkins, ghosts, and monster faces, collect them to tape on the wall, pin on the bulletin board, or dangle from the ceiling.
Ghost Balloons
This simple Halloween decoration idea is cheap and easy.
Pick up a bunch of white latex balloons and draw ghost faces on them with black Sharpie.
Two eyes and a gaping mouth are all you need to turn balloons into ghouls!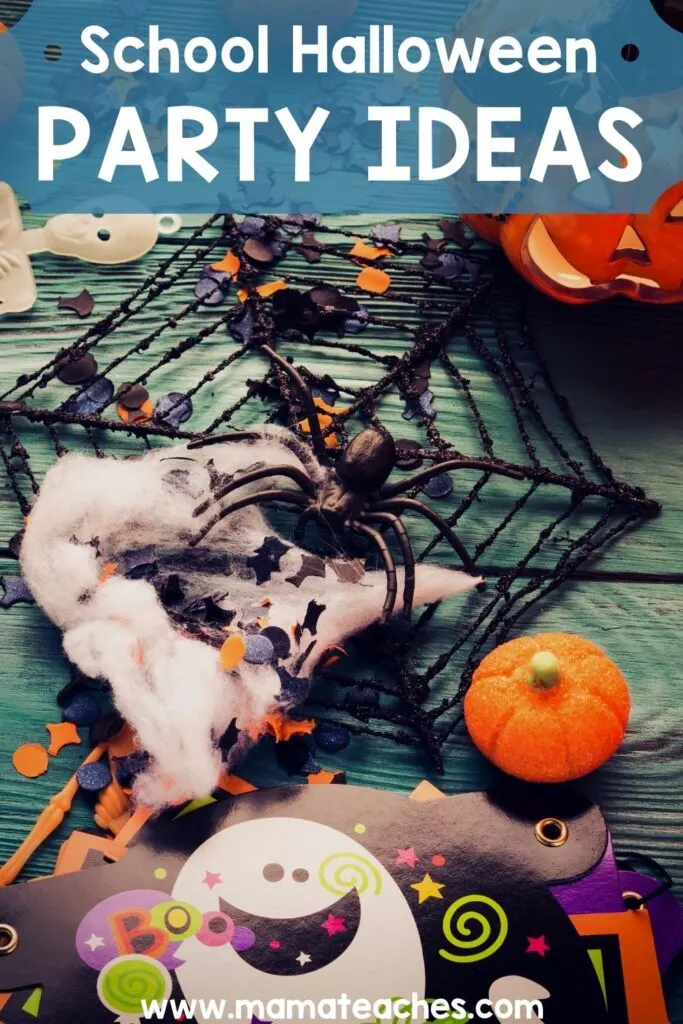 School Halloween Party Food
Add a little sweet and savory to spice up your school Halloween party!
Spooky Cookie Decorating
Why not turn the need for snacks into an activity station?
Provide plain round sugar cookies.
Set out white, orange, green, or purple icing and sweet toppers such as candy corn, Reese's Pieces, and chocolate chips.
Tell each student to create (and eat) their own monster face!
I love this recipe for three reasons:
It's quick and foolproof.
It's not sugary, so it won't amp up the kids.
It is 100% Halloweenie! (Get it?)
Clementine Pumpkins
This healthy snack is adorable and easy.
Peel a clementine and stick a sliver of celery in the top to resemble a pumpkin stem.
Easiest Halloween Brownies
If you are baking the night before your class party, you need something easy.
Whip up a box of brownie mix.
Halfway through the baking time, sprinkle the tops with Reese's Pieces and/or Halloween sprinkles.
Ta-da!
Halloween brownies.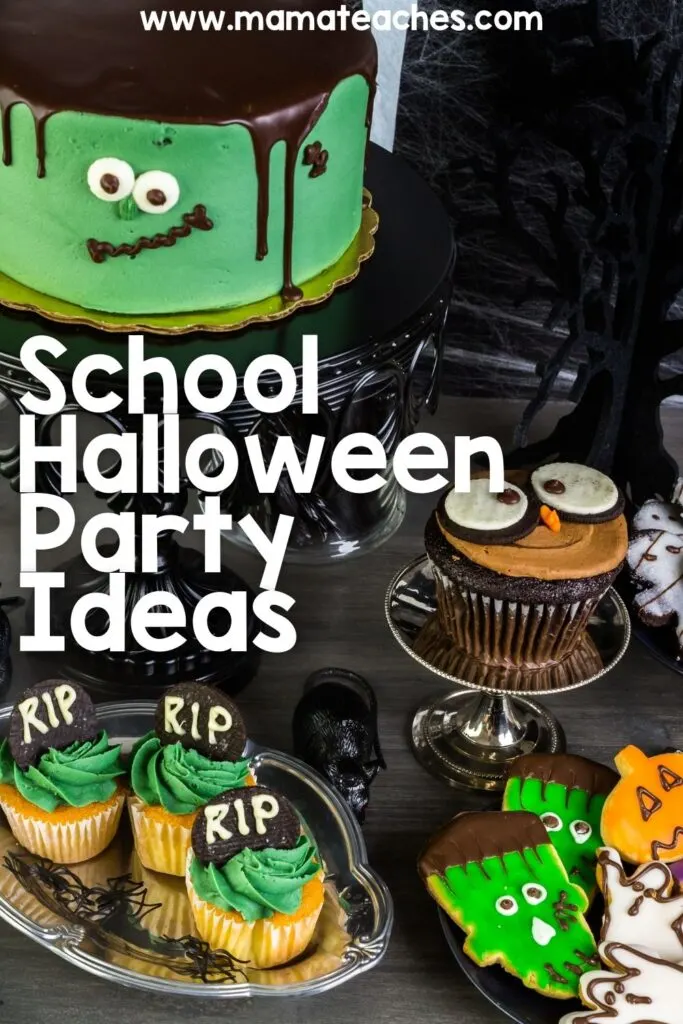 More Halloween Party Food Ideas
Are you looking for more ideas?
Check out this list of Halloween Party Food Ideas for Kids.
School Halloween Party Music
Music sets the mood!
Bring in your portable speaker, cue up Pandora, Spotify, or YouTube, and put on a playlist with Halloween tunes.
You simply can't have a Halloween party with the Monster Mash!
School Halloween Party Games
Games are the centerpiece of any school Halloween party.
Add some of these games to your party to bring on the skele-fun!
Pumpkin Toss
Pick up some Halloween treat buckets and set them in a row or triangle shape on the floor.
Then toss some mini plastic pumpkins into the buckets to score points.
Hot Pumpkin Pass
Play Hot Potato but with a small pumpkin.
Play some Halloween tunes.
Pass the pumpkin around the circle and stop the music.
Whoever is holding the pumpkin when the music stops is out.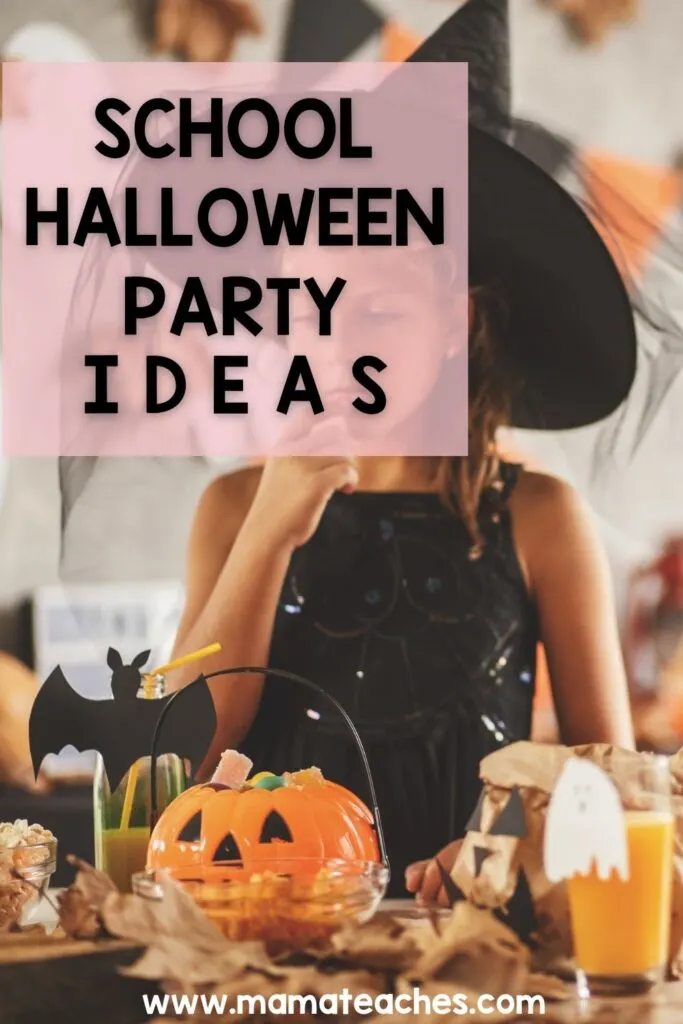 Pin the Spider on the Web
Create a giant spider web on the wall with yarn or black paper (or simply draw one on a large sheet of butcher paper).
Put masking tape on the back of a lightweight plastic spider.
Blindfold and spin the students and let them "pin" their spider on the web.
Whoever gets closest to the center of the web wins.
Dig for the Golden Spider
Fill a large bin with sand (or use your existing sensory table if you have one).
Buy some small Halloween items.
You can use plastic spiders, Halloween erasers, witches' fingers, Halloween monster bendables, or eyeball ping pong balls.
Spraypaint one of the items gold. Blindfold two students and have them dig for the Halloween treasure.
Whoever finds the golden spider first (or golden whatever), wins!
Costume Contest
This is a classic Halloween party game.
You can give awards for the most creative, spookiest, craftiest, and hilarious costumes.
Eyeball Race
For this competition, you need two players, two straws, two plastic eyeball ping pong balls, and a long table.
Each player tries to blow his ping pong ball along the table from the start to the finish, using only his straw.
No touching the ball with the straw!
Halloween Bingo
Regular Bingo is way more fun with marshmallow pumpkins or candy corn instead of Bingo chips!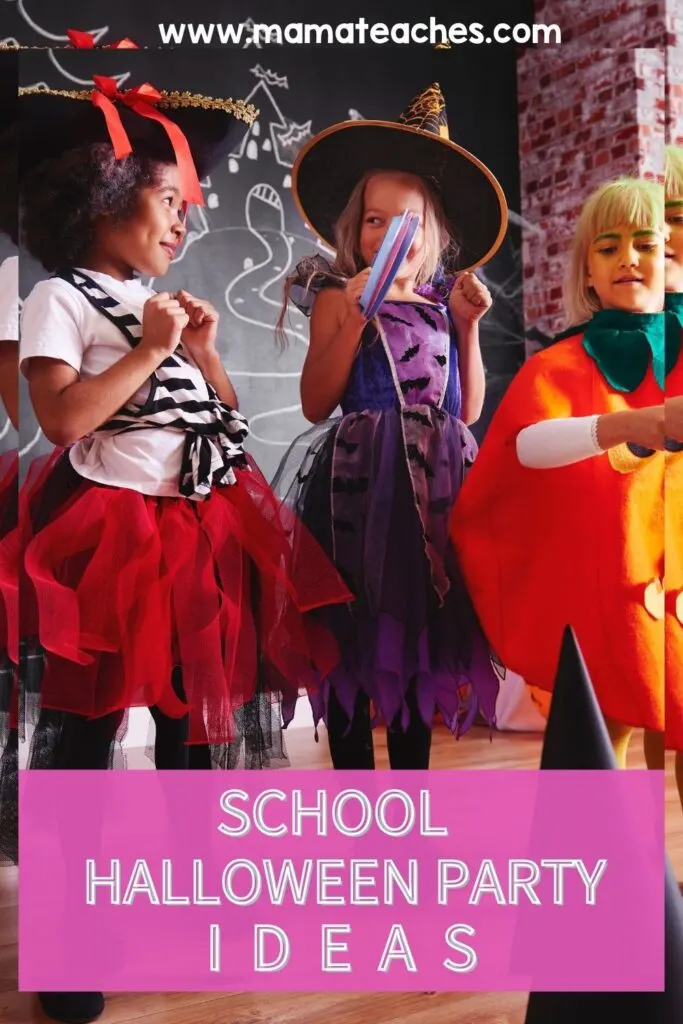 Halloween Would You Rather
Use this list of 25 Halloween Would You Rather Questions, and call out the questions.
The students run to one side of the room or the other depending on their choice.
Ring Around the Pumpkin
Set up 6 pumpkins in a triangle formation on the floor.
Write the numbers 1-6 on the pumpkins.
Use plastic glow necklaces as rings to toss around the pumpkins for points.
Halloween Digital Escape Room
This quick Halloween digital escape room for grades 3-5 provides you with valuable minutes to set up your classroom for the party.
You can also use it as a party station if you decide to go that route.
Did I mention the best part?
It's free!
More Halloween Games Ideas
Are you still in the mood to play?
Check out this list of Halloween Games for Kids.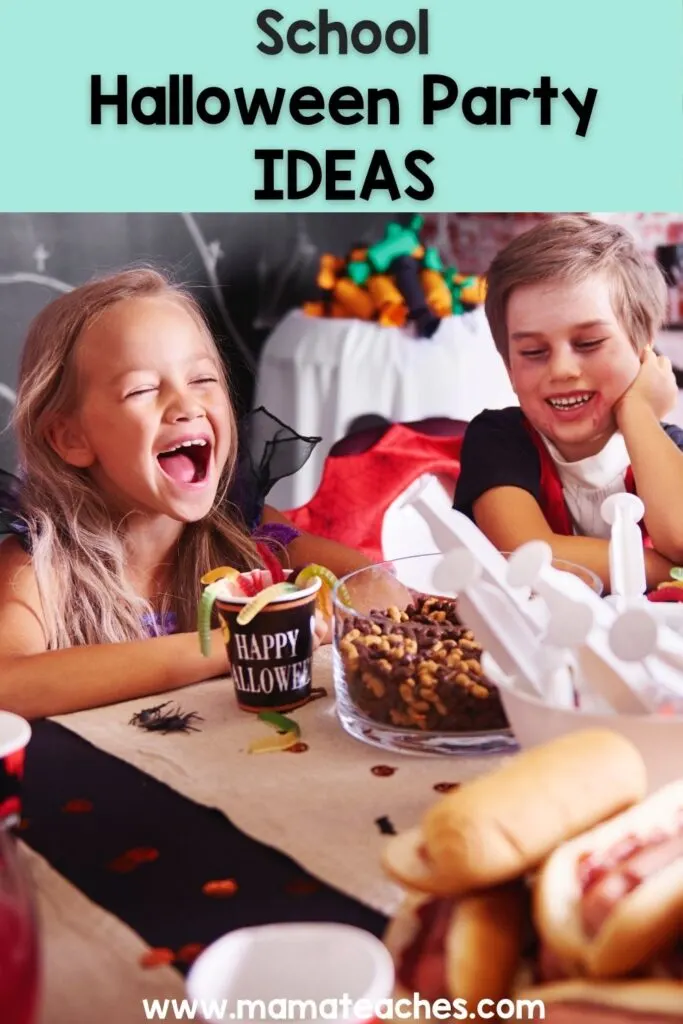 School Halloween Party Crafts
Some students love to get their craft on, and these items can serve as fun party takeaways as well.
Pumpkin Decorating
You might not have time for paint to dry (and you certainly don't want to carve a pumpkin in school!), but you can decorate small pumpkins with permanent markers or stickers.
Who doesn't love slime?
This spooky slime is perfect for a class party.
Make it as an activity, and take it as a party favor!
This simple preschool ghost craft makes the most of your recyclables!
You can turn a cheap paper plate into anything–and that includes a pumpkin!
Check out this simple pumpkin paper plate craft.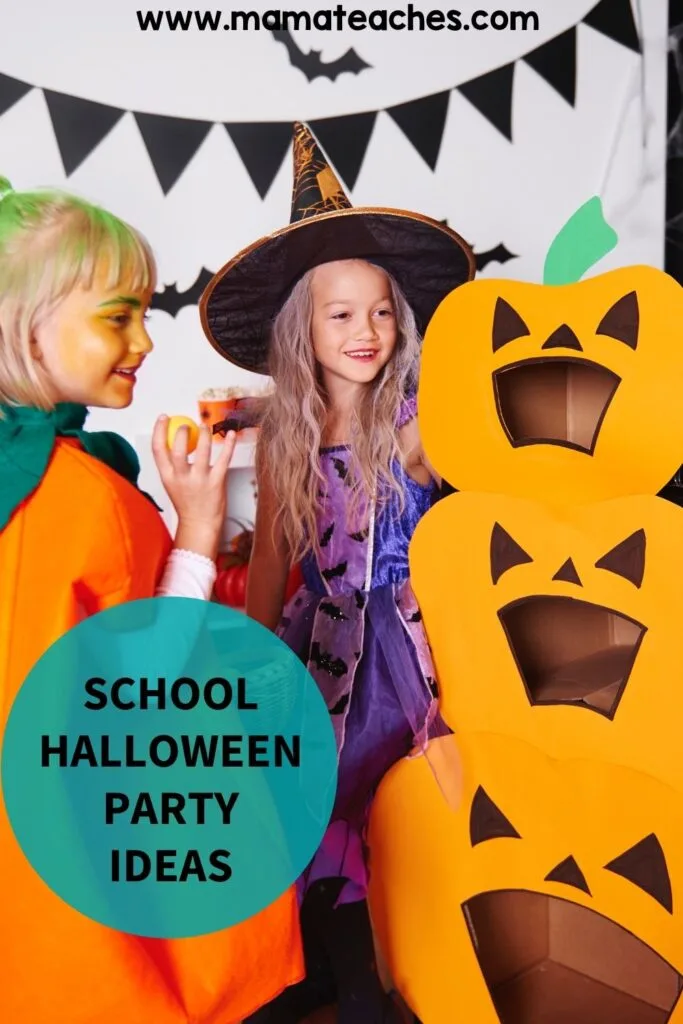 Classroom Halloween Party Ideas
Try some of these school Halloween party ideas to make your class party spook-tacular!
You May Also Like: