With these five hands-on activities, you can make learning any subject an interactive experience!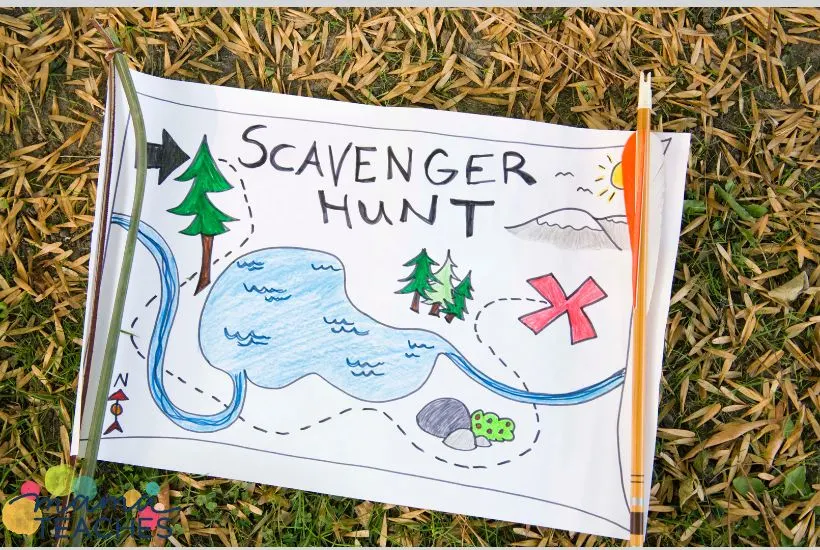 This article contains affiliate links to things that you might like.
Hands-On Activities That Work for Any Subject
You want to liven up your lessons, but inventing new hands-on activities can be exhausting.
Instead of waiting for inspiration to strike, turn to these five golden standbys that make any subject engaging and interactive.
File Folder Games
When Edwin Seibels invited the filing cabinet and manila filing folders in 1898, he had no idea that the humble manila files would be a teaching mainstay.
With a printer, scissors, and a glue stick, you can create lapbooks and file folder games for every subject.
Are you not the artsy type?
Check out these printable file-folder games and lapbooks for multiple subjects.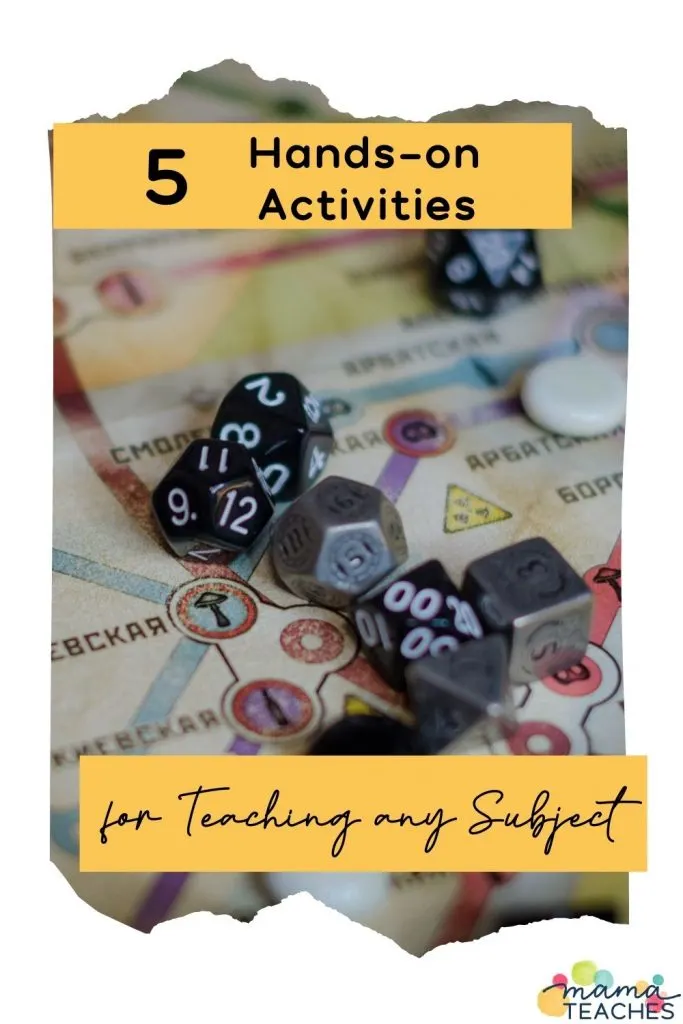 Board Games
Students love to learn through play, and board games are a terrific way to reinforce subject content.
Learn about geography, addition, strategy with Ticket to Ride, economics with Mystic Market, math and science with Ecosystem, states and capitals with the 50 States Game, and spelling with Boggle.
Dice games help with counting, and almost all games shore up reading skills.
Scavenger Hunts
Scavenger hunts are a quick and easy hands-on activity.
You can make a list for students to find.
Consider scavenger hunts for shapes, words, colors, seasonal items (like a red leaf or a butterfly), and books in a library.
Sidewalk Chalk
Sidewalk chalk is a time-tested hands-on activity, and it's not just for little kids.
You can write math problems, spelling words, and Venn diagrams with sidewalk chalk.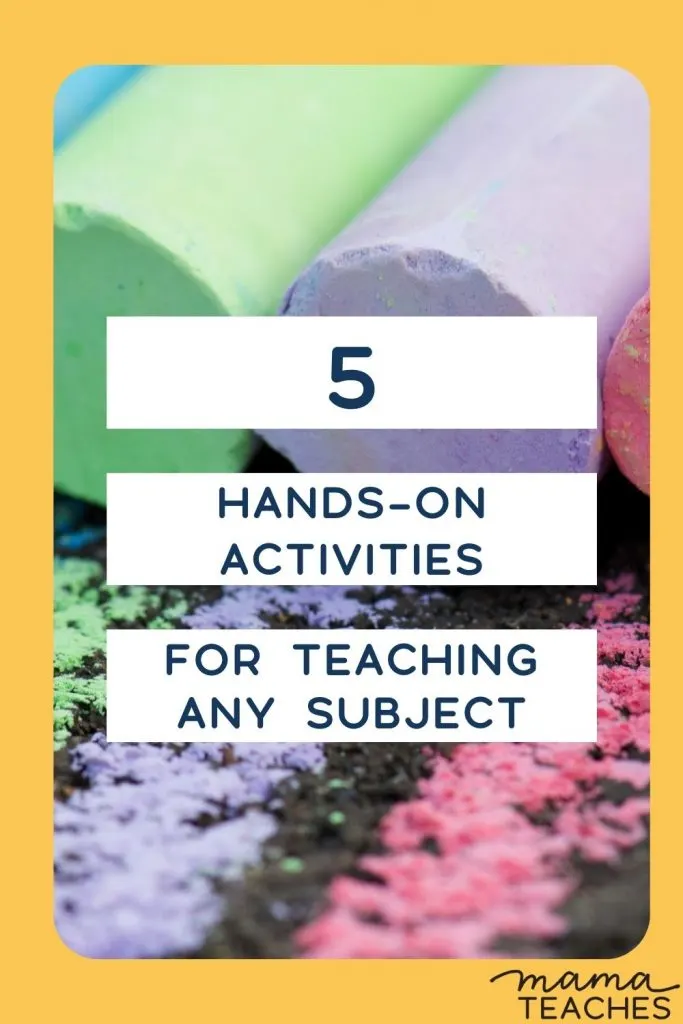 Charades
Charades is not just for parties; it's an excellent hands-on activity and review game.
You can write terms from what you've studied on slips of paper and then act them out.
Your next charades game can be types of animals, literary characters, chemistry terms, or historical figures and events.
You Might Like: Free Printable Christmas Charades Game
Using the 5 Hands-on Activities with Various Subjects
Here are some ideas of how you can mix and match these hands-on activities with various subjects throughout the day.
Reading
Introduce new vocab words by writing them in sidewalk chalk.
Or review them by hiding them inside a Boggle board.
Math
Play a board game as a math review (did you know Monopoly was invented by a teacher?).
You could also work some sample problems in sidewalk chalk.
Science
Head outside for a scavenger hunt of leaf shapes, or go to the library to do a scavenger hunt of research books on a particular topic.
History
As a warmup, play a game of charades covering the people and events you have studied in the last week or two.
Learning Centers
Stock your learning centers with file-folder games like this Christmas math game on sequencing.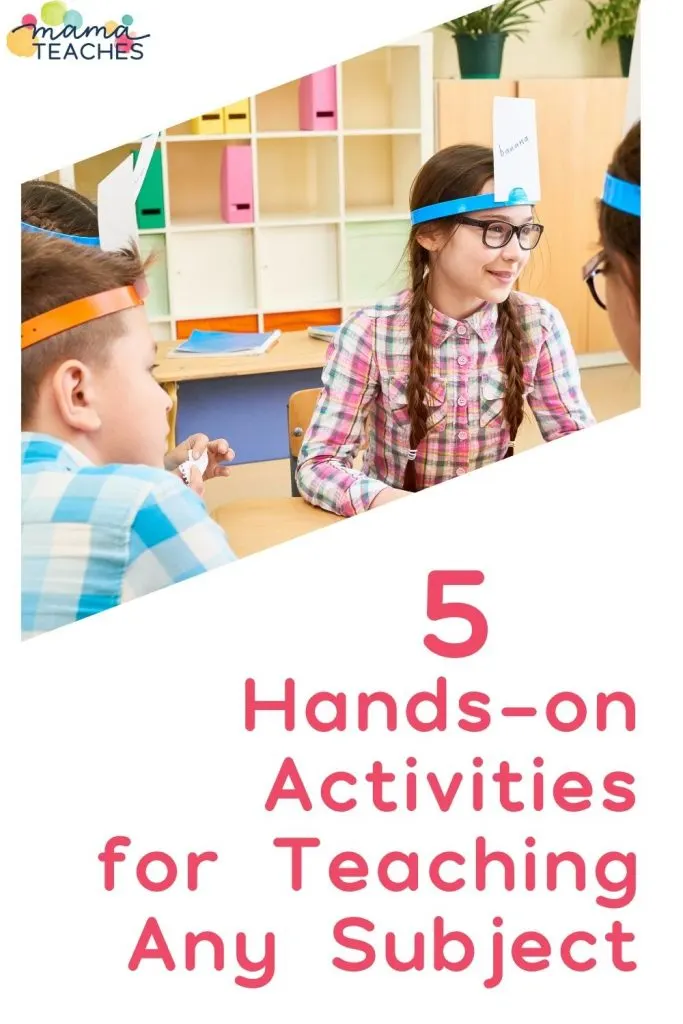 5 Hands-on Activities That Always Work
Why wrack your brain for new hands-on activities when these 5 flexible activities will work with any subject?
With a little mixing and matching, your lesson plans will be lively and fun every day of the week.
You May Also Like: