Are you a ball of nerves?
Relax and unwind with a bundle of ways to deal with teacher stress.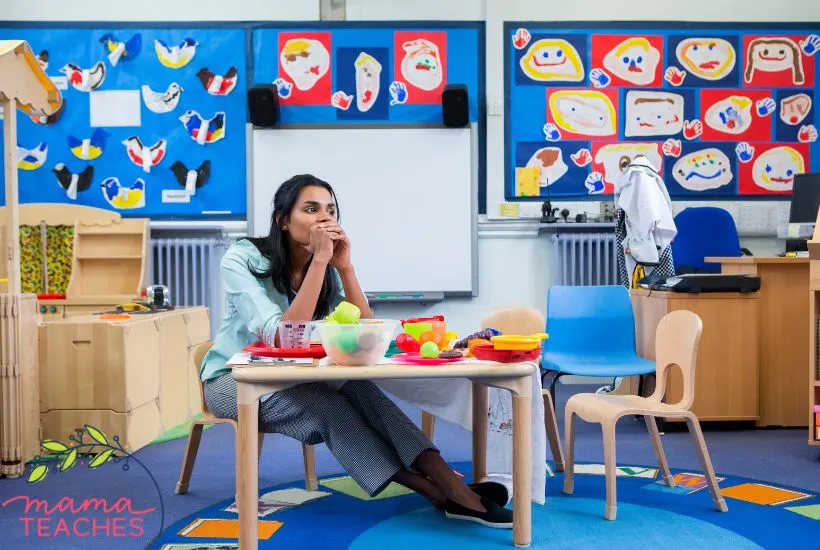 This article contains affiliate links to things that you might like.
How to Deal with Teacher Stress
You're stressed.
In some ways, it comes with the job.
Teaching is a 24/7 job with physical pressures, emotional stressors, and a relentless to-do list.
No doubt you know the basics of dealing with stress:
Get adequate, consistent rest
Eat well
Exercise
But when you are in the thick of teacher stress, those orders can be too much to tackle.
You need small, tangible ways to lower your stress.
You need practical, helpful tools.
You need a teacher stress relief kit.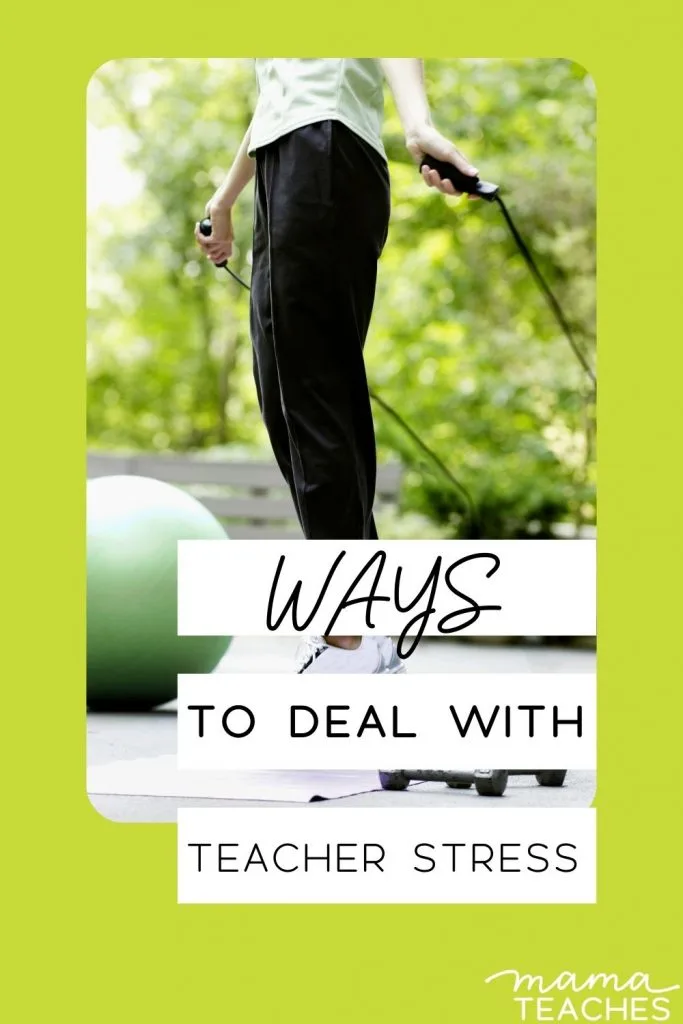 The Teacher Stress Relief Kit
Although this may sound like a gift basket idea, it's not.
This is a kit you make for yourself.
That way you have just what you need when you need it.
Assemble it at the start of the year before teacher stress strikes.
It's just like prepping for a hurricane.
Maybe you won't need the flashlight, batteries, and bottled water.
But if you do need them, you are ready.
Here are some ideas to fill your personalized teacher stress relief kit:

Journal
Writing is therapy, and journaling really can reduce stress.
Whether you take on a gratitude journal, a self-care journal, or a nightly simple to-do list, journaling can help you sort through your thoughts, worries, and goals and leave your mind in a settled state.
Pick a journal that is beautiful to the eye and buy yourself some smooth-writing pens.
Check out my favorite journals from Promptly Journals!

They're so beautiful and fun to write in!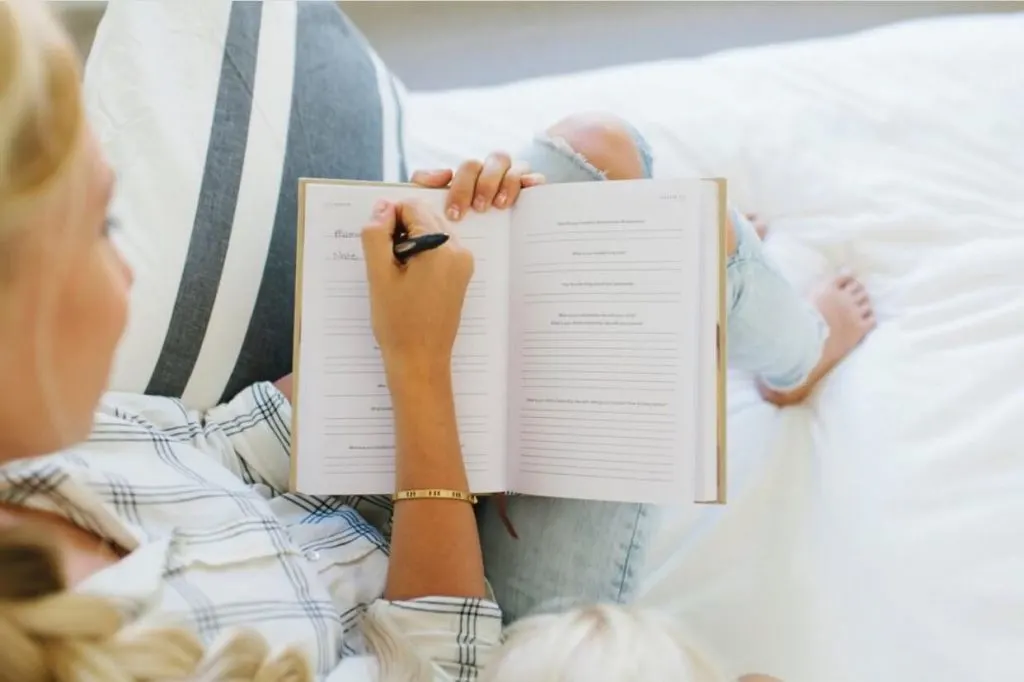 Jump Rope
I can hear you saying, "I haven't used a jump rope since I was a kid." That is exactly the point.
You know that exercise a proven way to reduce stress, but you might as well have a little nostalgic fun while you're at it.
Even 5 minutes of hopping around can help get your blood pumping and improve your mood.
The beaded ropes from gym class make a world of difference in your ability to jump rope.
If you are under 5'4″, buy an 8 ft rope.
If you are between 5'4″ and 5'9″, buy a 9 ft rope, and if you are over 5'9″, get a 10 ft rope.
Head Phones
Listening to music can reduce stress, slow your heart rate, and distract you from your anxious thoughts.
When you listen to music through headphones, you can block out ambient noise and truly transport your mind to a more relaxed state.
These rose gold headphones are Bluetooth enabled and fit over your whole ear.
If listening to music is not your thing, you can also listen to audiobooks or podcasts.
Personally, I love a good murder mystery story, and my go-to mood-boosting tune is "Walkin' on Sunshine." I literally can't keep from dancing and singing along.
The teacher stress simply dissolves.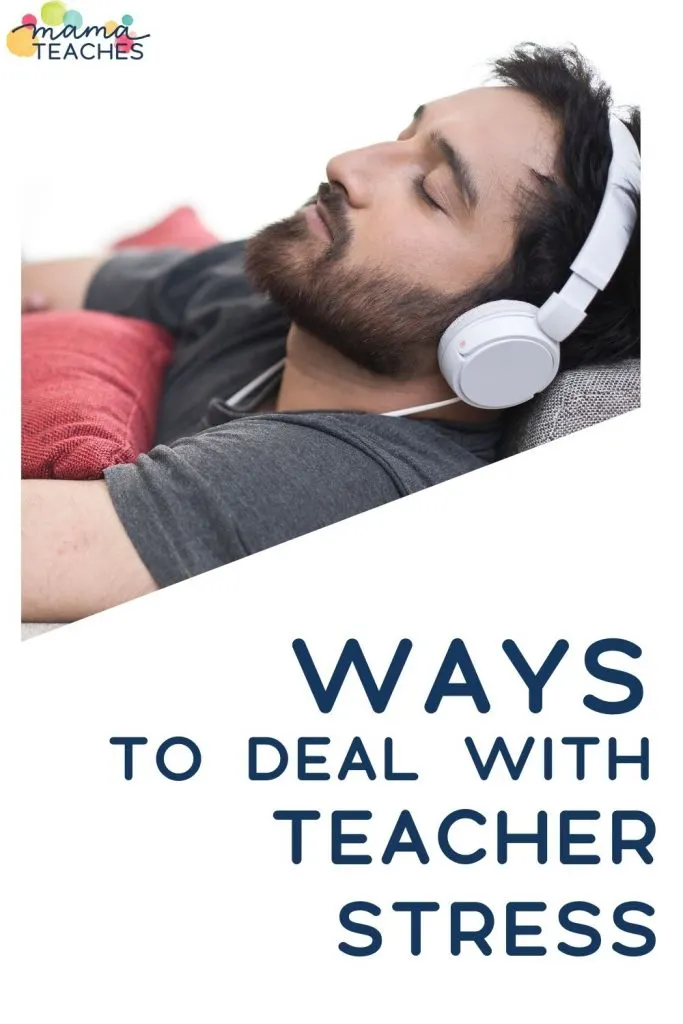 Massage Gun
Your teacher stress can easily work its way into your muscles.
The remedy?
This thing is worth its weight in gold.
You can target your aching neck, shoulders, or mid-back.
Imagine getting a deep tissue massage every night after a long day at school.
This definitely belongs in the teacher stress relief kit.
Heating Pad
I love my microwavable heating pad.
It is one of life's simple pleasures.
I drape it over my aching shoulders, I place it on my stomach when I have cramps, and I lean against it in bed when I'm cold or my back aches.
It's fuzzy and warm and pleasing; it belongs in your teacher stress relief kit.
Essential OIl Roll-On
Aromatherapy can impact your mood.
Keep a calming oil in your stress relief kit to rub on your temples, neck, or wrist.
Meditative Music
This is hardly something you can keep in a basket, but you should have it in your phone.
Slide on your headphones and you're ready to go.
You can listen to the music while you practice yoga, take deep, measured breaths, or grade papers.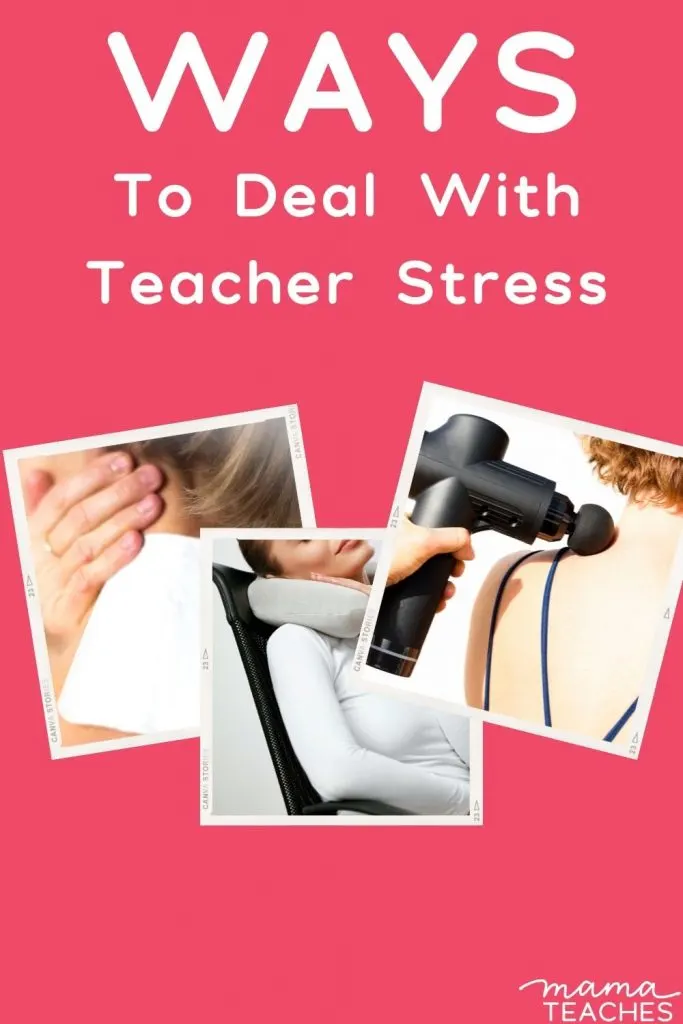 Super Soft Pillow
If you think you are too old to hug a stuffed animal, I have the perfect solution: the super soft pillow.
It helps with teacher stress any number of ways: You can hug it, snuggle it, smooth it, or punch it.
Really, it's the perfect item.
Dealing with Teacher Stress
Diminish your teacher stress by using practical items that you have on hand.
By making a teacher stress relief kit, you give yourself the on-hand tools to lower your stress right away.
You May Also Like: