April showers bring May flowers and a whole bunch of writing inspiration!
These 25 spring writing prompts will have your elementary students writing all season long.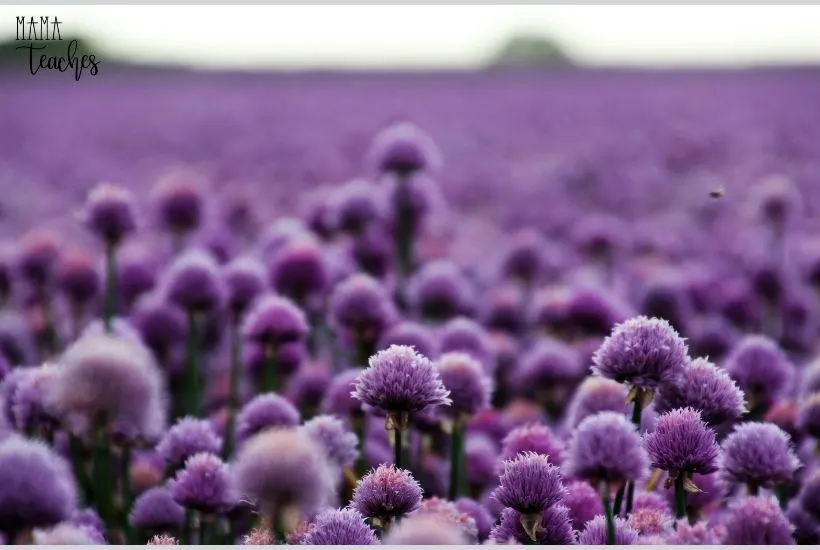 This article contains affiliate links to things that you might like.
25 Spring-Themed Writing Prompts for Elementary Students
Spring means the school year is winding down, and it can be difficult to keep elementary students excited and engaged.
Bring on some fun and creative seasonal writing prompts, and watch your kids dive into writing.
Check out this list of 25 spring-themed writing prompts geared for lower and upper elementary.
Spring Writing Prompts for Lower Elementary
Elementary students in the early grades are not ready to write long stories or detailed paragraphs.
They need to focus on getting their ideas from brain to paper.
That begins with a sentence.
For young learners or those who need a little extra help with writing, they can simply finish the sentence.
If they want to write more, add a second or third sentence.
My favorite spring animal is ______ because…
From bunnies to chicks to caterpillars, what is your favorite spring animal and why?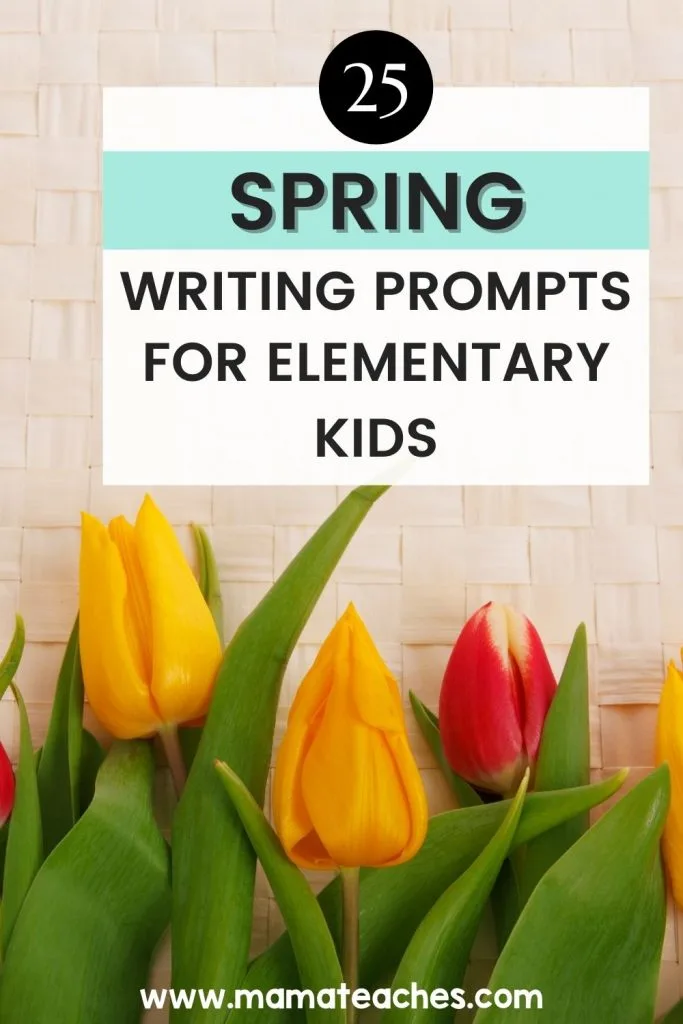 When I first wake up on a spring day, I want to…
How do you start your day in the springtime?
What is the first fun thing you do?
I like the spring color ____ because…
During the springtime, you are surrounded by pastel colors: light blue, pink, green, yellow, and orange.
Which is your favorite?
My favorite spring sport/activity is ____ because…
Spring is a wonderful time to be outside.
What sort of spring sports or activities do you enjoy: jumping rope, fishing, playing soccer or baseball, planting a garden, blowing bubbles, or flying kites?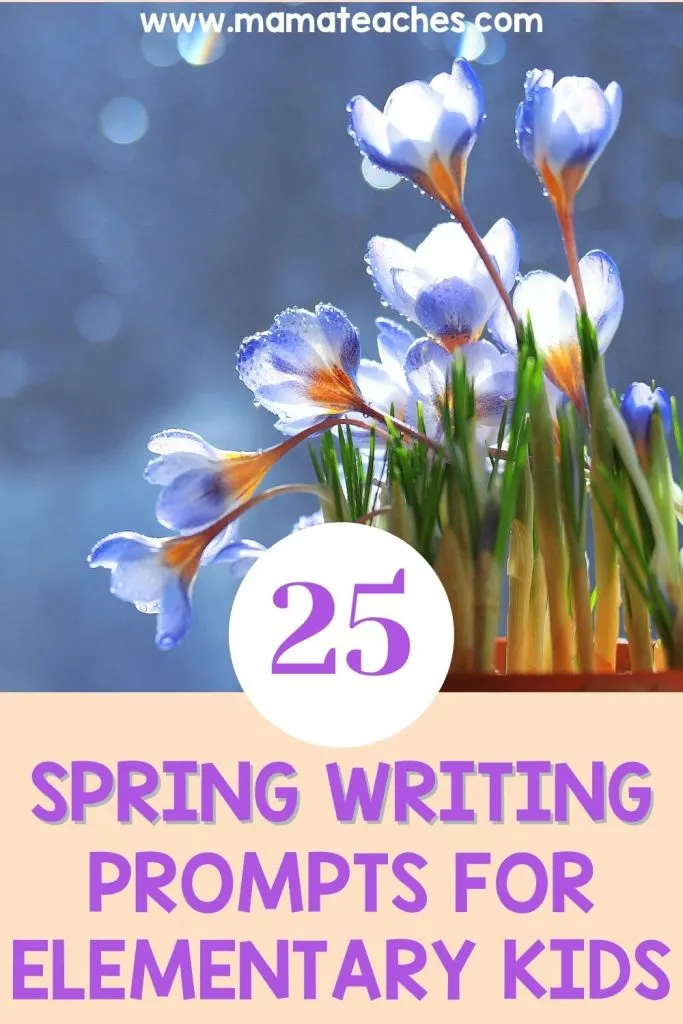 On a rainy day, I like to…
Spring means lots of rain.
What do you like to do on a rainy day?
Do you like to be cozy inside, watching movies or reading books, or do you prefer to be outside splashing in the puddles?
This spring I would like to…
After a long winter, what are you looking forward to doing this spring?
Do you have a spring bucket list?
Do you want to go on a hike, visit the zoo or park, eat marshmallow Peeps, or plant a garden?
My favorite spring candy is…
The candy aisles are loaded each spring.
What is your favorite spring candy: jelly beans, chocolate eggs or bunnies, or marshmallow Peeps?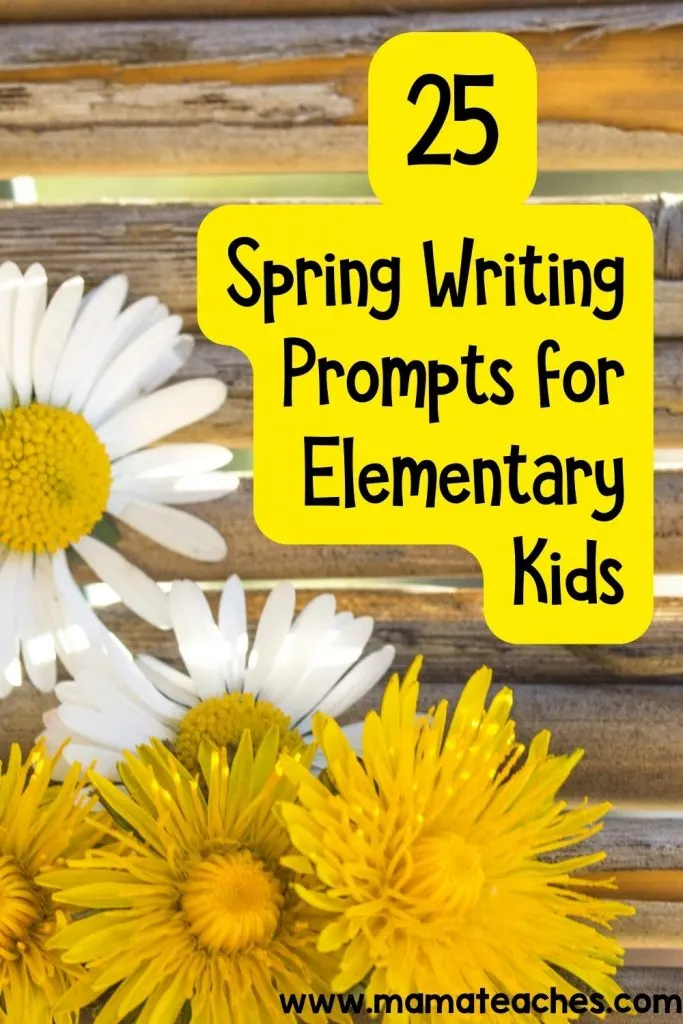 If I wrote a song about spring, I would call it…
Imagine you are a songwriter who is writing a song about spring.
What would you call it?
Would it be about spring activities or holidays?
I was walking in the garden when…
Imagine that you are taking a walk in a spring garden.
It's dotted with tulips and daffodils.
There are even asparagus bushes, apricot trees, and strawberry plants.
Something totally unexpected happened on your walk.
What is it?
It could be a real possibility (like you step on a strawberry and squish it) or something out of this world (like you spot a fairy or a tiny gnome).
I sat down to breakfast and saw…
Imagine you sit down to breakfast and see something weird and unexpected.
What is it?
Did your mom or dad make you pancakes with pickles and jellybeans?
Or did your fork and spoon start dancing across the table?
Use your imagination!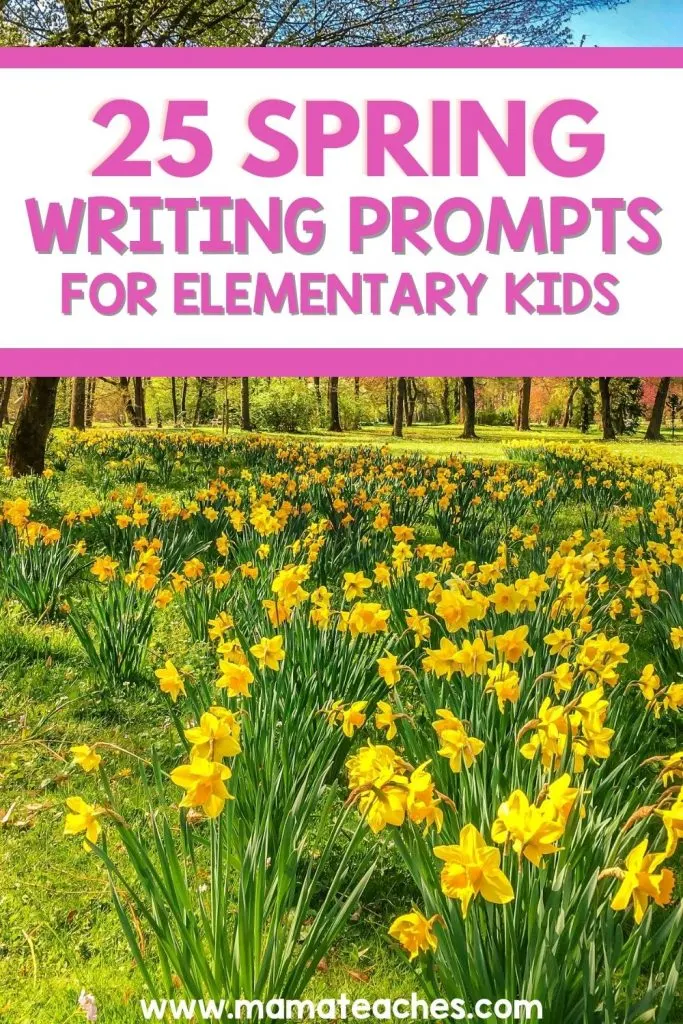 I want to eat ____ this spring.
Spring gardens mean fresh fruits and vegetables like asparagus, strawberries, apricots, peas, artichokes, beets, and carrots.
Which one do you like?
Perhaps you'd like to try something new!
I was at the pond when…
What happened while you were at the pond?
It could be unbelievable!
Did you find something in the water?
Did you have an adventure?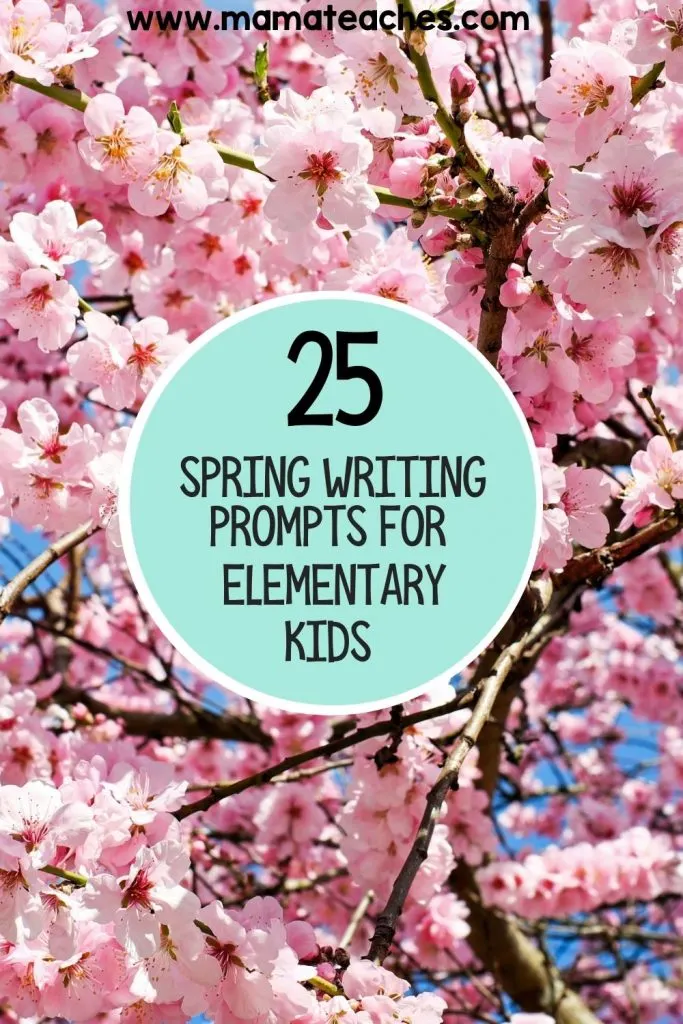 Spring Writing Prompts for Upper Elementary
These spring writing prompts for upper elementary could be the start of a paragraph if you wish.
The ultimate spring dessert…
Design your own ultimate spring dessert.
It could feature spring flavors like berries or spring decorations like pastel-colored candy.
Draw a picture and write a description to go along with it.
When I visit the _____, I see…
Where do you like to visit in the spring?
Is it the park, the pond, the woods, the zoo, or maybe a relative's house?
What are the sights, sounds, and smells of your favorite place?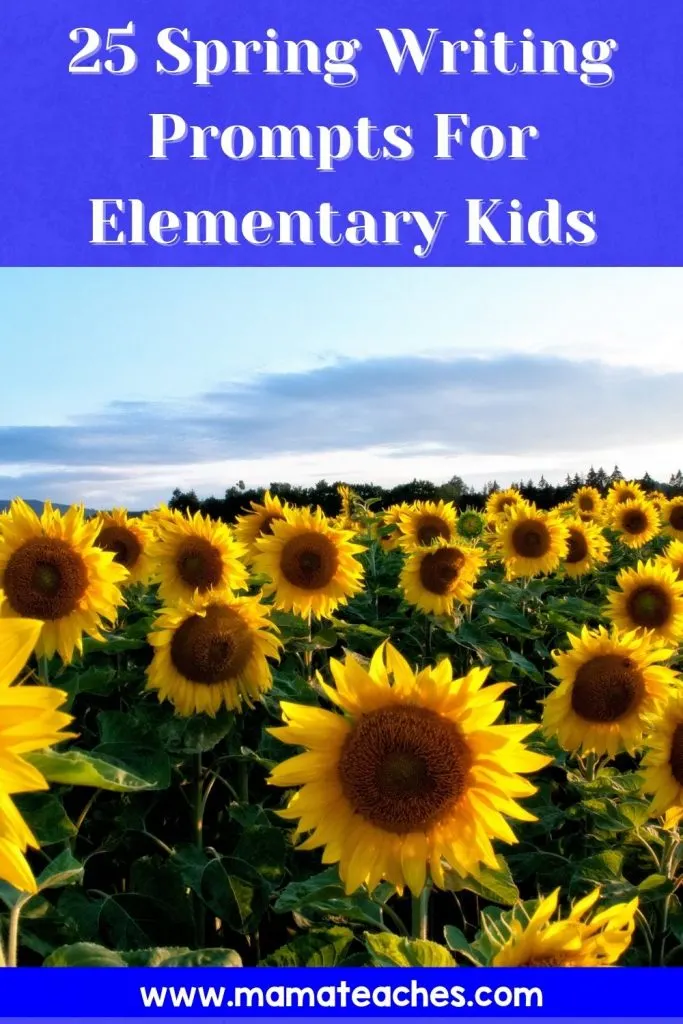 Three signs of spring are…
How can you tell that it's spring?
What do you notice that makes it clear that spring has arrived?
What are people doing?
Is it sunny or rainy, windy or still, cold or warm?
What do you see in nature?
My favorite spring memory is…
What did you do last spring?
Name a pleasant spring memory.
Did you go fishing?
Eat lots of candy?
Celebrate at a big family dinner?
Did you take a trip?
If I could take a road trip this spring, I would go to…
Where would you go this spring if you could pick anywhere in the country?
Why do you want to go there?
My favorite holiday meal is…
Whether you celebrate Easter, Passover, or some other spring holiday, what is your favorite holiday meal?
Don't forget to talk about dessert!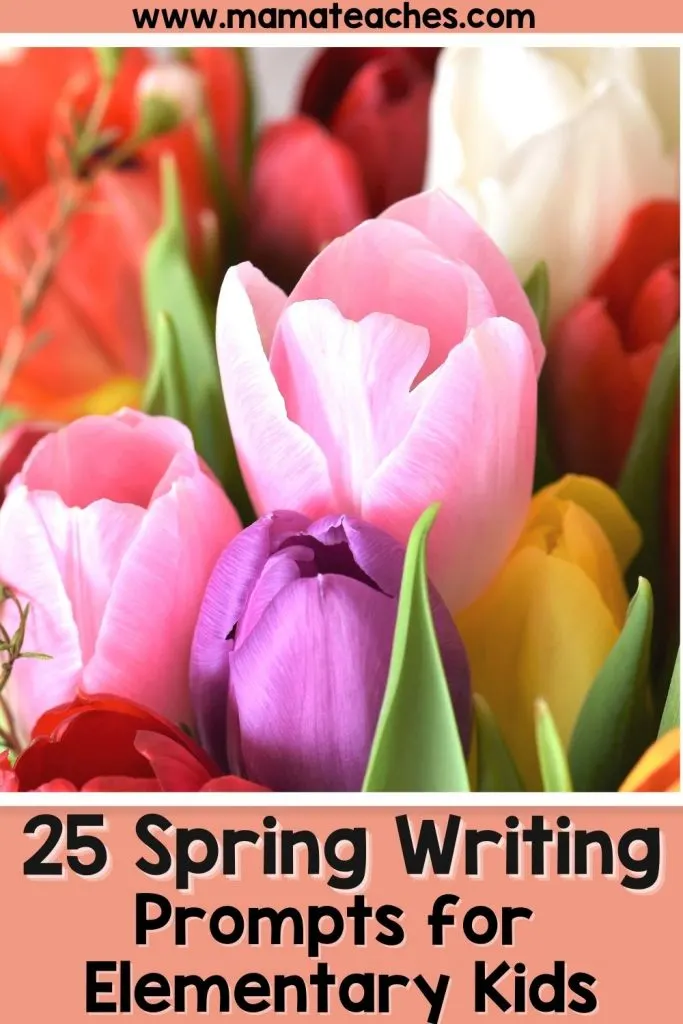 When I dropped my fishing line in the water, I caught…
Imagine you are fishing on a cool spring day.
What do you catch?
It could be a fish or something totally wild!
What do you do in response?
The funniest thing happened when I was outside after it rained…
Can you imagine something hilarious happening when you are outside after a rain shower?
Maybe your little brother jumps in a puddle and you are soaked by the splash.
Perhaps you trip and end up face to face with a worm.
Maybe a butterfly lands on your nose and refuses to leave.
Give the details!
When I found the four-leaf clover I wished that ____.
Four-leaf clovers are rare and lucky.
Imagine you find one and make a wish.
What would it be?
Imagine that it comes true.
What happens?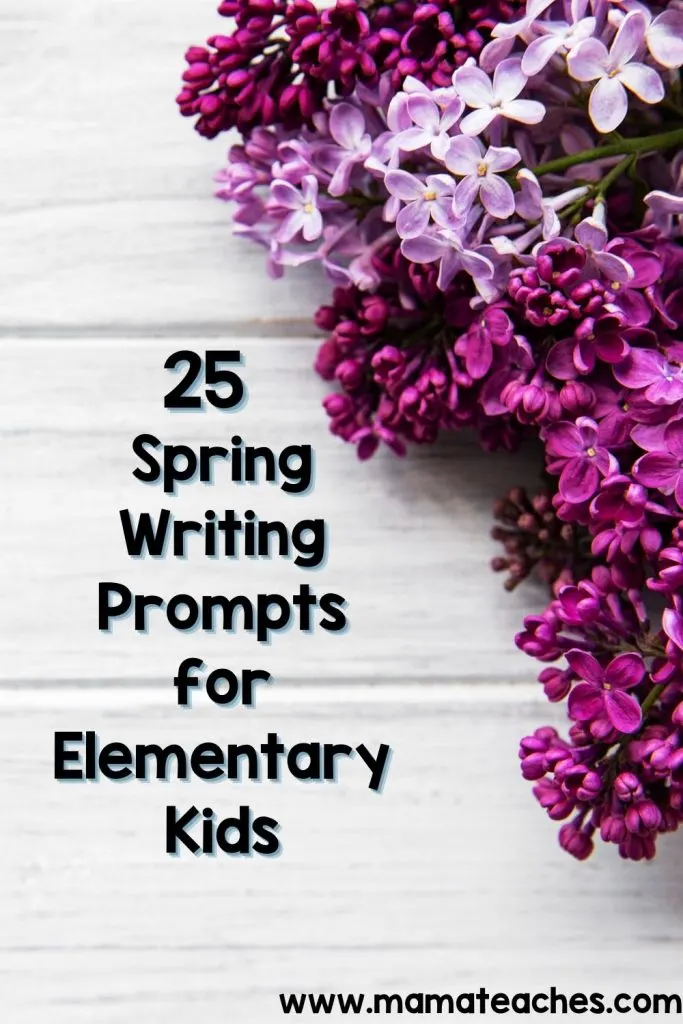 Roses are red, violets are blue…
Take the standard poem starter and complete it with 2 lines and a rhyming word related to spring.
For example, "Roses are red / violets are blue / Do you like jellybeans? / I like them too."
SPRING acrostic poem
Write the letters S-P-R-I-N-G vertically on a piece of paper.
Then create a poem where each line begins with a letter from the word.
For example, "Spring showers / pound on my / rooftop / I grab a blanket and / nuzzle my cat / Guinevere."
A talking frog gave me advice. He said…
Imagine that you are outside on a spring day and meet a talking frog.
What does it say to you?
What do you say back?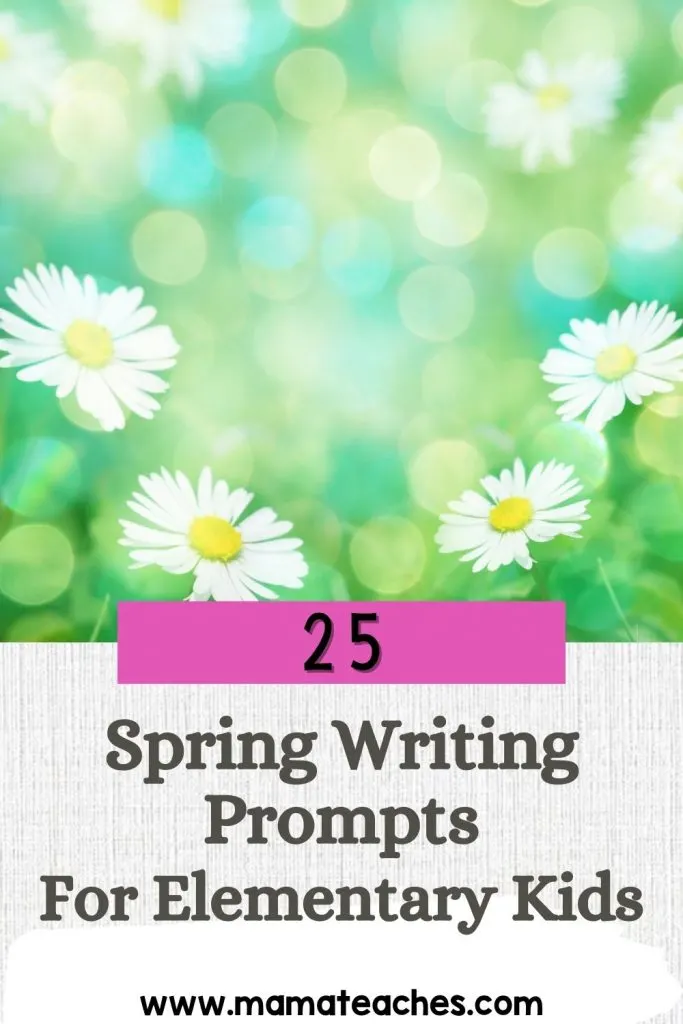 At the spring festival, I competed in…
Imagine you attend a spring festival where there are all kinds of competitions.
Which competition do you enter, and what happens?
You could try the three-legged race, the basketball toss, the jelly-bean eating contest, the bunny hop race, or a competition of your own design.
Elementary Writings Prompts for Spring
Spring slides you to the end of the school year, and many students need an extra push to keep them motivated to write till the end of the year.
Give them something exciting to write about with these 25 spring writing prompts for elementary students.
You May Also Like: