Are you ready to give up the traditional desk?
See what other options you have with these teacher desk alternatives.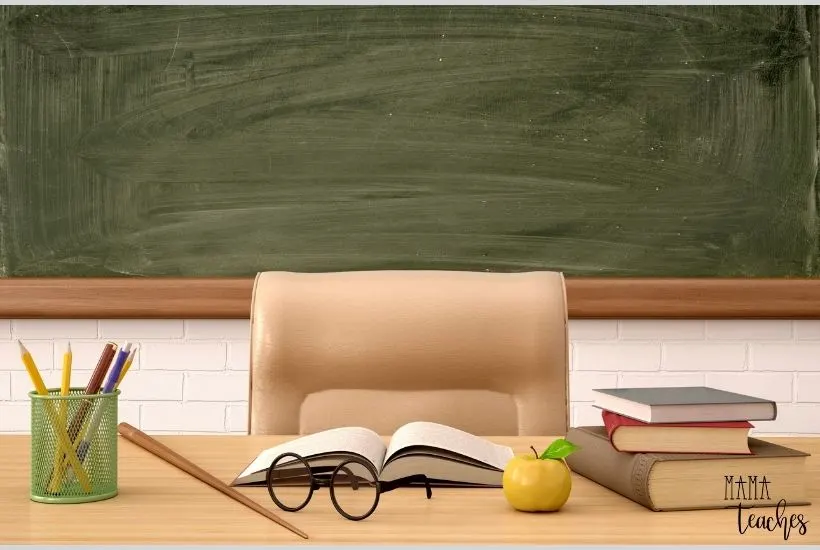 This article contains affiliate links to things that you might like.
Desk Alternatives for Teachers
The quintessential teacher desk is enormous.
It quickly becomes a catch-all for papers, pens, lost-and-found items, staplers, and hole punchers.
You name it, it ends up on top of the desk.
It also occupies a good bit of real estate at the front of the classroom.
That's tradition.
It may be that your teaching style is not traditional.
Perhaps you spend more time standing than sitting.
Instead of lecturing, you may work more interactively with your students.
You might also have a tiny classroom, and the run-of-the-mill teacher desk simply takes up too much space.
Whatever your reasons for switching up your desk, know that you have options.
Check out this list of 9 teacher desk alternatives.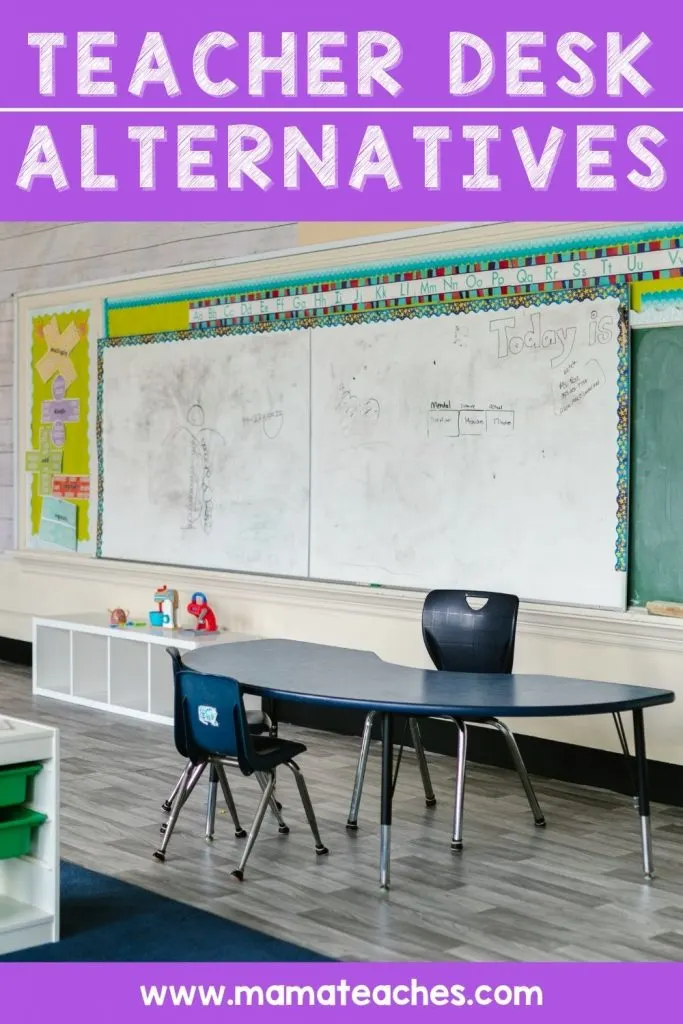 9 Teacher Desk Alternatives
Why not pick a desk that suits your needs and complements your teaching style?
If you can forgo the drawers, a kidney table is a fantastic teacher desk alternative.
It is a dream for grading papers because you have plenty of room to spread them out.
You can also have kids slide their chairs to the outside to work with you in small groups.
It is multi-functional.
A standing desk is a healthy teacher desk option that still offers plenty of workspace.
This version has wheels you can attach, so you can roll it where you want it (and slide it to a corner when you're not using it).
Your best teacher desk option may be to opt-out of a desk completely.
This rolling cart can hold everything you would normally keep inside a desk, but you can slide it into a closet or tuck it in a corner.
When you need an actual desk to write on, you can slip into a student desk and use that.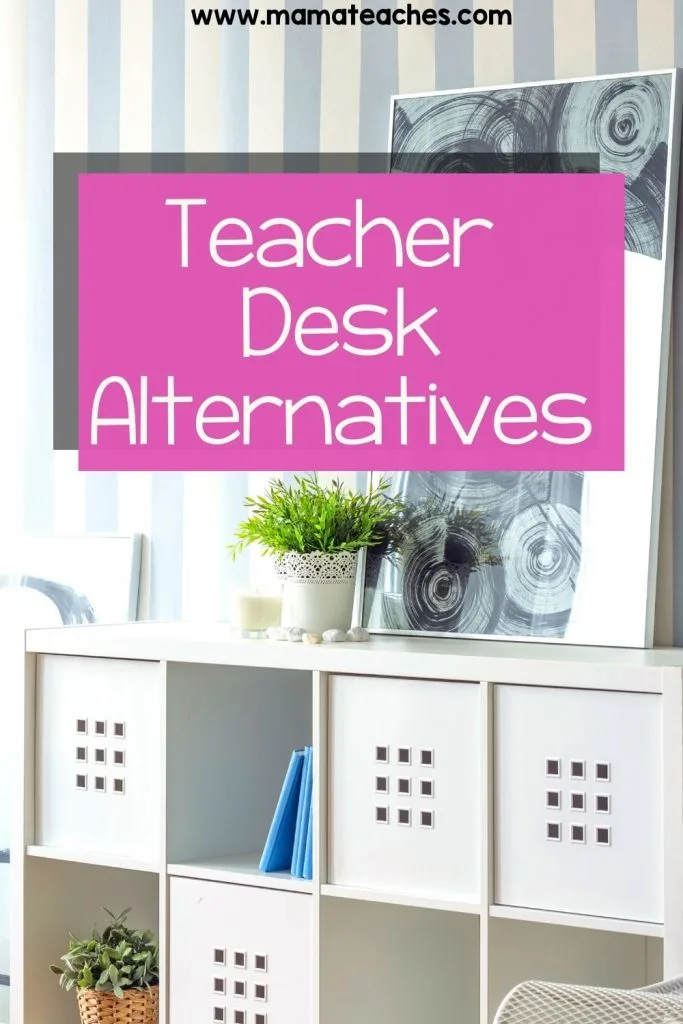 You have probably seen these in your doctor's office, but they work equally well in a classroom.
This laptop cart has an adjustable height, so you can slide it up when you are standing and slide it down when you sit.
It even features a small cubby for books or supplies.
Although it has only a small surface, it is large enough to hold a binder or, of course, a laptop.
A music stand is lightweight, portable, and can easily support a whopping binder (or just a few simple pages).
It is easy to carry to the whiteboard or plant squarely in front of your class.
There is a reason why conductors depend on them.
Who says music stands are only for music?
Who has time to sit?
(Preschool teachers, you know what I'm talking about!) It may be that any kind of desk makes no sense for your classroom.
Keep all your supplies on this apron with a plethora of pockets.
Pencils, scissors, keys, your phone, pocket hand sanitizer…you can literally wear the contents of your desk.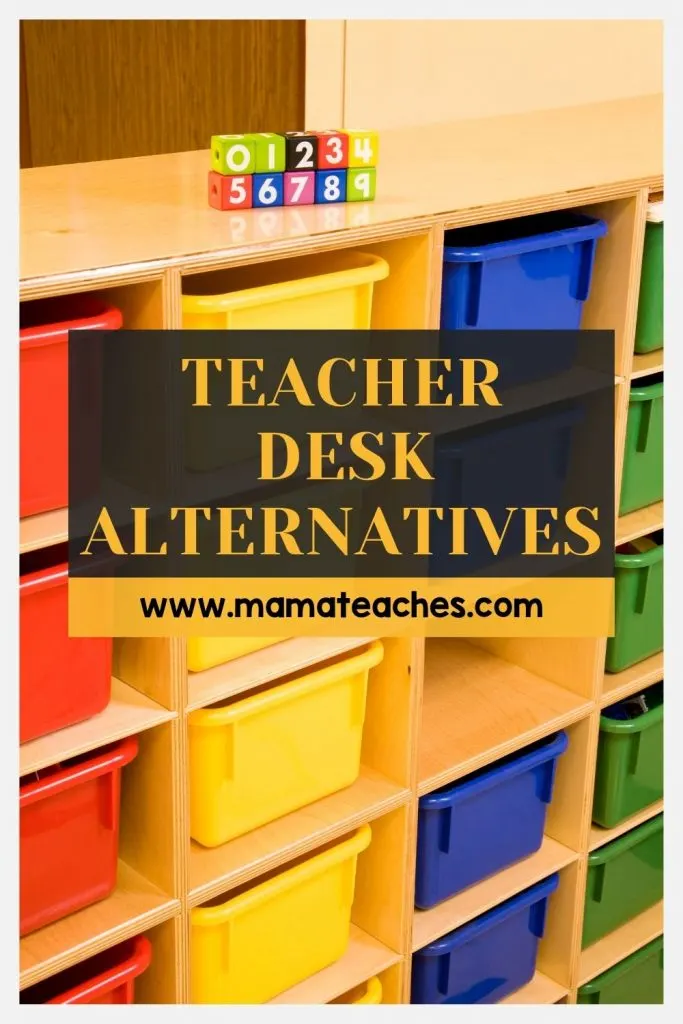 Some open classrooms could use dividers to create nooks or sections.
Enter the cube shelf.
If you need such a divider, why not have it hold all that a desk would?
You can keep the shelves open for your books or binders, or you can fill the cubes with bins to contain loose items.
This shelf can hold more than any desk, and it offers dual functionality as a room divider.
Here is a teacher desk for those who want to get rid of the giant teacher desk but still want a space to call their own.
Enter the tiny desk.
This narrow desk (or writing desk) takes up only a small footprint, but it still gives you a place to work.
This version has a hanging cubby on the side for a few books or binders.
If you opt to go desk-less, you still need a place to sit.
Why not sit on something comfortable?
This cushy chair can be your new classroom happy place.
Simply pull over this end table/TV table when you need a surface to write on.
9 Options for Teacher Desks
There is no reason why you have to keep the same old teacher desk.
Shake things up with one of these 9 teacher desk alternatives.
You just may find that by clearing out the old desk, you have the freedom and flexibility to be a more creative, dynamic teacher.
You May Also Like: