¿Quieres hablar español?
If you are on the hunt for apps that teach Spanish, you have come to the right place!
Teaching your kids Spanish has never been simpler with these handy apps.
And get this–they can even learn Spanish FREE!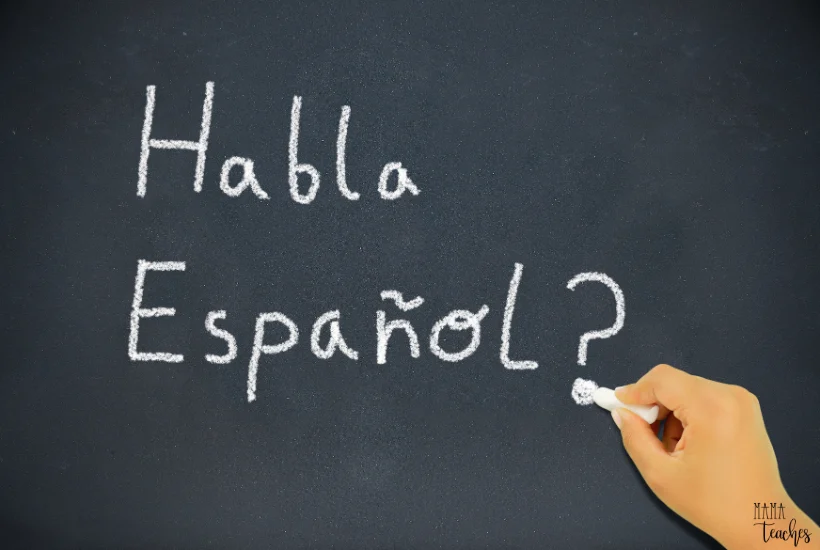 This article contains affiliate links to things that you might like.
When choosing the best app for your child, you need to consider the age of your child, the price of the program, the instructional model, and your foreign language goals.
With so many options available, you can definitely find a program that ticks all the boxes on your list.
Read on for some of my top picks.
Best Spanish Apps for Elementary
Learning a foreign language doesn't have to be formal–and you don't have to wait until middle school.
These elementary apps that teach Spanish have clever graphics and fun themes to engage even the littlest learner.
Gus on the Go features a cute owl with aviation goggles who plans to travel to Mexico.
He needs to learn some Spanish words for his trip–and your child can help!
The lessons are interactive and feature lots of games.
$3.99 for Apple (including iPad) and Android.
Spanish School Bus uses a Montessori-based approach to teach 300 of the most common nouns–but it goes beyond this by teaching historical figures and landmarks through some catchy songs.
If your kid thrives with this method, the app offers a verb course geared for upper elementary/middle school.
Learn Spanish free with this app (contains some in-app purchases to access all content) for Apple (including iPad) and Android.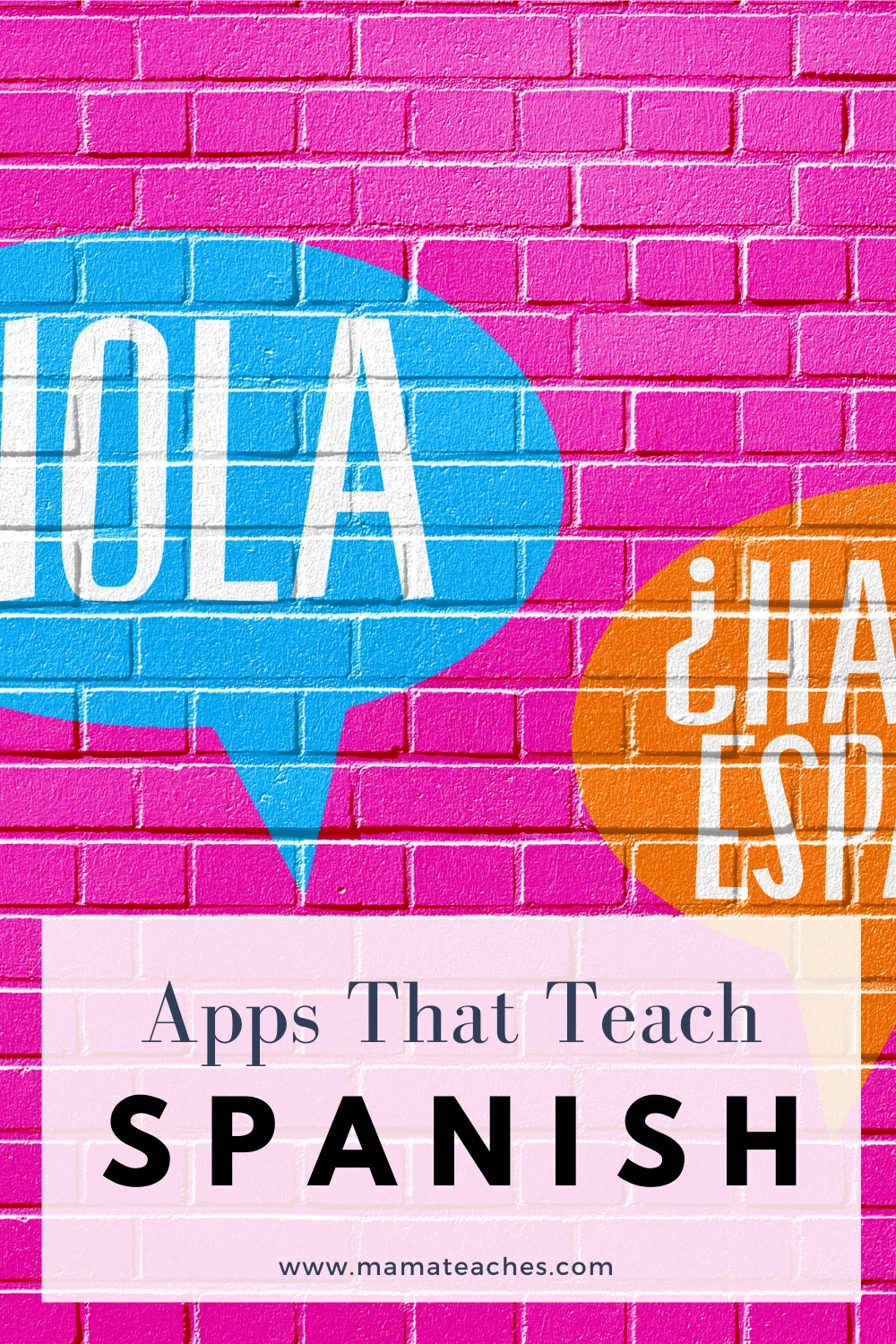 FabuLingua is a unique approach to learning Spanish.
It teaches the language through interactive storytelling, so the instruction hides behind the delightful stories and games.
You can select the English/Spanish mode or the completely Spanish mode.
If you have a reluctant learner who loves a good story, this app could be for her.
For Apple (including iPad) and Android, free 30-day trial and then $3.99/month (less if you subscribe per year).
Duolinguo Kids is a child-friendly offshoot of the popular Duolingo Spanish app.
With a set of colorful animated characters, the child learns vocabulary and expressions through gameplay and interactive speaking challenges.
FREE on Apple iPhones and iPads.
Best Spanish Apps for Middle and High School
Your older child is ready to take on more formal language instruction (but still needs a dash of fun, of course!).
Enter these engaging apps that teach Spanish.
Lingvist is a language learning app with a mission to help people learn new languages faster through the use of science and smart algorithms.
The app improves your vocabulary in as little as 10 minutes a day and is available on iOS, Android, and desktop.
DuoLingo Spanish tailors its training to your child's timetable.
You decide how many minutes a day you will spend in Spanish, and the app takes care of the rest.
Game-like lessons introduce vocabulary, grammar, speaking, and writing skills.
The best of all?
This app is FREE for Apple and Android.
Rosetta Stone is a time-tested program that teaches Spanish through immersion-based learning, helping your child learn within real-world situations.
This program is available across all-platforms and syncs between your devices.
It even has downloadable lessons for offline learning.
Available for Apple and Android.
It's pricey ($179/year) but they often run deals on the site.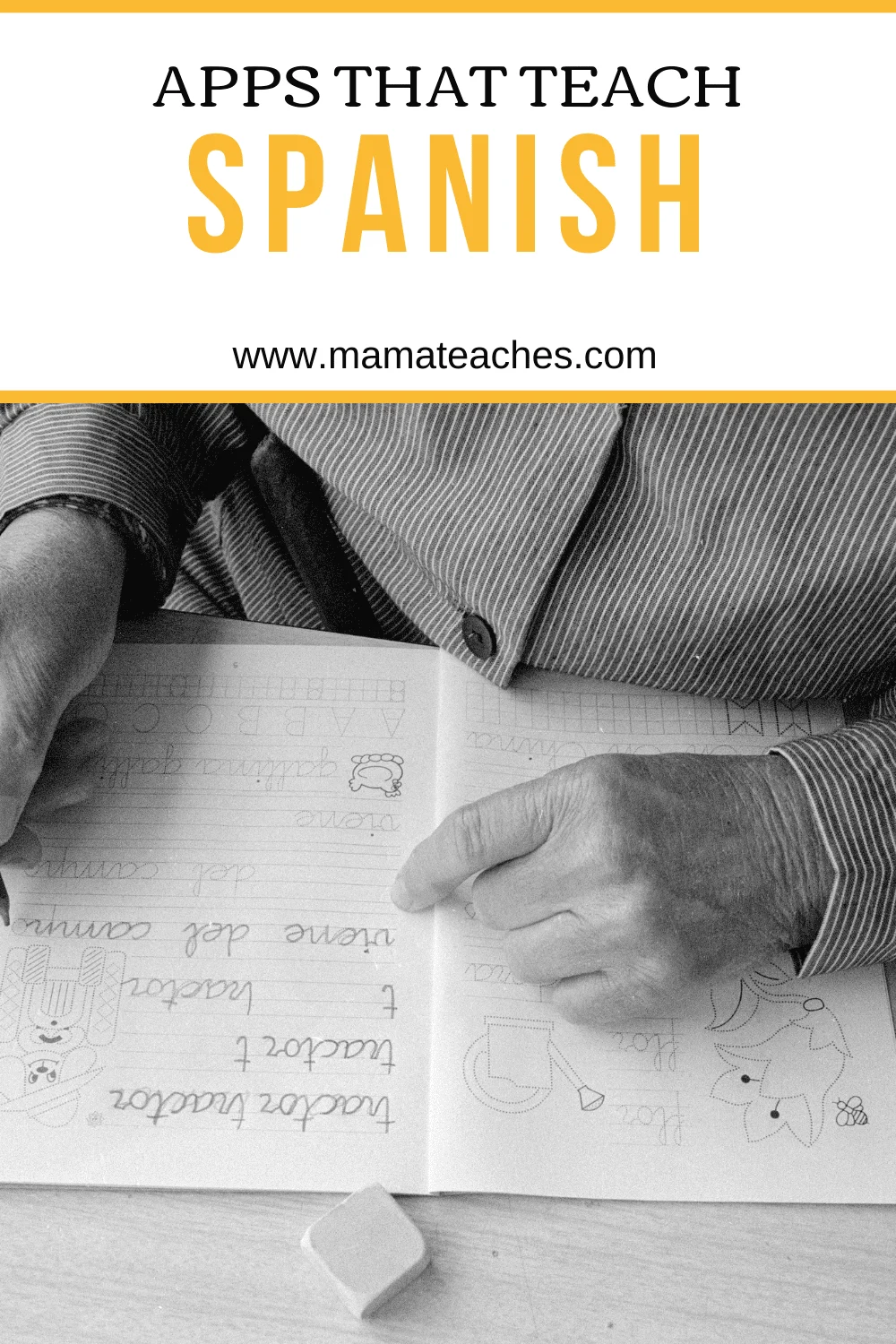 TalkBox.Mom is a completely different approach to learning Spanish because it involves the whole family!
The app is just one component of the program.
You receive a box in the mail (hence the name "Talkbox") filled with challenges across a theme (like "The Snacks and Kitchen Box").
The challenges include vocab words and phrases all related to food and the kitchen.
Listen to the native speakers on the app for 5-20 minutes a day (as a family!).
Stick the challenge sheets to your fridge and use the phrases everyday for 1-4 weeks as you go about everyday life.
$80/box and the app is free with purchase.
Get the starter pack for FREE and see if it is right for your family.
Read Our Review of TalkBox.Mom's French Program!
Babbel has 10 to 20-minute interactive lessons that focus on every dimension of learning Spanish– reading, writing, listening and speaking.
It has multiple levels–Beginner I and II, Pre-Intermediate, Intermediate, Grammar, Countries and Traditions, etc. so your child has room to advance across the years.
This program is designed for adults to use as well, so although it has plenty of audio/visual components, it is not "kiddie" in any way.
$83.40/year and complies with Apple and Android and syncs across all your devices.
You can try the first course lesson for free to see if your child likes the program.
Homeschool Language Curriculum
As your child's teacher, you do a lot.
Not only do you help your child with math and writing and reading–the intensive subjects–but you also do laundry and feed him!
By choosing from the apps that teach Spanish, you are delegating (don't you love that word?) foreign language instruction to someone else.
You do so much already.
These apps are more than a teaching tool and a time-saver, they can stand in as your homeschool language curriculum.
Some apps are more comprehensive than others, so consider your goals.
Are you looking for formal, tiered instruction that will grow with your child and prepare him for fluency?
Or are you looking for a dash of culture and language to round out your main curriculum?
The best app to learn Spanish is the one that suits your goals and your child.
You Might Also Like…