Are you feeling lucky?
These fun St. Patrick's Day coding activities for kids are a great way to add a little holiday excitement to your lesson plans this March!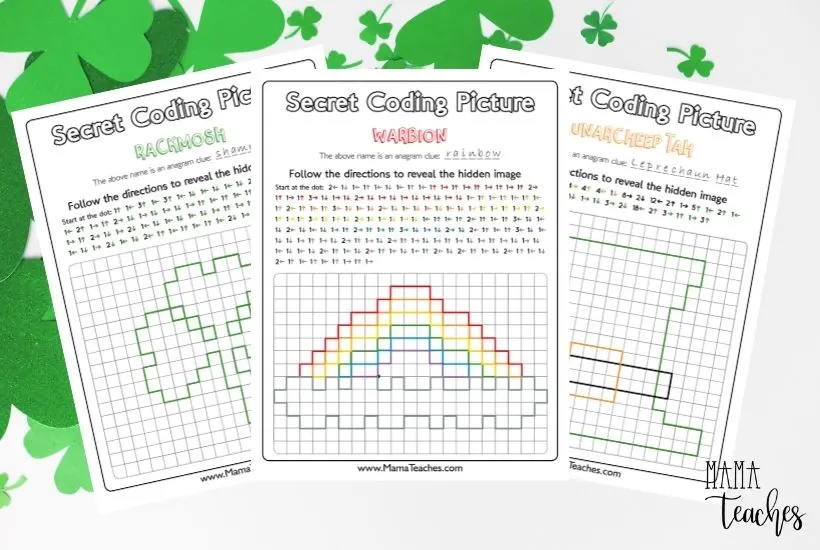 This article contains affiliate links to things that you might like.
St. Patrick's Day Free Coding Activities
It's always fun to add some holiday activities into your regular lessons during special weeks and days.
Sometimes finding activities that will keep your students engaged is the hard part!
These free printable St. Patrick's Day coding worksheets are a great option.
There are three secret codes to follow and give students practice with directions, counting, and the idea of simple coding.
If they enjoyed the Valentine's Day coding activities, they are sure to enjoy these in March!
What You Need to Complete the St. Patrick's Day Secret Code Activities
The great thing about this activity is that it's low-prep and high interest.
It can be used with lower elementary students (with some guidance) or as an independent activity for upper elementary and middle school students.
Have early finishers?
Break these out and use them with those students who need an extra activity.
To complete them, all you need is a box of crayons, colored pencils, or markers with a rainbow of different colors.
You'll need the following colors to complete all of the code worksheets:
red
orange
yellow
green
blue
purple
gray
There are three puzzles in total and the answer sheets for each are also included.
Download Your Free St. Patrick's Day Coding Sheets
Grab your free St. Patrick's Day Secret Code sheets in the Freebies Library here on MamaTeaches.com.
They're under "Holiday Printables".
If you're already a member you can log in here.
(Remember, you can find the password in the weekly newsletter that's sent out on Mondays. Search your inbox for MamaTeaches.com.)
If you're not a member yet, no worries!
You can easily sign-up below and the password will be sent to you!
Other St. Patrick's Day Activities You Might Like
If you need other St. Patrick's Day activities to use with your students, these might help!
YOU MAY ALSO LIKE…