Homeschooling middle and high school can be intimidating! There are a lot of skills that need to be taught so that students can be successful and prepared for college. Writing is one of those skills.
As a homeschool mom of middle and high school students, I am always on the lookout for programs that make my life easier and give my teens the support they need to learn new skills. Thankfully, when we discovered WriteShop, an easy-to-use writing curriculum, it made teaching writing a breeze.
Learn more about WriteShop and see if it could be a good-fit writing program for your family!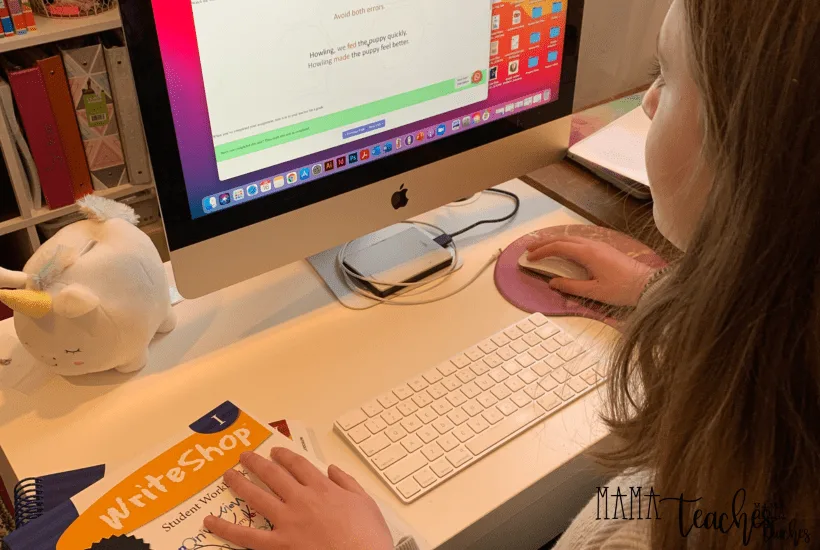 I have been compensated for my time, but all opinions in this review are my own. This article contains affiliate links to products that you may find helpful.
What is WriteShop I & II?
WriteShop I & II is an easy-to-use writing curriculum designed to teach middle school and high school students how to write well. It consists of a newly updated video course that teaches the basics, followed by guided writing practice. The lessons are more than just teaching grammar; they also include information on the writing process, as well as tips for editing papers. There are three levels: Primary, Junior, and WriteShop I & II.
The WriteShop program can be used in two ways: either you follow along with the videos or you use the books and the videos in conjunction with one another. The video option is definitely less prep for mom, but the curriculum still needs to be taught. It's not a set-it-and-forget-it type of program. Students will definitely need teacher input and guidance as they improve their writing skills.
The benefit to being actively involved in your child's writing activities is that you, as the parent, get to see their growth and strengths right away. You also get to see where they need improvement so you can schedule more practice with those areas.
What Grades Can I Use WriteShop with in My Homeschool?
WriteShop has WriteShop Primary for grades K-3, WriteShop Junior for grades 3-7, and WriteShop I & II for grades 6-11. We tried out the WriteShop I & II as it was recently updated to the 5th edition and fits with my kids' grade levels.
If it's a program that you love and your kids respond to, you could use it throughout their entire homeschooling career!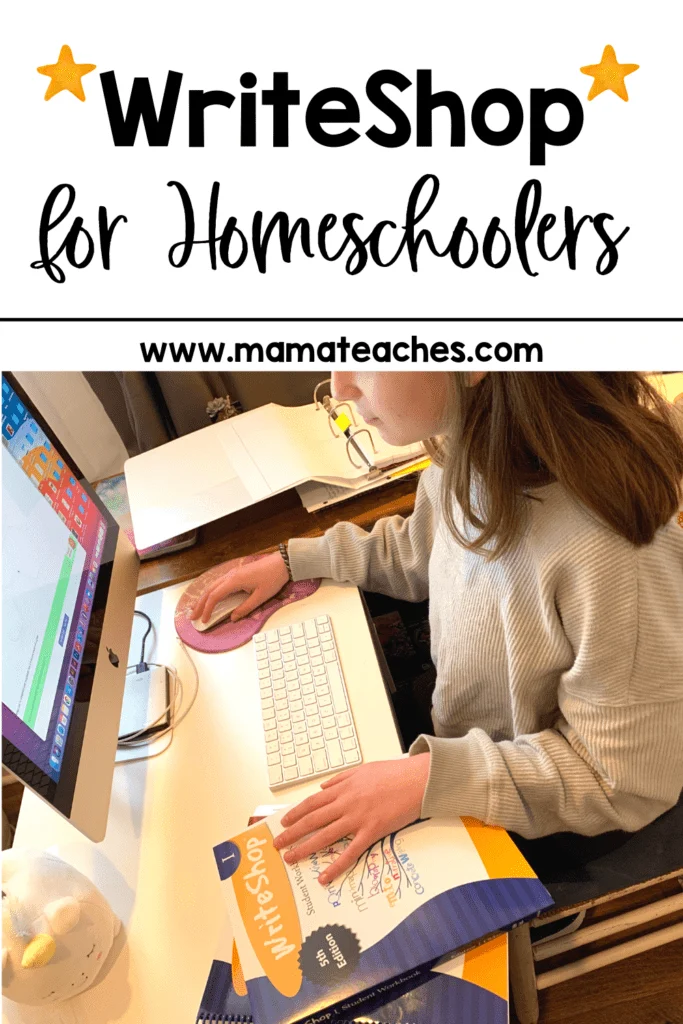 Can I Use WriteShop if My Teens Don't Like to Write?
If you have a reluctant writer like I do, you know the struggle of getting a middle or high school student to actually write. It often leaves you both frustrated and feeling a bit defeated. I get it.
What I found was that my reluctant writer actually enjoyed using WriteShop's writing curriculum. It's a writing program that is designed to be easy for the student and it does not require them to write a word-by-word account of what they are reading or write unnaturally. The lessons are engaging, informative, and designed in a way that helps students build upon their previously learned skills to become more successful.
The WriteShop I & II curriculum guides students through practicing different types of sentence structure, grammar skills, discussion starters, paragraphs, and more –they even do some ad writing! The best part about this? It's all done without a lot of hassle. In less than an hour, you can have your child feeling confident in their abilities as a writer by working on specific issues they might need help with like verb tenses or sentence structure. They'll also become pros at editing their own work – which means more time saved for you!
While it's a great program for reluctant writers, it also works well for students who love to write. It challenges them to improve and perfect their craft. The versatility makes it a great writing curriculum for large families.
What are the Videos Like?
The WriteShop videos are a student-friendly video course that guides students through learning the basics of writing. The videos teach, step-by-step, how to write using good sentence structure and grammar skills.
WriteShop recently re-did their WriteShop I video course and it is, quite honestly, terrific. It's easy to navigate, loads quickly and has fun examples and humor that teens can relate to.
My kids and I agree though that the best part is that the new video course is more concise. Having long-drawn-out video explanations of things drives them crazy. I'm right there with them. The new videos correspond seamlessly with the latest 5th edition of the books so that they can follow right along – without it taking forever to watch the videos.
There are two options – using the video course with the books or using the video course without the books. We used it with books, but it really depends on your child. If he or she is not a workbook type of kid, forgo the books and just use the videos. They are more than adequate in providing a great writing curriculum.
The videos never expire so you can use them as long as you need and go at your child's pace – not some arbitrary deadline about when the writing assignments should be done.
Tip: For those homeschoolers with special needs, WriteShop is a great option because of the go-at-your-own-pace philosophy and the new, concise videos. Kids with ADHD can't sit for an hour watching a video on writing. Now, with the 5th edition, they don't have to! For kids with dyslexia and dysgraphia, the videos make the information a lot more accessible and they take the drudgery out of writing!
Check out this preview of the video course to get a feel for how it might work for your students:
Does WriteShop I & II Have a Religious Slant?
No, it doesn't! One of the biggest changes to the new 5th edition is that there is no religious content in the WriteShop I & II curriculums. If keeping your religious beliefs and your homeschool lessons separate is important to you (or if you're a public school teacher or administrator looking for a writing curriculum), you can rest assured that the new WriteShop 5th edition doesn't contain that type of content.
Can WriteShop be Used by Schools?
Absolutely! With the removal of religious content in the 5th edition, Write Shop I & II, as well as the Primary and Junior curriculums, can easily and effectively be used in schools. When I was talking to a friend about doing this WriteShop review the other day she asked if schools can use it too. She's a curriculum specialist for her school district and is always on the lookout for great programs to use in the classroom.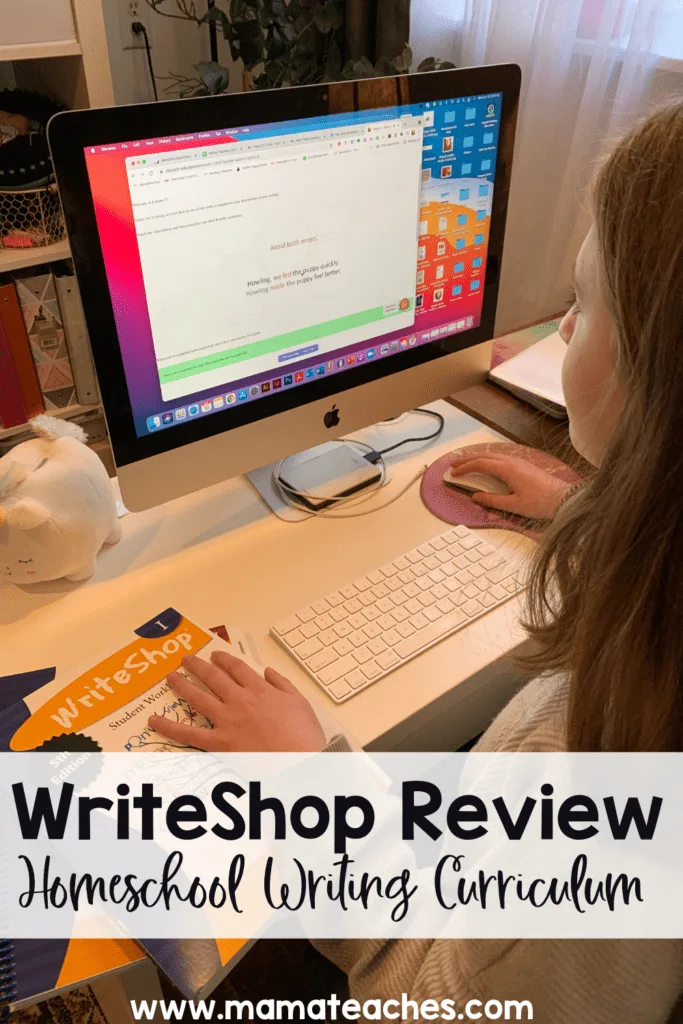 What does Cathy Duffy Reviews have to say about WriteShop 5th edition?
If you're a big Cathy Duffy fan who runs all curriculum through her reviews, you'll be happy to know that WriteShop is one of her Top Picks.
WriteShop Review Overview
Overall, we love the WriteShop I & II 5th edition writing curriculum. It provides a multi-sensory approach to writing that addresses the needs of even our reluctant and special needs writers. The videos are concise and engaging. The printed material is on point and corresponds perfectly with the videos.
If you are looking for an engaging and easy to teach writing program that can be used with a number of students – or just one child – WriteShop is an excellent and effective choice.
You Might Also Like…