What supplies do you need to homeschool Kindergarten?
We've got the complete list of homeschool Kindergarten supplies right here!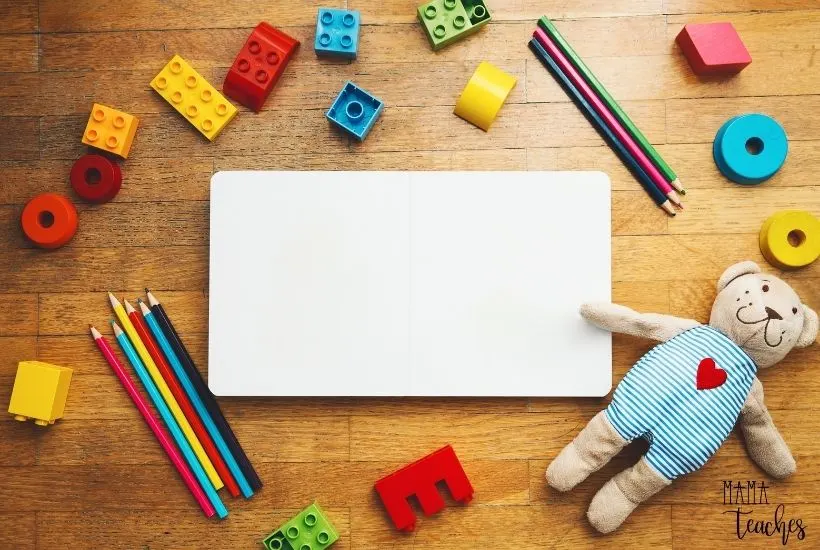 This article contains affiliate links to things that you might like.
Kindergarten Homeschool Supplies
One of the biggest hurdles to homeschooling is figuring out your materials for homeschooling.
What do you need to buy?
Chances are, you have most of the materials you need to homeschool Kindergarten in your home already.
So take a breath; you've got this!
Why Homeschool Kindergarten
Kindergarten is your child's first introduction to formal schooling.
In this year, he will have actual math, reading, and writing lessons.
If you send your child to school, this will involve a lot of time at a desk.
When you homeschool, you have the freedom to move and learn and play together.
You can achieve the same level of instruction with a more freeform atmosphere that is tailored to the needs of your child.
For more info on what homeschooling Kindergarten looks like, check out this article on How to Homeschool Kindergarten.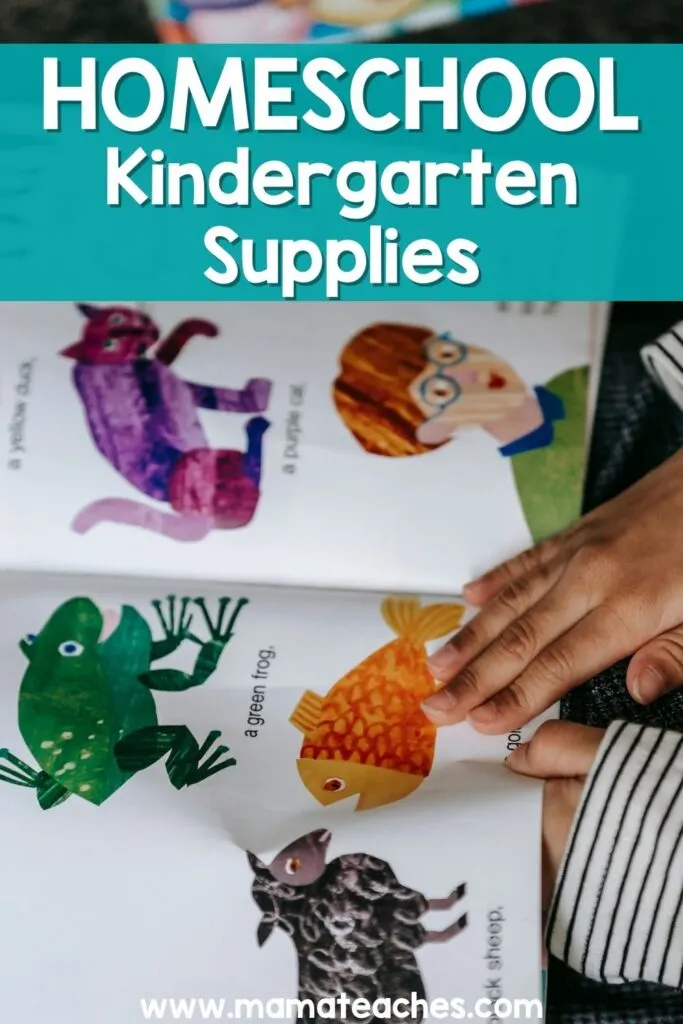 Supplies for Homeschooling Kindergarten
Here is a complete list of supplies for homeschooling Kindergarten.
Some of these homeschool Kindergarten supplies may surprise you! It turns out that you have many wonderful opportunities for learning already embedded in the rhythm of your day.
Curriculum
A Kindergarten homeschooling curriculum doesn't need to be complex.
Pick something simple and easy to use.
You basically need to cover three subjects in a formal way: reading, math, and handwriting.
You can pick an all-in-one curriculum for this (where one company provides the books for all the subjects) or you can choose different books/programs for each subject.
Remember, there are a host of terrific curricula out there, so it's hard to go wrong.
Consider your comfort level as a teacher (Do you like a free, do-it-yourself program, or do you want guidance with a scripted program?) and the learning style of your child (Does she learn best by seeing, hearing, or doing?).
Read this article on Curriculum Advice for New Homeschoolers before you begin your search.
Library Card
Homeschoolers read a lot of books, and this is especially true in the Kindergarten year when lush picture books are just begging to be read!
Rather than spend a million dollars on books, get a library card.
Going to the library every week is a fabulous homeschool outing.
You can check out my list of favorite Kindergarten Read Alouds to get you started.
Don't ignore the easy readers section of your local library.
These short books are perfect books for beginning readers.
I also like the nonfiction and reference sections.
Some kids light up reading about nature, cars, or cooking.
You can also check out older encyclopedias.
You can show your child how to find information without using Siri!
Your library may also have a digital account with sites like Overdrive or Hoopla.
This means you can access ebooks and audiobooks for free by using your library card.
Ask your librarian what they offer.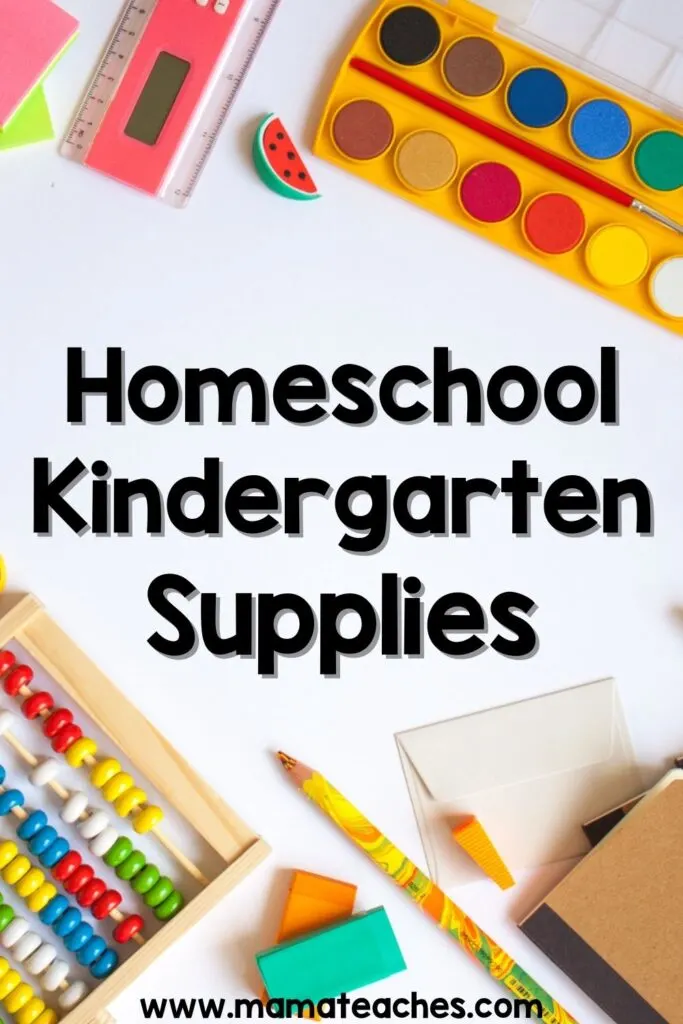 Rainy Day Books
We like to keep books in our house so the kids always have something to grab and read, but I also like to have a secret shelf that I call my Rainy Day Shelf.
I fill it with classic picture books or junior illustrated versions of classic books (usually picked up at used book sales or garage sales) for days when we are out of library books or boredom strikes.
I find that kids won't usually pick a classic book (oftentimes the covers aren't as flashy) but enjoy them once we start reading.
Tablet
With all the fabulous learning apps out there, a tablet is a great homeschooling accessory.
You can also download audiobooks onto the tablet or use it as an e-reader.
This can save you a lot of money in the long run (remember you can check out certain digital materials for free with your library card).
Paper
You cannot have enough paper!
I keep a stack of scrap paper for paper airplanes and drawing.
I also have construction paper and Kindergarten handwriting paper (the kind with the big lines).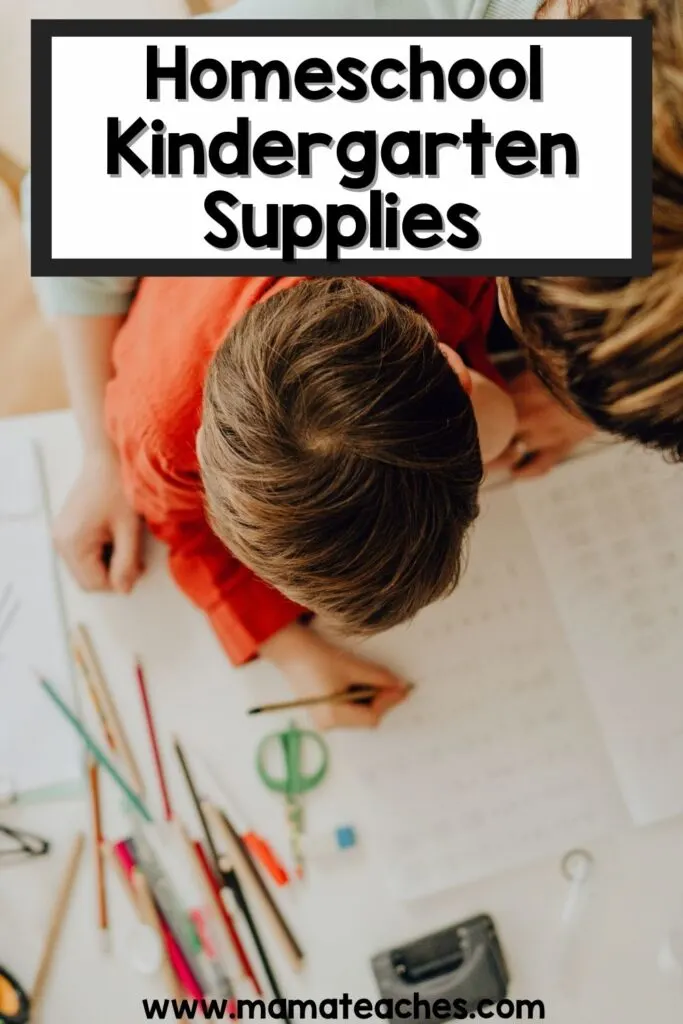 Writing/Coloring Supplies
You'll need materials for your child to practice writing.
You can opt for traditional pencils (alone or with pencil grippers), but keep in mind that little hands often write better with shorter pencils.
My kids always liked mechanical pencils (Papermate makes this version that uses stronger lead. It is also triangular to promote proper pencil grip).
Some kids write better in pen because it writes smoother.
We like Frixion Erasable Pens because they work just like a pencil but have no eraser dust.
Plus, the fun colors invigorate handwriting for my reluctant writers.
You will also want some enticing coloring supplies.
Remember, you are building your child's fine motor coordination, and you can do that with more than a pencil.
Coloring counts!
By all means purchase crayons and washable markers, but consider other options like chalk pastels and watercolor pencils as well.
Math Manipulatives
Kindergarten math needs to be grounded in items the child can see and touch, so grab a set of math counters.
These tiny plastic figures could be teddy bears (our favorite), motor vehicles (yes, we had these too), linking cubes, or any basic blocks.
You don't need to go overboard.
We had a set of foam cubes from the dollar store that my son just loved.
Buy one set of something to start.
Another great manipulative for teaching shapes?
These plastic hexagons and triangles and parallelograms will entrance any learner from 5 to 105.
Arts and Craft Supplies
Kindergartners are naturally creative, so arts and crafts supplies provide them with an outlet for their imagination.
Here are some ideas for your craft bin (and, as I said, you probably have some of these already!):
Child-size scissors
Pipe cleaners
Pony beads
Glue sticks
Thin paper plates
Air-dry clay
Washable acrylic paint
Paintbrushes
Posterboard
Watercolors
Paint dotters
Clear contact paper
Science Supplies
The best way to study science in Kindergarten?
Get out and get into nature!
Here are some supplies to enhance your nature study:
Rain boots
Magnifying glass
Bug collection box
Clear contact paper (for pressing leaves–and it's already in your craft bin!)
Notebook for drawing
Gardening gloves
Field guides (These are more for you, but I am in love with Fandex. They have bright and colorful decks of information on bugs, trees, birds, butterflies, and wildflowers. They are enchanting.)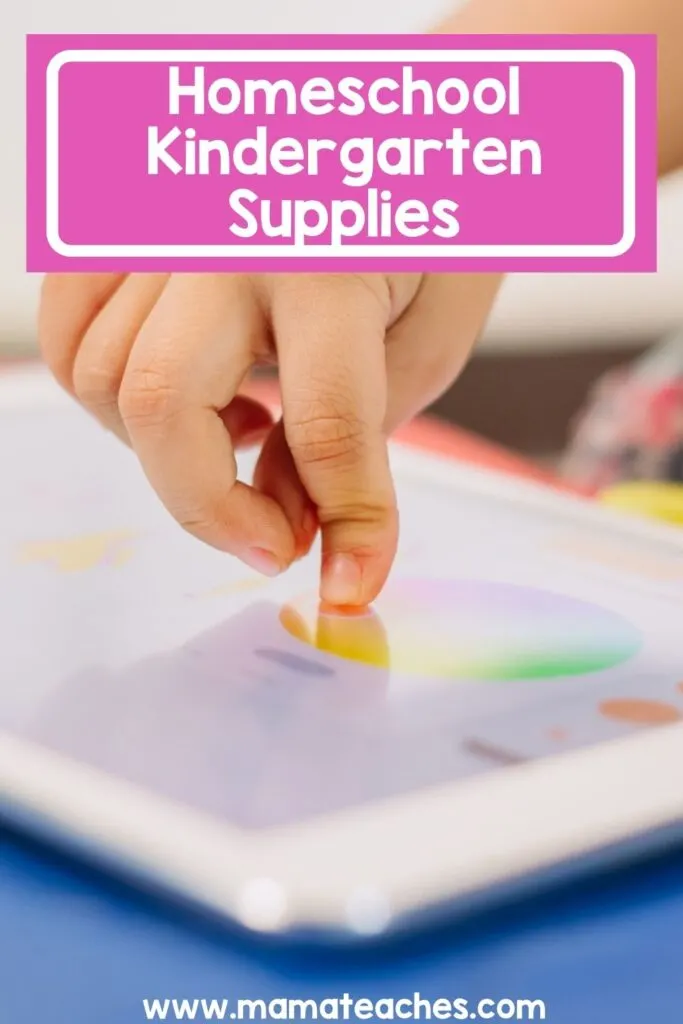 Kitchen Supplies
I know what you're thinking: "Kitchen supplies are materials for homeschooling?" Yes, cooking is school!
You learn a lot about math, following directions, and science by cooking together.
Get your child an apron and a child-size stool so he can create simple recipes with you.
Learning Play Supplies
For young children, learning is play and play is learning.
These toys give back to your child:
Old sheets and blankets (to make forts)
Deck of cards (hello number recognition!)
Legos
Balls
Puzzles
Board games
The Complete List of Homeschool Kindergarten Supplies
Here is the takeaway.
Do you need homeschool Kindergarten supplies?
Absolutely!
But most of these supplies you probably own or can get for free with a library card (or buy for cheap at a garage sale).
Kindergarten is an amazing year of discovery, and you and your child are going to have a wonderful time homeschooling together.
You May Also Like: