It was a dark and spooky night…can your students identify the parts of speech in this harrowing tale? Give it a try in The Story Night Parts of Speech Virtual Escape Room!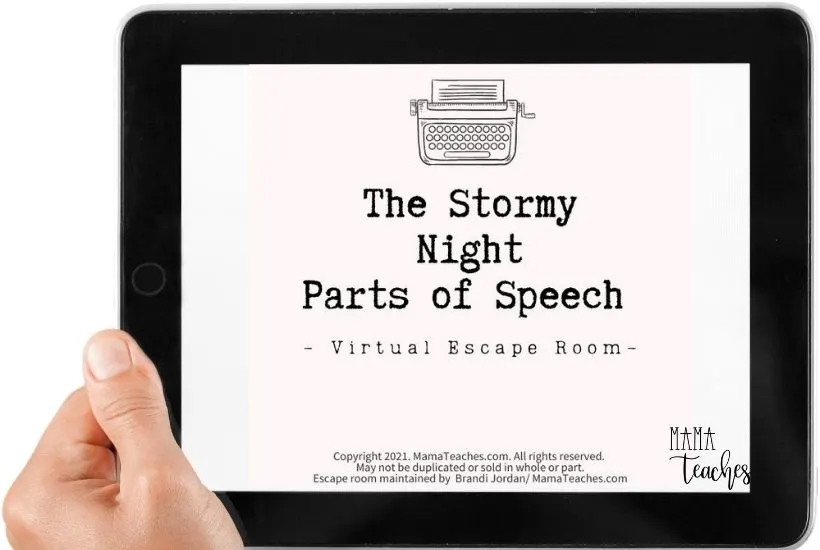 Parts of Speech Virtual Escape Room
Teaching parts of speech can be a little…well, boring sometimes. So we decided to kick things up a notch and add a little bit of scary goodness to your parts of speech lessons with this FREE digital escape room!
Featuring 20 locks, the virtual escape room tells a story one lock at a time. Students must read the sentence on each slide and answer the questions before they can move on.
They are tested on their knowledge of identifying nouns, verbs, adjectives, and adverbs.
Don't worry, the story isn't so scary that your students won't be able to focus on the questions at hand!
As with all of our free digital escape rooms, you will not be able to see your students' responses. Don't worry though!
We have created a free answer sheet for them and a free answer key for you and placed them in the Freebies Library! If you're already a member, you can click here to sign in.
Not a member yet? Simply sign-up below and the password will be emailed to you!
While the escape room is embedded below, we have also included a direct link that you can assign to students below the embedded room if you choose to do that instead.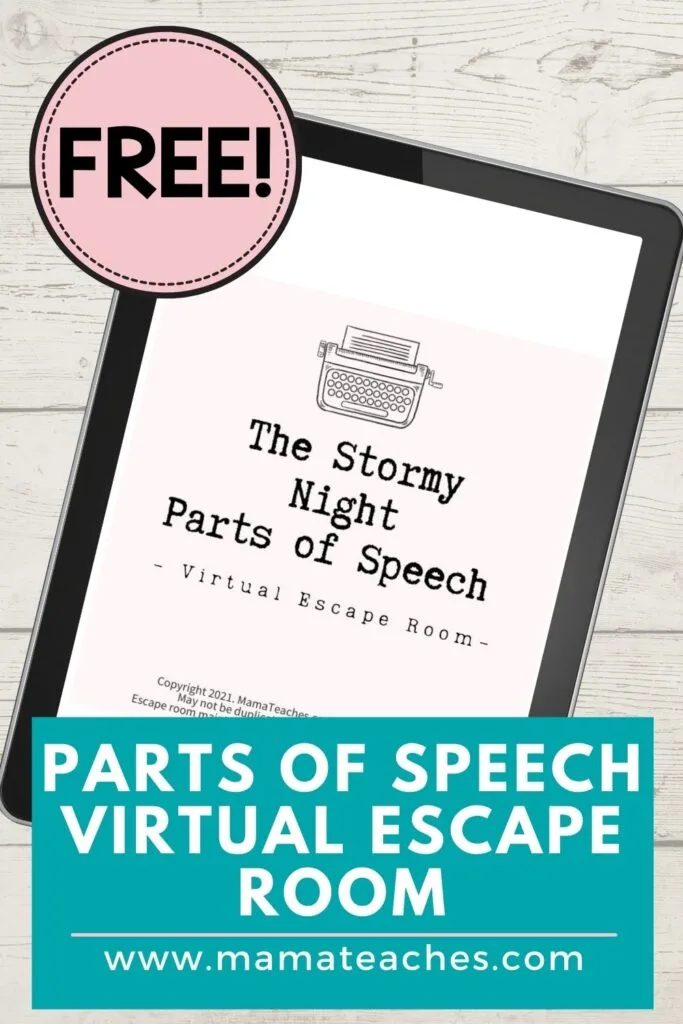 How to Use the Escape Room in Your Lessons
If you have never used a digital escape room in your lessons, you may wonder why and how it can be done. Isn't it just a game?!
On the contrary, an activity like the parts of speech virtual escape room is a great way to get and keep your students engaged in language arts lessons.
You can use this escape room as a language arts center or use one of our math escape rooms as a math center.
They can also be assigned as homework or used for early finishers.
Students stuck inside for recess on a rainy or snowy day? Use an escape room as a fun activity!
Need more ideas? Click here to read about other ways to use virtual escape rooms in the classroom.
Ready to play? Let's go!
The Stormy Night Parts of Speech Digital Escape Room
Directions: Complete the escape room by answering all of the questions for each lock and finding the secret word at the end. All answers should be typed in lowercase.
Write your answers and the secret word on your answer sheet before turning it in to your teacher. Good luck!
Want to assign the escape room directly to your students? Use this link.
You Might Also Like These Other Free Virtual Escape Rooms: